How to make creamy corn pudding casserole using Jiffy cornbread mix.

As many of you know I record my videos about a month or so in advance. Therefore I was done recording all of my Christmas videos for the year. While recording, I kept thinking that I was forgetting something. I knew that I had overlooked a recipe, but I wasn't sure which one. During a recent conversation with my friend Denise( from Be My Guest With Denise ..visit her, tell her Rosie sent ya 😉 ), she suggested that I should record a corn pudding video. I didn't know what the heck she was talking about, but the way that she described it, it made my freaking mouth water.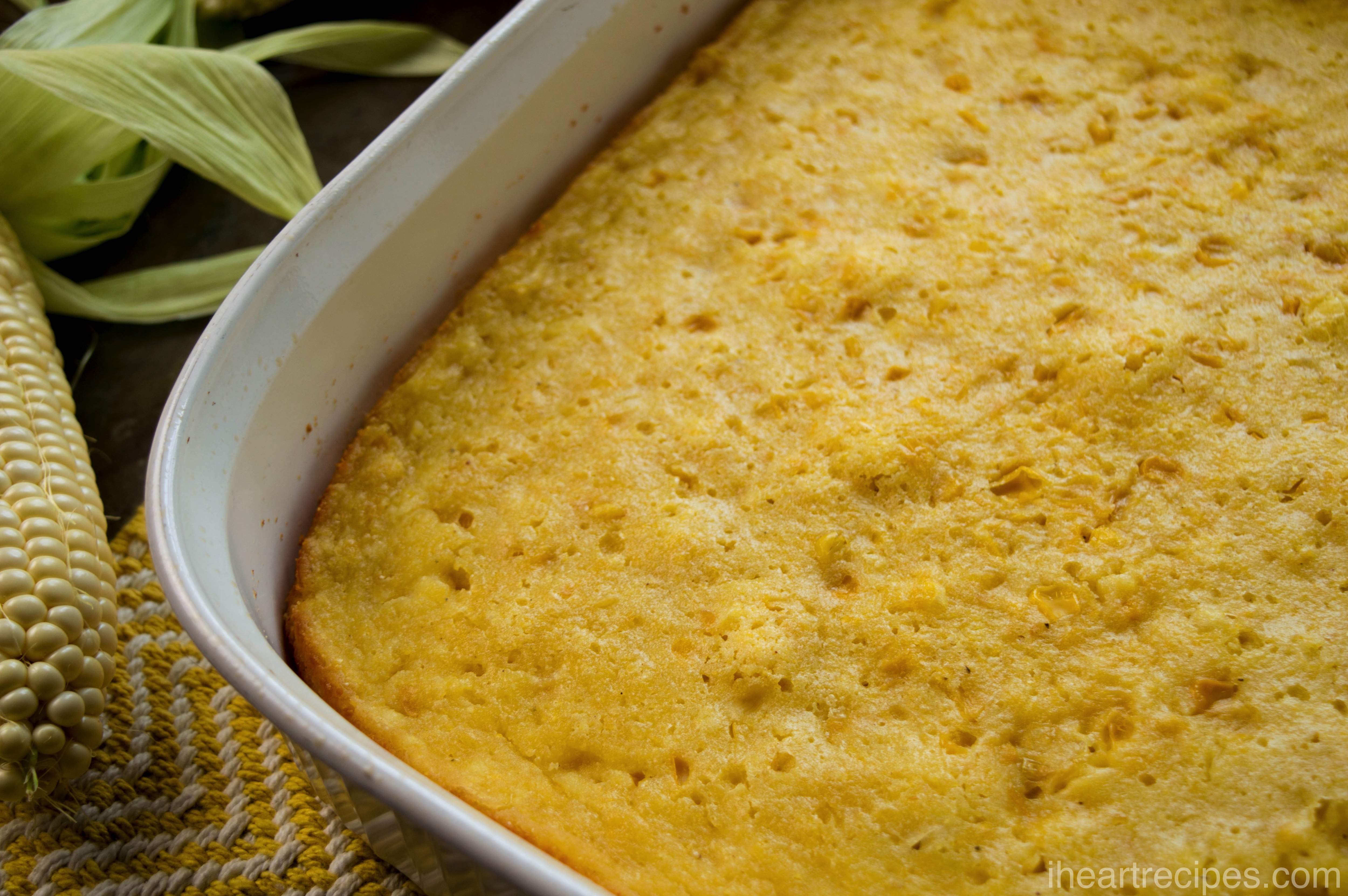 After our conversation, I called my older cousin TJ, and asked him if he knew of such recipe. I wanted to know if I had ever had it ( I have a habit of making up names for stuff!) After talking to him, I realized that I have had it! I had no idea that it was called corn pudding. My butt had calling it " that corn stuff" for years. LOL!! Anyways, I remembered that I made it one year, but I decided to NOT make it again, because it was a trigger food for me. Meaning, I damn near ate the whole dish… By myself! Oh, I am so ashamed!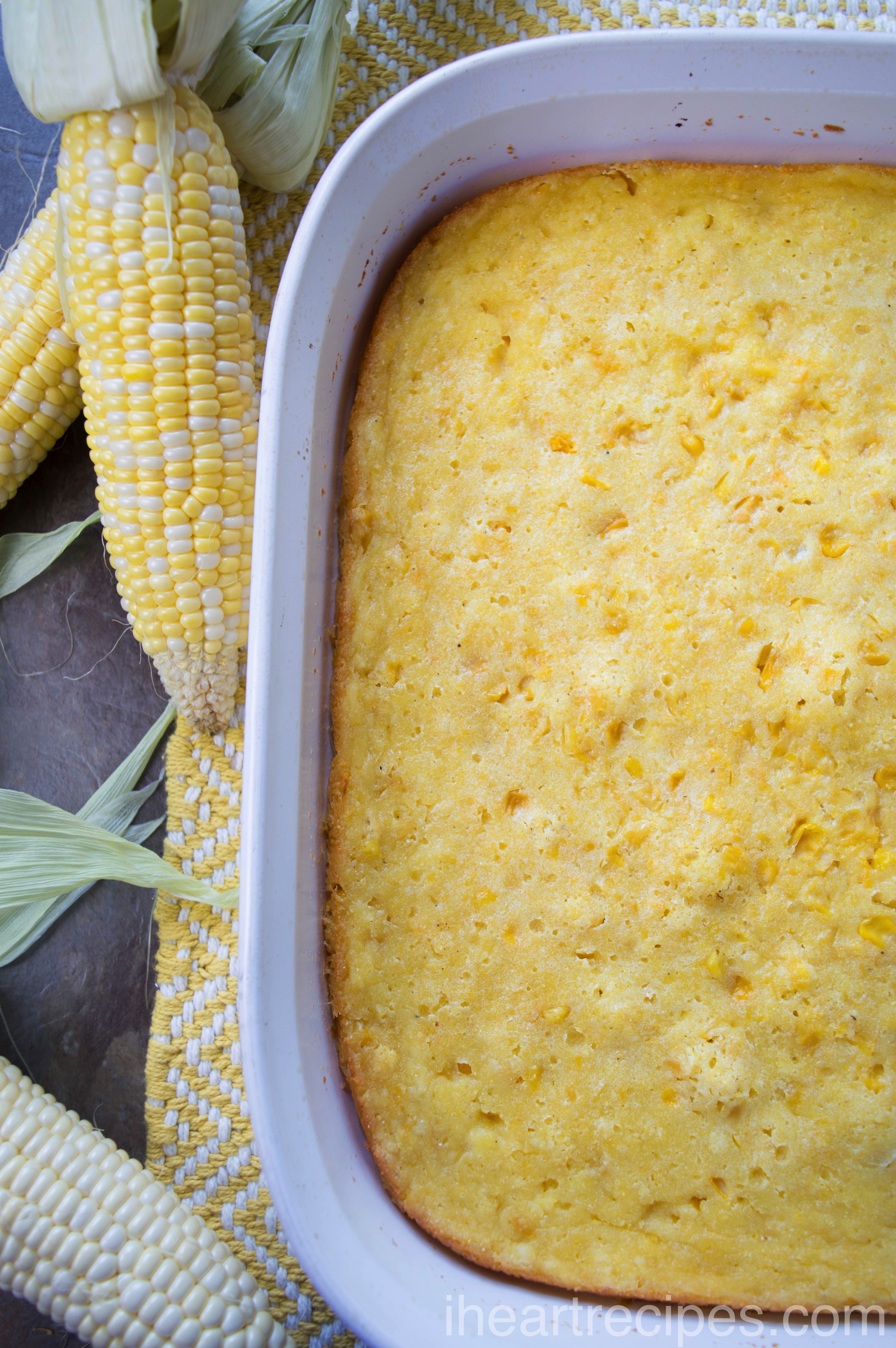 Anywho. I decided to take take Denise's suggestion, and make the corn pudding, aka that corn stuff for y'all.. Just don't ask me how much I had. I just couldn't help myself!
So what is corn pudding?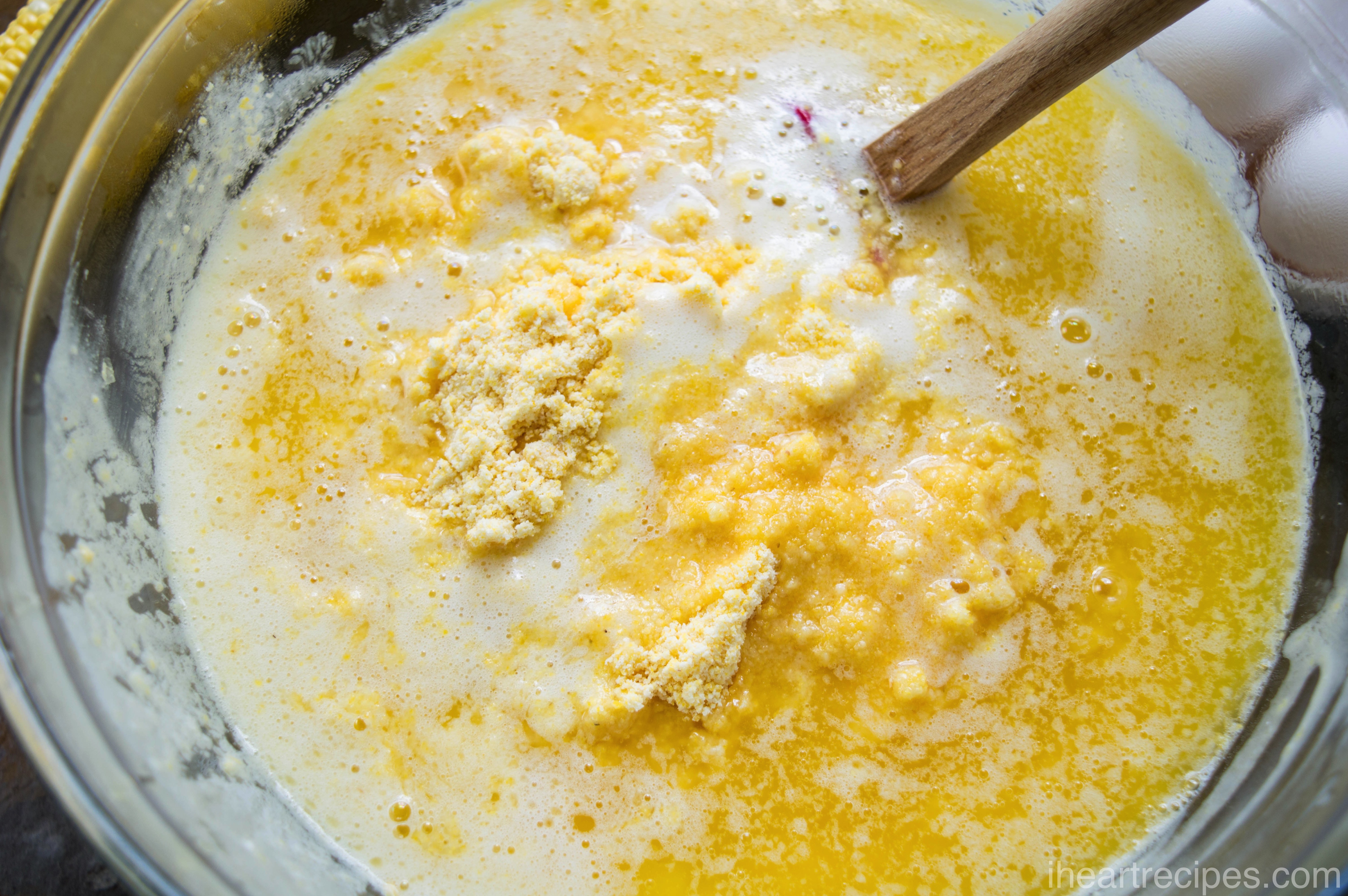 People make corn pudding so many different ways, so I will describe my corn pudding. This corn pudding is a creamy mixture of whole kernel corn, and cream corn. The corn is tossed is a sweet creamy mixture made of eggs, butter, flour, and more. Everything is tossed into a large bowl, then I whisk until it's well combined. Once it is, it is then baked until it is golden brown. When done it has a "pudding" texture. Corn pudding while warm, and is usually served as a side dish ( like candied yams) during the holidays such as Thanksgiving, and Christmas.
So let's make a grocery list for this easy corn casserole recipe cousins! These are the ingredients that you'll need to make this sweet corn pudding casserole:
creamed corn
whole kernel corn, be sure to drain the liquid
unsalted butter
eggs
sour cream
sugar
ground nutmeg
pure vanilla extract
8.5 oz package of sweet corn bread mix( I usually use Jiffy Mix ) If you want to use a different brand, you certainly can. However, a box of Jiffy corn muffin mix is cheap and it does the job.
You can bake this casserole in a cast iron pan, or a casserole dish. Be sure to spray either dish, or pan with cooking spray before you pour in the creamed corn casserole
This isn't a savory casserole. However, if you'd like a savory corn casserole check out my Tex Mex Corn Casserole recipe. It has peppers, cheddar cheese, and more. It also makes a great side dish for Thanksgiving dinner. Both casseroles have amazing flavor!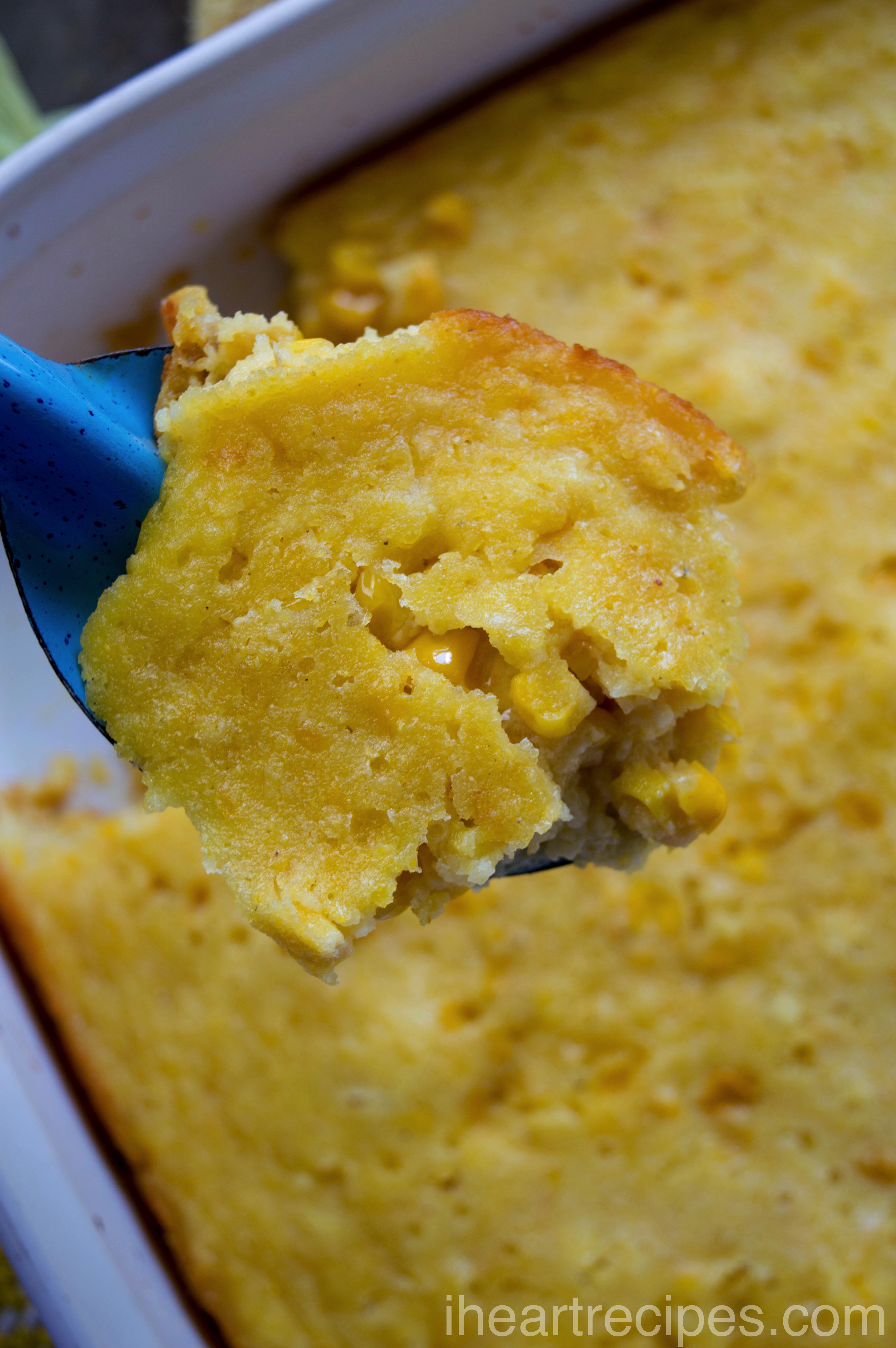 Warming up leftovers
This corn casserole can be kept in the refrigerator for several days after you make it. Store the leftovers in a airtight container, until you a ready to reheat. You can reheat this dish in the oven, or zap it in the microwave.
Looking for more for dishes to add to your holiday menu? Check out these recipes!
Creamy Corn Pudding
Creamy southern corn pudding is a perfect holiday casserole. With whole kernel corn and creamed corn, it's a creamy, delicious casserole that will be the star of your holiday table.
Ingredients
2 15 oz cans of creamed corn

1 15 oz can of whole kernel corn, drained

1

cup

melted unsalted butter

4

large eggs

1

cup

sour cream

1/2

cup

granulated sugar

1/8

tsp

ground nutmeg

1

tsp

pure vanilla extract

8.5

oz

package of sweet corn bread mix
Instructions
Add the eggs into a large mixing bowl, then beat until everything is 1 color.

Add in the creamed corn, and whole kernel corn. Mix until well combined.

Now add in the sugar, ground nutmeg, and vanilla.

Add sour cream, and mix or fold in.

Pour in the melted butter, then sprinkle in the corn bread mixture.

Mix everything until it's well incorporated, then pour the mixture into a buttered 9×13 bake dish.

Bake on 350 F, for 35-40 minutes.

Remove from the oven, and let sit for 5-7 minutes.

Serve and enjoy!
Video
Check these recipes out as well!
---
---
---