How to make southern style candied yams in the slow cooker. These easy candied yams are the bomb!
A Simple Slow Cooker Southern Candied Yams Recipe!
My subscribers and I obviously love candied yams , and sweet potatoes. I'm always uploading yam and sweet potato recipes, because my sweethearts are always requesting them! One of my most popular recipes on iheartrecipes.com , would have to be my baked candied yams soul food style. This past holiday season I've gotten about a 100 emails from readers raving about these southern style candied yams. Although many people loved the recipe, a ton of people wanted to know if they could make their candied yams in the slow cooker… The answer is YES! You can definitely make yams in the CrockPot, or any other slow cooker that you may have! To be honest with you, I actually prefer making my candied yams in the slow cooker these days. Why?  Because although I will always love my baked candied yams, slow cooking the yams make the yams even more tender. Like seriously, these yams will freaking melt in your mouth.
So what did I change?
Oh not much.. This recipe is super similar to my other candied yams recipe. However, I left the clove & ginger out. This time around I'm just using cinnamon, a dash of nutmeg, brown sugar, white sugar, and vanilla! Now don't get it twisted, you can still add the clove and ginger if you'd like. I just know that a lot of people don't usually have it on hand, so we will skip those ingredients.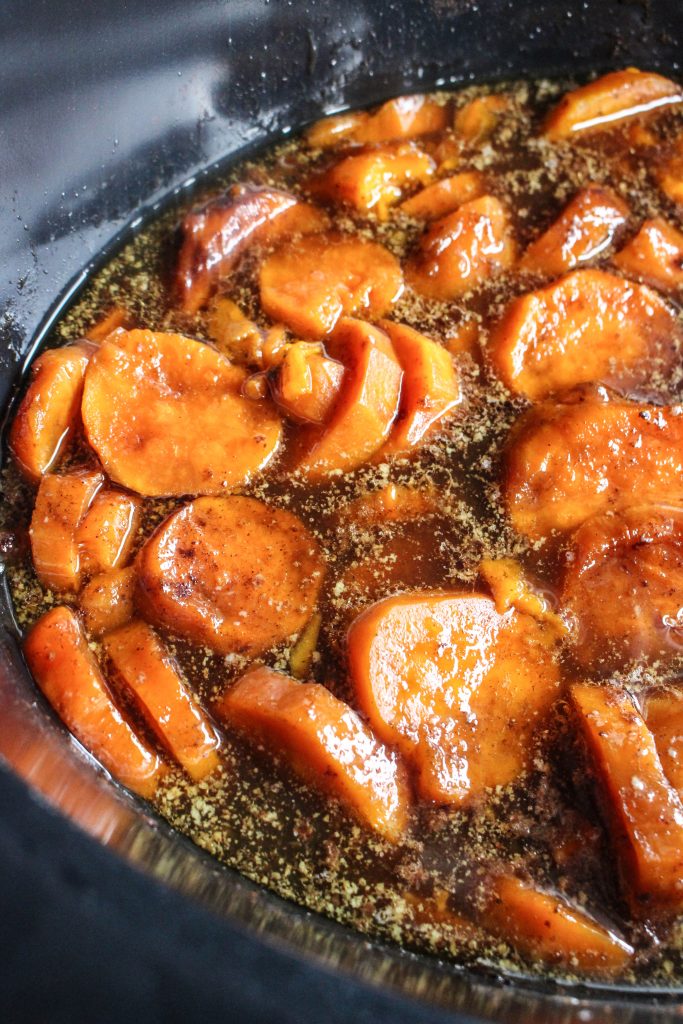 This candied yams recipe has a lot more "juice". The last time that I made my baked yams I thinking  "these are freaking amazing, but next time I want more juice"… Nowadays, I'm one of those greedy folks that like my yams to swim in a sweet buttery sauce, therefore I made sure to add more liquid to this recipe. I also wanted the liquid to "stick" to the yams, so I added a little bit of cornstarch.
Putting everything together.
What is I told you that all you had to do is throw everything in the darn pot? Would you love me forever & and ever? Welp, that's really all that you have to do… Well almost..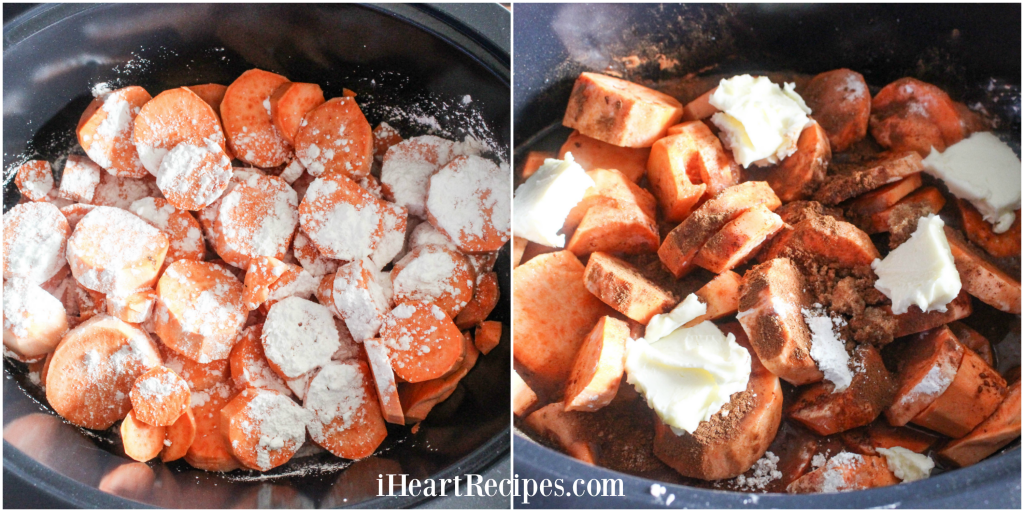 Simply peel the yams, then chop them, and toss them in the slow cooker. Next your going to sprinkle in the cornstarch, and stir… NOW, you can just toss everything in the pot, set in on low for 3 hours, and wait for all that yummy – buttery – tender goodness!! ( My mouth just watered thinking about the outcome y'all!!)
While you're here, check out some of my other candied yams recipes!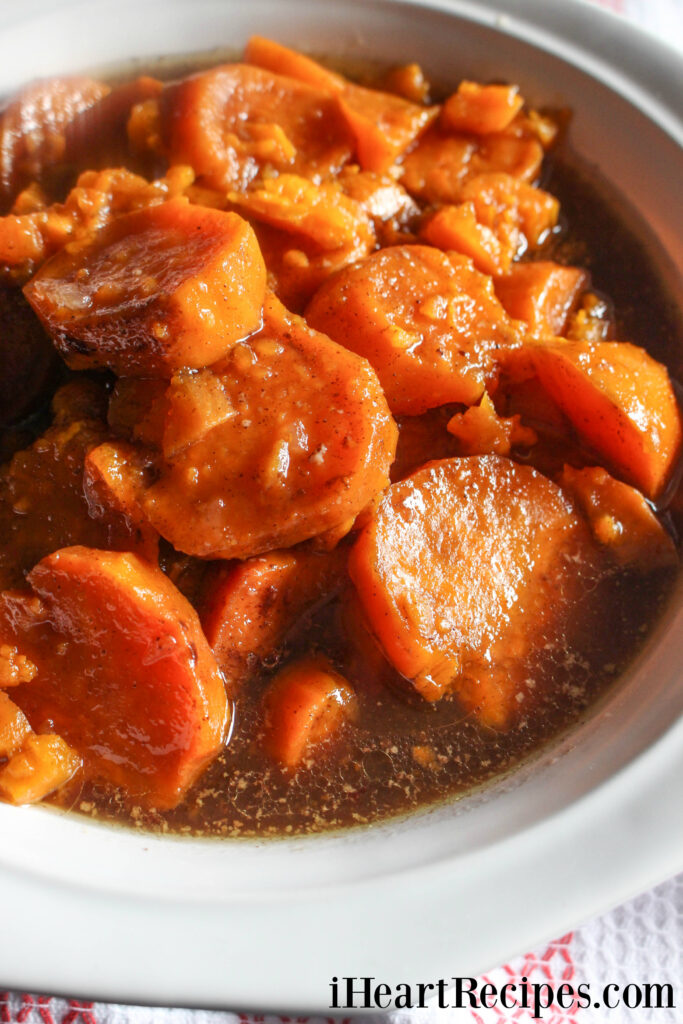 Down below is the recipe, but here are a few soul food & southern dishes that you can serve these candied yams with!
Main Dish
Veggie
Dessert
Subscribe to my mailing list for more recipes! Follow me on Facebook, Instagram, Pinterest and YouTube!
Here's the recipe! Print it, Share it, and Enjoy!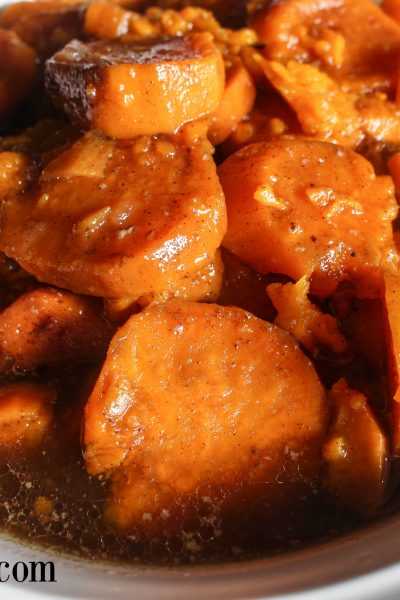 Slow Cooker Southern Candied Yams
These tender yams are buttery, sweet and velvety. They cook up well in the slow cooker simmered in a sweet sauce.
Watch Video
Print Recipe
Pin Recipe
Instructions
Toss the yams into the slow cooker

Sprinkle the cornstarch all over the yams, and toss.

Next toss in the white & brown sugar.

Sprinkle in cinnamon, and nutmeg.

Add in the vanilla extract, and water.

Top off the yams with the butter.

Now cover the slow cooker, and set on low.

Let the candied yams cook 3 hours.

Be sure to stir halfway in the cooking process.

Serve and enjoy
Video
If you loved this recipe,
leave me a review below
. This helps future recipe makers and ensures continued high-quality recipes for years to come!
© 2023 I Heart Recipes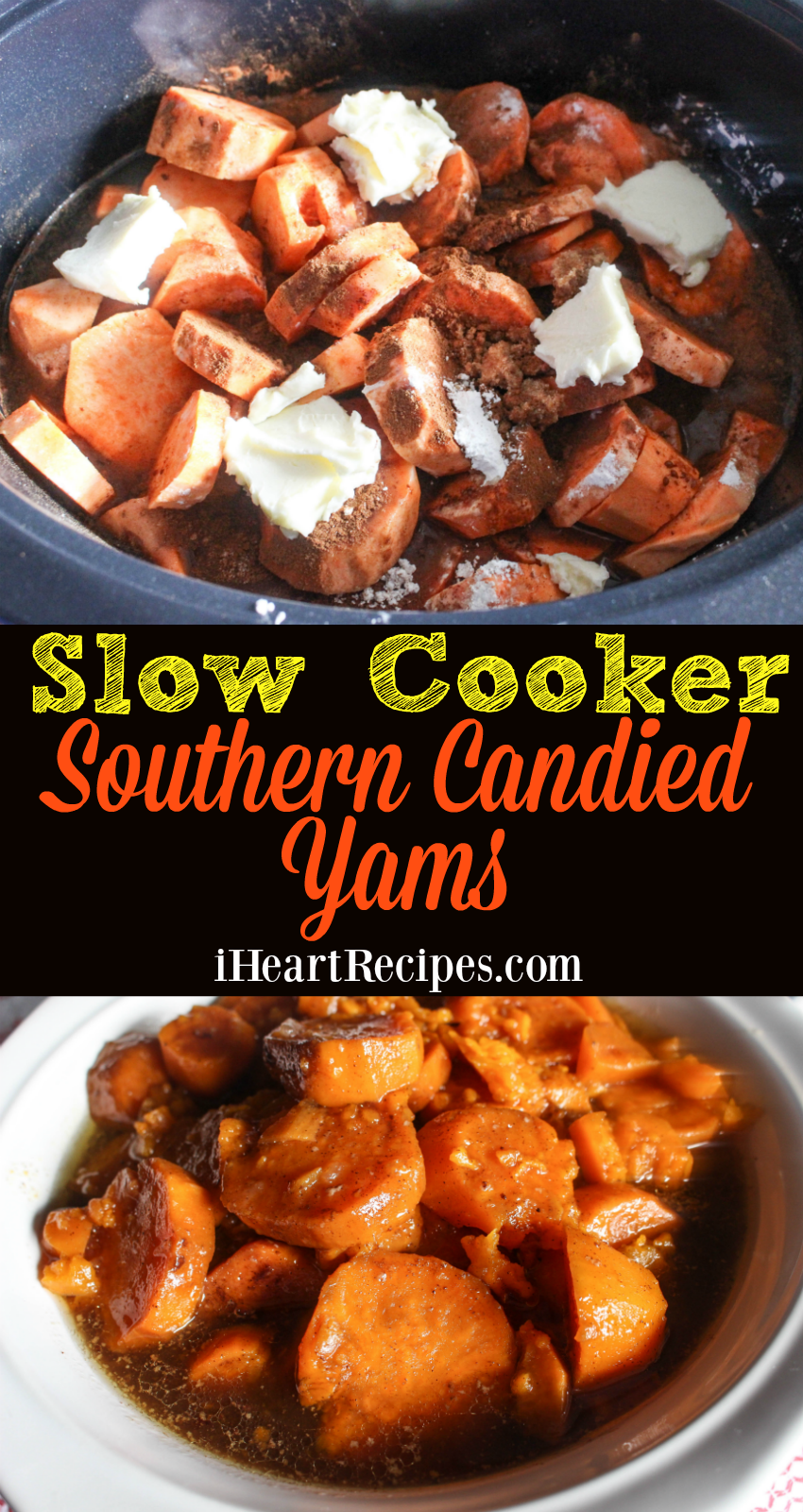 ---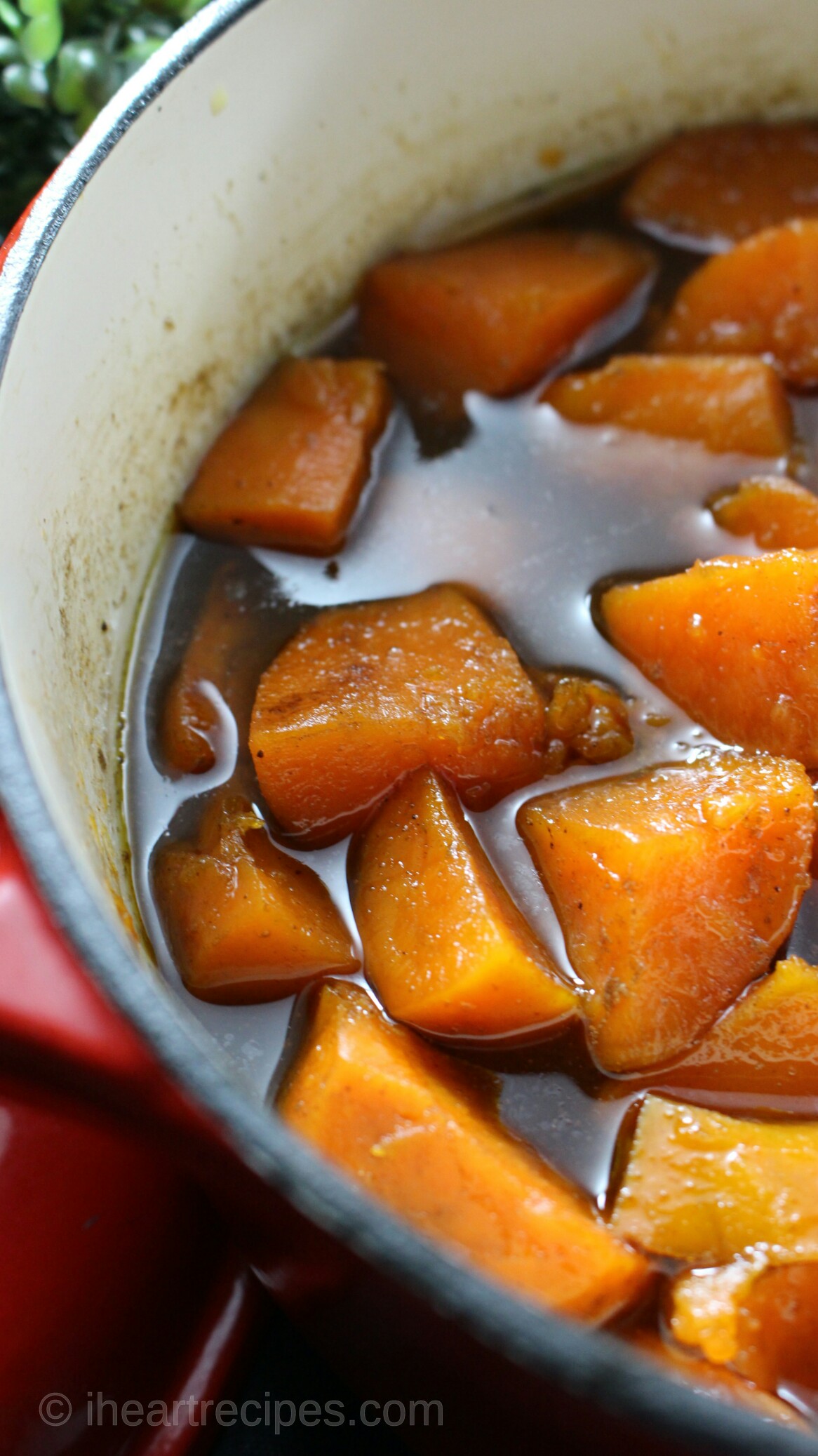 ---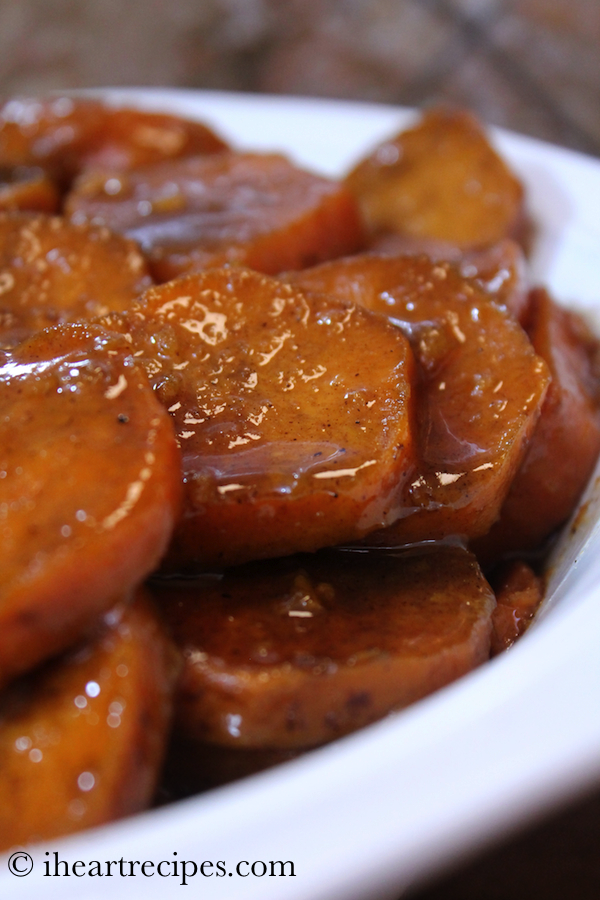 ---