A creamy, cheesy slow cooker macaroni and cheese is the ultimate side dish! This mac and cheese calls for simple ingredients and turns out perfect every time.
Hey Cousins! Since so many of you loved my other mac and cheese recipes—baked mac and cheese and an easy stovetop macaroni and cheese recipe—I decided to circle back and share my slow cooker macaroni and cheese recipe. This recipe is super convenient! You don't have to boil or drain pasta. You also don't have to worry about babysitting this side dish. This slow cooker mac is super simple yet packed with so much flavor.
Some macaroni and cheese recipes are complicated with a ton of ingredients. Others are super simple boxed mac and cheese-style recipes. My slow cooker mac and cheese is a perfect mix of easy ingredients and delicious, slow-cooked flavor.
I don't use any gouda, Velveeta, or any expensive cheeses. Nor do I use evaporated milk or eggs. I keep it simple when it comes to this crockpot mac. If you're looking for the perfect mac and cheese recipe to serve at Christmas or Easter, family gatherings, or even an easy weeknight dinner, this is definitely the one for you!
Ingredients You Need for the Best Slow Cooker Macaroni and Cheese
So, what ingredients DO you need for Crockpot mac and cheese? I promised simple, so here is what you'll need for a creamy Crockpot mac. Head to the grocery store and gather up these ingredients:
UNCOOKED macaroni noodles
Sharp cheddar cheese & Colby cheese: I highly recommend buying a block of cheese from the deli or cheese section and shredding it yourself—it's a million times better!
Butter (salted or unsalted, whichever you have on hand is fine)
Half & half: For best results, use half & half instead of using whole milk. The half & half makes the macaroni and cheese a lot creamier!
Campbell's Cheddar Cheese condensed soup: This will work as our cheese sauce. If you're not a fan of cheese soup, you can use 12-15 ounces of Velveeta or American cheese.
Black pepper and plain or smoked paprika (feel free to add some extra seasoning based on your tastes, like onion powder, garlic powder, cayenne for some heat, or even mustard powder for extra flavor)
Since I use a good amount (and variety) of cheese in this mac and cheese recipe, I don't add any salt. However, if you'd like to add a teaspoon of salt, feel free to do so!
Recommended kitchen tools for slow cooker mac and cheese:
A Crockpot or another brand of slow cooker (I recommend at least a 6-quart slow cooker)
A cheese grater to shred your cheese
FAQs & Tips for Making the BEST Slow Cooker Macaroni and Cheese Recipe
Now, since y'all are family, I want my Cousins to know all the tips and tricks for making the best slow cooker mac and cheese possible. For the best results, follow my written recipe! I also have a video tutorial if you're a visual learner. If you follow the ingredients and instructions in the recipe card below, you will have the creamiest macaroni and cheese ever.
However, if you insist on changing up the recipe, I've included some frequently asked questions as well as pro tips from me to make sure no matter what, you'll have a crowd-pleasing dish!
How often do you need to stir slow cooker mac and cheese while cooking?
When it comes to this recipe, a lot of people ask me if I stir occasionally. I personally don't stir once my Crockpot mac starts cooking. However, you can if you choose. Actually, if you have an older slow cooker, I highly suggest it!
What is the recommended cook time for Crockpot macaroni and cheese?
In my recipe, I cook my macaroni and cheese for three hours on LOW in my slow cooker. Now, there are a ton of slow cookers on the market—some are manual, some are pre-programmable, and some allow for different increments of cooking time. It depends on your slow cooker. Also, keep in mind that older Crockpots tend to run a little hotter than newer slow cookers. Therefore, if you're using an older slow cooker, it may take less time to cook. To prevent your mac and cheese from burning, check on it periodically!
Can you half or double this recipe?
YES, you absolutely can double, triple, or even half this recipe depending on how many you're cooking for. The cooking time should NOT be affected, but keep an eye on it throughout the cooking process to make sure. Also, ensure that your slow cooker is large enough to double or triple the recipe.
Should I cook the pasta first or put it in the Crockpot uncooked?
The pasta is NOT cooked before putting it in the slow cooker! Put UNCOOKED pasta into your slow cooker—otherwise, the pasta will be mushy and gross at the end of cooking.
How do you keep the mac and cheese from sticking to the slow cooker?
To keep your mac and cheese from sticking, spray the Crockpot with nonstick cooking spray or use a slow cooker liner (which also allows for easy cleanup!).
What are the best cheeses for creamy macaroni and cheese?
As I said, I highly recommend following my recipe as far as what cheese to use. However, at the end of the day, it comes down to YOUR preference. Here are some other popular cheeses to use for a creamy slow cooker mac and cheese:
Gouda or Gruyere cheese
White Cheddar cheese
Mild or Medium Cheddar cheese (if you don't like Sharp Cheddar)
American Cheese
Mozzarella Cheese
Pepperjack Cheese (adds a little bit of a zingy kick!)
What's the best pasta for mac and cheese?
Traditional elbow macaroni pasta is the best for a macaroni and cheese recipe. However, you could use shells or short-tube pasta (like cavatappi). Any shape that will hold onto the creamy cheese sauce is a great option.
Is heavy cream or evaporated milk better for mac and cheese?
I prefer heavy cream because it makes the macaroni and cheese creamier. Also, heavy cream has more fat than evaporated milk. However, if you want a lower-fat option, you can use evaporated milk, and it will do just fine—it's just not MY preference!
Can you freeze slow cooker mac and cheese? Can you make it ahead of time?
Yes, you can freeze this slow cooker mac recipe. I recommend reheating it in the oven rather than in the slow cooker for the best results. As far as making it ahead of time, I HIGHLY recommend making it the day of. It is practically a dump-and-go recipe, and it really doesn't take that much time. It's MUCH better when the creamy cheese sauce is made fresh, with freshly shredded cheese.
I don't have a slow cooker—how can I make this slow-cooked macaroni and cheese recipe?
Well, first of all, honey, if you don't have a slow cooker—get yourself one! Treat yo'self! I have a TON of delicious slow cooker recipes, so it'll be put to good use! However, you can still make a deliciously creamy mac and cheese in the oven, but that's a whole different recipe!
How to Make Creamy Slow Cooker Mac and Cheese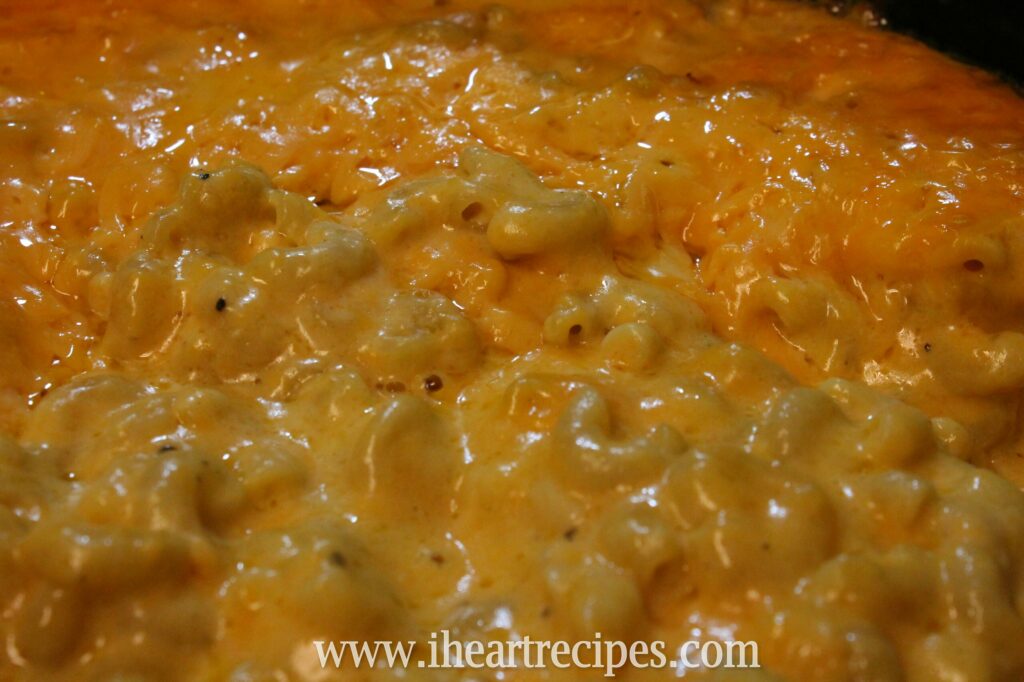 When I tell y'all this is an easy recipe, I ain't lyin'! It really could not be easier.
First, I start by making the base of my creamy cheese sauce. Then, mix the half and half with the cheddar cheese soup until well combined. Why am I making macaroni and cheese with cheddar cheese soup? Because it's the PERFECT base for a creamy, decadent cheese sauce. Seriously, even a can of Campbell's Cheddar Cheese soup comes with a recipe for mac and cheese! Match made in heaven. I also add my seasonings—black pepper and smoked paprika—to my cheese sauce.
Next, you're going to toss everything in your slow cooker. Start with the uncooked pasta, then add about half of the shredded cheese and butter. Pour the cheese sauce in and give it all a good mix. Top it off with the remainder of the shredded cheese, put the lid on, and let that baby slow cook for about 3 hours.
It turns out to be the creamiest, most decadent mac and cheese recipe ever. Once done, turn your slow cooker to the "warm" setting to keep the mac and cheese perfectly heated if you're serving it as a side at a party or holiday gathering. This is one of my favorite recipes for mac and cheese (and believe me—I have a lot), as well as a family favorite! It saves precious oven space during hectic holiday cooking; it's full of flavor–the ultimate comfort food.
Slow Cooker Macaroni and Cheese Recipe Card & Video Tutorial
Alright, Cousins. It's time for you to try this recipe! If you test it out, drop a comment down below and let me know how you liked it! Did you stick to the recipe? What favorite customizations did you make? Find the exact measurements, recipe instructions, and a helpful video tutorial all in the recipe card below.
Don't forget to tag and follow me on Facebook, Instagram, and Pinterest, subscribe to I Heart Recipes on YouTube, and check out all my cookbooks! I just released a brand new cookbook, Super Soul Food with Cousin Rosie, with many recipes you can't find anywhere else.
More Delicious Recipes to Try…
---
---