Lobster macaroni and cheese made without eggs and Velvetta

Homemade baked macaroni and cheese, with a super creamy cheesy sauce made from scratch. Sounds good right? But what if we loaded it with lobster tail meat? Even better right? Okay, okay… What if I layered the lobster mac and cheese with even more cheese, then top it off with bacon bread crumbs? Freaking amazing right?! Well that is what I did! I made the best lobster mac and cheese ever a couple nights ago, and now I must share the recipe with you!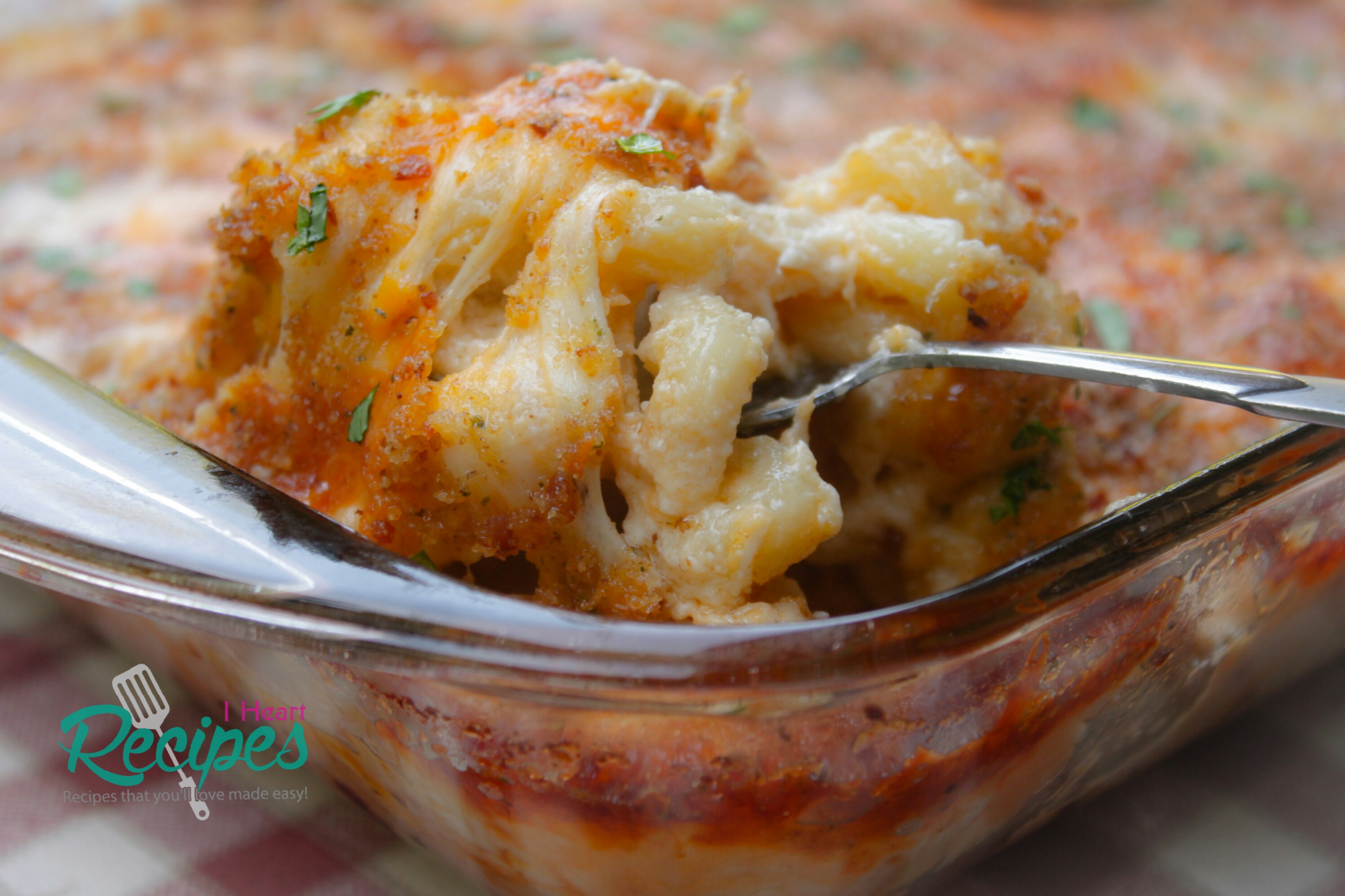 Well first and foremost, I planned on posting a seafood macaroni and cheese recipe years ago! A few years back, while in Las Vegas I went to the Margaritaville, and fell in love with their seafood macaroni and cheese. It was so freaking good. I swore up and down that I would recreate it ( I posted it on instagram), however I never got to it. Anyways, while grocery shopping a few days ago, I decided to gather up all the ingredients to make some homemade seafood macaroni cheese. However, once I reached the seafood department, I had changed my mind to making a simple lobster macaroni and cheese. I thought that it would be more simple, and of course less expensive than making mac and cheese with scallops, crab, shrimp, AND lobster ( but stay tuned because I just may do a seafood combo mac and cheese soon!). Once that I got home, and started pulling out the ingredients, I decided that I wanted my mac and cheese to have a crisp topping.. That's where the bacon bread crumbs came in. I actually had some leftover bacon bread crumbs from a previous recipe, and decided to put them to use. The rest is history…..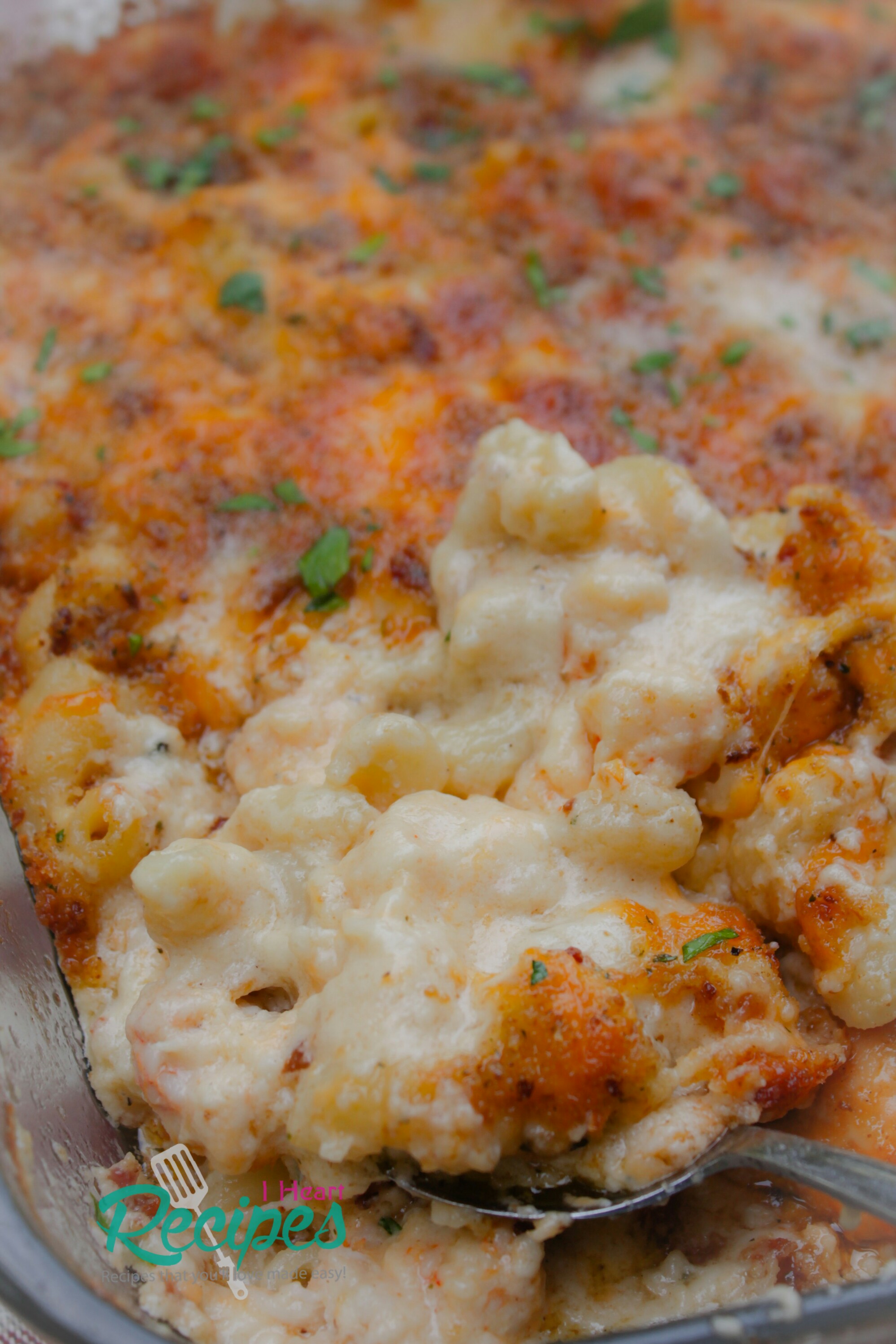 It's safe to say that this lobster macaroni and cheese will be served at many of my upcoming dinner parties. I'd serve this pasta dish with a tossed green salad, and buttery breadsticks.
Check out my easy video tutorial for this recipe
Lobster Mac and Cheese with Bacon Bread Crumbs
Creamy cheesy macaroni and cheese with lobster meat, and topped with bacon bread crumbs.
Ingredients
3

cups

cavatappi macaroni pasta

1

lb

cooked lobster meat

1/4

lb

hickory bacon

reserve 2 tbsp of bacon fat after cooking!

2/3

cup

of Italian bread crumbs

5

tbsp

butter

salted

12

oz

evaporated milk

2

cups

half & half

1/4

cup

all purpose flour

1

cup

sour cream

1/2

cup

muenster cheese

shredded

1/2

cup

smoked gouda cheese

shredded

1 1/2

sharp cheddar cheese

shredded

1 1/2

monterey jack cheese

shredded

1

tsp

minced garlic

Salt & Pepper for taste

Fresh parley

chopped (optional)
Instructions
Cook the bacon until it's nice and crisp.

Once the bacon is done, grab out 2 tbsp of the rendered fat, and toss it in a pan with 3 tbsp of butter.

Place the pan over medium heat.

Once the bacon fat, and butter start to sizzle, sprinkle in the all purpose flour and whisk.

Next, pour in the half and half, and evaporated milk.

Now let's add in the sour cream, and whisk the ingredients.

Toss in the shredded or cubed smoked gouda & muenster, and stir.

Whisk until the cheese is melted throughout.

Now reduce the heat the low medium.

Taste the sauce, and add as much salt and pepper that you think that you may need.

Now prepare your pasta. Simply follow the directions on the back of the package or box.

Once the pasta is done, drain it, then immediately add in the pan with the sauce.

Stir until everything is combined, and let cook for about 5-7 minutes.

Meanwhile, toss the cooked bacon, bread crumbs, and 2 tbsp of butter into a food processor.

Pulse, until the bacon & crumbs resemble sand.

Return back to the pan of mac and cheese, and toss in the lobster, and 2 tbsp of the bacon bread crumbs.

Mix everything until it's combined.

Preheat your oven to 350 F.

Combine the monterey & cheddar cheeses.

Butter a 9x13 bake dish, and pour half of your lobster mac and cheese into the bake dish.

Sprinkle the 1 1/2 cups of monterey jack & sharp cheddar cheese on top of the macaroni and cheese.

Pour the remaining mac and cheese in the bake dish, and sprinkle the remaining cheese on top.

Sprinkle 1/4 -1/2 cup of the bacon bread crumbs on top of the mac and cheese.

Leave uncovered, and bake for 20-25 minutes OR until the top is golden brown.

Remove from the oven, and let rest for 5-10 minutes.

*optional* Sprinkle fresh parsley on top of the lobster macaroni and cheese.

Serve and enjoy!
Video