These easy sweet dinner rolls are made with simple ingredients. They come out so light, and fluffy. Make sure that you serve these rolls at your next holiday dinner!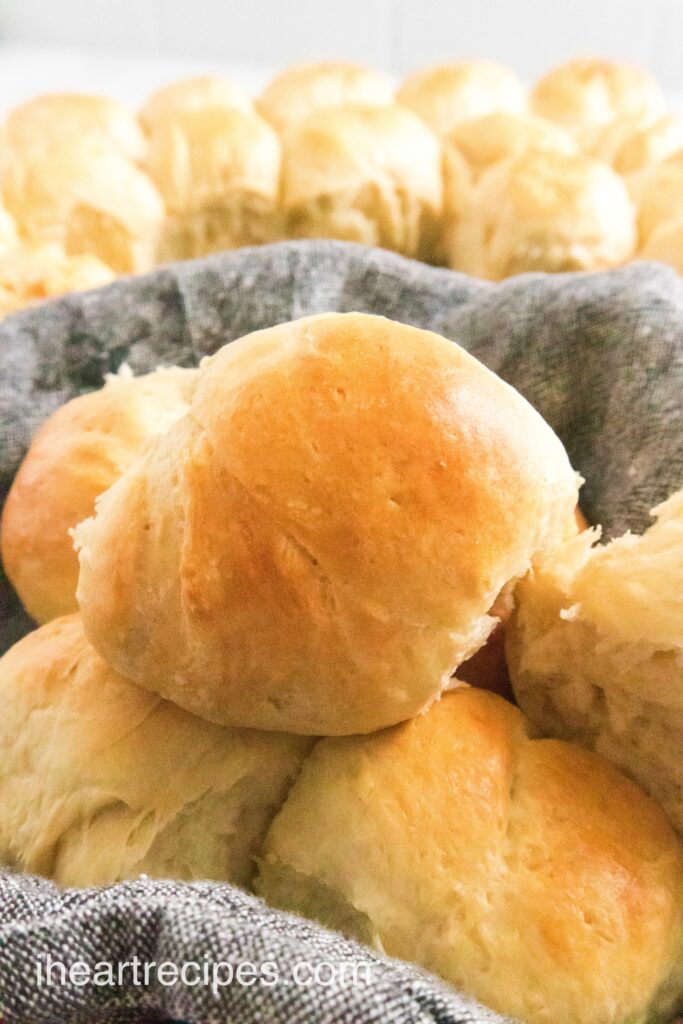 Hey Cousins! A lot of you have been asking me for a sweet dinner roll recipe, so I'm here to give you one! In this post I'll be showing you how to make the easiest sweet dinner rolls recipe! These rolls are fantastic! They are a little time consuming to make. However they are worth every minute. You don't need to use bread flour, instead we will keep it simple, and use some regular all purpose flour. The outcome of these rolls are to die for. I always serve these sweet dinner rolls for Thanksgiving, and Christmas! Give this a recipe a try, and tell me what you think in the comment section.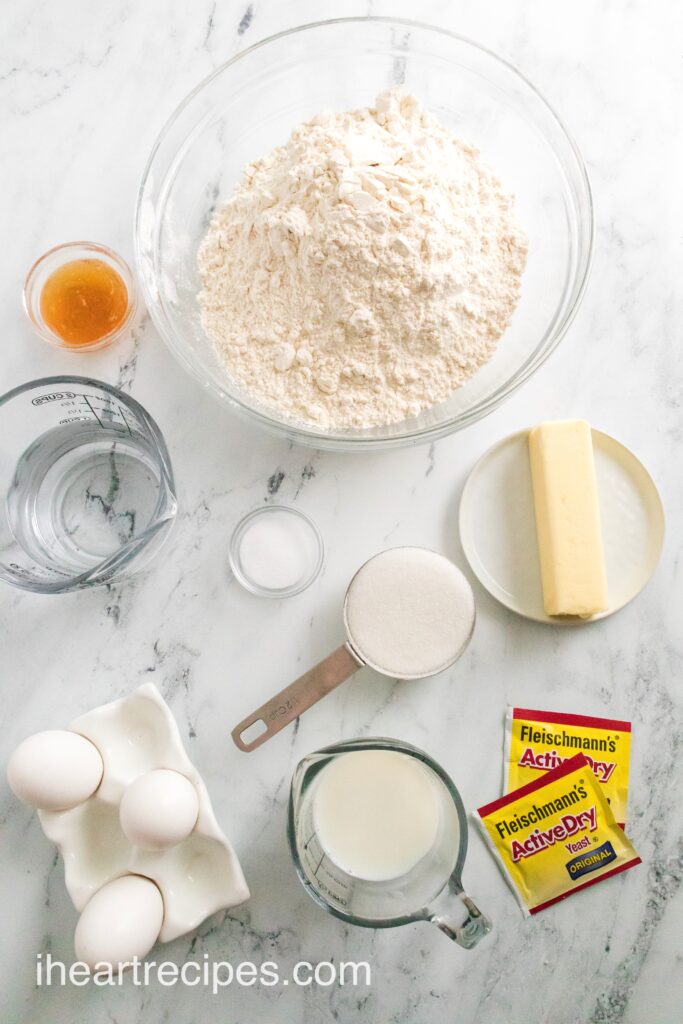 Ingredients
all purpose
large eggs, at room temperature
half cup butter
a couple teaspoons salt
half cup sugar
a few tablespoons of honey
active dry yeast
warm water
warm milk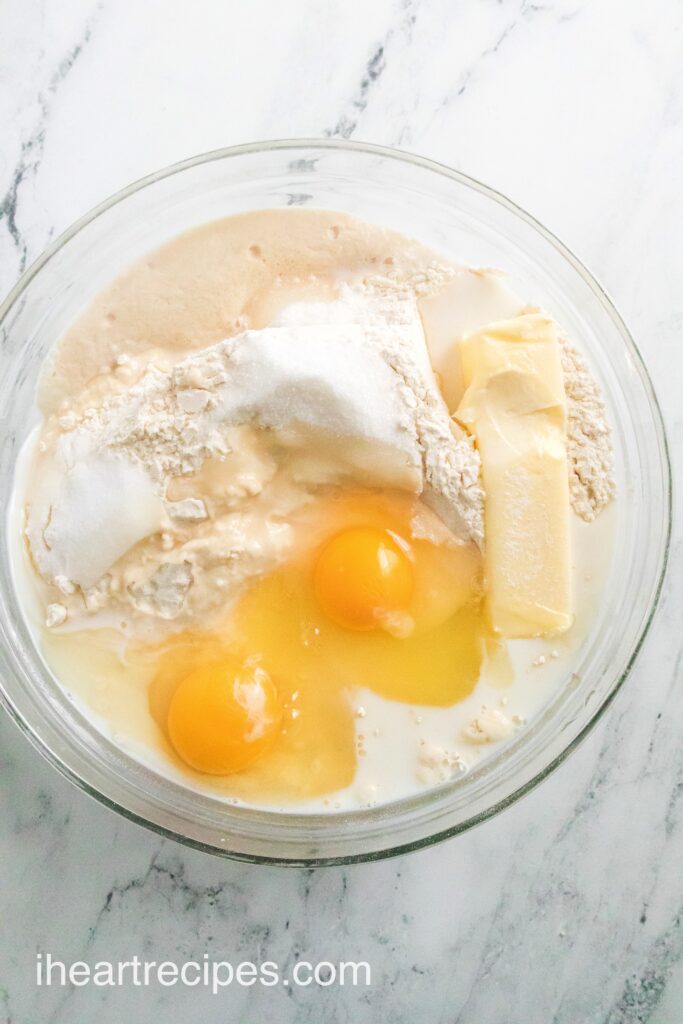 Simple Step By Step Instructions
First, you need to proof the dough. You can do so by pouring the warm water into a large mixing bowl, then add in 1 tbsp of sugar, and the active yeast. Mix well, and let sit for 5 minutes.
Once the yeast has foamed add the flour, remaining sugar, butter, and salt into the  large mixing bowl.
Pour in the warm milk.
Crack open 2 eggs, and add them into the bowl as well.
Mix until everything is combined, and it forms into a nice sticky dough.
Knead the dough mixture on a lightly floured surface for about 10 minutes.
Oil a large bowl, then place the dough into the bowl.
Cover bowl with a clean cloth or towel, and let it rest for 1 1/2 hours in a warm draft free place.
Knead the dough for 10 minutes.
Divide the dough into 24 equal balls, and roll them up.
Grease, or oil an aluminum bake dish, and place the rolls into the dish.
Put the rolls in a warm place, and let them rise for about 1 hour.
Preheat the oven to 350 F.
Separate 1 egg, discard the yolk, and brush the egg whites on top of the rolls.
Bake the rolls for 20 minutes, or they're nice and golden brown.
Remove the rolls from the oven, and brush with desired amount of melted butter.
Equipment Needed
Unlike many bread recipes, you won't need a bread machine. You just need some mixing bowls, a whisk ( if you're doing this by hand) a sheet or baking pans, and a clean large cloth. The cloth will be used to cover the bowl during the dough resting period.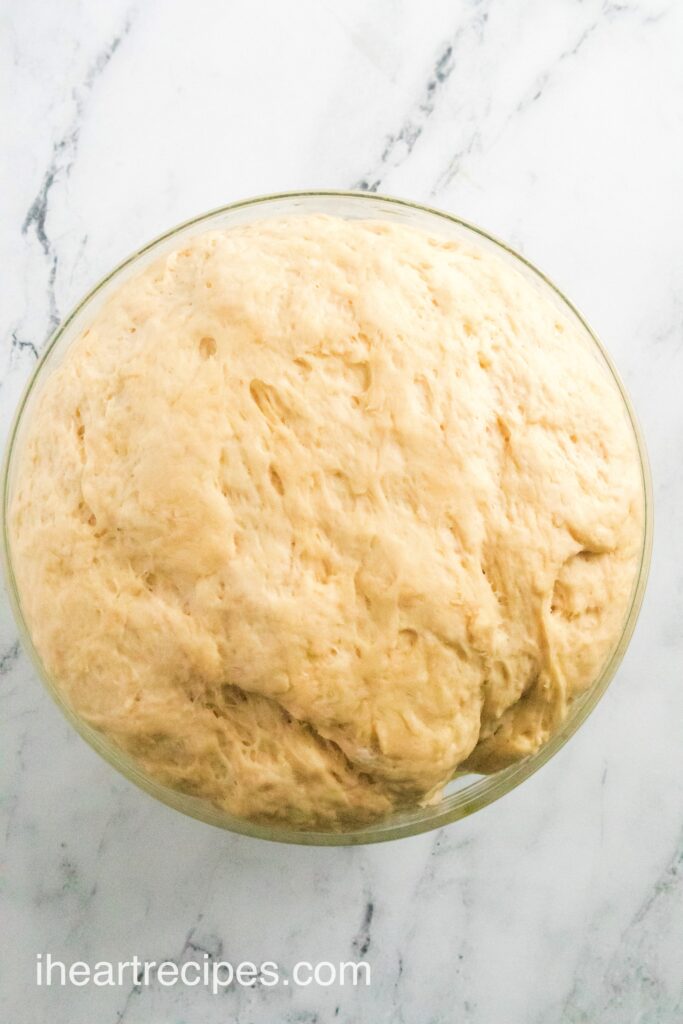 Time To Make Some Dough!
You can make the dough many ways. You can do it by hand, use a handheld mixer, and a stand mixer. When I make bread recipes I usually use my Kitchen Aid, and take advantage of my dough hook. It helps tremendously. Be sure to not to over mix the dough mixture, otherwise it will become too elastic . To prevent over mixing, I make sure to sift the flour before adding it with the the other ingredients. This prevents a lot of lumps. Also, be sure to slowly mix, stir, and knead.

Let The Dough Rise
You'll find that a few times when you have to let the dough rise. This is common in many dinner roll recipes. Please do not skip these parts. I understand that letting the dough rise can be time consuming, however it is necessary when it comes to making homemade dinner rolls.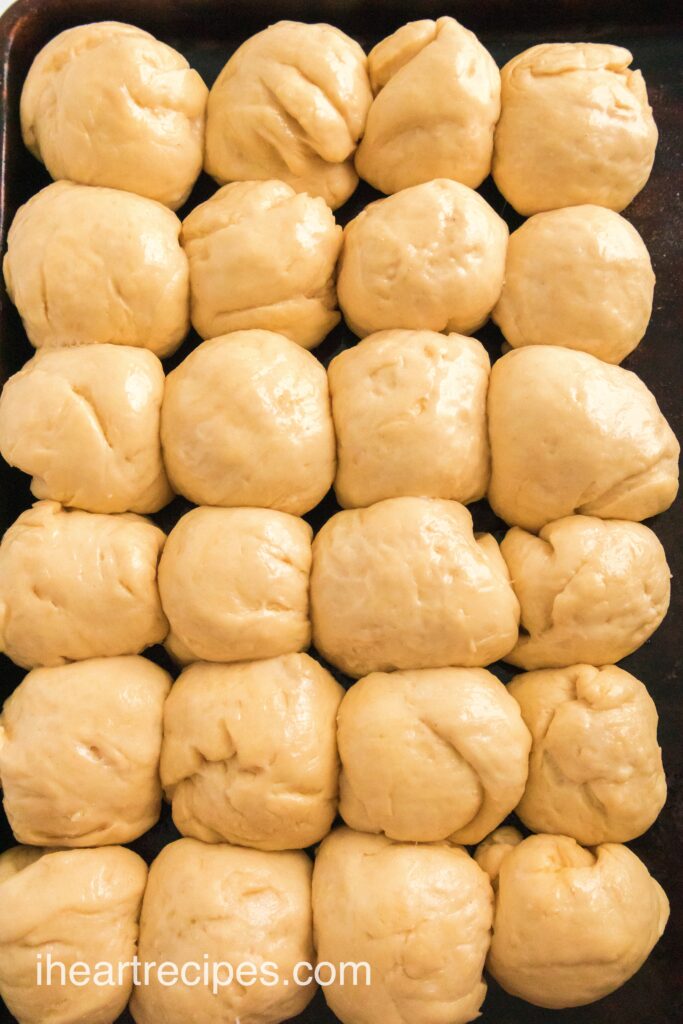 Cut Into Equal Parts & Roll!
This recipe will yield approximately 24 rolls. Be sure to cut the dough into equal parts, then place then in a bake dish.

Placing The Roll In A Pan
Be sure to prepare your bake pan before adding the rolls in. You can so this by lightly greasing the dish with butter, butter flavored shortening, or use baking spray! When you place the rolls into the dish, be sure to leave a little space, an inch or so in between the rolls. You may not be able to fit all the rolls on the baking sheet at once, and that's alright. You can bake the rolls in several batches!

Now Let The Rolls Rise
After you place the rolls on the baking sheet, you're going to let them rise. Remember that we left some space between them? Well that gives the rolls some room to fill out. Once the rolls rise the will almost double in size. After they double in size, it's time to bake!
For the most part, making these sweet dinner rolls are easy. If anything, they just take sometime! One done serve with some honey butter, or maybe with some soup, and enjoy!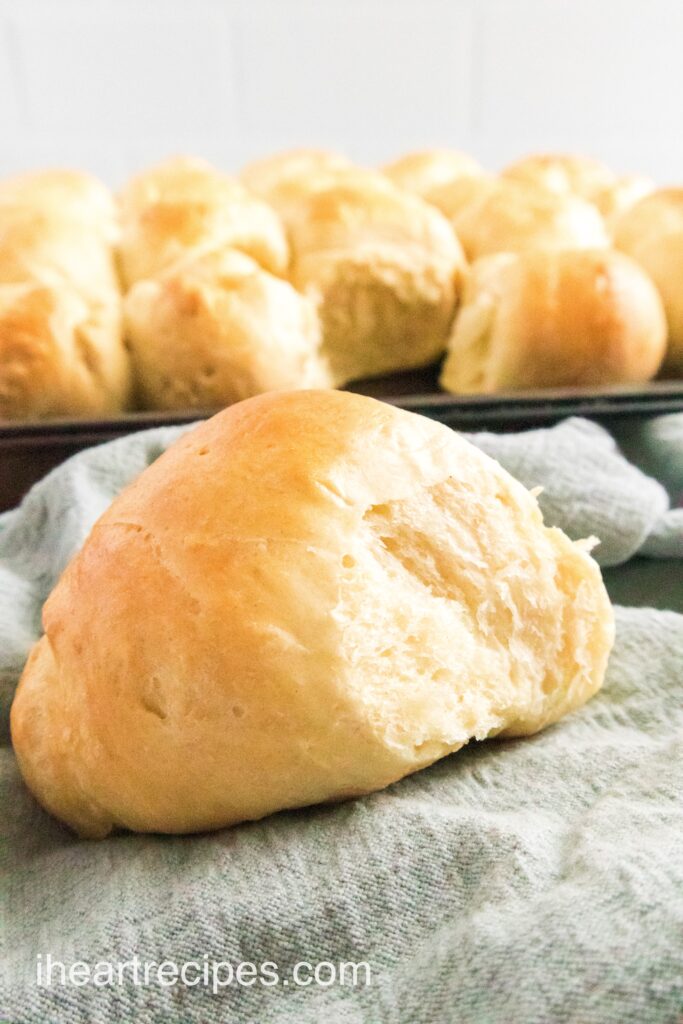 Loving this recipe? Try my Pumpkin Cinnamon Rolls!
Print, and save this recipe for later use!
The Easiest And Most Delicious Sweet Dinner Rolls
Ingredients
6

cups

all purpose flour plus more to knead

3

large eggs at room temperature

1/2

cup

of softened butter

unsalted

2

tsp

salt

½

cup

granulated sugar

3

tbsp

honey

2

envelopes of active dry yeast

1 1/4

cup

warm water

1/2

cup

warm milk
Instructions
Pour the warm water into a large mixing bowl, then add in 1 tbsp of sugar, and the active yeast. Mix well, and let sit for 5 minutes.

Once the yeast has foamed add the flour, remaining sugar, butter, and salt into the large mixing bowl.

Pour in the warm milk.

Crack open 2 eggs, and add them into the bowl as well.

Mix until everything is combined, and it forms into a nice sticky dough.

Knead the dough on a lightly floured surface for about 10 minutes.

Oil a large bowl, then place the dough into the bowl.

Cover the bowl with a clean cloth or towel, and let it rest for 1 1/2 hours in a warm draft free place.

Knead the dough for 10 minutes.

Divide the dough into 24 equal balls, and roll them up.

Grease, or oil an aluminum bake dish, and place the rolls into the dish.

Put the rolls in a warm draft free place, and let them rise for about 1 hour.

Preheat the oven to 350 F.

Separate 1 egg, discard the yolk, and brush the egg whites on top of the rolls.

Bake the rolls for 20 minutes, or until done.

Remove the rolls from the oven, and brush with desired amount of melted butter.

Serve & enjoy