This easy BLT Macaroni Salad is made with a few simple ingredients, and it's packed with flavor. Enjoy this spring or summer meal!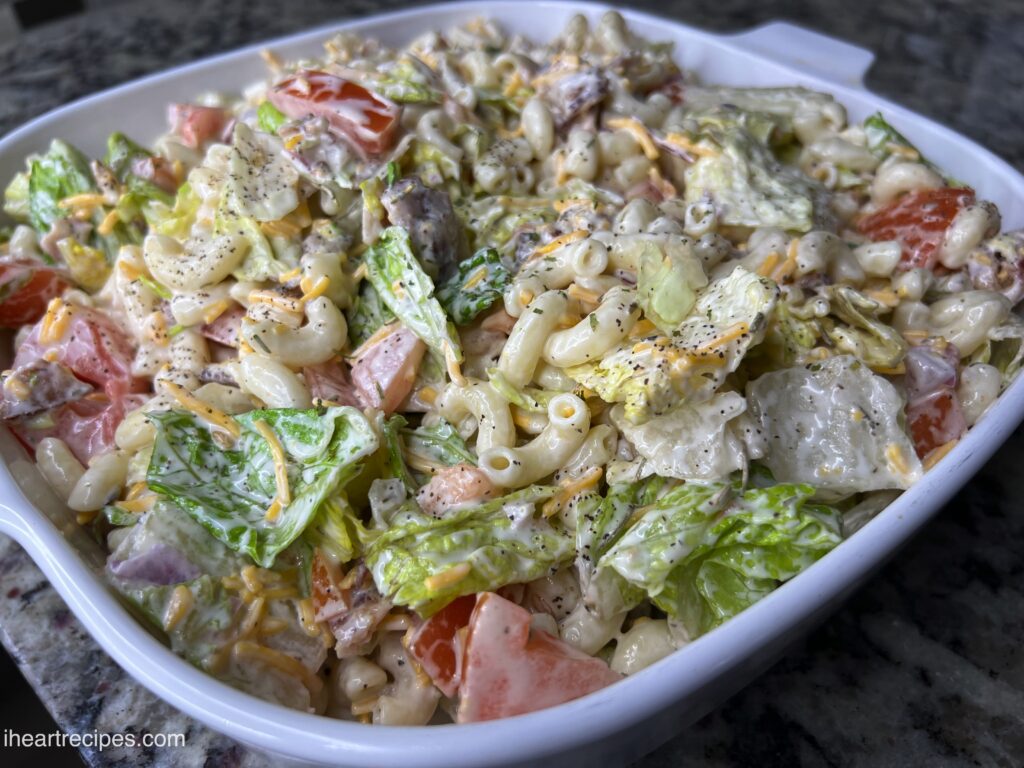 Cousins the weather is changing, and it's almost time to enjoy those spring, and summer barbecues. One dish that every cookout should have is an amazing macaroni salad. Over the years I've shared several pasta salad recipes, but I have yet to share my recipe for my famous BLT macaroni salad. This dish is a spin on two of classic recipes that people love, so it's always a win at any cookout.
What Ingredients Are In BLT Macaroni Salad
Elbow Macaroni Pasta: When I buy pasta, I usually don't get caught up in the brand. I almost always buy generic pasta. Especially for this dish.
Applewood Smoked Bacon: I prefer cooking my own bacon, and chopping it up for this macaroni salad recipe. If you're pushing for time, and don't want to cook the bacon you can use the store bought bacon pieces. I only suggest doing this if you don't have a lot of time. If you can spare the time, definitely cook the bacon yourself. Cooking your own bacon is less expensive, and you will get more bacon for your buck. I also think that it tastes better when you cook it. It could be me, but the store bought cooked bacon tastes different.
Chopped Romaine Lettuce: I love romaine lettuce. However, I'm also a lover of butter lettuce. I use whichever one I have on hand when I make this BLT macaroni salad. You can also use your preference of lettuce.
Tomatoes: Do you have a favorite tomato? I have several. For this recipe it's best to stick to slicing tomatoes. During the summer I love to add a variety of sweet colorful tomatoes from my garden. They make beautiful salads
Red Onion: Red onion is my choice for this recipe. However, yellow onions can be used as well.
Smoked Sea Salt: I love smoked sea salt. It's my number one choice for this recipe. However, I know that everyone doesn't have smoked sea salt on hand so feel free to use kosher sea salt instead. Yes, it will be missing a little of the smoky flavor. However, you'll still get some of the smoked flavor from the bacon.
Sharp Cheddar Cheese: Y'all know I love my sharp cheddar cheese! For me there is no substitution. However, feel free to incorporate your favorite cheese into this recipe
Herbs De Provence: This french herb blend is my secret weapon! It adds so much flavor to this salad!
Coarse Black Pepper: Because everything taste better with a little black pepper.
Mayonnaise: The base for our dressing. Be sure to use real mayonnaise, not no Miracle Whip!
Lemon Juice: I like to use fresh lemon juice.
What is macaroni salad sauce / dressing made out of?
Traditionally macaroni dressing is made of mayonnaise, a type of mustard, relish, salt, sugar, and pepper. However, this isn't your everyday classic macaroni salad. The dressing for this macaroni salad is made of mayonnaise, freshly squeezed lemon juice, herbs de provence, smoked sea salt, and black pepper
How do I keep macaroni from absorbing mayonnaise?
This is a very common question, and I actually have a really easy fix for this problem. To keep your macaroni pasta from absorbing the mayonnaise, make sure that the macaroni is completely chilled! You never want to add warm macaroni into your macaroni salad. Otherwise it will absorb all of the mayonnaise, and other liquid. This results in a super dry macaroni salad that know one will want, so chill that pasta y'all!
How to make BLT macaroni salad
Cook the elbow macaroni until it's nice, and al dente. Drain the pasta once done, and set to the side. Be sure to let the pasta cool completely.
While the elbow macaroni chills, cook the bacon until it's crisp. Once the bacon is done, chop it up, and set it to the side.
Grab a large mixing bowl, and add the mayonnaise and lemon juice.
Next sprinkle the smoked sea salt, and herbs de provence.
Mix the ingredients until well combined. Next add in the tomatoes, onions, sharp cheddar cheese, and bacon.
Fold in the ingredients, then add in the cool elbow macaroni.
Fold the ingredients until well combined, then add in the lettuce, and fold in.
Serve, and enjoy!
Note: If you're not going to serve the BLT macaroni pasta salad immediately, do not add in the lettuce. Otherwise it will wilt!
What to serve with macaroni salad
Macaroni salad can be served along for an easy lunch or dinner. However, you can also serve macaroni salad as a side dish along with some of your favorite cookout dishes. When I host a barbecue I like to serve my pasta salad with
Barbecue Ribs
Burgers
Hot Links
Corn on the cob
Watch me make this BLT Macaroni Salad, and be sure to print the recipe below!