Learn how I make my Miracle Whip coleslaw recipe – a sweet and tangy coleslaw with cabbage and carrots; a perfect side dish for backyard barbecues, parties, or your average weeknight dinner.
Hi friends! I know I've said it time and time again – I am NOT a coleslaw fan (in fact, this is the ONLY coleslaw recipe I have on my blog). But that was until I made THIS Miracle Whip coleslaw!!!
Honey, let me tell you I am a changed woman (okay, maybe not, but this stuff is really good – that's the truth!). This creamy coleslaw recipe is super easy to make and is way better than any store-bought or restaurant version.
Some even say this recipe is a copycat KFC coleslaw… and I have to say, it's pretty close! The main difference is that I use shredded cabbage in my recipe. KFC coleslaw is chopped into much smaller pieces. If you want, you can get that same effect using a food processor to chop up the cabbage and carrots. But I love the chunky shredded cabbage of this recipe.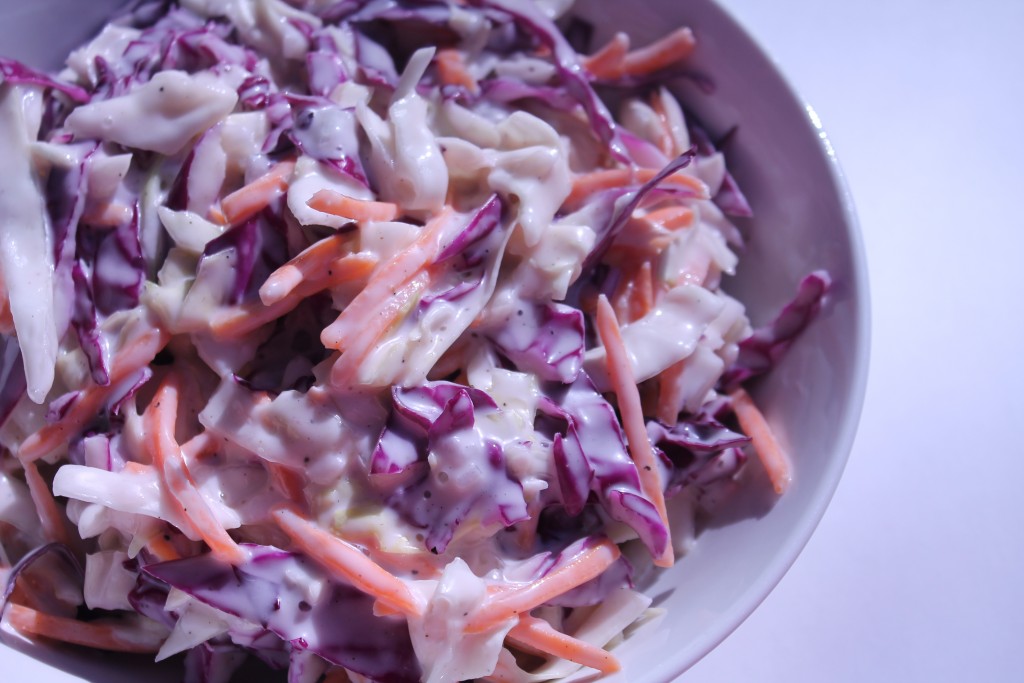 As the name implies, this recipe uses Miracle Whip for the dressing instead of mayonnaise. So what's the difference between Miracle Whip and mayo? Well, truth be told, it's pretty similar! Miracle Whip is sweeter and has a lot less fat, so it's a bit healthier than mayo. I just love that it's light, sweet, and tangy, which works well in this recipe.
Ready to learn how to make my creamy Miracle Whip coleslaw recipe? Let's jump on into it!
Basic Ingredients for Miracle Whip Coleslaw
This easy coleslaw recipe only calls for a handful of ingredients, and it comes together super fast, so it's ready for your next cookout in no time. Let's go over the ingredients you need for this easy coleslaw recipe.
For the body of the coleslaw, you'll need:
Shredded cabbage: I use red cabbage and green cabbage for my coleslaw recipe. You can also use a store-bought coleslaw mix to make it easier.
Large carrots, chopped or shredded: I use store-bought julienned carrots. Always give your store-bought, pre-packaged veggies a nice rinse before using them!
Diced onion: this ingredient is optional. I use diced yellow onion in my Miracle Whip coleslaw. I feel it gives it a bit of a bite. You could also use diced red onion, which will be sweeter than yellow or white onion.
For the creamy dressing, you'll need:
Miracle Whip: the secret ingredient! Y'all know I love Miracle Whip and use it in MANY of my salad recipes! It's sweet and tangy, perfect for this coleslaw recipe.
Dijon mustard: a little dollop of Dijon gives the coleslaw dressing a hint of spice.
Milk: milk helps thin out the coleslaw dressing. You can use whatever percent milk you have on hand.
Apple cider vinegar: this ingredient adds to the tanginess of the dressing. Plus, apple cider vinegar has loads of health benefits, so it's always a great addition to a salad dressing!
Sugar, salt, & black pepper: These final ingredients are the "seasonings" in this coleslaw recipe. While Miracle Whip is already sweet, the small amount of added granulated sugar helps balance the creamy tanginess of the dressing. Salt and pepper, well, of course, is just a necessity!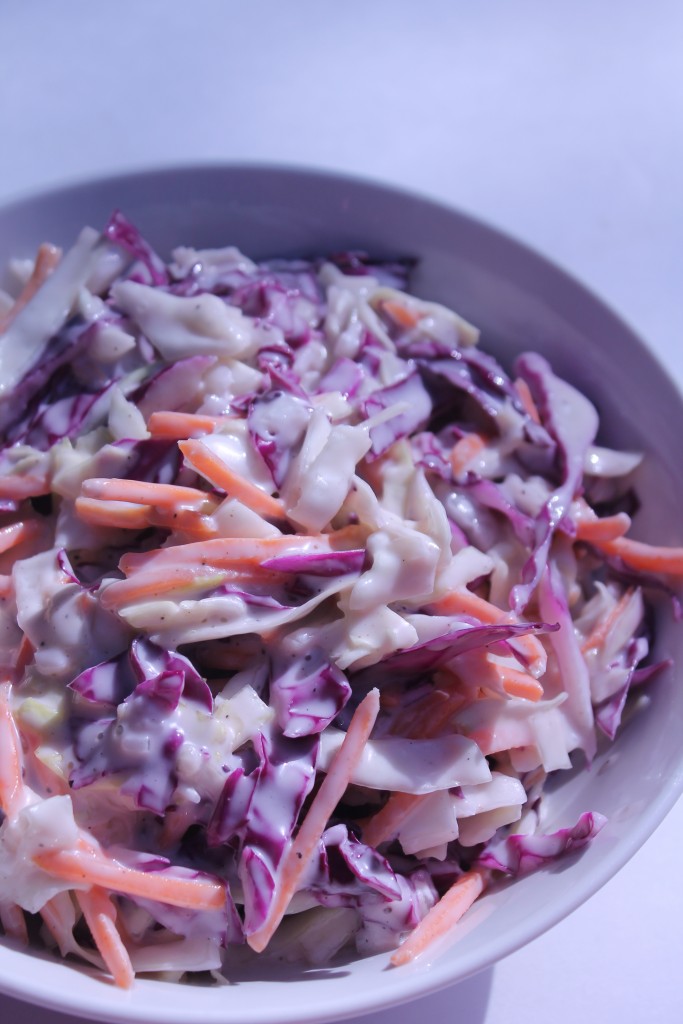 What else can you add to Miracle Whip coleslaw?
While my list above is a basic coleslaw recipe that will do just fine, you can also spice up this recipe based on your personal preference. Some other popular add-in ingredients are:
Celery seed – for added spice and flavor
Lemon juice – adds a citrus tanginess
White vinegar – less sweet than apple cider vinegar
Poppy seeds – adds nuttiness
Mustard seed – adds crunch and spice
Fruits like apples or dried cranberries – add sweetness and texture
Sweet bell peppers – add color and a nice crunch
How to Make Easy Miracle Whip Coleslaw
Now that you know all the good stuff involved in making this homemade coleslaw recipe let's get into HOW to make it. I'm tellin' y'all – it could NOT be easier. You can make this coleslaw in practically five minutes.
You can find these directions below in the recipe card as well. Here's how I made this crazy easy Miracle Whip coleslaw recipe:
Prep the veggies. Chop the red and green cabbage, julienne the carrots, and dice the onion. If you're using a pre-packaged coleslaw mix, rinse everything in cold water, then dry on a paper towel before continuing to mix the rest of the ingredients. Pro-tip: if you want copycat KFC coleslaw, toss all these ingredients into a food processor and pulse until everything is nicely chopped.
Mix the creamy coleslaw dressing. Add the Miracle Whip, apple cider vinegar, Dijon mustard, milk, sugar, salt, and pepper to a large bowl and whisk until well-combined.
Add the cabbage mixture. Stir the coleslaw until the cabbage and carrots are completely coated, and everything is well-combined.
Refrigerate for at least 2 hours. You want your creamy coleslaw to be nice and chilled when you serve. Plus, the longer it sits, the more those delicious flavors get to hang out together, amplifying all that yumminess!
That's it y'all! I told you it was easy! My coleslaw recipe is a must if you're prepping for a family gathering, backyard barbecue, or summer picnic. While you're at it, you could even make some of these simple side salads for even more of a spread:
Frequently Asked Questions
What do I serve Miracle Whip coleslaw with?
I am so glad you asked! Coleslaw is the perfect side dish for so many other dishes! You can serve homemade creamy coleslaw with pulled pork sandwiches or slow cooker pork spare ribs. Serve alongside or on top of a classic sloppy joe or with juicy hickory smoked barbecued chicken. If you're looking for heartier recipes to pair coleslaw with, I suggest a homestyle meatloaf, traditional fried chicken, slow cooker beef brisket, or a fish fry.
How long does Miracle Whip coleslaw or mayo-based coleslaw last?
When kept in the fridge, homemade coleslaw should last 3-4 days. Of course, make sure you keep it in an airtight container, well-sealed, to keep it tasty for as long as possible. Coleslaws made with a more vinegar-based dressing tend to last longer, but since this is a creamy coleslaw, it's best served fresh and enjoyed within a few days.
Can you make creamy coleslaw ahead of time?
Yes, you can – however, because this recipe is SO flippin' easy and comes together in literally 5 minutes, I HIGHLY recommend making it and serving it the same day! If you must make this recipe ahead of time, you can prep your vegetables (chopped cabbage, carrots, etc.) a day or so in advance and keep them in a sealed bag or container in the fridge until the day of. Then, whip together the dressing, mix, and serve for the best, tastiest results.
Homemade Miracle Whip Coleslaw Recipe Card + Video Tutorial
Okay Cousins, it's time for y'all to quit reading, get your booties in the kitchen, and make this dang coleslaw! This easy recipe is the perfect summer side dish for cookouts, picnics, potlucks, and so much more. Never buy store-bought coleslaw again!
Print out my homemade creamy coleslaw recipe using the recipe card below! Don't forget to subscribe to I Heart Recipes on YouTube to see all of my recipe videos, cooking tips, and more! You can also follow me on Facebook, Instagram, and Pinterest to keep up with all things Rosie and I Heart Recipes!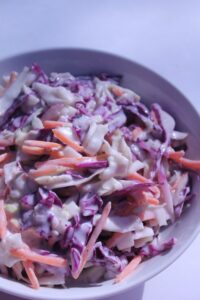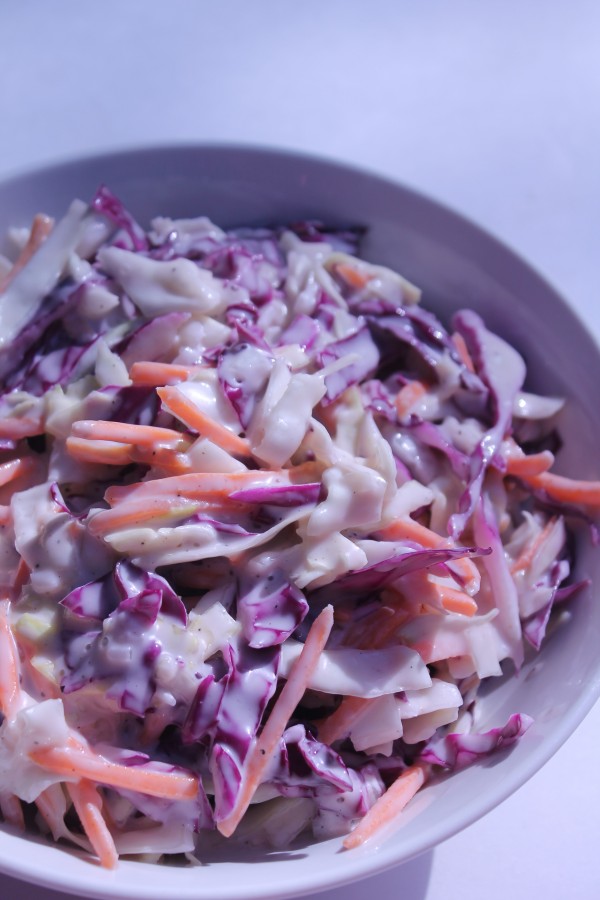 The Best Miracle Whip Coleslaw Recipe
This effortless creamy coleslaw recipe is as simple as combine-and-serve. Ready in less than 10 minutes, you've got a sweet and tangy side dish that's perfect for any summer party or backyard BBQ!
Watch Video
Print Recipe
Pin Recipe
Instructions
Chop the red and green cabbage, julienne the carrots, and dice the onion. If you're using a pre-packaged coleslaw mix, rinse and dry veggies with a paper towel.

Prepare your creamy coleslaw dressing. Mix Miracle Whip, apple cider vinegar, Dijon mustard, milk, and sugar. Whisk together until well combined.

Toss in cabbage, carrots, and onions. Toss until all vegetables are coated and everything is well combined.

Refrigerate for at least two hours before serving, or serve immediately if all ingredients are cold.
Video
If you loved this recipe,
leave me a review below
. This helps future recipe makers and ensures continued high-quality recipes for years to come!
© 2023 I Heart Recipes