A creamy summer pasta salad recipe loaded with colorful fresh vegetables, ham, cheese, and a simple mayo dressing. Perfect for summer parties!
Hi friends! The weather is warming up and my hubby and I have already grilled a few times. I'm talking about ribs, brisket, and of course, burgers! Whenever I grill, I always make sure to have a few fabulous side dishes on hand. One of my favorite cookout side dishes to make is a simple summer pasta salad. In this post, I will show you how to make a delicious and EASY summer pasta salad recipe.
Whenever I make my summer pasta salad, it's almost too pretty to eat. The colors from the carrots, ham, peas, and other ingredients make the salad absolutely gorgeous. Not only is this salad a "looker," but it tastes amazing too! Let's get right on into the recipe.
Ingredients for Summer Pasta Salad
This cold pasta salad recipe is extra simple. Y'all know I'm all about easy, stress-free recipes, especially in the summertime. It's hot, kids are busy, and your calendar is booked up. No one has time for a long ingredient list! For this summer pasta salad, all you need is pasta, veggies, cheese, Miracle Whip, and milk.
Pasta
For my summer pasta salad, I use macaroni salad pasta, but you can use a different pasta if you choose. The shape of pasta you choose for your pasta salad really depends on your preference! You want pasta that will hang on to that creamy pasta salad dressing and isn't too large. This salad is a side dish, so you don't want your partygoers filling up with hefty pasta! Here are some suggestions for the best pasta for cold pasta salads:
Penne
Rotini
Tri-colored pasta
Small pasta shells
Bow ties
When cooking the pasta, be sure not to overcook it—otherwise, that will really mess up your pasta salad. You want to cook your pasta according to the package directions until the pasta is nice and al dente.
Mix-Ins: Vegetables, Meat, & Cheese
The next main ingredient for a summer pasta salad is vegetables. Veggies not only add fresh flavor but color too! There's nothing prettier than a bright and colorful fresh pasta salad on the buffet table at a party. Fresh ingredients really make the flavors in this pasta salad pop.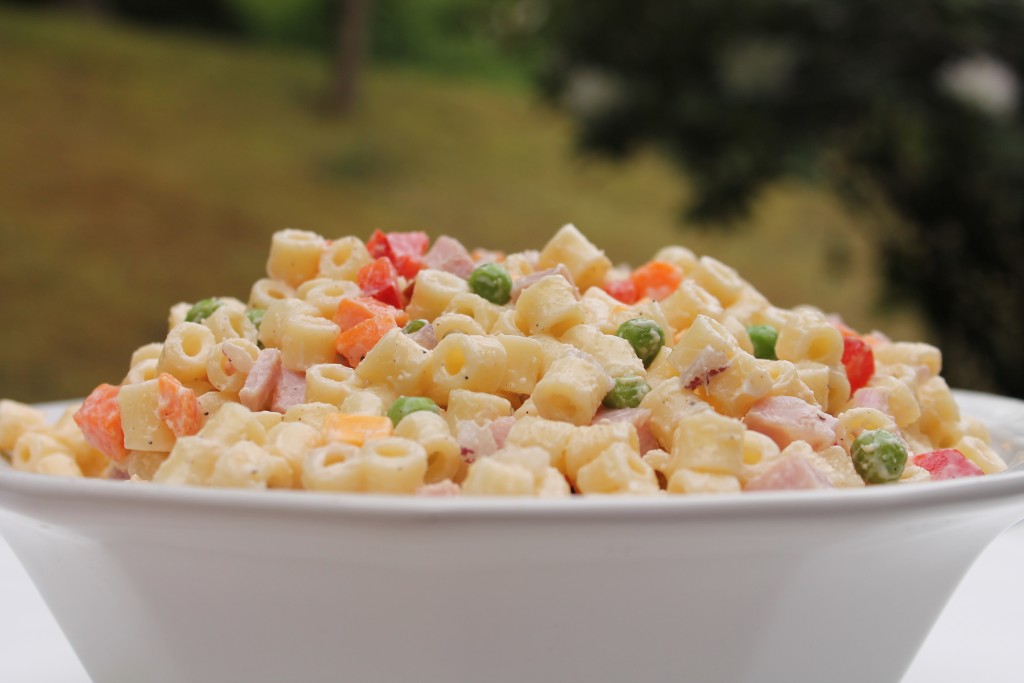 So, what vegetables belong in a summer pasta salad? There are so many options! My pasta salad recipe uses four vegetables:
Red onion
Sweet red pepper
Peas
Carrots
With just four fresh veggies, my pasta salad comes together in about 15 minutes, making it extra simple—y'all know that's how I roll! However, there are no rules when it comes to vegetables you want to include in your cold pasta salad recipe.
Think about what flavors you're going for. If you want a Mediterranean vibe, you might want to include black olives, feta cheese, and red peppers. A classic Italian pasta salad would include ripe cherry tomatoes, Parmesan cheese, and crisp cucumbers. Bell peppers, green onions, black beans, or fresh herbs like basil also add great flavor and brightness.
Next, what meat should you use in a cold pasta salad? Again, it totally depends on your taste! I used cubed ham, which adds a saltiness that mixes well with the sweetness of the mayo dressing. Other great meat choices would include:
Prosciutto
Bacon
Pepperoni
Turkey
Chicken
The key to making a delicious pasta salad with meat is ensuring your meats are fully cooked and thoroughly cooled before adding them to your salad. Like vegetables, think about your flavors—salami and prosciutto go well in Italian pasta salads, while turkey or chicken taste delicious in a Greek pasta salad.
Finally, cheese. No pasta salad is complete without cheese! My summer pasta salad has cubed cheddar cheese. Delicious bites of sharp cheddar in each bite—perfecto! Like meats and veggies, keep your cheese choices in line with your flavor profiles. Some cheese options for cold pasta salad:
Shredded or shaved Parmesan
Shredded mozzarella
Shredded or cubed mild or sharp cheddar
Cubed pepper jack or Colby jack
Feta cheese, goat cheese, or blue cheese crumbles
Homemade Dressing
The next element for a yummy pasta salad is the dressing. This summer pasta salad recipe is coated with a creamy Miracle Whip dressing. The base of most creamy pasta salads is a mayonnaise-type dressing, which tastes delicious and refreshing when served cold. Here are some popular cold pasta salad dressing options:
Creamy Miracle Whip pasta salad dressing: The dressing I use in my pasta salad calls for two ingredients: Miracle Whip and milk. Simple, easy, tasty! The Miracle Whip is already sweet and tangy, perfectly balancing with the crisp vegetables and salty ham.
Zesty Italian Dressing: Italian dressings are typically oil and vinegar based—extra-virgin olive oil mixed with red wine vinegar or white wine vinegar, and Italian seasoning.
Creamy Ranch Dressing: Ranch is an American staple, so it only makes sense to use it as a pasta salad dressing. I have a delicious dill pickle and ranch pasta salad recipe that's creamy and tangy, perfect for summertime.
There are so many different pasta salad dressing options—whether you want a creamy, rich salad dressing, an oil-based vinaigrette, or a healthier, light dressing, it's all up to your taste buds! I think creamy pasta salads are a summer staple, which is why I have so many pasta salad recipes to choose from!
How to Make My Creamy Summer Pasta Salad: Recipe Card + Video
Alrighty cousins, now that you know how to piece together a delicious pasta salad, lemme tell y'all how I made mine! I have a helpful video tutorial showing how I made my cold pasta salad with ham, cheese, and veggies.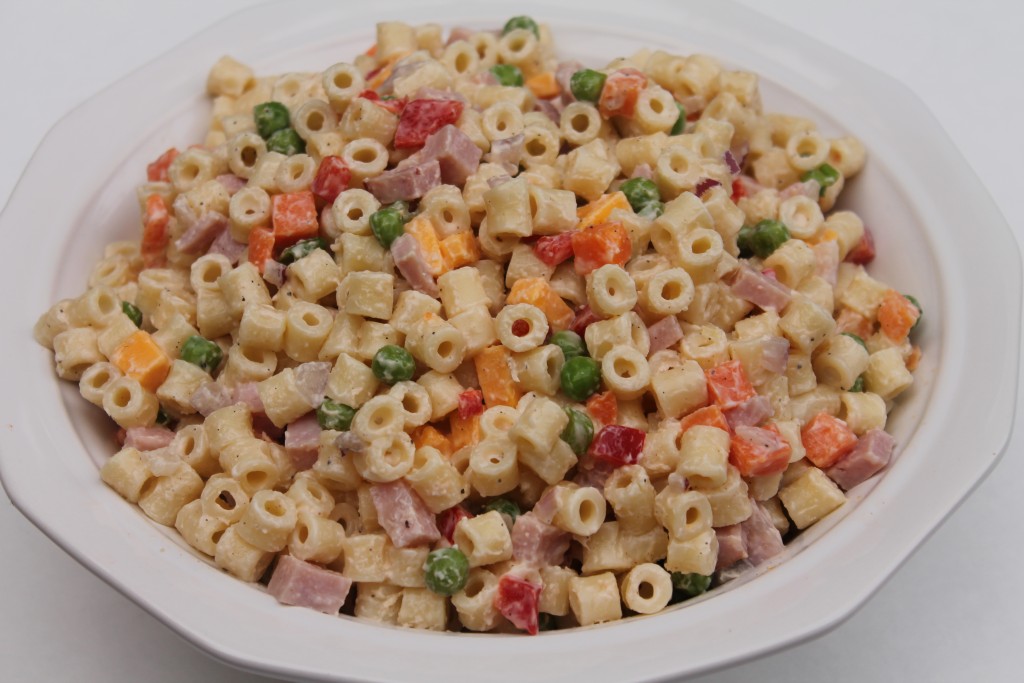 It's super simple to make this delicious pasta salad. First, bring a pot of salted water to a boil, then cook the pasta of your choice according to the package instructions. While your pasta is cooking, prep your veggies, cheese, and meat. Make sure the vegetables are washed nice and clean in cold water. Then, chop and dice! All your mix-ins should be in small pieces, so they mix well with your pasta.
Once the pasta is cooked (pro-tip: slightly undercook your pasta, so it's perfectly al dente and not mushy), drain and rinse with cold water. Let your pasta cool completely before mixing in the rest of your ingredients.
Finally, in a large bowl, mix your pasta, mix-ins, and dressing. Give it a good stir until everything is well combined. Cover the pasta salad and allow it to chill in the fridge for at least two hours before serving, so it's nice and cold, and all the flavors get a chance to mingle. Store leftovers in an airtight container for 3-5 days.
More Pasta Salad Recipes from I Heart Recipes
Don't miss these other flavorful pasta salad recipes I have—they're all perfect for summer gatherings, potlucks, BBQs, and more.
Print out my easy pasta salad recipe using the recipe card below! Don't forget to subscribe to I Heart Recipes on YouTube to see all of my recipe videos, cooking tips, and more! You can also follow me on Facebook, Instagram, and Pinterest to keep up with all things Rosie and I Heart Recipes!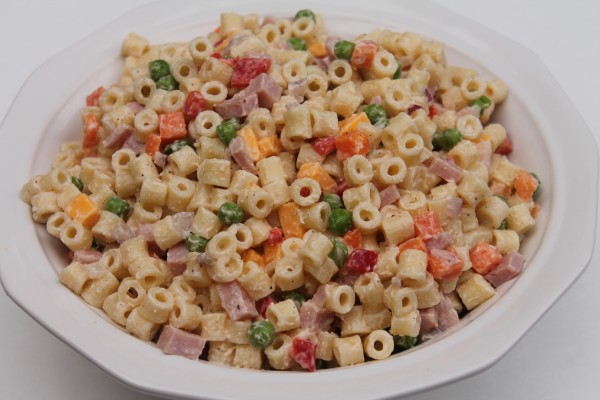 Summer Pasta Salad
This fresh, colorful summer pasta salad is as pretty as it is delicious! Try this pasta salad recipe for your next family get-together.
Watch Video
Print Recipe
Pin Recipe
Instructions
Make sure that you cook the pasta until it is nice and al dente. Be sure to not overcook the pasta.

In a large mixing bowl, add the Miracle Whip and milk. Mix until it's nice and creamy.

Next, toss in the pasta (make sure the pasta is cold before adding it in!)

Stir in the pasta and make sure that it is nicely coated with the dressing.

Next, add in the peas, onions, carrots, sweet peppers, ham, and cheddar cheese.

Sprinkle in the salt and pepper, then fold all of the ingredients in.

Cover the pasta salad and place it in the refrigerator until it is nice and cold.

Garnish with green onions, and serve!
Video
If you loved this recipe,
leave me a review below
. This helps future recipe makers and ensures continued high-quality recipes for years to come!
© 2023 I Heart Recipes