Chicken macaroni salad is the perfect pasta salad. A creamy dressing coats tender pasta, veggies, and shredded chicken. Make this cold chicken macaroni salad for picnics, cookouts, or any gathering!
Hey friends! I have the most amazing cold macaroni salad recipe for you to try! I'm going to show you how I make my infamous cold chicken macaroni salad. This pasta salad recipe is super easy to whip together and extremely budget-friendly.
A creamy chicken macaroni salad is perfect for almost any get-together. You don't have to wait for a special occasion to make this pasta salad. Summer BBQs, potlucks, or holidays are a great excuse to make a cold pasta salad—who doesn't love a creamy macaroni salad? Y'all know I have many pasta salad recipes, like my deviled egg macaroni salad, a spiced-up Texas caviar salad, and even a classic Southern pasta salad, to name a few!
One thing I love about this chicken macaroni salad recipe is how customizable it is. If you don't love one of the ingredients I use, you can sub it out for something you DO like. Everyone has a different recipe for chicken macaroni salad, so I encourage you to do YOU, boo boo. Let's jump on into how to make the best chicken macaroni salad recipe.
Cold Chicken Macaroni Salad Ingredients
You can break this cold salad recipe into three main parts: the cream mayo-based dressing, the add-ins, and the pasta. Once you put them all together, it's magic, baby! As always, I highly recommend you follow the recipe for the best results. Check out the recipe card at the end of this post for the exact ingredient measurements. Here are the ingredients I use!
Creamy dressing ingredients:
Mayonnaise: I use Best Foods, aka Hellman's mayo, as the base for my salad dressing, but feel free to use your favorite brand.
Dijon mustard: I use regular Dijon, not spicy. Feel free to use regular yellow mustard if you aren't a fan of Dijon.
Sweet pickle relish and dill relish: I love the sweet and tangy kick of using both sweet and dill relish.
Seasonings: I use the good ole' reliable Mrs. Dash seasoning. It's lemony and peppery, and salt-free. (Of course, check out the yummy seasoning options we have at RosaMae Seasonings as well!)
Chicken macaroni salad add-ins:
Chicken: Obviously, it's not a chicken macaroni salad without protein! I used canned chicken from Costco, but you could use any leftover cooked chicken, shredded rotisserie chicken, or even just chopped-up boneless chicken breast.
Hard-boiled eggs: I love including eggs in my macaroni salad because I think it's a staple ingredient. Dice 'em up into small pieces so they mix well with the other ingredients.
Vegetables: For my chicken macaroni salad, I use sweet red bell pepper, green onions, red onion, and celery.
What other vegetables or mix-ins could you use in your own version of chicken macaroni salad? Green bell peppers, peas, diced carrots, or shredded cheese are popular options that add texture and flavor.
Also, you can replace the chicken with canned tuna if you prefer a tuna macaroni salad instead. You could also omit the proteins completely for an all-veggie pasta salad.
What is the best pasta to use for chicken macaroni salad?
The final piece of the puzzle—the pasta! As the name suggests, you should use macaroni pasta, right?! Well, I get a little crazy and use cavatappi pasta (or, as I like to call it, corkscrew pasta!). You could just as easily use elbow macaroni pasta, mini shells, or rotini pasta. The best pasta for a creamy pasta salad recipe is the type that holds onto the creamy dressing and mixes in perfectly with the rest of the ingredients.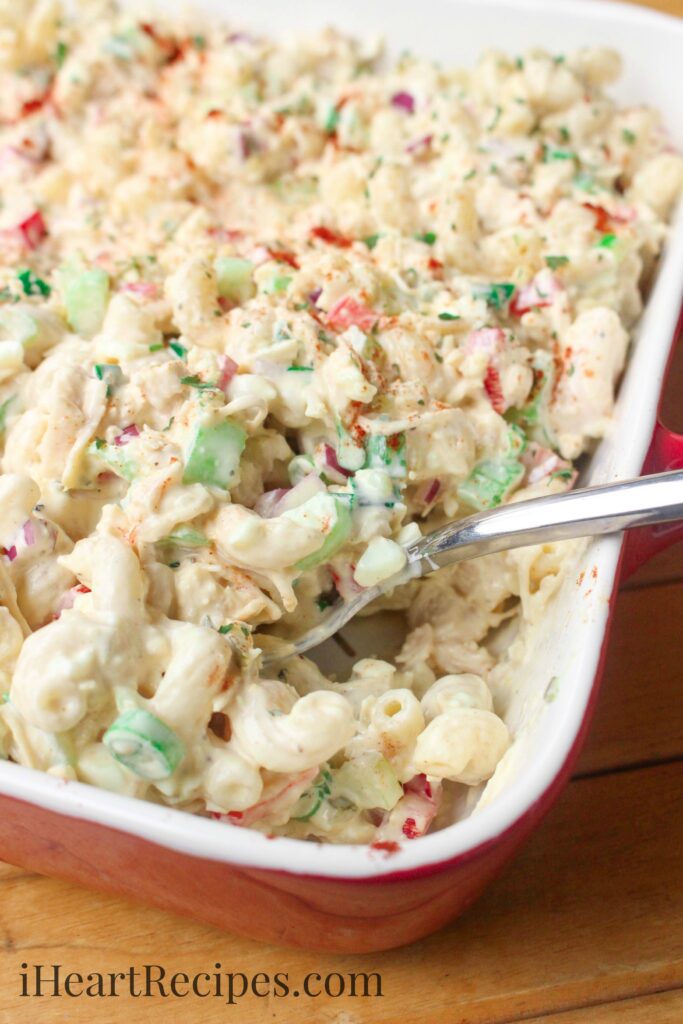 How to Make Cold Chicken Macaroni Salad
Making this chicken pasta salad recipe is almost way TOO easy, and it really only takes a few minutes once the pasta is cooked. Check out my YouTube video tutorial for step-by-step visual directions on how to whip up this insanely easy chicken macaroni salad recipe.
Here's how to assemble this classic pasta salad recipe:
First, cook the dried pasta according to the package directions. Slightly undercook the pasta by a minute or two, so it won't become mushy when mixed in with the creamy dressing.
While the pasta is cooking, mix the mayo-based dressing using the mayonnaise, Dijon mustard, relish, and seasonings.
Next, add all your mix-ins. My chicken, vegetables, and eggs are diced into small pieces so they mix well with the salad dressing.
Next, add the pasta. You don't want to add hot pasta to a mayo-based dressing, so make sure to rinse the pasta with cold water before adding it to the chicken salad mixture.
Finally, mix everything together (make sure you use a large mixing bowl—you'll need the room!) until well combined. At this point, do a taste test to see if you want to add any more seasoning (like salt, back pepper, or even some garlic powder). I transfer the macaroni salad into a casserole dish, then refrigerate it for about 3 hours until it's nice and cold.
Can I make macaroni chicken salad ahead of time?
You certainly can make this a day or so ahead of time, but I wouldn't recommend making it much earlier than that! The mayo dressing will soak into the pasta, which will definitely help flavor the pasta but could also leave the salad feeling a bit dry after a day or so. This cold pasta salad recipe is best served the day of after a short stay in the fridge!
How long does chicken macaroni salad last?
A creamy macaroni salad should last 3-4 days in the fridge. Store the pasta salad in an airtight container or tightly covered with plastic wrap or tin foil. If the dressing starts to separate, it will degrade sooner, so keep an eye on those leftovers before diggin' back in.
Can you freeze chicken macaroni salad?
You should not freeze this creamy macaroni salad because multiple ingredients don't freeze well. Fresh veggies, the mayo dressing, and cooked pasta change textures after being frozen. Again, this creamy chicken macaroni salad is best served the same day it's made.
What can you eat/serve macaroni salad with?
This chicken macaroni salad is perfect as a side dish or a main dish. What goes best with a creamy macaroni salad?
Cold Chicken Macaroni Pasta Salad Recipe Card + Video Tutorial
My easy, creamy chicken macaroni salad is perfect for any occasion. Whether you're serving it as a side dish at a party, or a main course for an easy, light dinner, it's sure to be a new family favorite! Watch how I make my chicken pasta salad in the video tutorial on my YouTube channel. You'll also find the full recipe below in the printable recipe card. Let me know what you think below in the comments! I hope your family and friends love this recipe as much as mine.
As always, don't forget to tag and follow me on Facebook, Instagram, and Pinterest, subscribe to I Heart Recipes on YouTube, and check out all my cookbooks! I just released a brand new cookbook, Super Soul Food with Cousin Rosie, with many recipes you can't find anywhere else.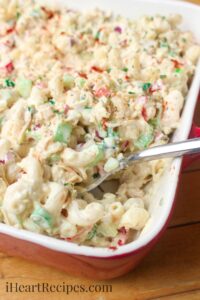 Cold Chicken Macaroni Salad
A flavorful cold chicken macaroni salad that will please a crowd at any tailgate, holiday, or potluck! This chicken pasta salad is made with a creamy mayo-based dressing, chicken, fresh veggies, and pasta.
Watch Video
Print Recipe
Pin Recipe
Ingredients
Salad Dressing Ingredients:
1 1/2

cup

mayonnaise

2

tbsp

dijon mustard

1/4

cup

sweet relish

1/4

dill relish

1

tbsp

salt free seasoning

Mrs Dash or generic
Pasta Salad Ingredients:
3 1/2

cups

dry macaroni pasta

I used cavatappi

2

cans

chunk chicken breast

12.5 oz. cans

3

hard-boiled eggs

diced

2

stalks of celery

diced

1

medium-sized red bell pepper

diced

5

green onions

chopped

1

small red onion

diced

Parsley flakes

optional

Paprika

optional
Instructions
Boil the pasta until just before it's al dente, then drain.

Dice or crumble the boiled eggs, then set to the side.

In a large bowl, add in the mayonnaise, dijion mustard, relish, and seasonings. Mix until well combined.

Next, add in the diced peppers, onions, celery, chicken, and eggs. Fold the ingredients until combined.

Now add in the pasta and fold carefully until well combined.

Once everything is well combined, transfer the chicken macaroni salad to a refrigerator safe dish and cover.

Place in the refrigerator for at least 2 hours.

Remove from the refrigerator and sprinkle parsley flakes and paprika on top (optional).

Serve and enjoy!
Video
Notes
Rinse the cooked pasta with cold water before adding to the chicken salad mixture. 
You can use canned tuna instead of chicken, or leave out the protein completely for a veggie pasta salad.
Sub in shredded rotisserie chicken or leftover cooked chicken instead of canned chicken.
Store leftovers in the fridge, covered, for up to 3-4 days.
If you loved this recipe,
leave me a review below
. This helps future recipe makers and ensures continued high-quality recipes for years to come!
© 2023 I Heart Recipes