How to make delicious oven baked spicy BBQ shrimp, AND how to remove the stubborn BBQ stains!
This post has been sponsored by Tide PODS® . All opinions are mine.
Everyone knows how much I love BBQ! BBQ Chicken, ribs, turkey wings…You name it, and I've probably shared a recipe for it. Surprisingly, in this post I will be sharing my first seafood BBQ recipe. I will be showing you how I make my Spicy BBQ Shrimp!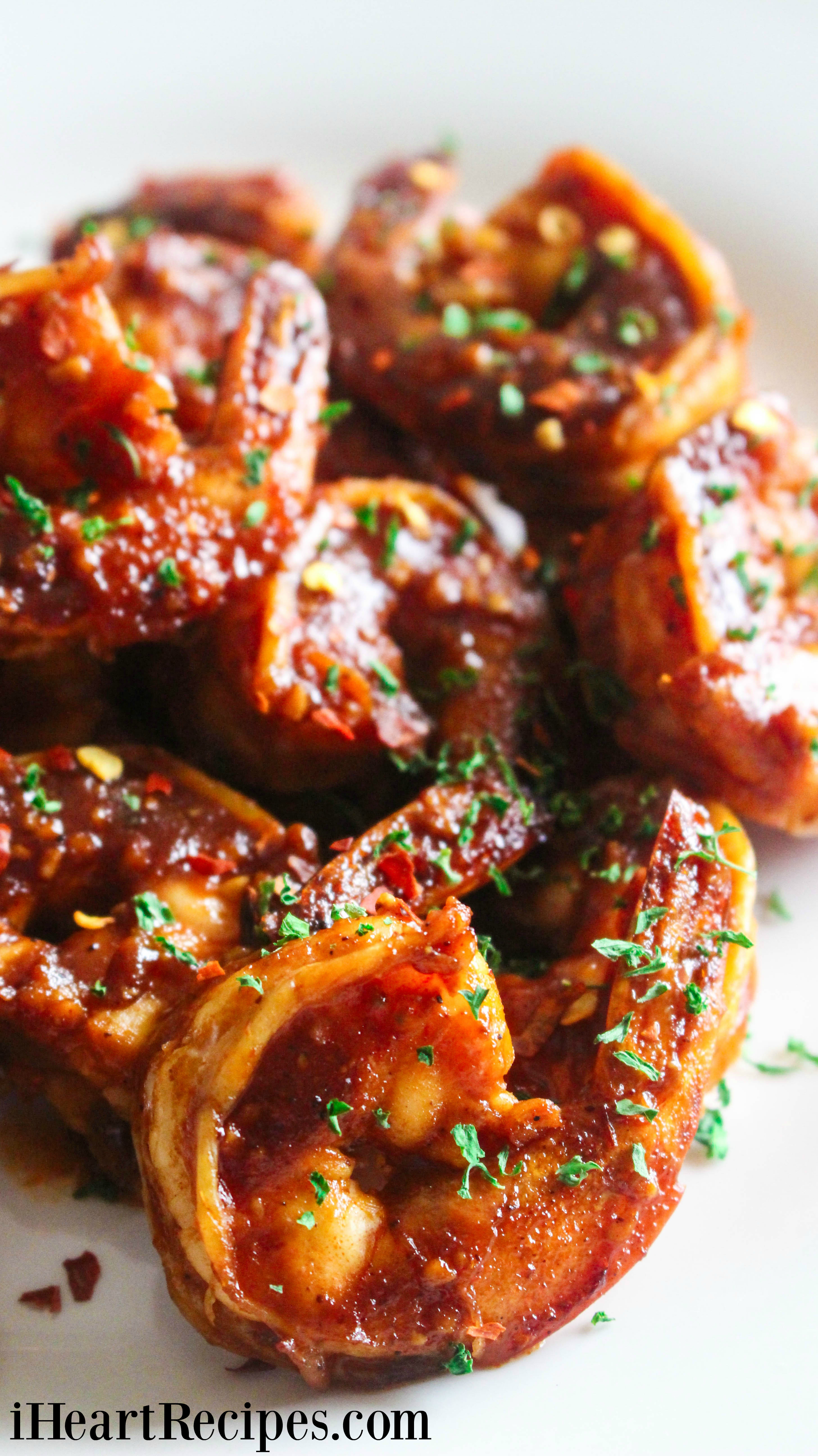 This shrimp is really easy to make, and it takes very little time! I use peeled & deveined Jumbo shrimp for this recipe, but if you'd like, you can use smaller shrimp. The shrimp is generously drizzled with olive oil & hot sauce, and seasoned with creole seasoning. It is then baked to perfection, then tossed in a spicy BBQ sauce. I'm telling you, it is simply ah-mazing!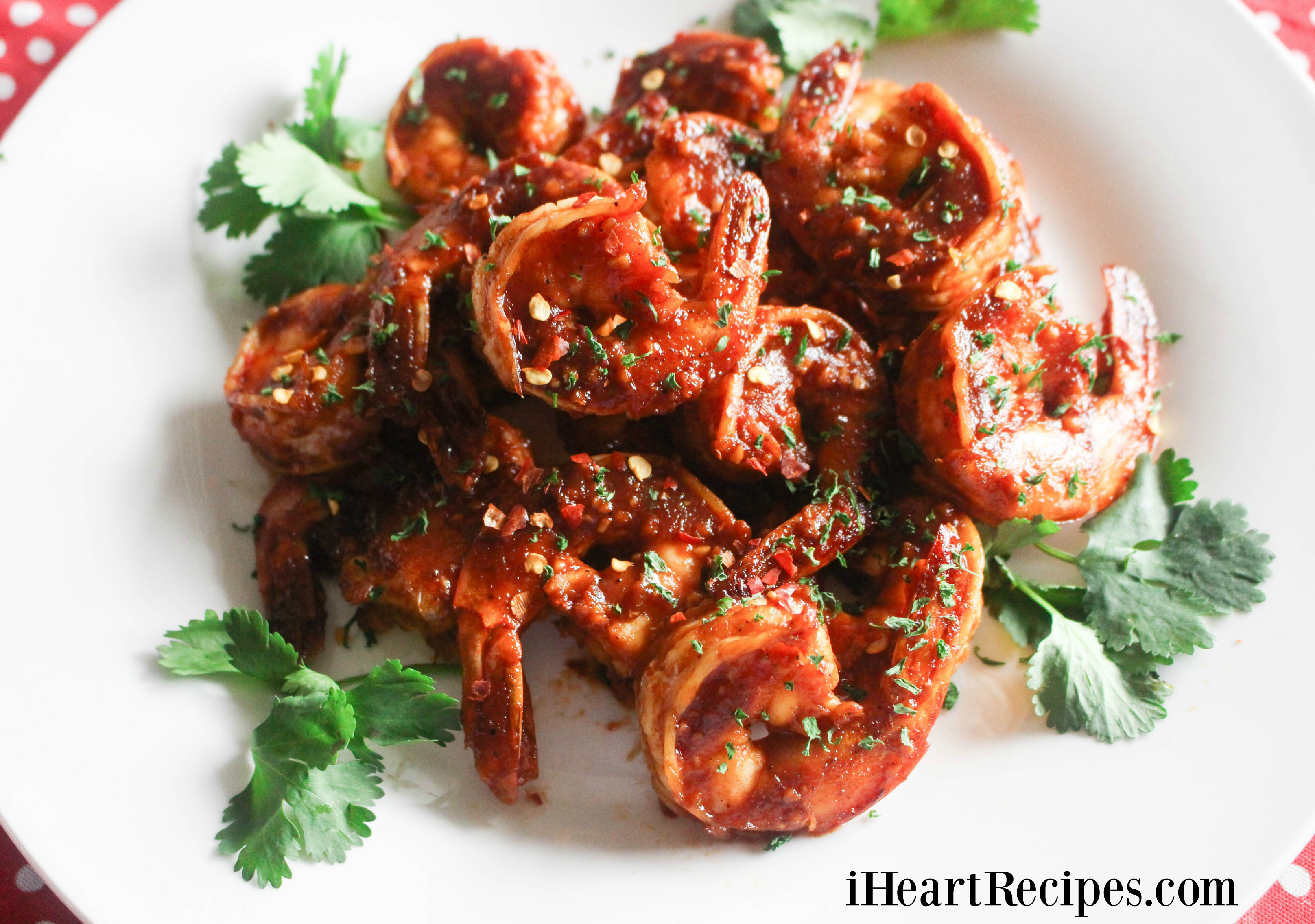 As amazing as this recipe is, it's also on the messy side(like most BBQ recipes). I don't know what my issue is, but every time that I make or eat BBQ, I make a mess. I'm talking about stains on my clothes, and darn near everything else. I remove stubborn BBQ stains by using Tide PODS®.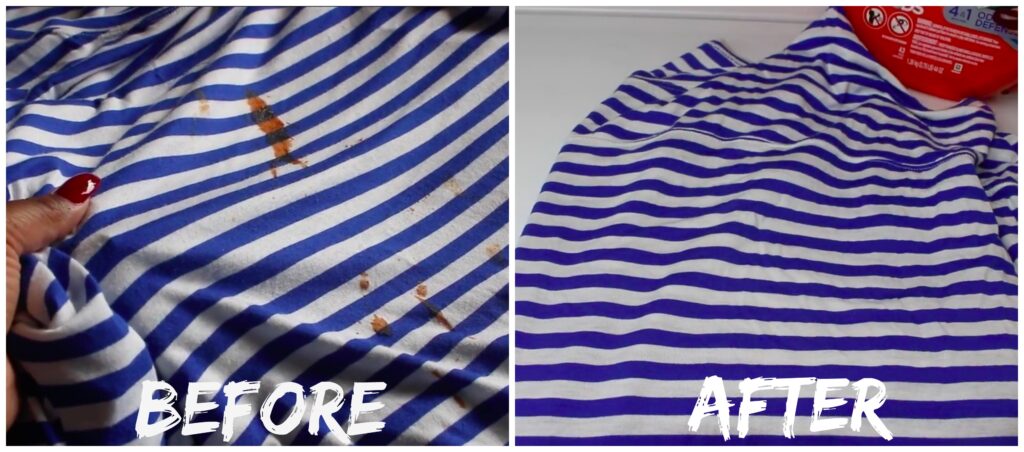 I kid you not, they're like magic! I've been using Tide PODS® for several years now, and I always have amazing results. Must admit, when I first used them, I was a tad bit nervous because of the size. However, those tiny little pods get the job done! My laundry always comes out stain & odor free! If you love BBQ as much as I do, but HATE dealing with stains, I highly suggest you give Tide PODS® a try. You can purchase them from your local Target ( www.target.com), or Walmart ( www.walmart.com)!
Now who's ready to make some Spicy BBQ Shrimp?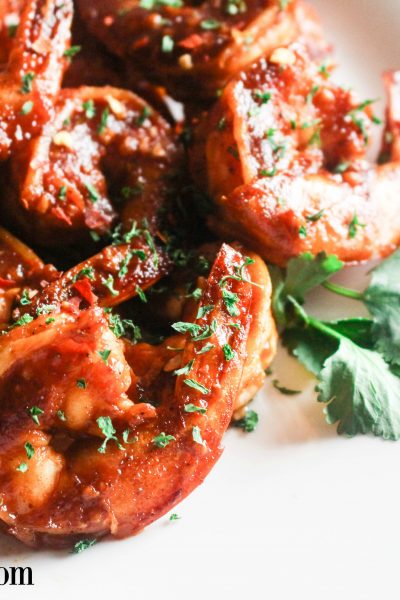 Spicy BBQ Shrimp
Tender shrimp is seasoned to perfection with flavorful creole seasoning, baked, and tossed in a just-right spicy BBQ sauce. A simple dinner that's perfect for a date night in!
Watch Video
Print Recipe
Pin Recipe
Instructions
Preheat the oven on 375 F.

Place the shrimp in a large bowl, then drizzle in the olive oil.

Sprinkle in the Creole seasoning, and add in 2 tbsp of hot sauce.

Toss the shrimp, and make sure it is well coated.

Line the shrimp on a foil lined sheet pan.

Leave the shrimp uncovered, and bake for about 7 minutes.

Remove the shrimp from the oven, and set to the side.

In a large bowl combine the BBQ sauce, liquid smoke, lemon zest, garlic, and 2 tbsp of hot sauce.

Mix until well combined, then toss in the shrimp.

Toss the shrimp in the BBQ sauce, until well coated.

Line the BBQ shrimp on the sheet pan.

Place the shrimp in the oven, uncovered, on low broil.

Broil until the sauce is nice & sticky.

Place the shrimp on a serving plate, and sprinkle the red pepper flakes & parsley flakes on top.

Serve and enjoy!
Video
If you loved this recipe,
leave me a review below
. This helps future recipe makers and ensures continued high-quality recipes for years to come!
© 2023 I Heart Recipes