Delicious creamy macaroni salad, deviled egg style! You're gonna love this one!

Hey friends! I have yet another macaroni salad recipe for you to enjoy. Since so many of you liked my seafood macaroni salad and my classic macaroni salad, I decided to share another of my favorites. I'll be showing you how to make a delicious deviled egg macaroni salad!
This recipe is super simple. As a matter of fact, I think this deviled egg macaroni salad is one of my easiest pasta salads to date. You only need a few ingredients to make this delicious pasta salad, and you're good to go!
Macaroni salad is the perfect summertime pasta salad. It's versatile, you can add just about any ingredients you like, and most pasta salad recipes whip up so quickly! Fresh, homemade, cold pasta salad is a backyard BBQ staple. So, buckle up, cousins—let's get into this macaroni salad recipe!
Ingredients for Deviled Egg Macaroni Salad
My deviled egg pasta salad recipe only calls for a few ingredients, so I'm not kidding when I say this is THE easiest recipe! I'll warn you right now—if you don't like eggs, y'all better click off this recipe! Yup, this macaroni salad is packed with eggs, and seriously, it's the bomb!
There are no fancy ingredients in this simple pasta salad recipe. You likely have most of this stuff on hand! The main ingredients you need for this deviled egg macaroni salad recipe are:
Pasta: I use good old-fashioned elbow macaroni. Your favorite boxed brand is fine!
Mayonnaise: Use the real stuff, cousins. I'm talkin' Hellmann's brand.
Mustard: Yellow mustard or Dijon mustard would work great in this recipe.
Relish: You need sweet pickle relish and dill relish for this deviled egg salad recipe.
Vegetables: I use celery and onion, but you can include whatever you like! Other popular deviled egg macaroni salad add-ins are black olives, pimentos, red peppers, diced dill pickles, and red or green onion.
Seasonings: I use seasoning salt, black pepper, and parsley flakes. You can also use paprika (a classic deviled egg seasoning). Add garlic powder, white pepper, red pepper flakes, or cayenne pepper for an extra kick.
Eggs: That's right, y'all… LOTS of eggs! I use seven hard-boiled eggs in this deviled egg pasta salad, so don't skip on the eggs!
How to Make Deviled Egg Macaroni Salad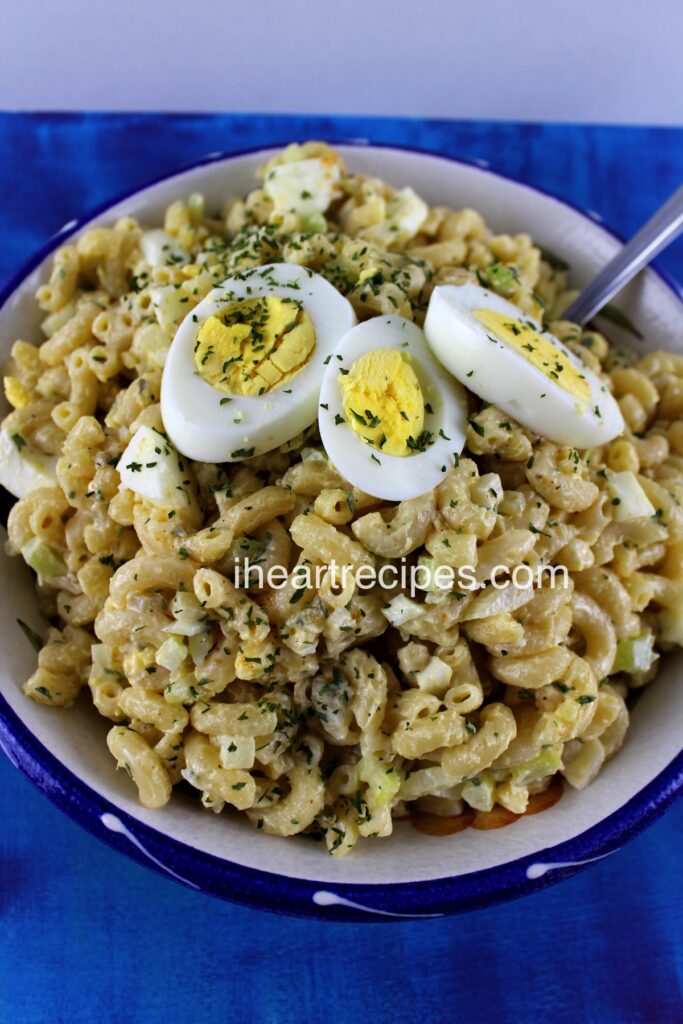 While this deviled egg macaroni salad recipe is one of the easiest pasta salads to toss together, there is a bit of prep work involved. Once all your ingredients are prepped and ready, all you gotta do is throw them together and let the magic happen, baby!
The first step in this deviled egg pasta salad recipe is to make the pasta and hard-boiled eggs. No complicated pasta-making here. Just cook your elbow macaroni according to the package directions until the pasta is al dente—about 7-10 minutes. Once the pasta is done, drain, rinse in cold water, and set aside to cool. You don't want hot pasta for this recipe.
Once your hard-boiled eggs are done, allow them to cool, then peel them. I dice up five whole hard-boiled eggs and leave two whole eggs for later. For this recipe, we use both the cooked egg yolks and egg whites together—just chop them up into small pieces.
While the pasta and eggs are cooking, prepare your vegetables. Dice up four stalks of celery and one large yellow onion. Feel free to include other add-ins that you and your family like or leave out what y'all don't like. I think simple is best, so I only include celery and onions in my macaroni egg salad.
Next, combine the eggs, mayonnaise, mustard, relish, vegetables, and seasonings in a large mixing bowl. Mix the ingredients until well-combined, then toss in the cooled cooked macaroni pasta. Mix well until the pasta is completely coated with that delicious deviled egg mixture. Cover the large bowl and chill the pasta salad in the refrigerator for at least two hours before serving. And there you have it—an easy, delicious pasta salad that is almost too simple to make!
How to Make Perfect Hard-Boiled Eggs
Hard-boiled eggs are an essential part of this deviled egg macaroni salad recipe, so you want to make sure you cook them right! You don't want soft-boiled eggs in this recipe, so cooking time is essential.
For the perfect hard-boiled eggs, you want to cook the eggs for 10-12 minutes. Once done, remove the eggs from the boiling water and run them under cold water or put them in an ice bath. This will also make them easier to peel once fully cooled.
Deviled Egg Macaroni Salad FAQs
Can I make deviled egg pasta salad ahead of time?
Yes! This summer pasta salad can be made a whole day ahead of time if you'd like. The cooked pasta will soak up more of the creamy dressing so it's even more delicious the next day. Make sure to store your macaroni salad in a covered container. To freshen it up before serving, add a spoonful of mayonnaise and give it a good stir.
How long does deviled egg macaroni salad last?
When stored in the fridge in an air-tight container, your egg macaroni salad should last 3-4 days. This egg pasta salad should also be kept cool, so don't let it sit out in the hot sun all day at your backyard summer BBQs! Serve in a chilled bowl or in a double bowl over ice to keep the creamy egg dressing cool and fresh longer.
What other pasta can I use for deviled egg pasta salad?
I personally think elbow macaroni is the best pasta for this deviled egg salad. The creamy dressing can get all up in those noodles, making it extra delicious. You could also use medium shells or short pasta like mini penne, pipette, wheels, or rotini.
What to Serve with Deviled Egg Macaroni Pasta Salad
This summer pasta salad will pair perfectly with just about any summer BBQ recipe, at potlucks, backyard cookouts, and more. Here are some delicious main dishes to serve alongside deviled egg macaroni salad:
If you're planning a backyard BBQ and need more summer side dishes, here are some more quick and easy side dishes to prepare: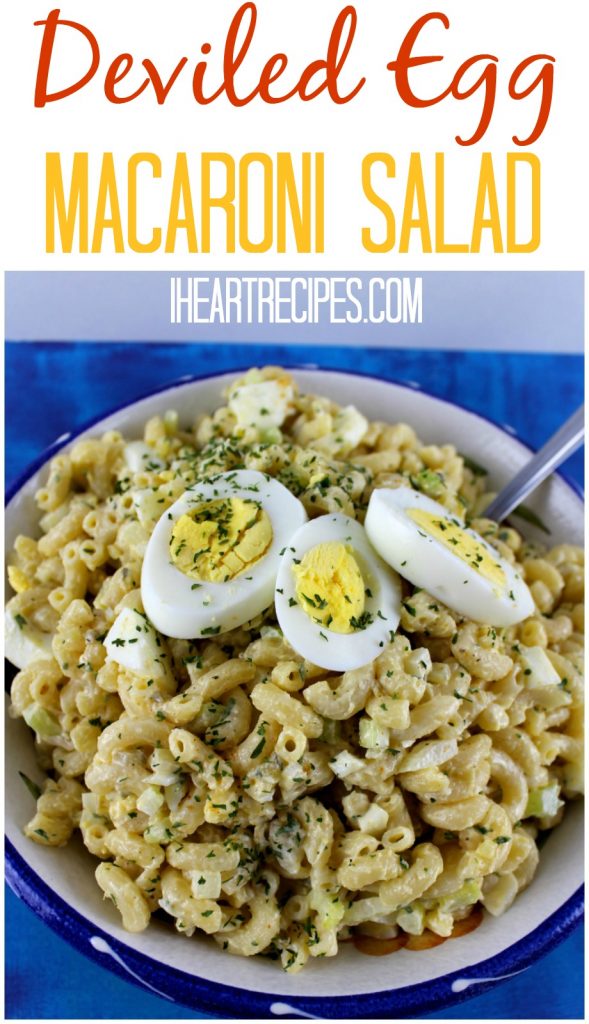 Deviled Egg Macaroni Salad Recipe Card
Are you ready to whip up this ridiculously easy pasta salad? Print out my deviled egg pasta salad recipe using the recipe card below! If you made and loved this recipe, let me know in the comments. Don't forget to subscribe to I Heart Recipes on YouTube to see all of my recipe videos, cooking tips, and more! You can also follow me on Facebook, Instagram, and Pinterest to keep up with all things Rosie and I Heart Recipes!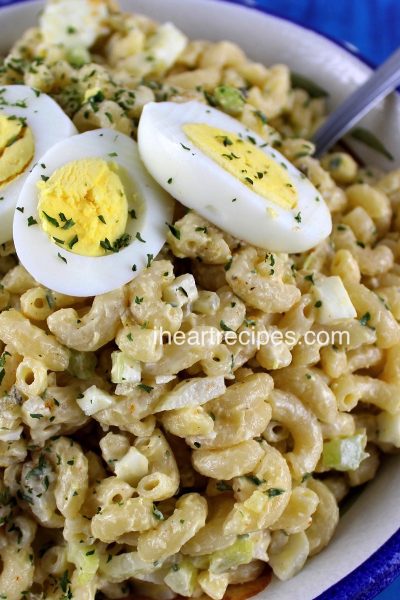 Deviled Egg Macaroni Salad
Nothing beats a refreshing pasta salad! This classic macaroni salad has creamy deviled egg-style dressing with mustard, mayonnaise, and zesty seasoning to add a pop of flavor and color. Perfect for a summer party!
Print Recipe
Pin Recipe
Instructions
Boil the elbow macaroni pasta until al dente (10-12 minutes, or according to package directions).

Bring a shallow pot or deep saucepan of water (and least 2 inches) to a boil. Cook 7 large eggs for about 10-12 minutes. Remove eggs and immediately submerge them in an ice bath to cool completely.

Once the pasta is done, strain and rinse with cold water, then put the pasta back in the pot and let cool.

Peel and dice 5 hard-boiled eggs, then dice celery and onions.

Add the eggs, mayonnaise, relish, mustard, celery, onions, seasoning salt & pepper in a large mixing bowl.

Stir the ingredients until well combined, then add in the elbow macaroni.

Fold the ingredients until well combined, then add everything into a refrigerator safe bowl, and cover.

Place in the refrigerator and let chill for about 2 hours.

Add egg halves on top, then sprinkle the dried parsley flakes on top for garnish.
If you loved this recipe,
leave me a review below
. This helps future recipe makers and ensures continued high-quality recipes for years to come!
© 2023 I Heart Recipes
Try these recipes as well!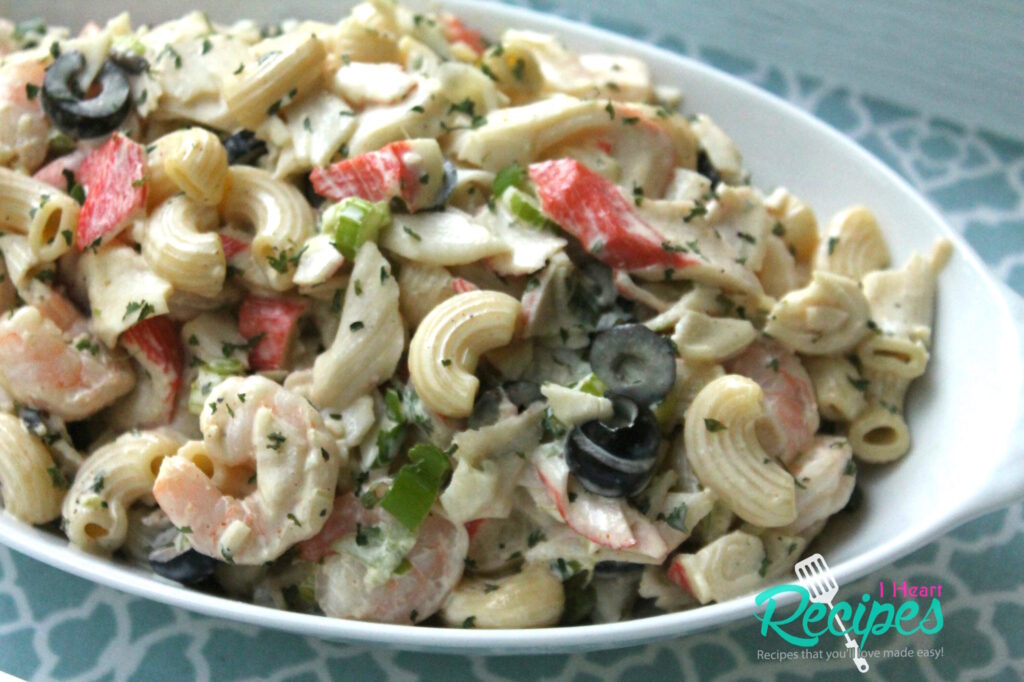 ---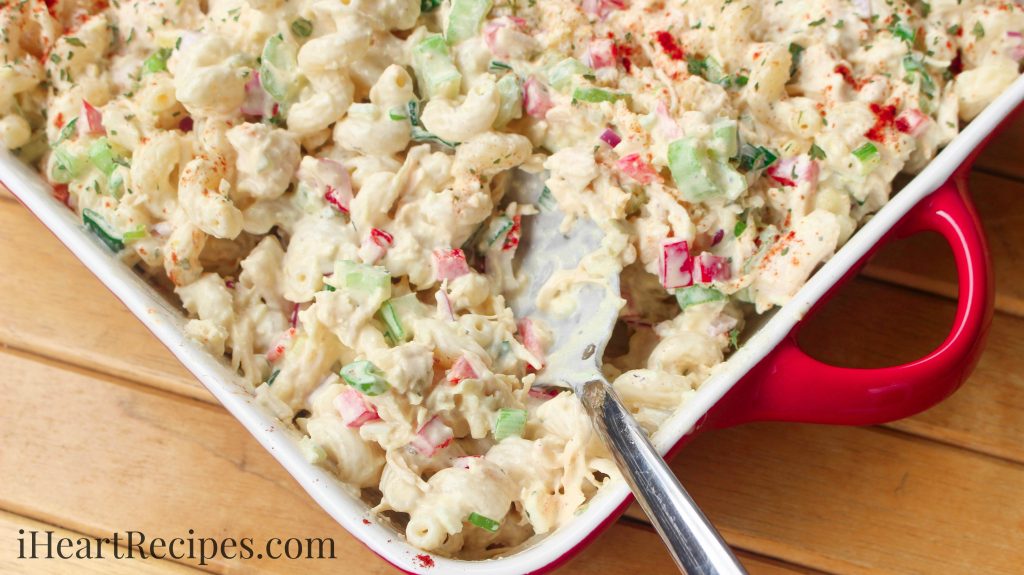 ---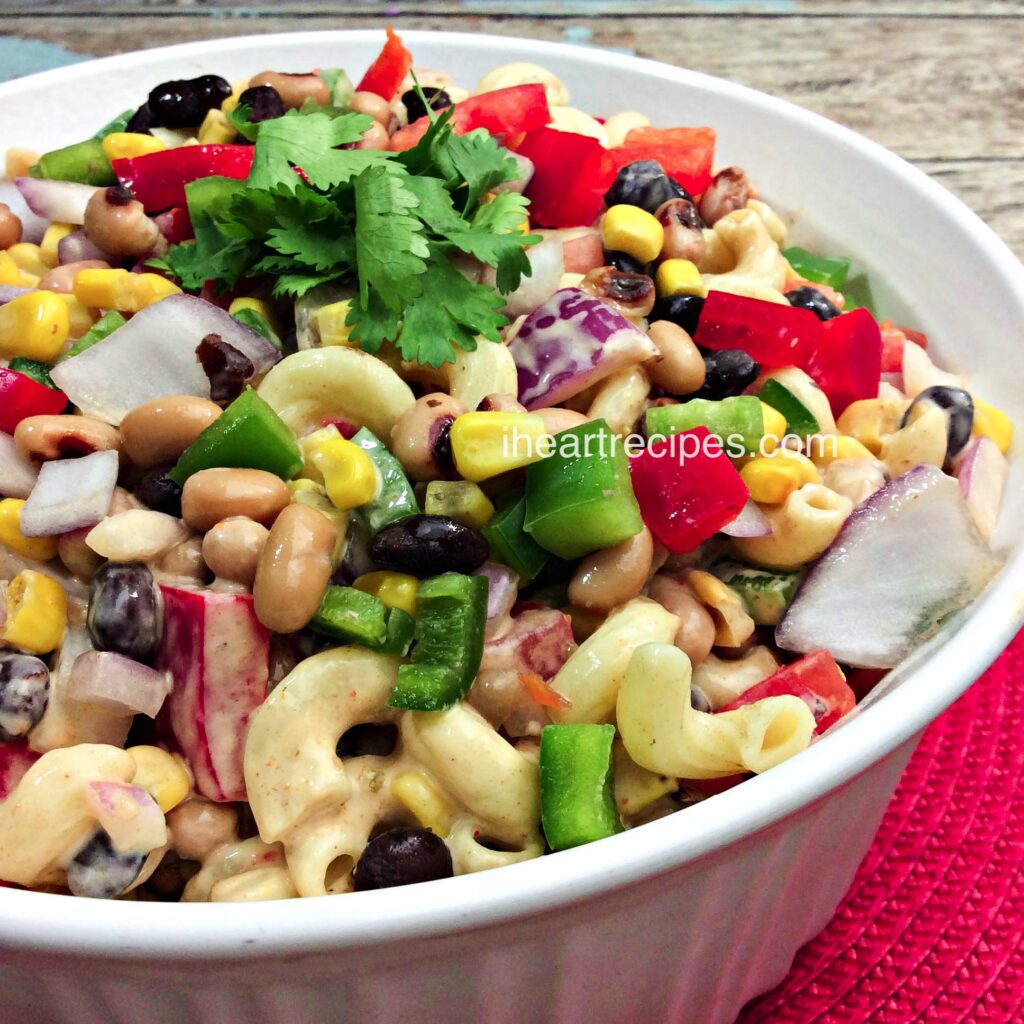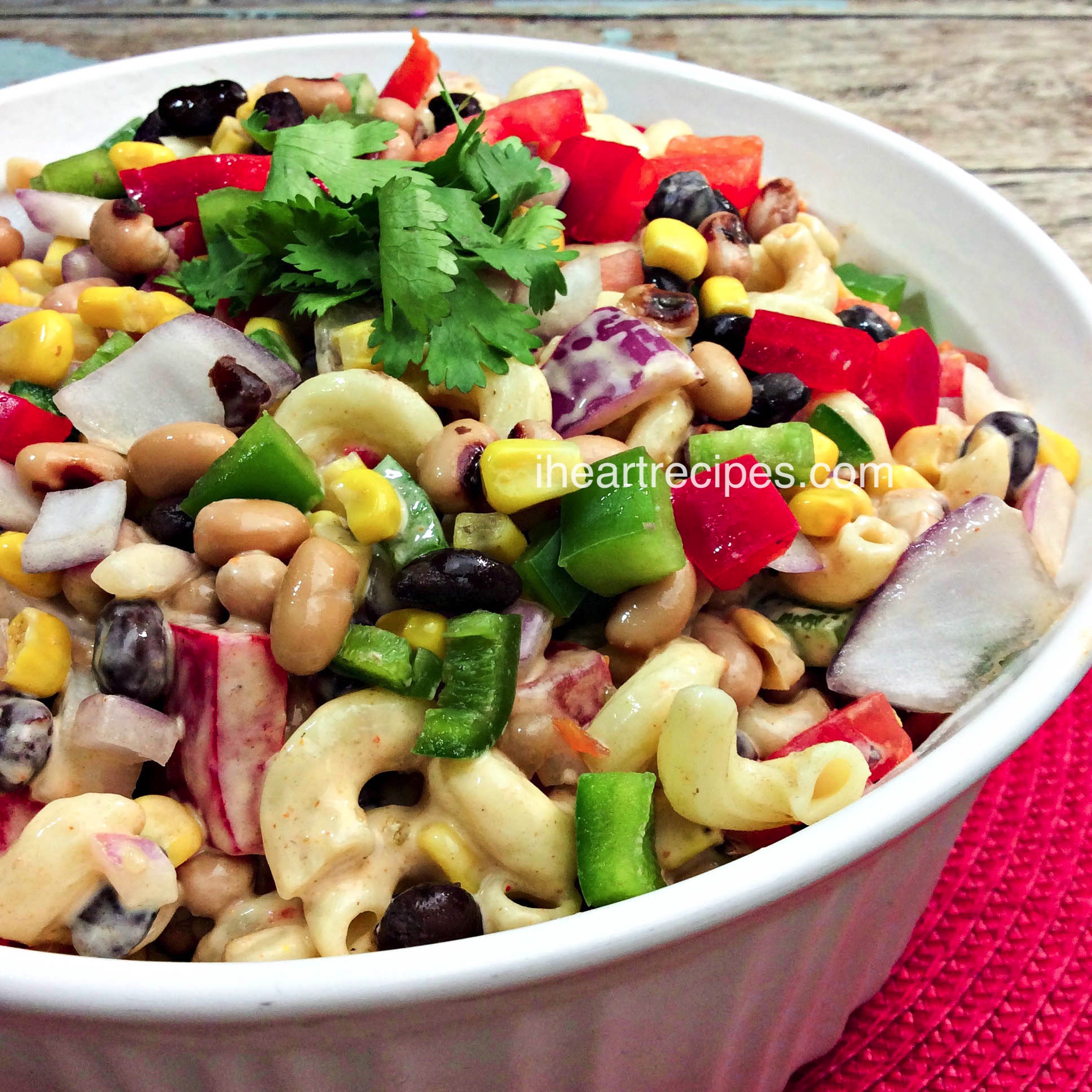 ---