This easy tuna macaroni salad is the perfect side dish for any occasion! Flavorful tuna fish, pasta, crispy veggies, and spices mixed in a creamy dressing—the perfect pasta salad.
Hey, y'all! It's officially potluck season. You know, when everyone and their mama is having a potluck for no specific reason–just to eat! I personally love going to potlucks because it gets me out of the house and gives me the opportunity to socialize (and, of course, EAT!).
I challenge you to think of a time you went to a potluck or backyard BBQ and didn't see a big bowl of creamy, cold pasta salad right there next to the hot dogs, hamburgers, potato chips, and cut fruit. That's right—you can't! Because pasta salad is a staple picnic dish. I've made plenty of pasta salad recipes—the traditional creamy macaroni salad, a BLT macaroni salad, deviled egg pasta salad, and even an Italian pasta salad with salami. So, I know a delicious pasta salad when I see one. This creamy tuna macaroni salad checks all the boxes: simple ingredients, cold and creamy, stupid-simple to toss together, and perfect for sharing!
Why Southern Style Tuna Macaroni Salad is the Perfect Potluck Dish
This tuna macaroni salad recipe is one of my favorites for a summer picnic. I always get praised for the delicious flavor of this simple salad, but most people don't realize how effortless and cheap this recipe is to make!
This easy pasta salad recipe will be your new go-to because:
It's budget-friendly. When cooking for a crowd, I know I can't afford all those fancy-schmancy ingredients. No, ma'am, we're using simple ingredients, fresh vegetables, and canned tuna but making it taste outta-the-park delicious with seasonings and spices.
It's crazy simple to make. The only cooking involved is boiling the pasta. The rest is dump, mix, and chill.
It's a pretty healthy dish! You can serve tuna pasta salad as a side dish or enjoy it as a light lunch or supper. Because of the pasta, tuna, and veggies, it's filling but still relatively healthy.
If you grew up in a Southern household like me, you probably had your fill of tuna pasta salad. I bet your mom, auntie, or granny each had their own variations, too, huh? That's the beauty of classic Southern dishes—everyone will make it a different way, but everyone loves (and devours) equally!
Ingredients for Cold Tuna Macaroni Salad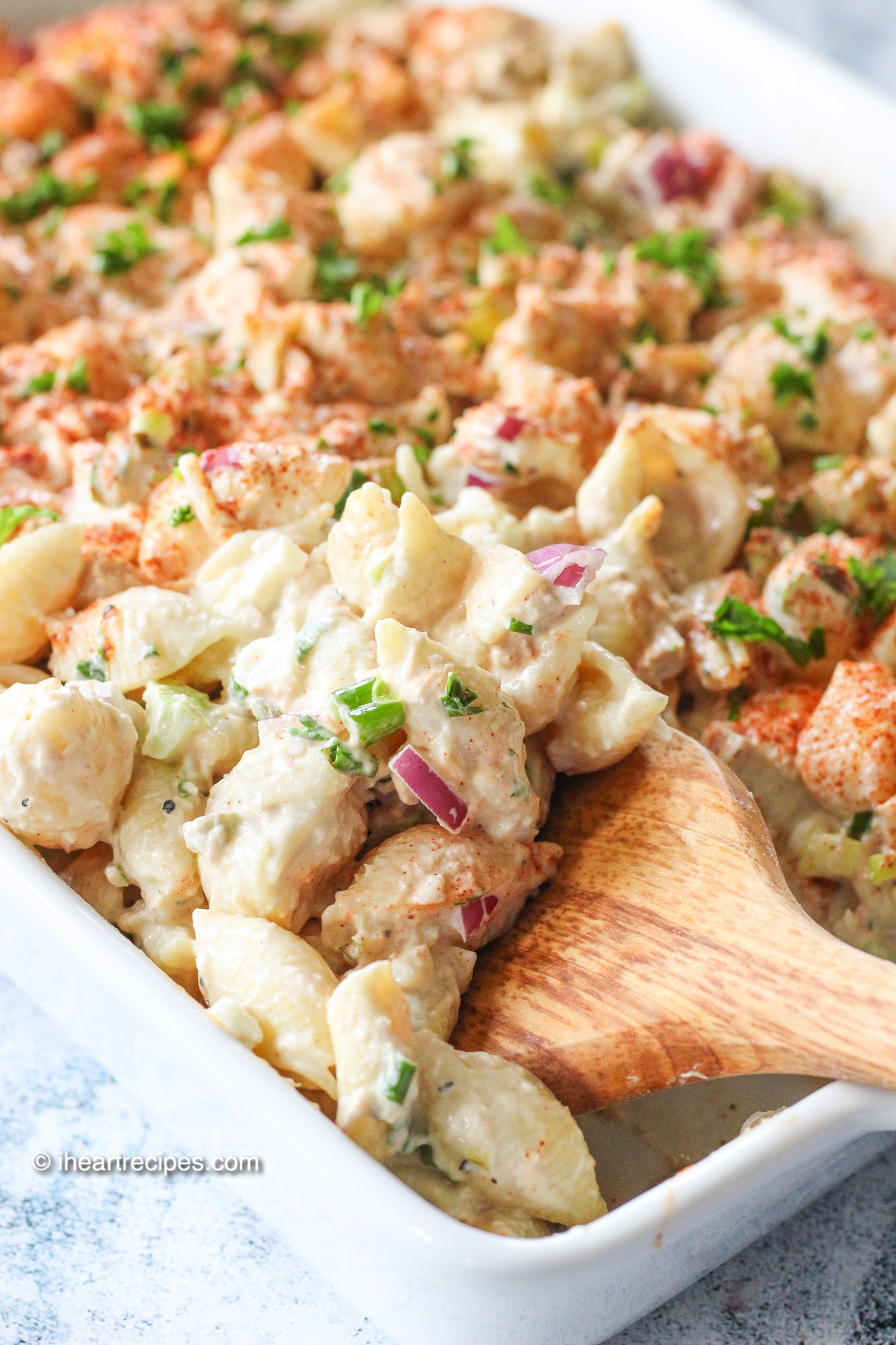 First and foremost, I make my Southern tuna macaroni salad without peas. PEAS ARE A NO-NO! They're just NOT my thing. I also refuse to use Miracle Whip. So, this is a tuna macaroni salad without peas and Miracle Whip. For the rest of the main ingredients, here's what you'll need:
Pasta: yes, I know it's called macaroni salad… but I use small shells in my recipe. Of course, you can use elbow macaroni, shells, rotini pasta, or whatever your personal preference is.
Tuna: I used canned tuna in this recipe, usually the cheapest brand on sale at the time. If you have a favorite brand, use that!
Hard-Boiled Eggs: crumbled eggs are essential in my tuna pasta salad recipe.
Mayonnaise: I prefer to use Best Foods, aka Hellman's mayonnaise. Another popular brand for Southern-style tuna macaroni salad is Duke's Mayonnaise. 
Vegetables: fresh veggies provide that refreshing crunchy texture in this tuna salad recipe. I use red onion, green onions, and celery.
Dill Relish: this adds so much flavor to the pasta salad! I use regular relish, but you could also use sweet relish for a sweeter taste.
Seasonings: I use salt, black pepper, and garlic powder in my recipe. I also garnish the pasta with paprika, which adds gorgeous color and a kick of flavor.
Tuna Pasta Salad Ingredient Variations and Substitutions
Now, y'all know I recommend you follow my recipe for the best results. But the beauty of this recipe is that you can use your preferred ingredients without sacrificing flavor or changing the recipe too much. Try these ingredient variations in your tuna macaroni salad recipe:
Add more vegetables like diced bell peppers, corn, carrots, cherry or grape tomatoes, or green olives (and yes, you can use green peas if you want… I guess! 😉)
Add lemon juice to the creamy dressing for more tang and freshness.
Some people also add Dijon mustard or sour cream to the homemade dressing.
Adjust the seasonings based on your personal tastes. Salt and pepper are a must, of course. You could use seasoning salt, celery salt, onion powder, or cayenne pepper if you want heat. Used smoked paprika instead of regular for a smokier flavor. Rosamae Seasonings has a lemon pepper blend or garlic pepper blend that would pair really well with the flaky tuna in this recipe. 
Add cheese! Shredded or cubed cheddar cheese, Parmesan cheese, or crumbled feta would work in this recipe.
How to Make the Best Tuna Macaroni Salad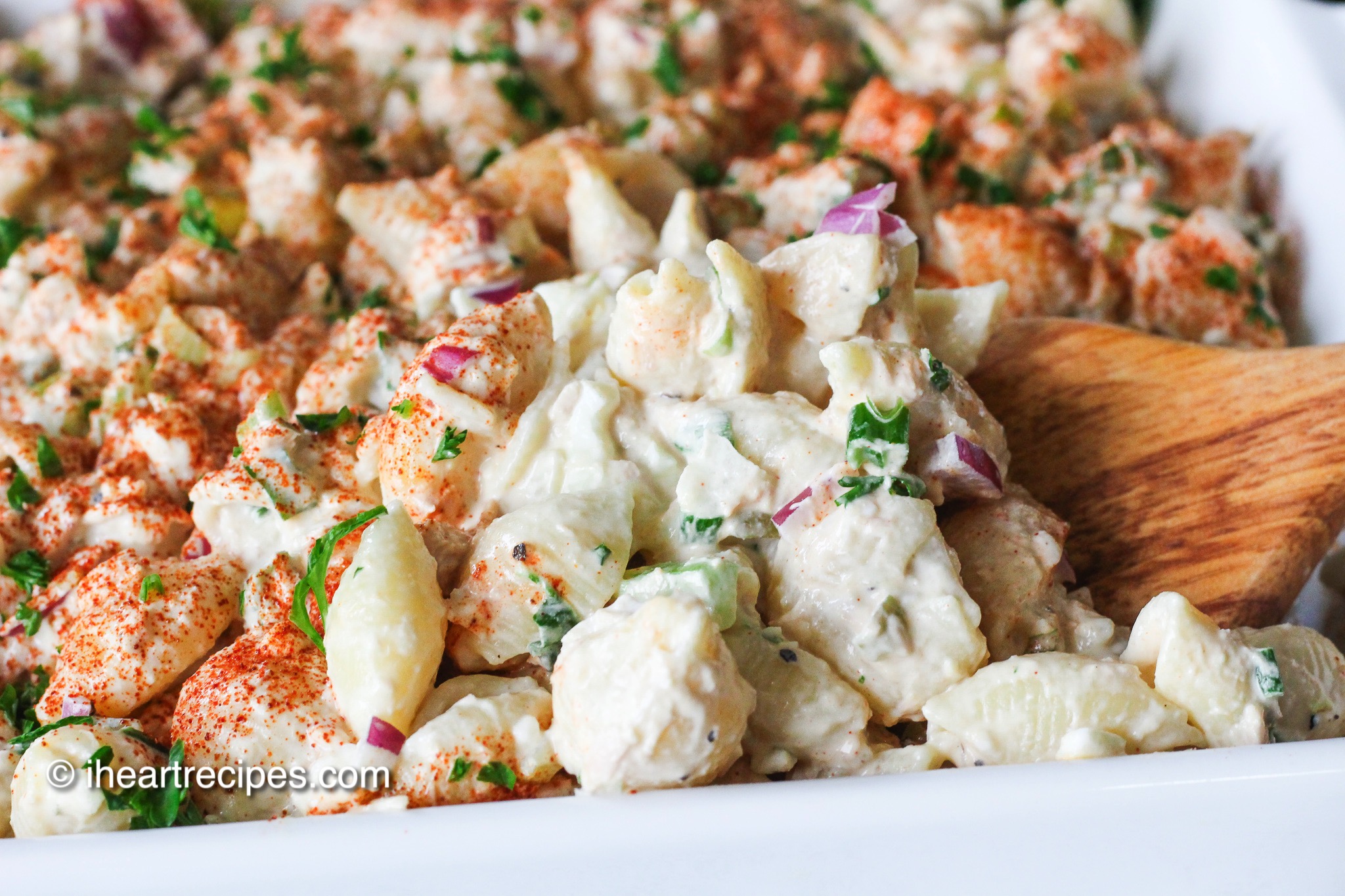 Okay, y'all, let's get into how to make this simple macaroni salad recipe! The hardest part is chopping all the veggies and boiling the pasta. In about 15 minutes, you'll have the perfect side dish ready to go.
Cook your pasta in a large pot of boiling water. You want your macaroni pasta to be al dente for the perfect bite.
While the pasta is cooking, mix the creamy homemade dressing in a large bowl. Combine mayonnaise with the tuna, relish, vegetables, and seasonings. Mix until everything is combined.
Drain the pasta and rinse it under cold water to cool it down. Then fold the cooked macaroni in with the tuna salad until everything is combined.
Chill the macaroni pasta salad in the fridge for at least one hour.
That's it! I told y'all it was stupid simple–ain't nobody can mess up this recipe!
Tuna Macaroni Salad Recipe Video Tutorial
Watch me make this Southern tuna macaroni salad recipe below! Don't forget to subscribe to I Heart Recipes on YouTube to find all of my recipe videos. 
Tuna Macaroni Salad Recipe FAQs and Pro-Tips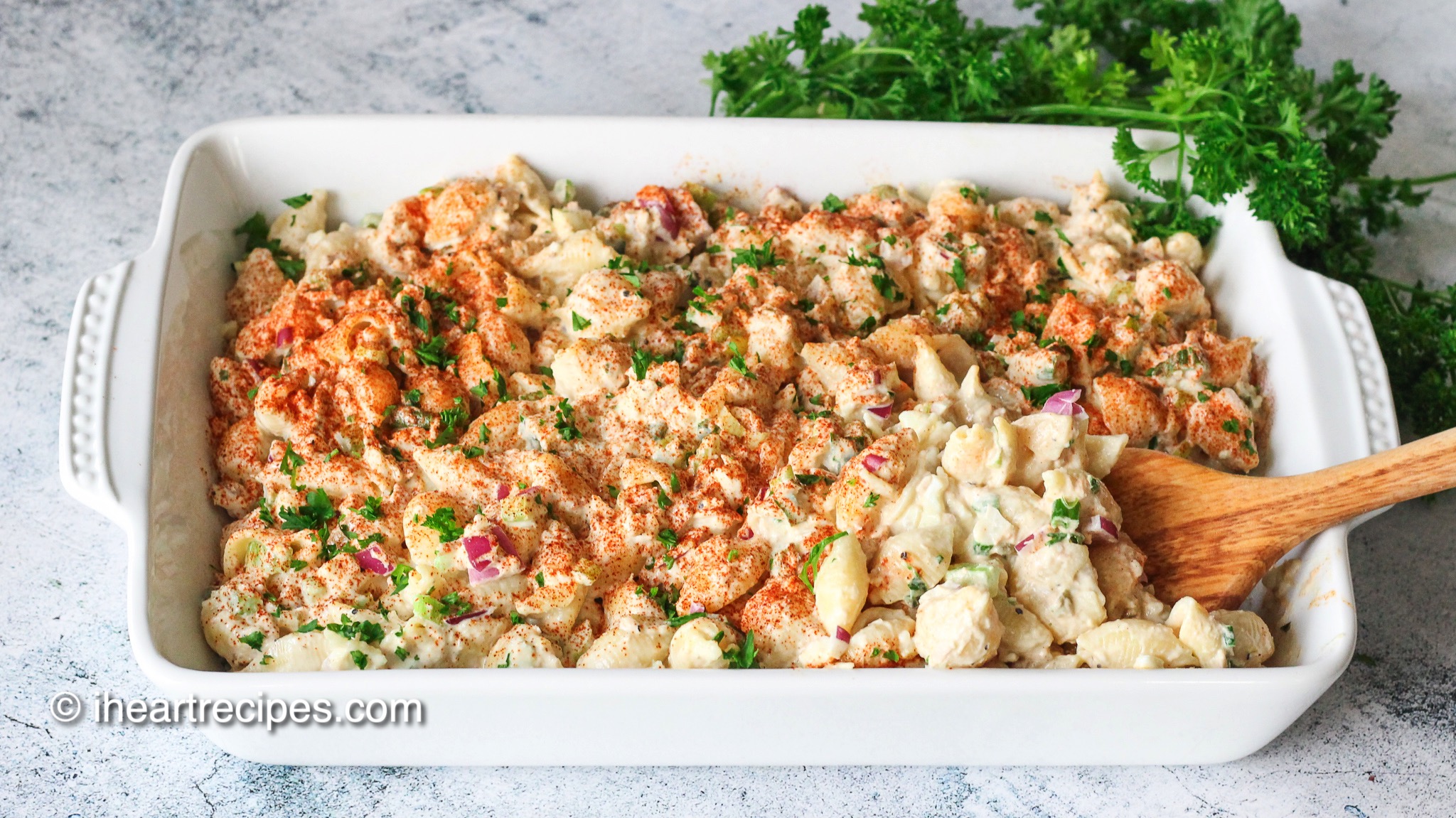 We already talked about ingredient variations for the tastiest tuna pasta salad, but I've got some more pro tips and common questions for y'all. Did I miss something? Leave me a comment below with your question!
How much tuna do you need for tuna pasta salad?
I use a 16 oz. can of flaky tuna in this recipe. However, if you want more or less tuna, that is your preference! You could also use any flavor of tuna you want. There are so many different varieties and flavors of canned or packaged tuna, so take your pick or use your favorite!
How long is tuna pasta salad good for in the fridge?
This creamy tuna macaroni salad can be stored in an airtight container for 3-5 days, max. Yes, you absolutely can make tuna pasta salad ahead of time—I think it tastes even better the next day! However, I wouldn't recommend making it more than a day ahead of time and storing it for longer than three days. Especially if the tuna salad was ever sitting outside or at room temperature—y'all don't wanna feel nasty from some spoiled food!
Is tuna pasta salad meant to be eaten cold?
Yes, you definitely want to serve this macaroni salad cold! The creamy dressing, crisp vegetables, and tender tuna taste much better when served chilled. The longer you refrigerate the pasta salad, the more those delicious flavors sit together in the bowl. So tasty, y'all!
Should you rinse macaroni when making macaroni salad?
Yes, rinsing the pasta under cold water is the best way to cool down the cooked pasta quickly so it's ready for mixing. With a creamy mayo-based dressing, you don't want to add hot pasta, or it could cause the dressing to separate.
How do you make tuna pasta salad healthier?
The great thing about this recipe is that it's already pretty healthy. Contrary to popular belief, canned tuna isn't bad for you! But if you're looking for a healthy tuna macaroni salad recipe, you can make a few tweaks to make this recipe even better. 
Use light mayonnaise instead of regular mayo. Most mayo brands have a lighter, low-fat version that cuts down on calories.
Swap out mayo for sour cream or Greek yogurt. These are healthier options that still give you that creamy homemade dressing. You might have to add more seasonings to make up the flavors.
Pack the tuna pasta salad with veggies. The more, the merrier!
Use high-protein pasta or whole wheat pasta to cut down on carbs.
Use canned tuna in water instead of olive oil. It doesn't affect the taste much but cuts way down on fat and calories.
My tuna macaroni salad isn't the only picnic-ready salad I have. Check out these other popular pasta salad recipes:
If you loved this classic tuna macaroni salad recipe, leave a comment down below! Don't forget to follow along with everything Rosie and I Heart Recipes on social media—you can find me on Facebook, Instagram, and Pinterest, and you can pre-order my upcoming cookbook, A Cousin Rosie Holiday, now!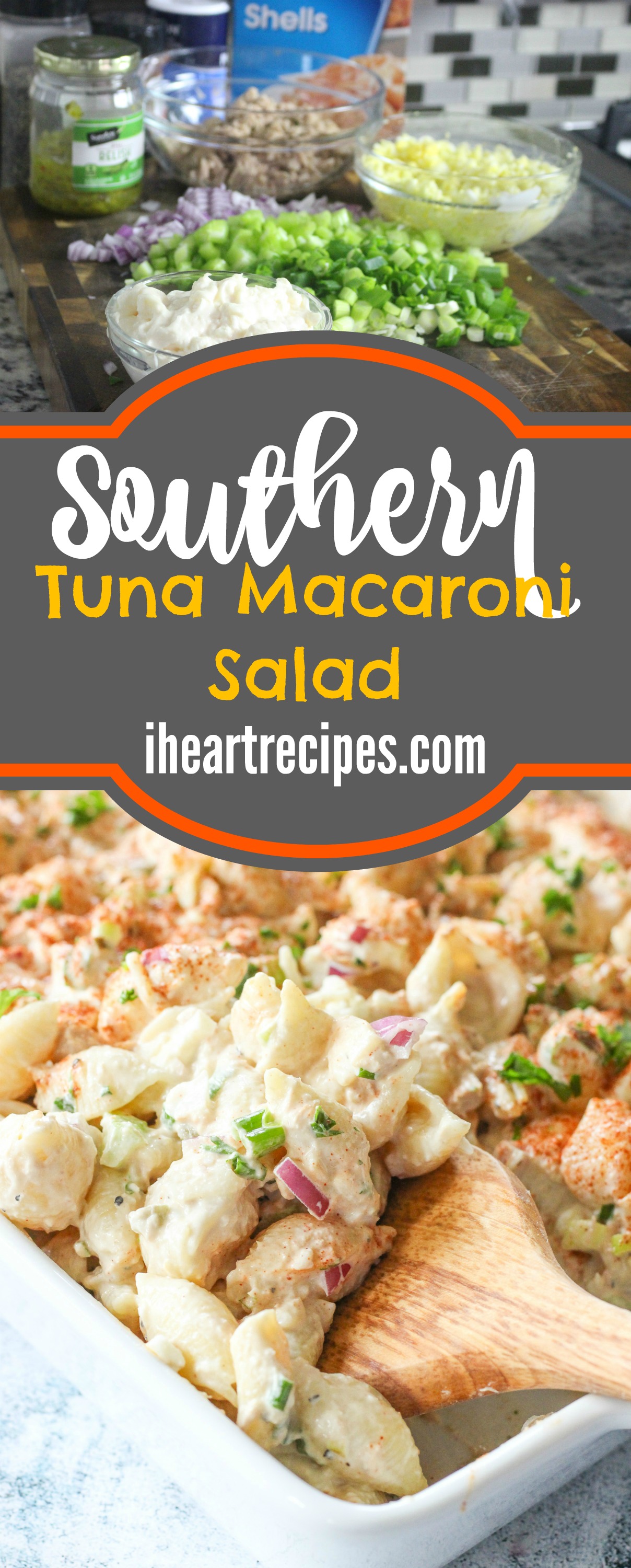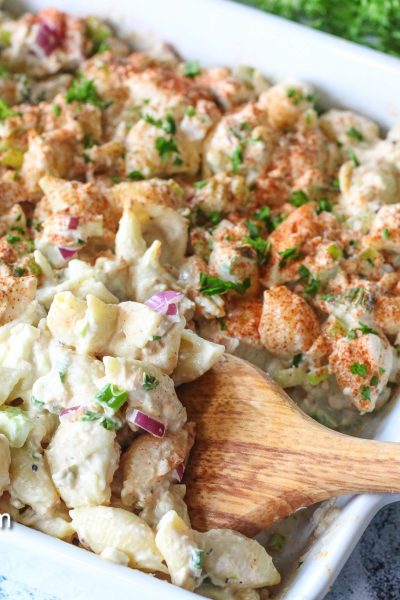 Southern Tuna Macaroni Salad
This delicious tuna macaroni salad is the perfect dish for a summer potluck. It's a crowd-pleaser!
Watch Video
Print Recipe
Pin Recipe
Instructions
Cook the pasta until it's al dente (follow the package directions), then drain the water.

4 cups uncooked shell pasta

Rinse the pasta under cold water to cool it down, then set it to the side.

In a large mixing bowl, toss in the mayonnaise, dill relish, tuna, crumbled eggs, onions, and celery. Mix the ingredients, then toss in the salt, pepper, and garlic powder.

16 oz canned tuna,

4 hard-boiled eggs,

1 1/2 cup mayonnaise,

1 small red onion,

3 ribs celery,

1/4 cup chopped green onion,

1/4 cup dill relish,

2 tsp salt,

1 tsp coarse black pepper,

1 tsp garlic powder

Make sure that everything is well combined, then add in the cooked macaroni pasta.

Fold the ingredients until everything is well combined, then cover the bowl and refrigerate for at least 1 hour.

Put the macaroni salad in your desired serving dish.

Optional: Add paprika and parsley on top.

2 tsp paprika,

1 tbsp fresh chopped parsley
Video
If you loved this recipe,
leave me a review below
. This helps future recipe makers and ensures continued high-quality recipes for years to come!
© 2023 I Heart Recipes