Creamy Italian pasta salad made with dry salami, parmesan, grape tomatoes, olives, onions, and more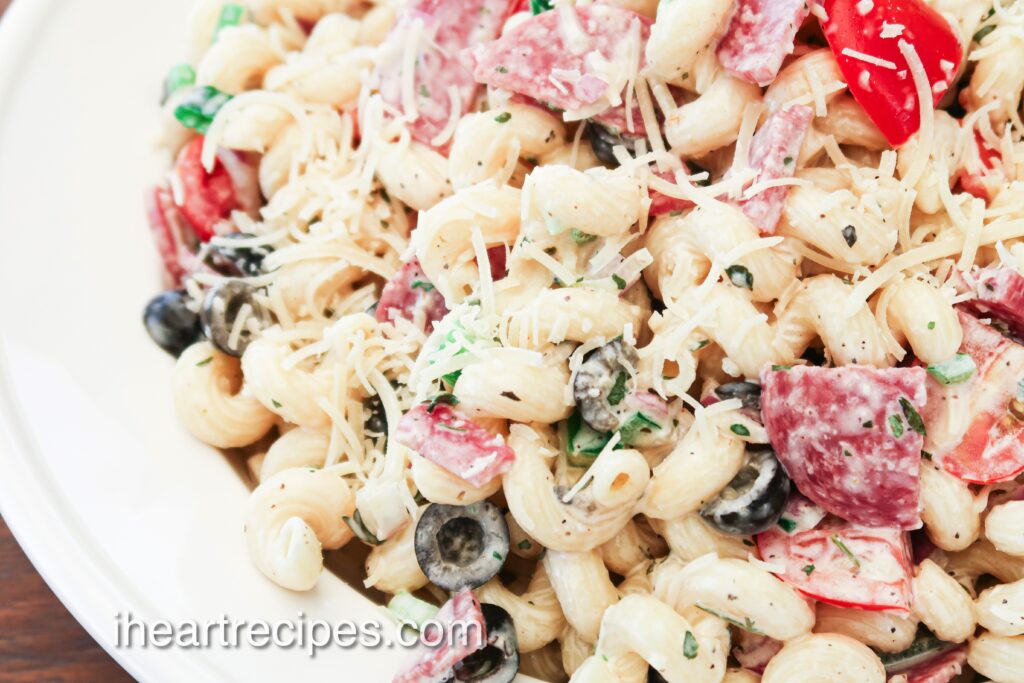 Hey cousins! The other day I made this Italian Pasta Salad with Salami, and Parmesan for lunch and it was incredible. Like seriously, this cold pasta salad was so amazing I had to run over to Facebook, and show it off to the cousins. I asked the questions if they wanted the recipe, and I wasn't surprised when so many of them said yes! So here I am y'all. I'm here to share my recipe for this quick, and easy Italian-style macaroni salad.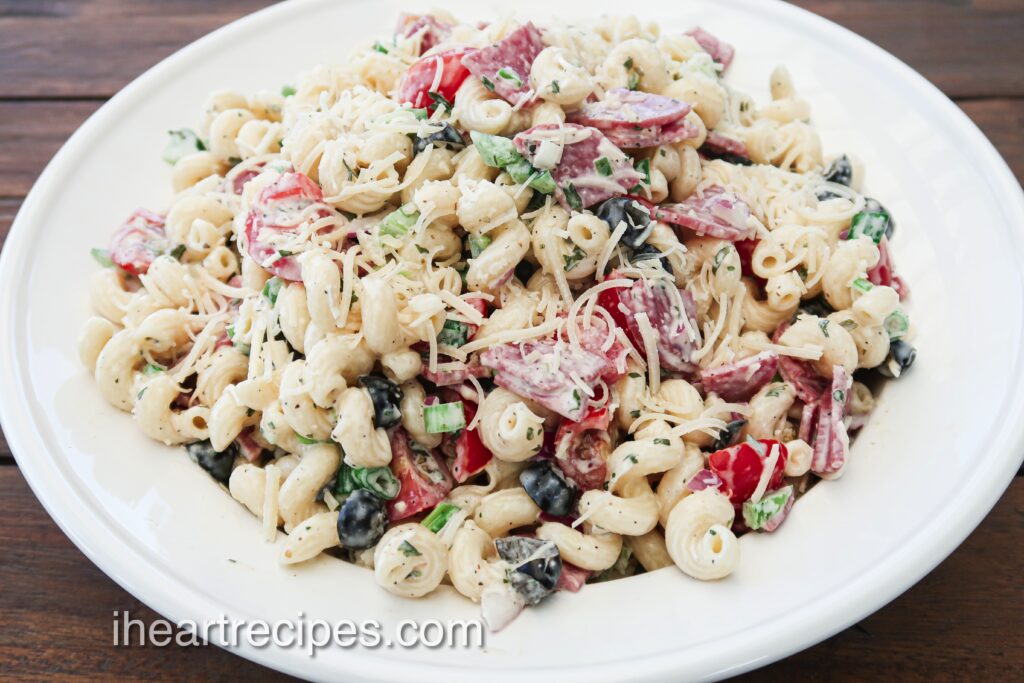 Ingredients for My Homemade Italian Pasta Salad
First thing first cousin, let me continue to toot my own horn. This Italian pasta salad is all that, and a bag of salami! It's packed with fresh crisp vegetables, a creamy dressing, sweet grape tomatoes, and olives. It's the perfect combination of everything, and it taste way better than the bitter pasta salads that are available at the deli's. I should also mention that it's much less expensive to make as well. Oh, and did I mention that this dish is also super easy to make?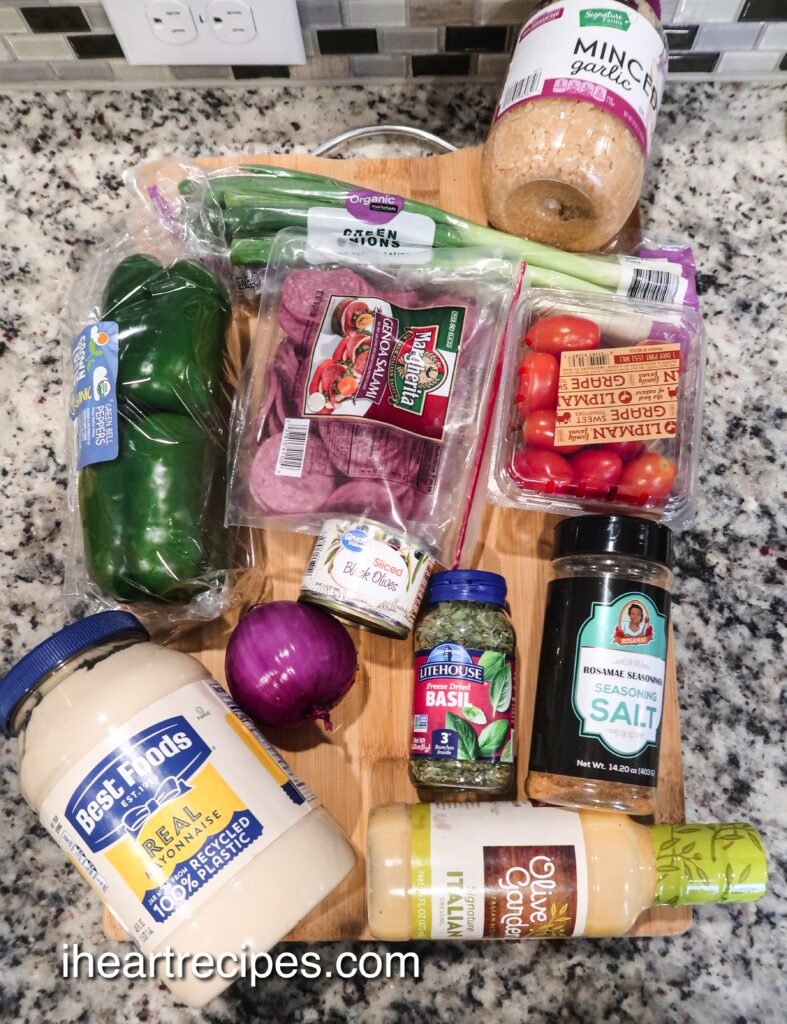 When it comes to ingredients for my Italian pasta salad, I use what I have on hand, and I encourage you to do so as well! I have my preference when it comes to mayonnaise – I like Best Foods aka Hellmans. If you like a a different mayonnaise, feel free to use it, but for the love of great taste, don't mess up this quick and pasta salad recipe with Miracle Whip! Just don't do it cousins!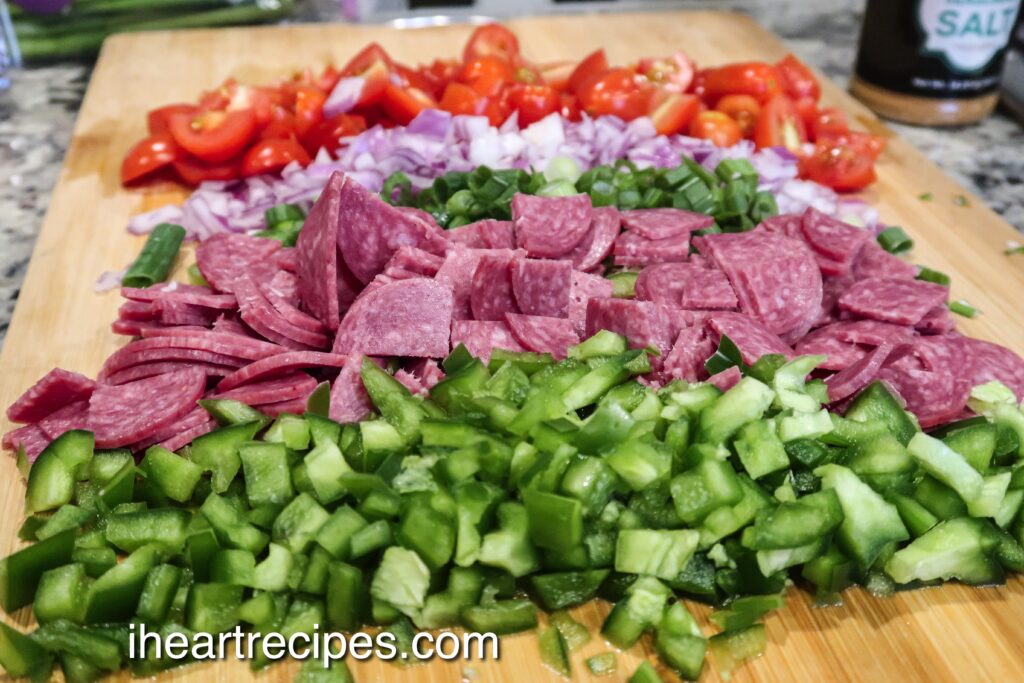 How to Assemble This Quick and Easy Italian Pasta Salad with Salami
I like salami, and I just happened to have some dry salami on hand so that's what I used for this particular recipe. However, you can totally make your Italian pasta salad with pepperoni as well. It will still be delicious. I've done it before, and loved it the same.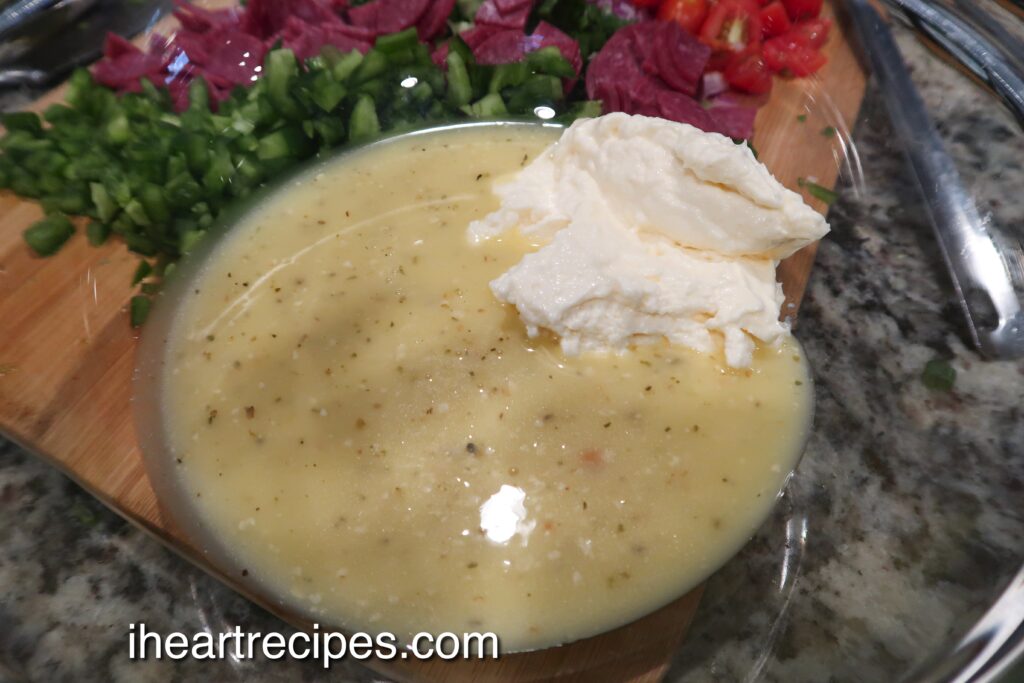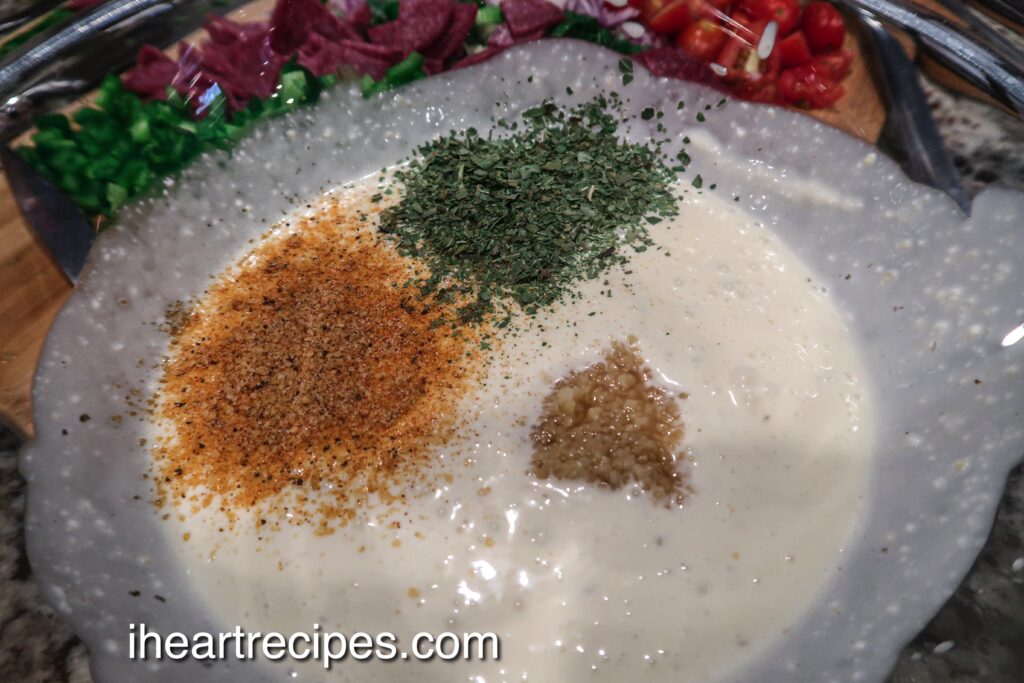 The dressing for this salad is a combination of mayonnaise, Italian salad dressing, dry basil, garlic, and seasoning salt (Rosamae Seasonings Seasoning Salt of course!). The ingredients are whisked until everything is nice, and creamy. Then I add in the cold pasta, and fold it in.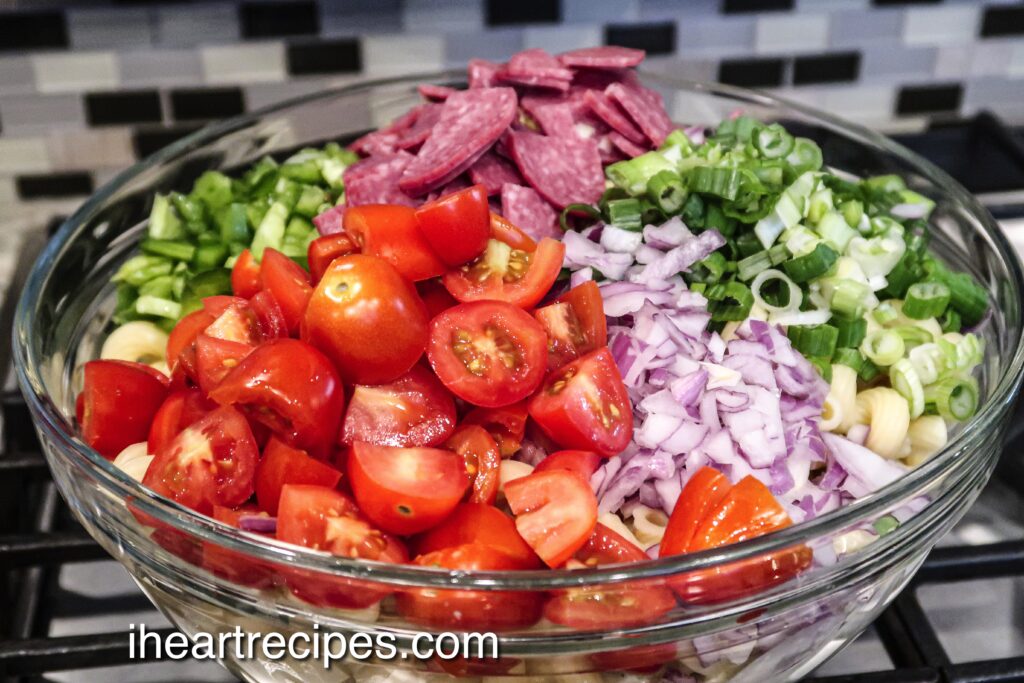 After adding in the cold pasta I add in the diced veggies, and parmesan. I don't know what it is, but I just love the colorful vegetables. It's like a gorgeous, and delicious rainbow. Once everything is in a large mixing bowl, I fold the ingredients, until everything is well combined. Once all the ingredients are equally throughout the pasta salad, I then refrigerate the salad for a minimum of two hours.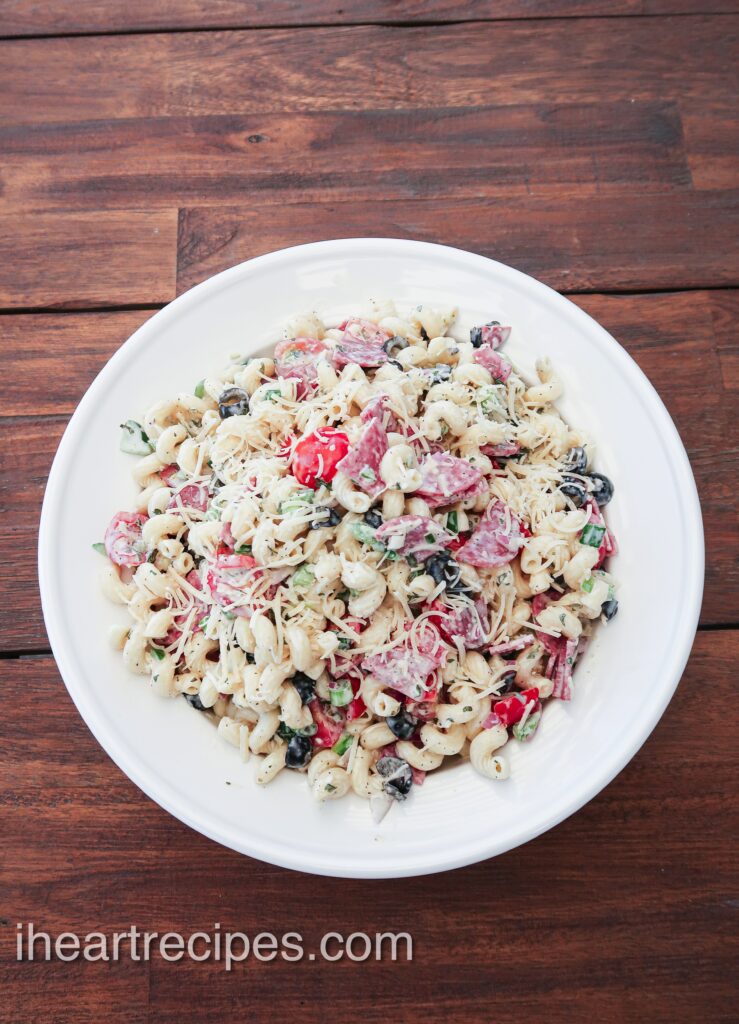 After chilling the pasta for two hours, feel free to serve and enjoy. I personally think this salad tastes better the day after once all the ingredients sit, and make love to each other (ooh la laaaa!). You can serve this pasta salad as a side dish, or a main dish. It's perfect for summer BBQ, company potlucks, and other parties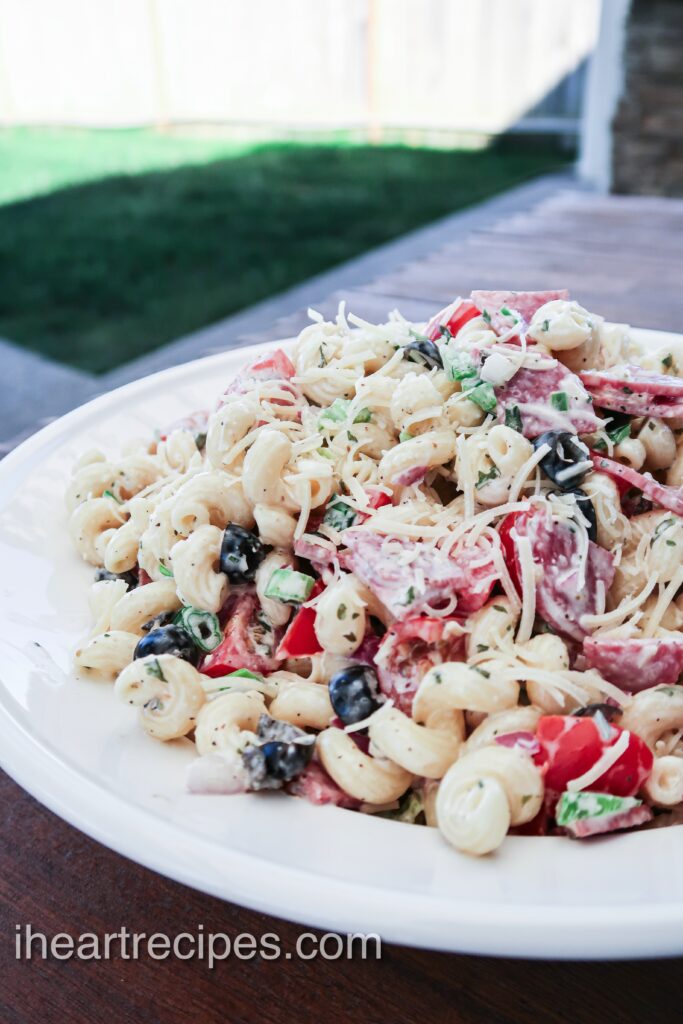 Give my Italian Pasta Salad with Salami a try cousins, and let me know what you think down below in the comment section! Be sure to follow me on Facebook for more recipes!
Italian Pasta Salad with Salami and Parmesan
Craving a refreshing and delicious salad? This easy to make Italian pasta salad is packed with salami, tons of veggies, and a creamy Italian dressing. It's the perfect cold pasta salad recipe!
Ingredients
16

oz

dry Cellentani pasta

3/4

cup

mayonnaise

1

cup

Italian salad dressing

2

tbsp

minced garlic

2

tbsp

dry chopped basil

2

tsp

Rosamae Seasonings Seasoning Salt

1

med

red onion

diced

1

large

green bell pepper

diced

4.5

oz

sliced black olives

1/2

lb

sliced dry salami

1

pint

grape tomatoes

sliced

1 1/2

cup

shredded parmesan cheese

1/3

cup

chopped green onions
Instructions
Cook the pasta in lightly salted water, and once it's al dente strain and let the pasta cool.

Next combine the mayonnaise Italian dressing in a large mixing bowl, and mix until well combined.

Add the garlic, basil, and seasoning salt into the large bowl. Whisk until well incorporated.

Add the cool pasta into the large mixing bowl, and fold in with the dressing.

Now toss in the red onions, tomatoes, bell peppers, green onions, olives, and salami.

Fold the the ingredients until everything is combined.

Sprinkle in the shredded parmesan cheese, and lightly fold into the pasta salad.

Cover the Italian pasta salad, and refrigerate for a minimum of 2 hours.
Try out these pasta salad recipes as well!