How to make southern soul food style potato salad with eggs, relish, green onion, and celery!
Good old fashioned southern potato salad. Sounds good right? Well I figure I'd get on here and share my version for southern style potato salad before barbecue season hits next month. Besides, y'all have been requesting it for quite some time now. Believe it or not, I actually posted a potato salad recipe a few years ago. However, since then I have changed a couple of ingredients, and I've also changed a few of the preparation steps. Let me tell you how I make my southern style potato salad!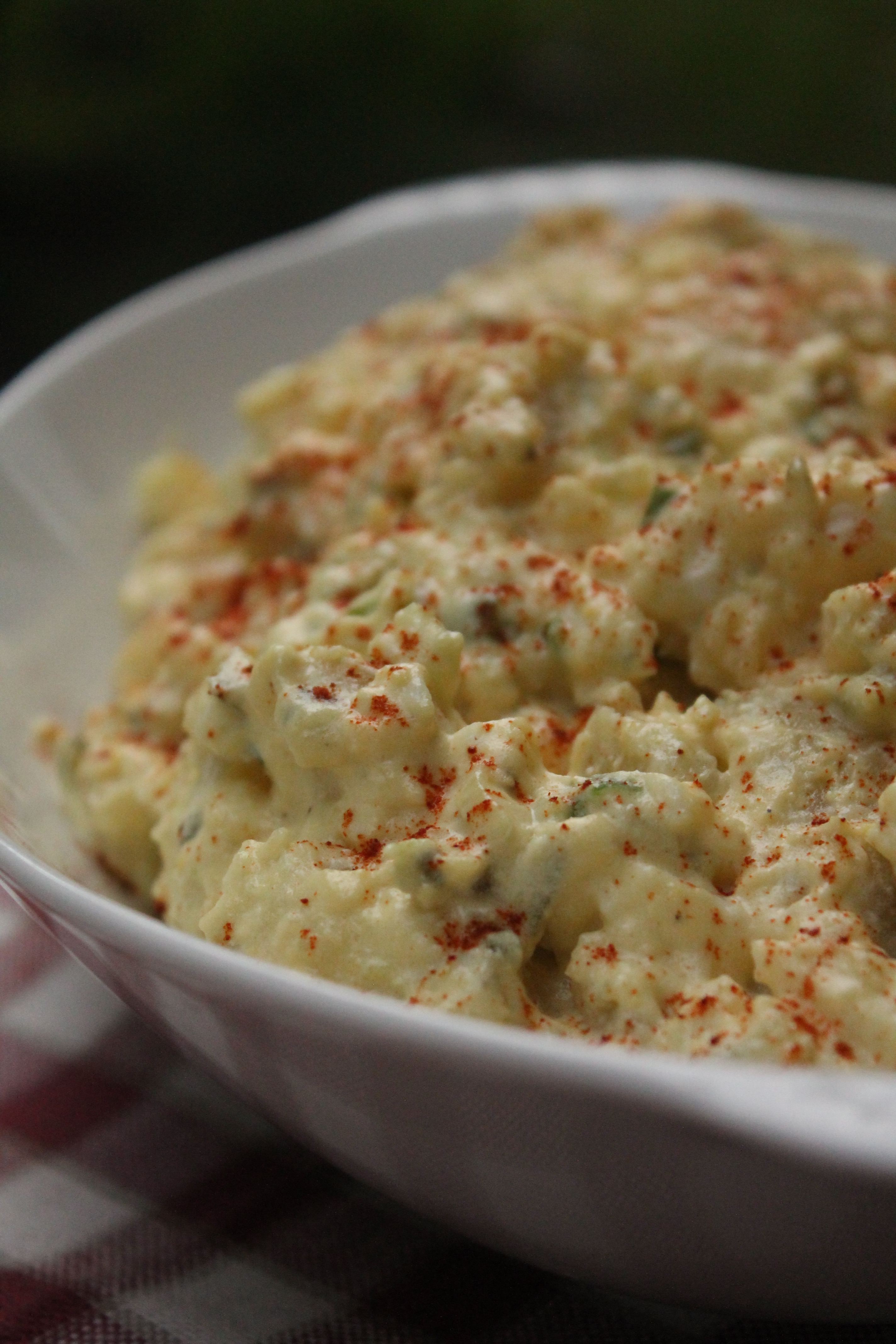 Let's start off with the potatoes. I use regular russet potatoes for my potato salad. I know a lot of people think that russet potatoes are only good for baking, and mashing… But honey, that is far from true. My family and I have always used russet potatoes in our southern potato salad recipes, and we've never had a problem.
I use boiled eggs in my potato salad. I'm on of those people that won't touch potato salad, unless it has eggs! A true southern & soul food style potato salad has eggs.. And lot's of it!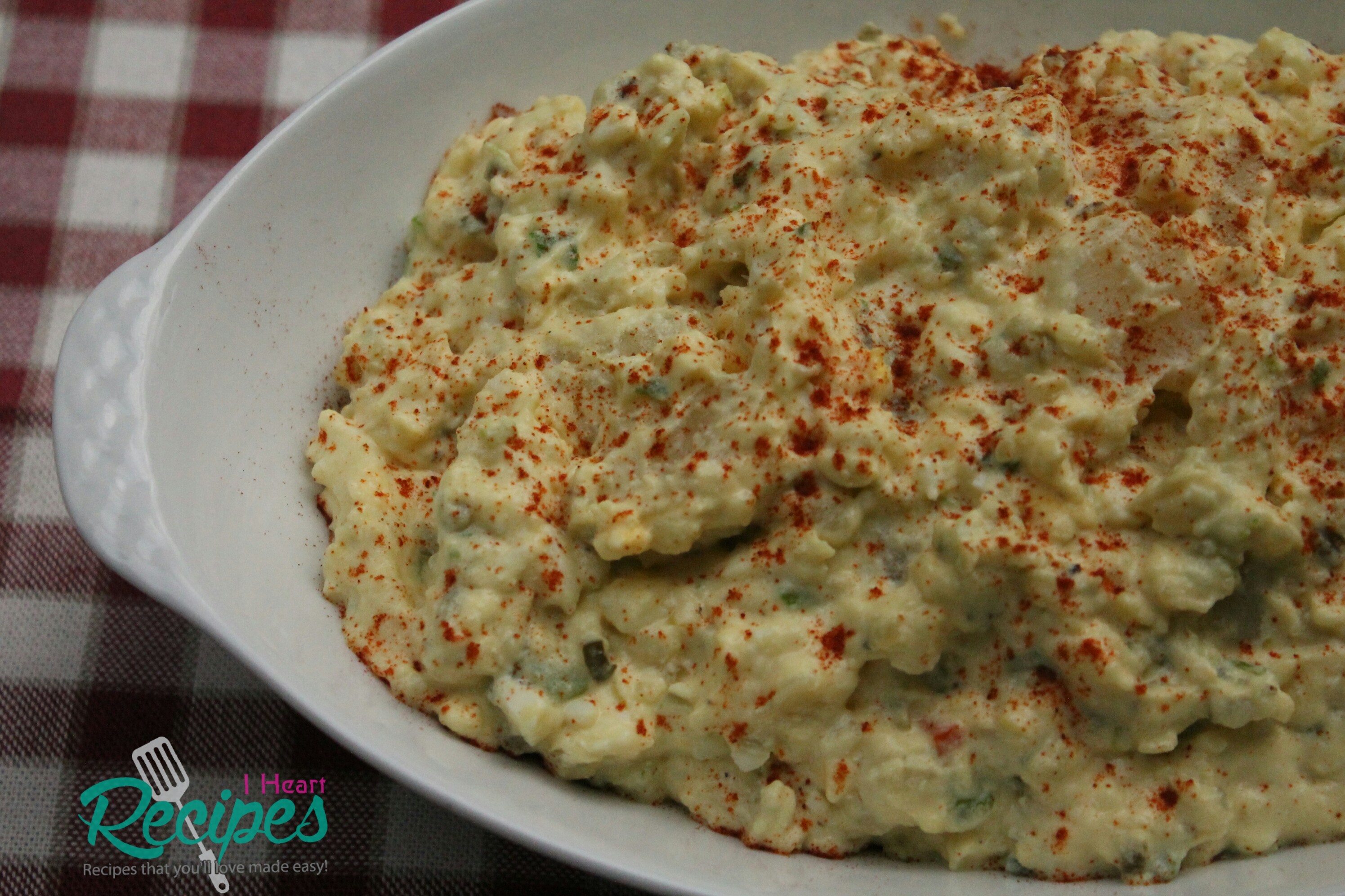 Pickles or relish? It really depends on you. My mom has always used chopped dill pickles for her potato salad. I was taught to use pickles. However, as I got older, I started to use relish. I use a combination of sweet and dill relish, but you can use either or.
In order to have an amazing dish of southern potato salad, you must have an amazing dressing. Some people use miracle whip in there potato salad, but around here- that will get your feelings hurt! I use Best Foods Mayonnaise aka Hellmans as my dressing base. I then add regular yellow mustard, and a splash of pickle juice ( my secret ingredient…don't tell nobody! Shhh!). After everything is mixed, I then add in the relish, seasoning, and mix. Then Voila.. My potato salad dressing is done!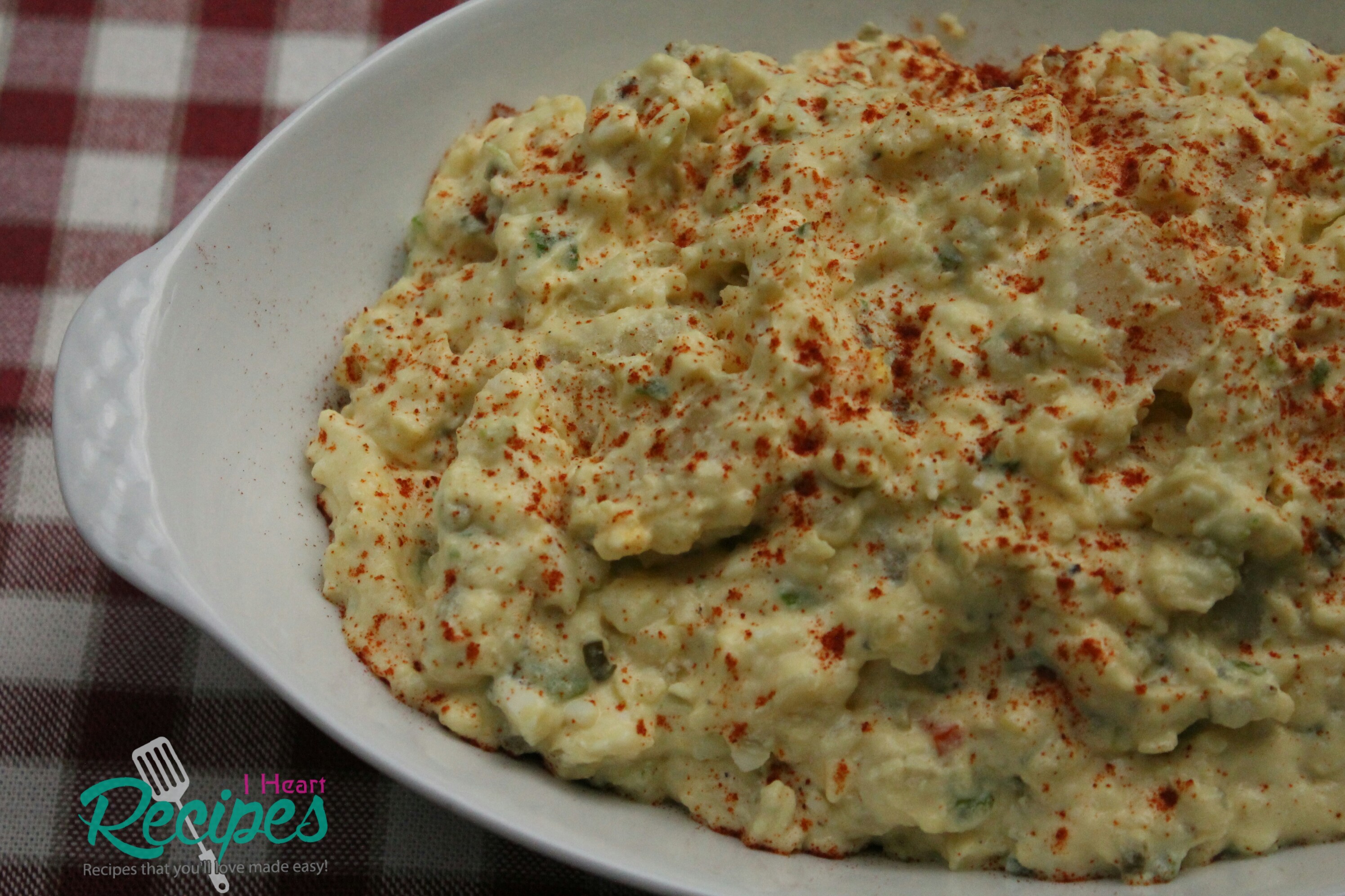 Ooh, before I forget I also use a nice amount of onion. I use to use yellow onion ( sometimes I still do!) , but I really love using green onions in my southern style potato salad recipe. This is just my preference. You can certainly use yellow, white, or even red onion if you choose.
Once everything is mixed up, I refrigerate the potato salad until it's nice and cold. It's really simple. I usually serve this potato salad with barbecue dishes such as my Barbecue Oxtails, and even my Sweet & Smokey Pork Spare Ribs.
Here's my video tutorial for this southern potato salad recipe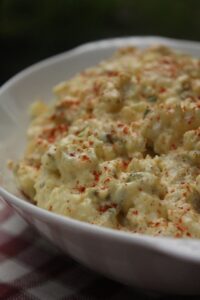 Southern Potato Salad Recipe
Creamy southern soul food style potato salad with mayonnaise, relish, celery, onion, and eggs.
Watch Video
Print Recipe
Pin Recipe
Ingredients
4

large russet potatoes

scrubbed and rinsed

3

large eggs

1/2

cup

mayonnaise

2

tbsp

yellow mustard

1/4

cup

sweet relish

1/3

cup

dill relish

1/4

cup

cup chopped green onion

green and white parts

1/4

cup

diced celery

2

tbsp

dill pickle juice

1

tsp

cracked black pepper

1 1/2

tsp

onion powder

1

tsp

salt

1

tsp

garlic powder

paprika

optional
Instructions
Boil the potatoes until they are nice and fork tender, once done drain the water and let cool.

Peel the potato skin off, place them into a large bowl, then cut the potatoes in chunks.

Dice or crumble the boiled eggs, then add them into the bowl with the potatoes.

Next, toss in the celery, and onion.

Sprinkle in all of the seasonings, then set the bowl to the side.

In a separate bowl combine the mayonnaise, mustard, relish, and pickle juice.

Mix until well combined, then add it with the other ingredients.

Fold all of the ingredients until they are well combined.

Cover and refrigerate until the potato salad is nice and cold.

Place the potato salad into a serving bowl, then sprinkle paprika on top ( optional).

Serve and enjoy!
Video
If you loved this recipe,
leave me a review below
. This helps future recipe makers and ensures continued high-quality recipes for years to come!
© 2023 I Heart Recipes