Delicious garlic parmesan chicken wings, baked in the oven until they are crisp, and reach golden perfection.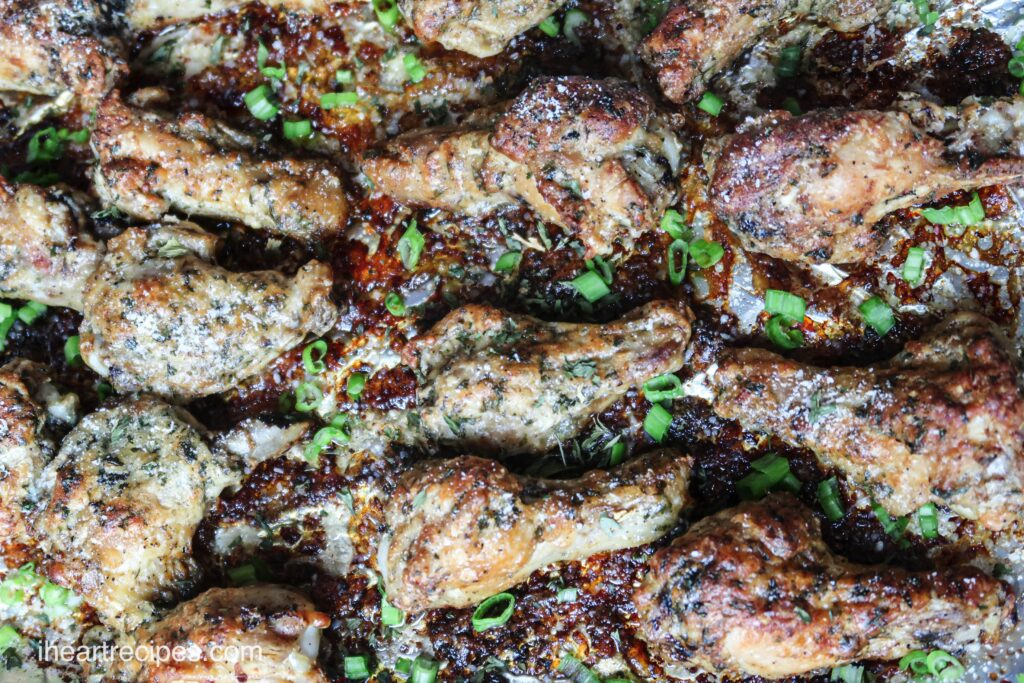 Hey cousins! It's been a while since I've shared a baked chicken wings recipe on here. If I remember correctly, The last baked chicken wing recipe I shared was my Garlic & Onion wings. Lately, I've been frying everything up per your request. However, I think that you're going to really love this baked parmesan chicken wings recipe!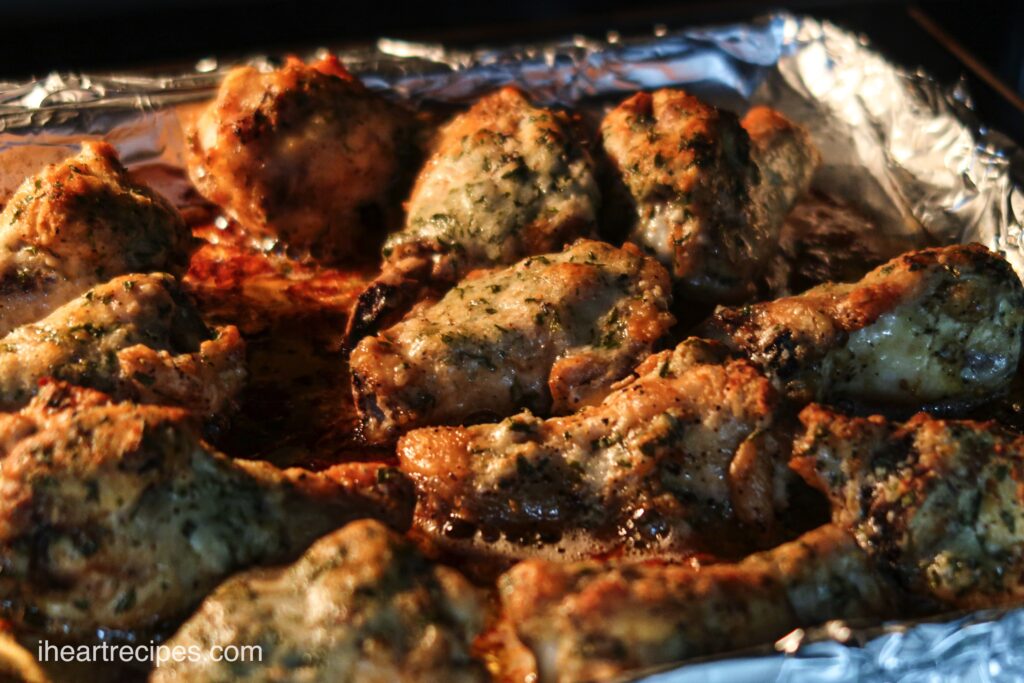 I was inspired to share this garlic parmesan wings recipe because I love the ones at Wings Stop. Well, not all of the Wings Stops. The Wings Stop in my area has been dropping the ball lately. Therefore I decided to start making my own garlic chicken wings, and baby, when I tell you that they are even better than the takeout wings!! They are unbelievable!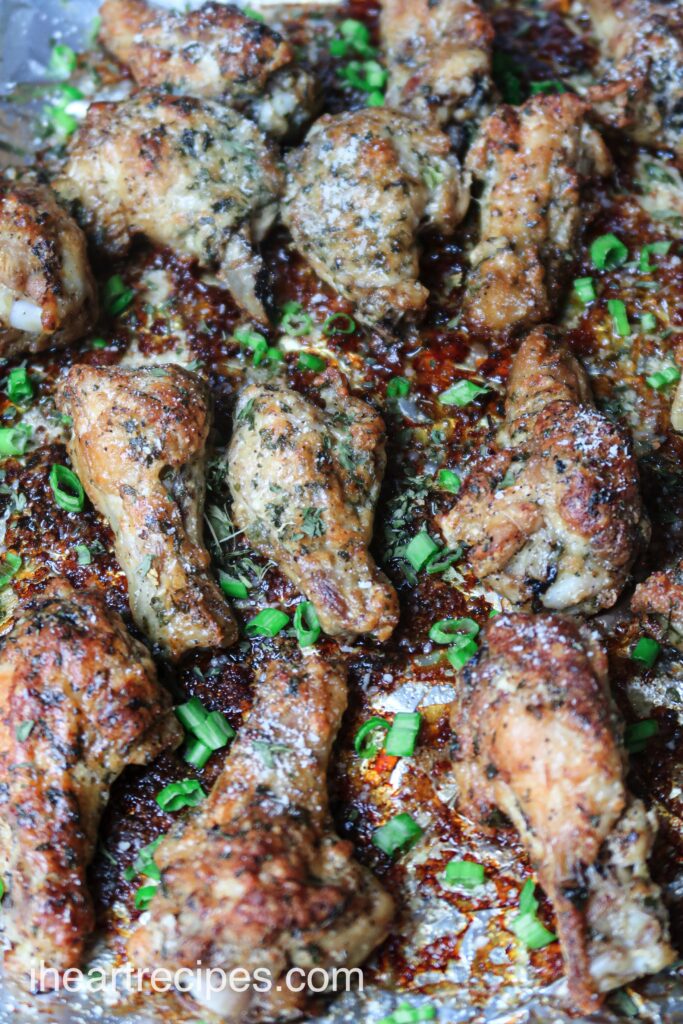 These baked parmesan chicken wings make the perfect appetizer or can be served as a dinner main dish.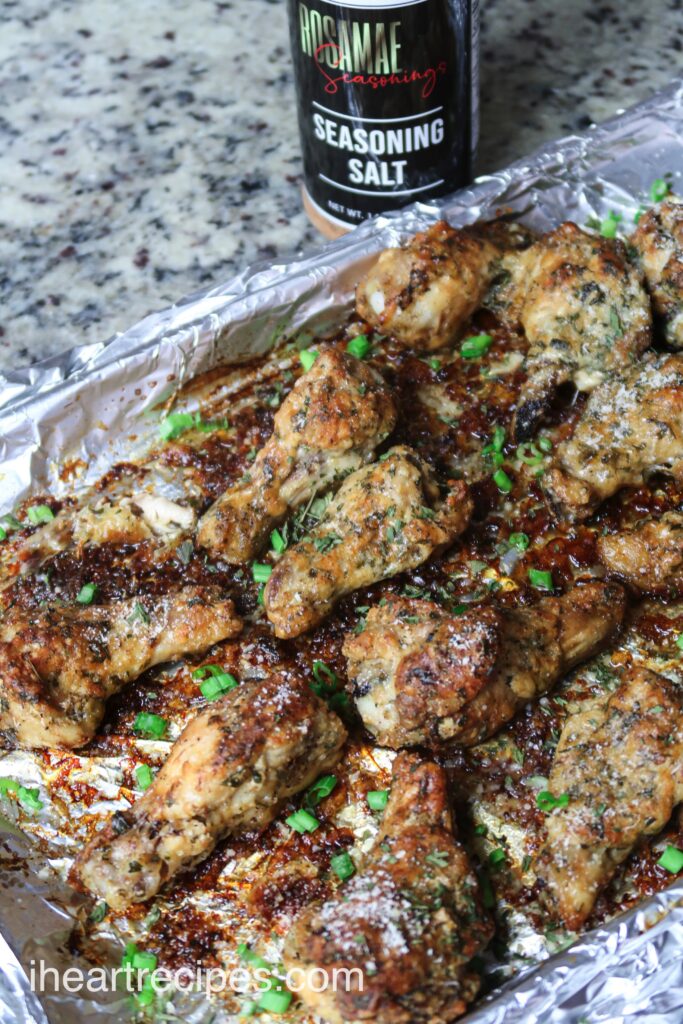 Check out my video tutorial for these baked garlic parmesan chicken wings.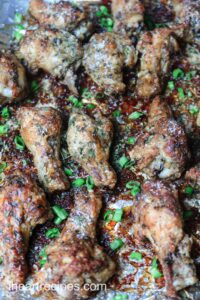 Baked Garlic Parmesan Wings
Try these juicy, flavorful baked garlic parmesan chicken wings! Inspired by my favorite takeout wings, this homemade version is ten times better!
Watch Video
Print Recipe
Pin Recipe
Instructions
Preheat the oven to 400 F.

Make sure that the chicken wings are cleaned prior to any other steps.

Toss the chicken wings into a large bowl, then drizzle with the avocado or olive oil.

Season the chicken with the seasoning salt, garlic, and ground black pepper.

Line a baking sheet with foil, and spray with nonsticking spray. Set to the side.

Place the chicken wings on the baking sheet, and leave uncovered.

Bake the chicken wings for about 25-30 minutes.

Combine the melted butter, parmesan, and parsley. Mix until well combined.

Remove the chicken from the baking tray, and toss them into a large bowl. Pour in the butter and parmesan mixture.

Toss the wings until well coated, then place the wings back on the baking dish.

Spoon any leftover butter & parmesan mixture, and top off the chicken.

Put the chicken back into the oven, still uncovered, and still on 400 F.

Bake for an additional 25 minutes, or until nice and golden.

Remove from the oven, and let cool until it's safe to eat.

Serve with your favorite dipping sauces, and enjoy!
Video
If you loved this recipe,
leave me a review below
. This helps future recipe makers and ensures continued high-quality recipes for years to come!
© 2023 I Heart Recipes
Don't forget to subscribe to I Heart Recipes on YouTube to see all of my recipe videos, cooking tips, and more! You can also follow me on Facebook, Instagram, and Pinterest to keep up with all things Rosie and I Heart Recipes!
Don't miss my other chicken & turkey wings recipes!