So, I finally did it! I finally decided to upload one of my favorite recipes for baked stuffed chicken wings! Honey, allow me to introduce you to your new favorite chicken wings recipe.
These baked chicken wings are seriously off the freakin' chain. Y'all know I love me some chicken wings. They're the perfect appetizer or main dish for game day, parties, potlucks… you name it! Your family, friends, or whoever you're feeding will love these tender, juicy chicken wings stuffed with a flavorful dressing.
The history of how chicken wings became so popular in southern and soul food cooking is debated, with a few different theories on who to thank for the creation of traditional buffalo wings. However, as much as I love a good saucy wing, these ain't those, cousins! There's plenty of time for finger-lickin' saucy wings (like my spicy jerk sriracha pineapple wings or my classic hot wings recipe) another time.
To be honest with you, I want you to hurry up and try this recipe! But before we go bustin' out the hot sauce, let's talk more about how to make delicious, crispy baked and stuffed chicken wings.
The Secret to Crispy Baked Chicken Wings
You might be asking, "But Cousin Rosie, how do you get crispy chicken wings without frying them?" Well, that's a good question—and I have the answer!
The secret to a delicious, crispy chicken wing without frying is all in the preparation. Today, we're using the oven to bake our stuffed chicken wings.
For this chicken wings recipe, you'll want to use bone-in, skin-on whole chicken wings. You want to keep the skin on your chicken wings so it crisps up to a nice golden brown during the baking process (and also because that's how we stuff these wings!).
To get juicy chicken wings with crispy skin, it's important to pat the chicken wing skin dry using a paper towel! We want minimal moisture on that skin, okay y'all? First, wash your hands—this is a very hands-on recipe! Pat dry the whole chicken wing before stuffing and seasoning. This step is also when I carefully use my fingers to separate the skin from the meat of the chicken wing and create the perfect little pocket for our stuffing. To do this, I take my (gloved) finger and carefully separate the skin from the meat in the drumette area of the chicken wing (the part of the whole chicken wing that resembles a drumstick), all the way to the flat part of the wing. Now you're ready to move on to the next step: stuffing the chicken wings.
How to Stuff Chicken Wings
The next step in this baked stuffed chicken wings recipe is making the stuffing—or as I like to call it, the dressing (yes, I called it dressing! Stuffing and dressing are the same to me, y'all). My chicken wing stuffing is a perfectly seasoned mix of bacon bits, breadcrumbs, sour cream for a hint of creaminess, and tons of herbs and spices.
Combine your breadcrumbs, crumbled bacon, melted butter, and Italian seasoning in a large mixing bowl. This is the base of your chicken wing stuffing mixture. To add more flavor, we'll add our herbs and spices. I use seasoning salt, dried rosemary (you can use fresh rosemary if you prefer), celery flakes, and poultry seasoning.
I use minced garlic and a dollop of sour cream for wet ingredients. Sour cream gives these chicken wings stuffing a creamy, rich texture and flavor that's just to die for! It's an important ingredient, so don't skip out on this step. Mix these ingredients until well combined. If your stuffing is a bit too thick, add a drizzle of chicken broth to loosen it up to the perfect dressing consistency.
To stuff the chicken wings, take about a tablespoon of your dressing mixture and carefully tuck it into the chicken wing, right where you separated the skin from the meat at the drumette area. Be careful not to overstuff the wing and tear the skin, but you want to make sure it's nice and fully stuffed for maximum flavor.
Once you've stuffed your chicken wings, you'll want to brush the front and back of the wings with a light coating of olive oil. The oil will ensure crispy golden-brown skin and prevent any sticking. Next—and the most important part—season those wings, girl! My go-to chicken wing seasonings are garlic powder, onion powder, paprika, poultry seasoning, and salt. Don't forget to check out my entire line of Rosamae Seasonings for my favorite, personally curated seasonings for meats, seafood, greens, and more!
FAQs – How to Make the Best Stuffed Chicken Wings

What equipment do I need to make stuffed chicken wings?
For my baked stuffed chicken wings recipe, you need minimal equipment, making this recipe super easy! You don't need a complicated deep fryer or vats of oil for these chicken wings. All you need is a baking sheet, a cooling/baking rack, and your hands! Like I said, this is a very hands-on recipe, so you'll be using your hands to separate the skin from the meat of the wing and to stuff the chicken wings with the homemade stuffing mixture. You'll also need a silicone basting brush to apply olive oil to the surface of the chicken wings before baking.
How long to bake chicken wings?
Poultry needs to cook to an internal temperature of 165 degrees Fahrenheit to be a safe consumable temperature. I bake my chicken wings on a foil-lined baking sheet (no-mess cleanup, for the win) sprayed with nonstick spray in a 400-degree Fahrenheit oven for about 25 minutes. Check the internal temperature before serving, but chicken wings are smaller pieces of chicken, so they should cook to a perfect, tender, and juicy golden brown in this timeframe.
What stuffing to use for stuffed chicken wings?
You can make stuffed chicken wings with just about any dressing you'd like! My favorite go-to chicken wing stuffing is Italian breadcrumbs with bacon bits. You can use your favorite dressing recipe as a stuffing for chicken wings (like my southern cornbread dressing or simple homemade stuffing). Other popular options for chicken wings stuffing are Asian-inspired combos like dumpling-style ground pork with fish sauce or soy sauce, or vegetable filling with shiitake mushrooms, green onions, and noodles. You could even go with a jalapeno-popper style stuffing for a creamy, spicy chicken wing filling. The choices are endless!
More Chicken Wing Recipes from I Heart Recipes
I have no shortage of delicious chicken wing recipes to give y'all, so buckle up! If you loved my oven-baked stuffed chicken wings, you've got to try some of these wing recipes at your next party or game-day gathering:
Baked Stuffed Chicken Wings Video + Recipe Card
Are you ready to learn how to make these crispy oven-baked chicken wings? I've got a video tutorial showing you every recipe step, from how to separate chicken wing skin to creating the dressing and perfectly stuffing the chicken wings.
Print out this baked stuffed chicken wings recipe using the recipe card below! Don't forget to subscribe to I Heart Recipes on YouTube to see all my recipe videos, cooking tips, and more! You can also follow me on Facebook, Instagram, and Pinterest to keep up with all things Rosie and I Heart Recipes!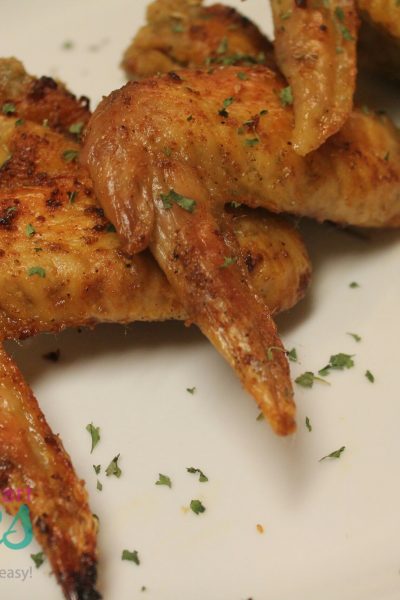 Baked Stuffed Chicken Wings Recipe
These Stuffed Chicken Wings are a twist on a classic, baked (instead of fried) to golden-brown perfection with crispy skin, flavorful stuffing, and juicy meat. The perfect appetizer for game day or as the main course of your family dinner.Tender, filling, and delicious!
Watch Video
Print Recipe
Pin Recipe
Instructions
Preheat the oven to 400 F.

Clean the chicken, using a paper towel to pat dry the skin of the chicken to remove excess juice and moisture. Then loosen the skin around the drumette areas using your finger to separate the skin from the meat of the chicken wing.

In a large bowl, toss in all the ingredients needed for the stuffing: bacon, breadcrumbs, butter, herbs and spices, minced garlic, and sour cream. Mix until well combined. If the dressing is too thick, add a few tablespoons of chicken broth to loosen up the stuffing to desired consistency.

Stuff the chicken wings on the drumette end with the stuffing, but don't overstuff or rip the chicken wing skin.

Drizzle the chicken wings with olive oil (or use a silicone basting brush).

Season the chicken with 1 tsp garlic powder, 1 tsp onion powder, 1 1/2 tsp paprika, and 1 tsp poultry seasoning.

Place the stuffed chicken wings on a cooling or baking rack over a tin foil-lined baking sheet. Make sure to spray the cooling rack and baking sheet generously with nonstick spray.

Bake the chicken for 25 minutes, or until done to an internal temperature of 165 degrees.

Serve and enjoy!
Video
If you loved this recipe,
leave me a review below
. This helps future recipe makers and ensures continued high-quality recipes for years to come!
© 2023 I Heart Recipes