Homemade stuffing made southern style! Instead of using cornbread, we'll be using french bread!
A Simple Recipe for Homemade Stuffing!
Hey loves! I know, we're nowhere near Thanksgiving, but I've been craving homemade stuffing lately! Usually when I make stuffing I use cornbread, but today I was craving some southern old fashioned bread stuffing! Have you all ever tried southern bread stuffing? If not, you are certainly missing out on this dish. Bread stuffing is very similar to cornbread stuffing, but made with, well, bread!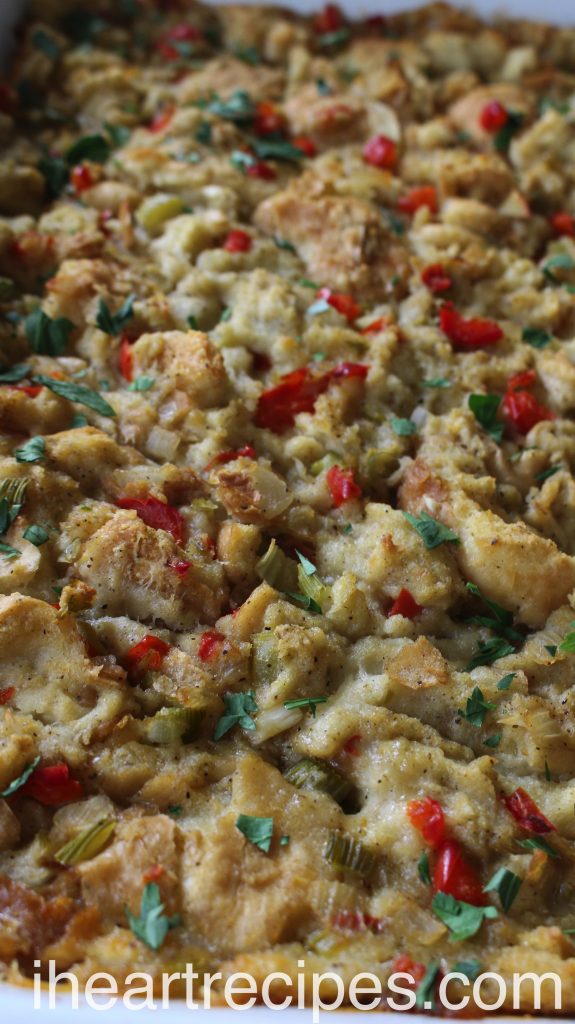 What is the Difference Between Dressing and Stuffing?
So let's get the obvious question out of the way: What's the difference between dressing and stuffing? Well, stuffing is usual stuffed inside of something, like turkey or chicken. Dressing, on the other hand, is made on the side; however, this recipe can be used for dressing OR stuffing! So I'm just going to call it stuffing. LOL!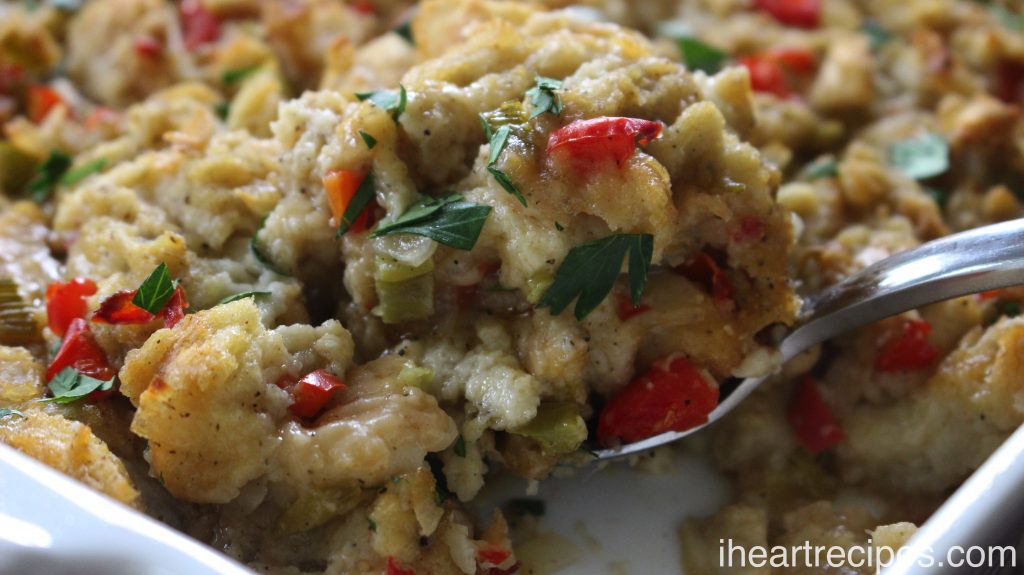 How to Make Southern Homemade Bread Stuffing
For this homemade stuffing recipe you'll need a large loaf of french bread. I like to cut the french bread into large cubes, then I toast the bread in the oven until it's nice and crisp. Once the bread is crisp, remove it from the oven.
The bread is then tossed with celery, onions and pepper – which, by the way, have been cooked in bacon drippings! Everything is seasoned and combined with chicken (or turkey) broth and mixed until well combined.
Seriously, this is the best bread stuffing! It's perfect any time of the year, especially for Thanksgiving (with yams and smothered turkey wings?! Yaaassss Lawd!!!!)
Be sure to share & save this homemade stuffing recipe on Pinterest! Don't forget to tag and follow me on Facebook and Instagram. Subscribe to I Heart Recipes on YouTube, and check out all my cookbooks! I just released a brand new cookbook, Super Soul Food with Cousin Rosie, with many recipes you can't find anywhere else.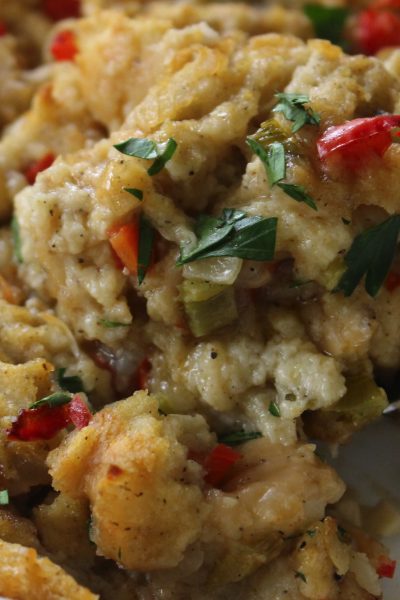 Simple Homemade Stuffing
This simple bread stuffing recipe is perfect for traditional stuffing or as a dressing casserole.
Watch Video
Print Recipe
Pin Recipe
Instructions
Preheat the oven to 325 F.

Cut the french bread in large cubes.

Lightly oil or grease a cooking sheet, then place the bread on the sheet.

Bake the bread until it's nice and crisp.

While the bread is baking, head over to the stovetop.

In a large pan, add in 2 tbsp of bacon drippings.

Once the bacon drippings is nice and hot, add in the peppers, onions, and celery. Season with 1 tsp salt, and 1/2 tsp ground black pepper.

Cook until tender, then add in the garlic.

Let cook for another minute or so, then turn the heat off.

Remove the bread from the oven, then toss the cubes into a large mixing bowl.

Pour in the chicken broth, and let sit for 5 minutes.

Now add in the beaten egg, and fold the ingredients.

Add in the cooked vegetables, and sprinkle in the poultry seasoning, remaining salt, and pepper.

Mix until everything is well combined.

Lightly grease or oil a 9×13 bake dish.

Add in the stuffing mixture.

Bake in the oven on 350F, uncovered, for 45-50 minutes.

Remove the dressing from the oven, and let sit for 5 minutes.

OPTIONAL: Add some chopped parsley on top, for looks.
Video
If you loved this recipe,
leave me a review below
. This helps future recipe makers and ensures continued high-quality recipes for years to come!
© 2023 I Heart Recipes
Looking for more Thanksgiving recipes like my Homemade Stuffing? Here's a delicious selection of holiday recipes to try: