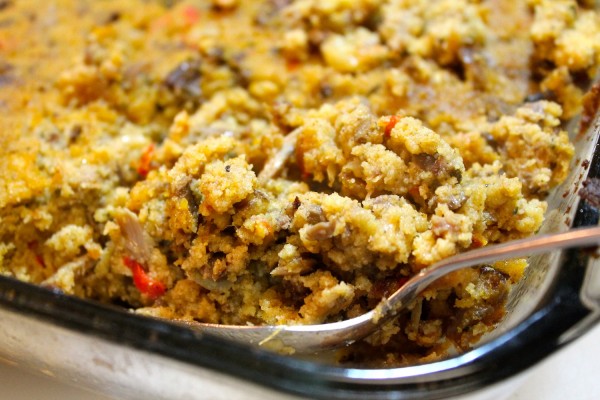 True Down Home Cornbread Dressing, just like Mom's!
When I was younger, I wasn't a huge fan of turkey. So when the holidays came around, I could less about the "bird"( It wasn't until I got older, and started cooking the turkey myself that I started to like it…) There was one dish, however, that I went bananas over ever holiday- And that dish happened to be my Moms' Dressing! Hunny, my Mom can make dressing like no other ( well, other than her daughter of course 😛 ). She would put use the turkey necks, and turkey giblets, and use other ingredients to make the best damn dressing ever! My only complaint was she never seemed to make enough!
Years later, I pretty much make the same dressing, but I have added my own twist to it of course. Since, I am now a turkey lover, I like to add more turkey to my dressing. Therefore, I don't just use the one or two turkey necks ( my mom used the turkey scraps, and put used to them). I use 2 lbs of turkey necks! Also, I add sweet peppers( bell pepper…. but not the green ones) to my dressing.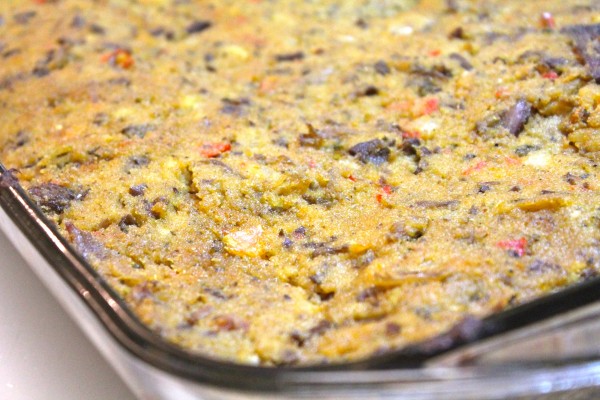 Now what about the cornbread?!
For this recipe I make homemade cornbread. I will not be using any store bought dressing/ stuffing stuff. The recipe for the cornbread I make, is super easy. Also, you DO NOT have to wait a whole day to use this recipe ( I like old fashioned recipe just like the next girl, but ain't nobody got time to wait a day to use the damn bread!) I simply make my cornbread on 400 F, to help dry it out a bit. Therefore we don't have to wait 24 hours for it to dry out.
Keep in mind, this is how I make my dressing. You can add more seasonings, and etc if you choose!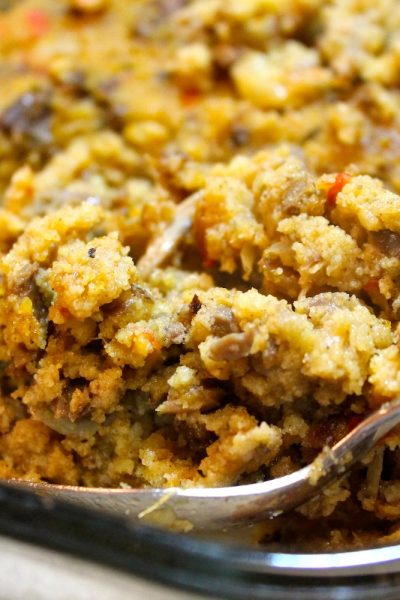 Down Home Cornbread Dressing
This homemade cornbread dressing is stuffed with turkey, tons of delicious seasonings, and sweet peppers, onions, and more. This classic southern dish will be the highlight of your holiday table.
Watch Video
Print Recipe
Pin Recipe
Ingredients
CORNBREAD:
1

cup

all purpose flour

1

cup

yellow corn meal

4

tsp

baking powder

2

large eggs

1/4

cup

granulated sugar

1

tsp

salt

1

cup

buttermilk

1/4

cup

vegetable oil
Other ingredients needed:
2

lbs

turkey necks

1

lb

chicken gizzards

or turkey gibblets

2

tbsp

garlic powder

2

tbsp

onion powder

2

tbsp

ground sage

2

tsp

smoked paprika

2

tsp

salt

1

tsp

ground black pepper

2

tsp

parsley flakes

2

tsp

minced garlic

2

tsp

dehydrated onions

2

tbsp

olive oil

1

medium sized onion

chopped

2

medium sized sweet pepper

chopped

2

eggs

4

cups

chicken

or turkey broth

1/2

cup

butter

melted
Instructions
Start off with the Cornbread:
In a large bowl, add in the cornmeal, all purpose flour, salt, baking powder, and sugar. Mix or sift the ingredients together.

Now add in 2 eggs, the vegetable oil, and the butter milk. Whisk everything, until well combined.

Grease a 13 x 9 pan ( or whatever you have) and pour the cornbread batter in the dish.

Bake the cornbread on 400 F for 30-35 minutes.

Let the cornbread cool down.
The meat:
Before anything, make sure you carefully clean the turkey necks and gizzards. Be sure to remove the membranes from the turkey necks.

Season the Turkey necks with 1 tbsp garlic powder, 1 tbsp onion powder, 1 tsp minced garlic, 1 tsp minced onion, 2 tsp smoked paprika, 1 tbsp ground sage, 1/2 tsp ground black pepper, and 1 tsp salt. Season the gizzards/giblets the same way.

Oil a bake dish, and place the turkey necks on one side of the dish, and the gizzards on the other.

Pour the chicken or turkey broth into the bake dish along with the turkey necks and gizzards.

Cover the dish, and place it in the oven on 350 F, for 1 hour or until the meat is nice and tender.

Remove from the oven and let cool.
Building the stuffing:
Add 2 tbsp of olive oil ( or vegetable oil) into a medium sized pan. Turn the heat to medium, and add in the chopped onions and peppers. Cook the vegetables until they softened, then remove from the heat.

In a large bowl, or dish crumble the cornbread. Add in the onions, and peppers, and fold in.

Remove the turkey meat from the bones, and add it along with the cornbread and peppers. Now dice the gizzards/gibblets, and add them along with the other ingredients. Fold in.

Pour the broth, from the bake dish that you cooked the turkey necks and gizzards in, into the dressing mixture.

Add in two large eggs, and stir in.

Last but not least pour in 1/2 cup melted butter.

Mix until everything is well combined, then place the dressing into a well greased dish.

Smooth out the dressing, then cover it with foil.

Bake the dressing in the oven on 350 F for about 40 to 45 minutes.

Remove the dressing from of the oven, and let it sit for about 5 minutes before serving.

ENJOY!!!!
Video
If you loved this recipe,
leave me a review below
. This helps future recipe makers and ensures continued high-quality recipes for years to come!
© 2023 I Heart Recipes
Check out these recipes as well!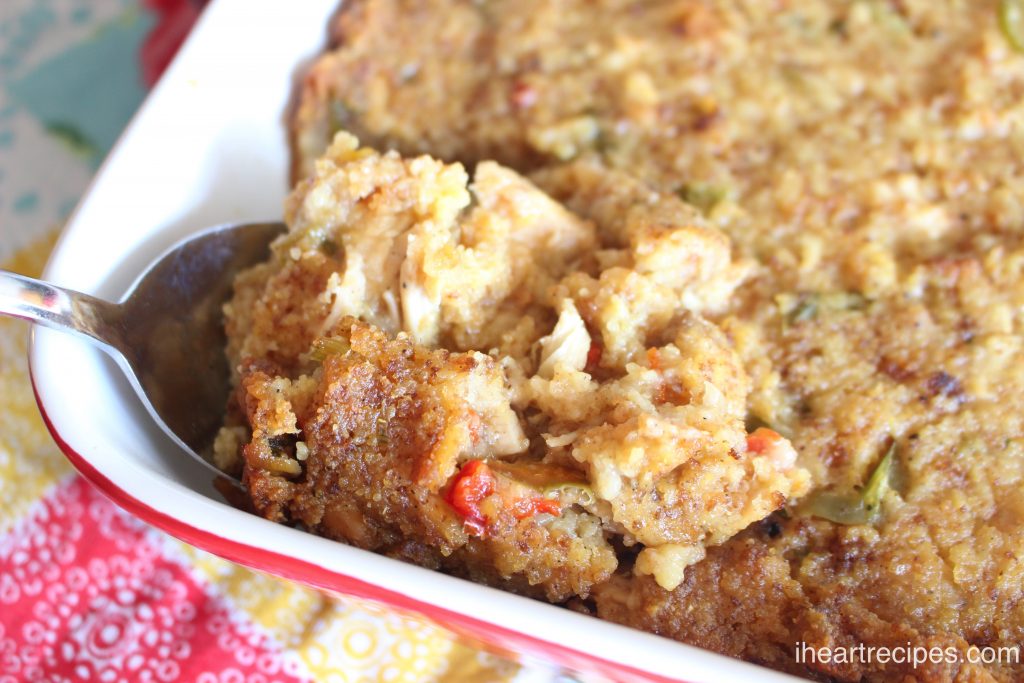 ---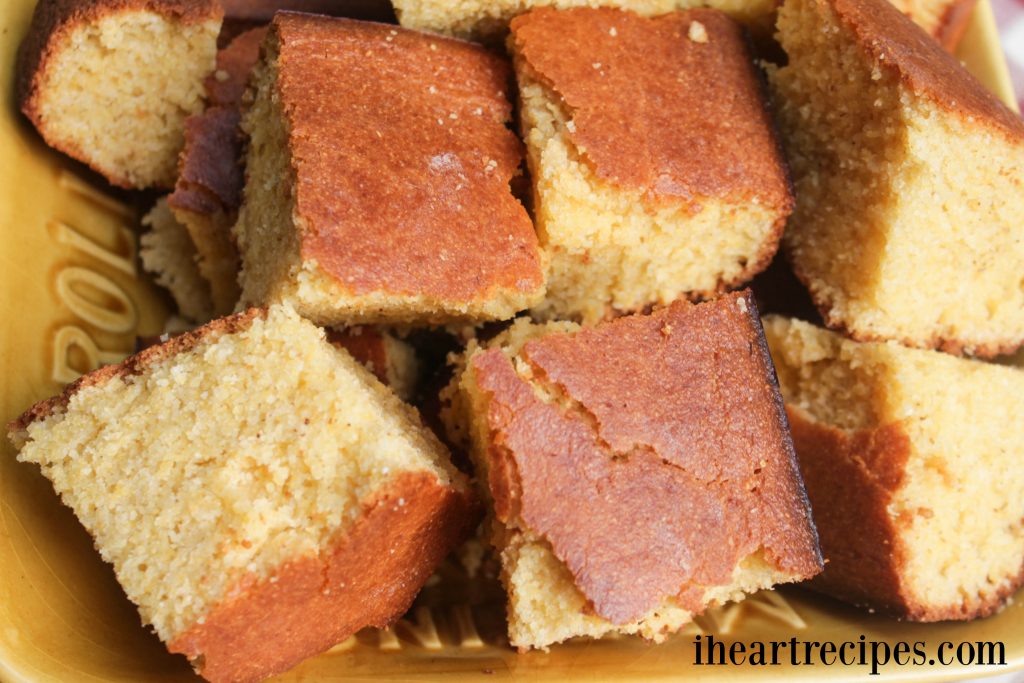 ---

---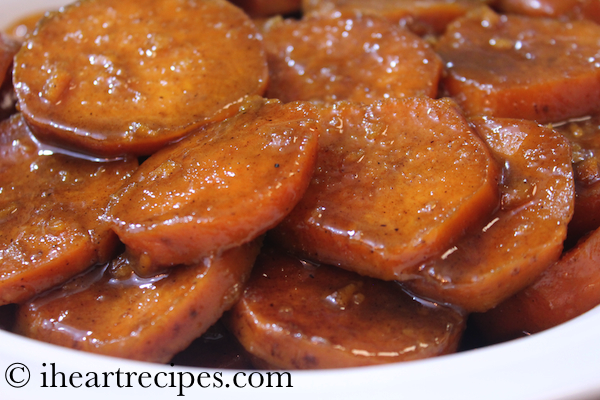 ---