Seafood Cornbread Dressing For Thanksgiving!
Ever had Seafood Cornbread Dressing? Well if not you're in luck! In this post I'm going to share my recipe for homemade seafood dressing packed with shrimp and crab. Just imagine a combination of super flavorful & buttery cornbread dressing, and a crab cake. Sounds pretty amazing right? Well let me tell you how I make my seafood dressing.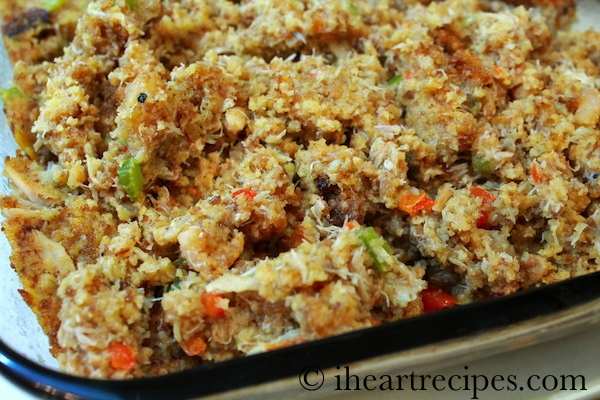 Let's start off with the cornbread! For my seafood dressing, I like to make and use homemade cornbread. Sure, it takes a little longer to make homemade cornbread, but to me it's worth it. You CAN use store bought/ boxed cornbread if you want to for this recipe , it won't be as good as mine, LOL) .
The seafood that I use in this seafood cornbread dressing was budget friendly! I used salad shrimp, and canned lump crab. If you want to use fresh crab meat, and larger shrimp you can do so. This seafood dressing is super moist – so you don't have to worry about the shrimp or crab drying out, just FYI!
This recipe for seafood dressing is pretty easy to follow, but be sure to watch the video tutorial down below.
Watch the video tutorial
Cornbread Dressing
This Cornbread Dressing is savory, moist and oh-so tasty! A must-have for any holiday meal.
Ingredients
1

cup

all purpose flour

1

cup

yellow corn meal

4

tsp

baking powder

2

large eggs

1/4

cup

granulated sugar

1

tsp

salt

1

cup

buttermilk

1/4

cup

vegetable oil
Instructions
In a large bowl, add in the cornmeal, all purpose flour, salt, baking powder, and sugar. Mix or sift the ingredients together.

Now add in 2 eggs, the vegetable oil, and the buttermilk. Whisk everything, until well combined.

Grease a 9x13 pan, and pour the cornbread batter in the dish.

Bake the cornbread on 400 F for 30- 35 minutes.

Let the cornbread cool down
Seafood Cornbread Dressing
This Seafood Cornbread Dressing is a twist on a classic! The tender crab and shrimp in this budget-friendly side dish adds a little something special to this holiday staple.
Ingredients
7

cup

cubed/ crumbled cornbread

1

small yellow onion

chopped

2

stalks celery

chopped

1

small bell pepper

chopped

2

large eggs

beaten

10

tbsp

butter

salted

4

cups

vegetable broth

2

tsp

garlic powder

2

tsp

onion powder

1

tsp

cracked black pepper

1

tsp

salt

1 1/2

tsp

old bay seasoning

1

lb

crab meat

1

lb

shrimp meat
Instructions
Preheat the oven to 300 F.

lightly grease a cookie sheet or bake dish, then place all of the cornbread on the bake sheet.

Place the cornbread into the oven for 30 minutes.

After 30 minutes, remove the cornbread from the oven.

TURN THE OVEN UP TO 350 F.

Let the cornbread cool down, then toss it into a large mixing bowl.

Place a large pan on the stovetop, and turn the heat to medium.

Add 2 tbsp of butter into the pan, and let it melt.

Once the butter has melted, and starts to bubble, toss in the chopped vegetables.

Cook the veggies until they are translucent , then toss them into the mixing bowl.

Melt 8 tbsp of butter, then pour it into the large mixing bowl.

Next add in the shrimp, and crab meat. Mix everything until well combined.

Sprinkle in the garlic powder, onion powder, pepper, salt, and old bay seasoning.

Fold all of the ingredients.

Pour in all of the vegetable broth, and mix.

Last, but not least, add in the beaten eggs, and mix everything until well combined.

Butter a 9x13 dish, and pour all of the dressing into the dish.

smooth out the dressing, then cover the bake dish with aluminum foil.

Bake on 375 F for 40 minutes.

Remove from the oven, and let sit for 5 minutes.

Serve and enjoy!
Video