How to make the very best soul food cornbread dressing from scratch!
Hey y'all! With the holidays approaching, I decided that now would be the perfect time to share my recipe for soul food cornbread dressing! Yes, I know-I have many cornbread dressing recipes. However there was one in particular that most of my subscribers went crazy over, and it was this one! Yup, years ago I shared this recipe on YouTube, but the actual recipe was never posted on my blog. So here I am, finally posting it!
How to Make EASY Soul Food Cornbread Dressing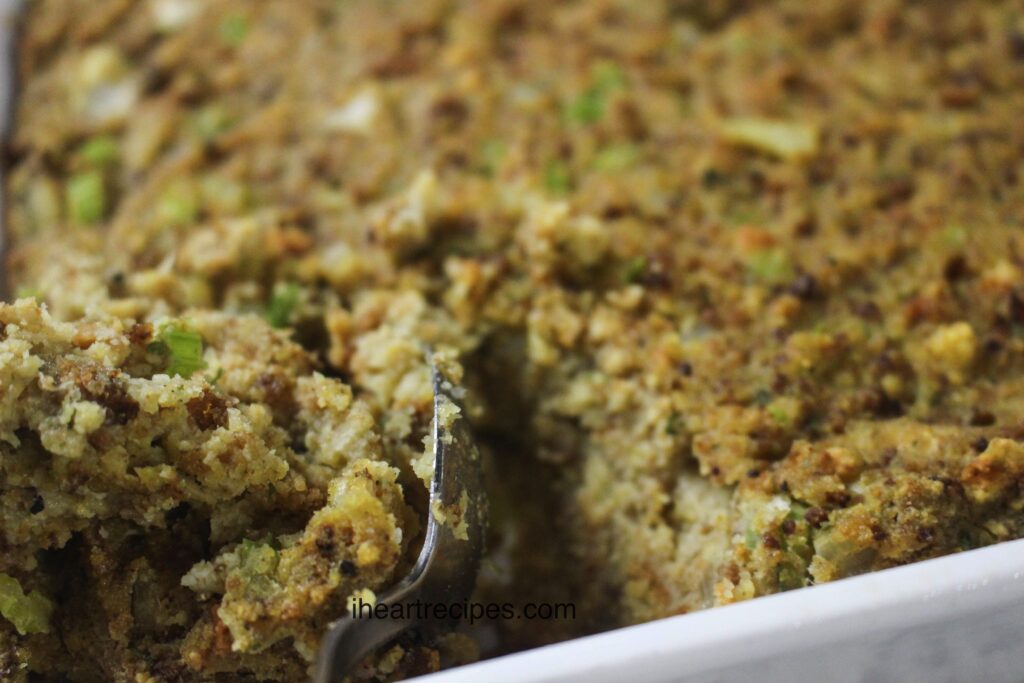 So first things first. You're going to need some cornbread for this dressing recipe. You can use one of my many recipes for homemade cornbread, or you can use boxed cornbread ( I won't judge you!).
Here's a list of some of my other popular cornbread recipes!
Southern Cornbread (unsweetened)
Cheesy Garlic & Herb Cornbread
Again, if you can use store bought boxed cornbread if you'd like!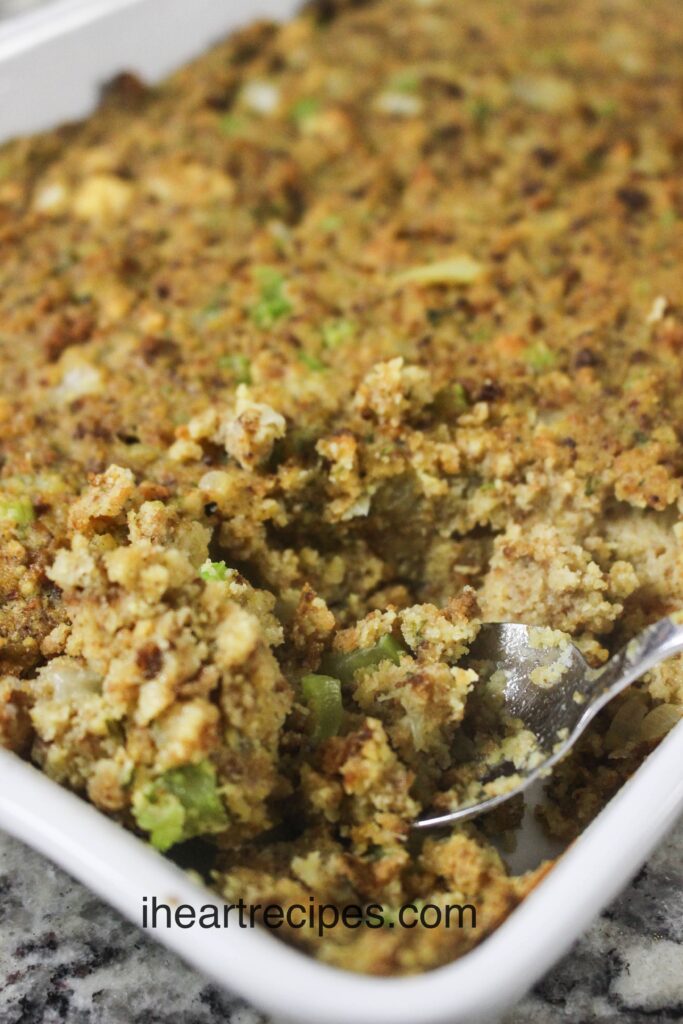 I like to use fresh sage in my soul food cornbread dressing recipe. However, I realize that some people may not have it on hand so feel free to use ground sage if needed. It will definitely work as well!
Other than sage, I like to add a nice amount of onions, celery, and garlic. I cook the vegetable until they are nice an tender, then I add them with the cornbread, and other ingredients.
Share this cornbread dressing recipe on Pinterest!
Watch me make my cornbread dressing recipe! Don't forget to subscribe to my YouTube channel for more delicious recipes!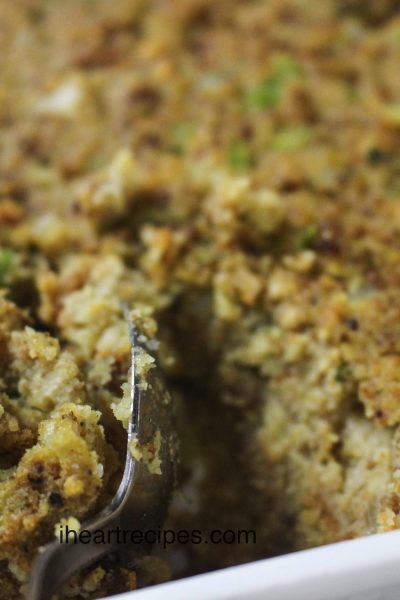 Southern Style Cornbread Dressing
This Southern Style Cornbread Dressing is the perfect side dish for your next holiday gathering. It's savory, flavorful and so easy!
Watch Video
Print Recipe
Pin Recipe
Instructions
Start chopping, and dicing all of the vegetables such as the celery, onions, and garlic. Also chop up the fresh sage.

Next, drizzle the olive oil into a large pan, then place the pan over medium heat.

Once the oil is nice and hot add in the onions, celery, and garlic. Cook until nice and tender.

Now toss in the fresh sage. Continue to cook for 2 minutes. Turn the heat off.

Crumble the cornbread into a large mixing bowl, along with the crackers.

Now add in the cooked vegetables. Fold the ingredients until everything is well combined.

Now pour in the broth followed by the cream of chicken soup.

Add in the eggs, and mix everything until well combined.

Sprinkle in the seasoning salt, thyme and pepper.

Now mix until well combined.

Preheat the the oven to 350 F.

Lightly oil a 9×13 bake dish, then pour in the dressing mixture.

Bake the dressing uncovered for about 45 minutes.
Video
If you loved this recipe,
leave me a review below
. This helps future recipe makers and ensures continued high-quality recipes for years to come!
© 2023 I Heart Recipes