Pumpkin Pie is one of America's most popular desserts, especially during the holiday season. Follow my easy and simple recipe, and your Thanksgiving dessert will be a major success!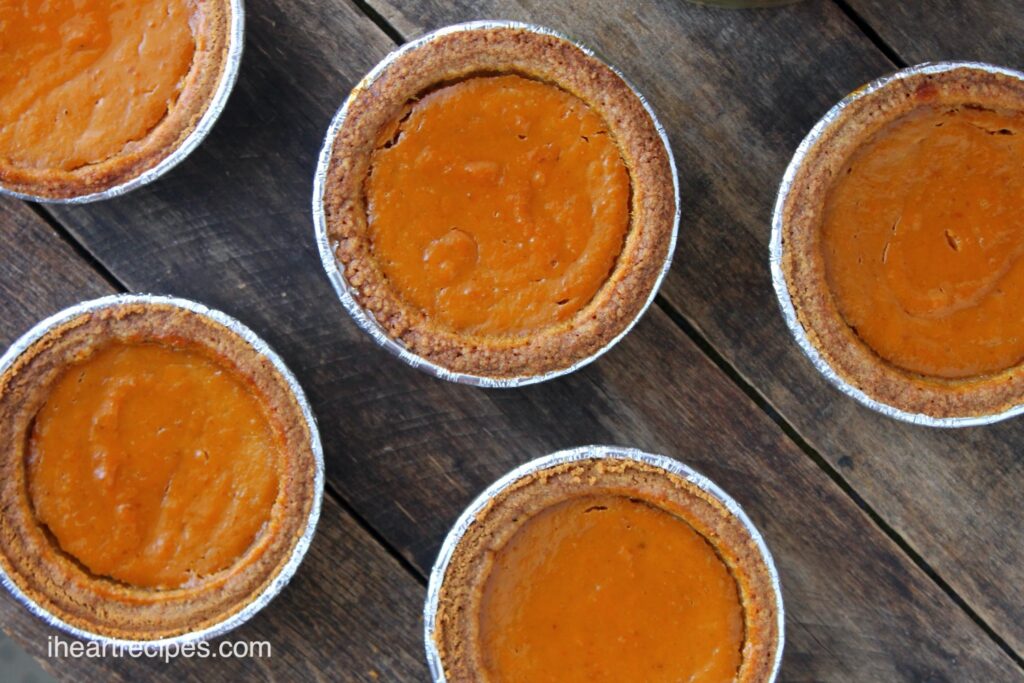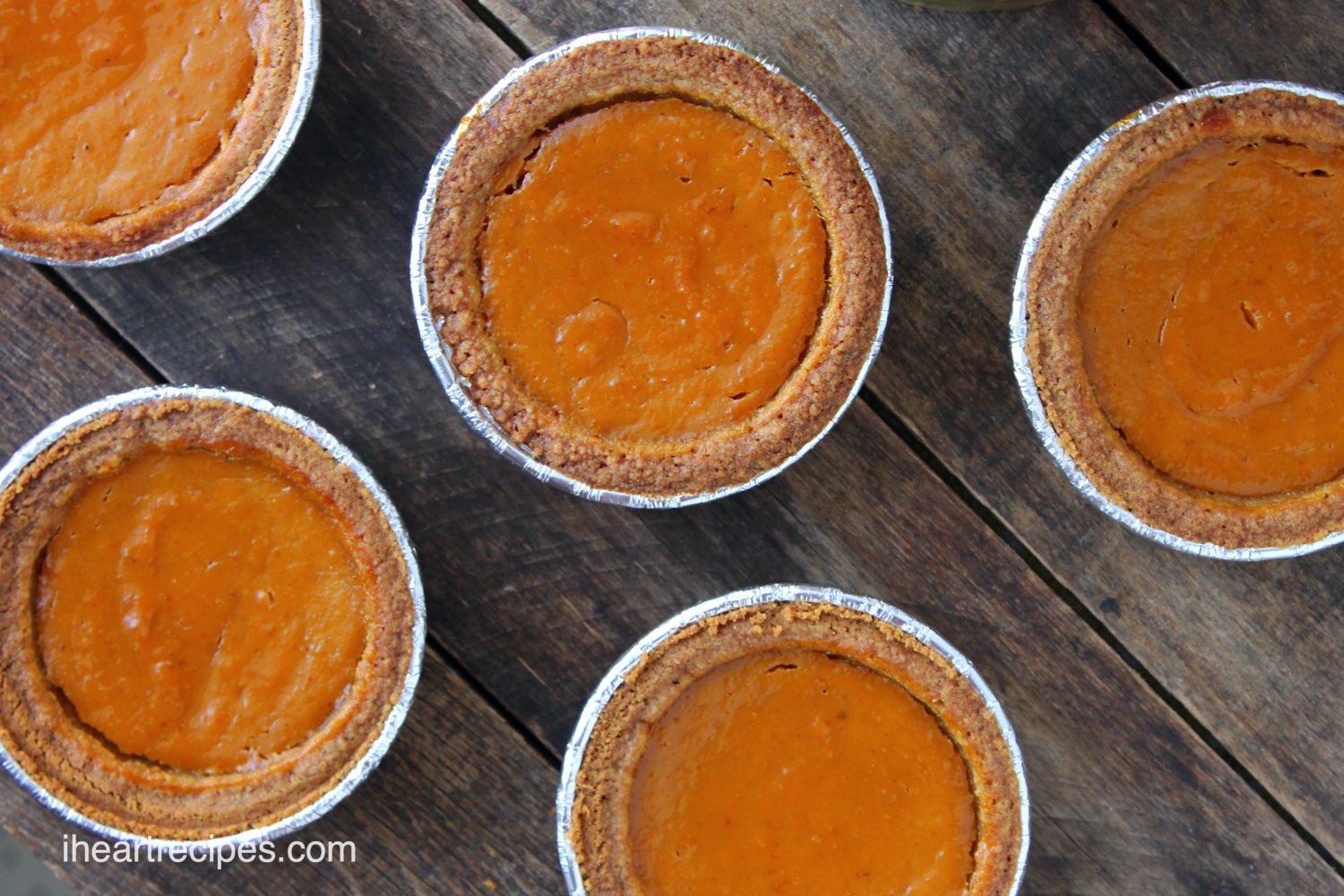 Hey cousins! In this post I'm going to show you how to make the most perfect personal sized pumpkin pies! I know many of you are sweet potato pie lover. However, we have a few that have been requesting an easy pumpkin pie recipe. Since I love all of you, I'm going to share a really easy recipe for the most amazing, yet easy pumpkin pies! These personal sized pumpkin pies will be a hit this upcoming Thanksgiving, because everyone can have their very own pie! So check out my recipe below, and circle back once you give this pumpkin pie recipe a try!
Ingredients Needed For These Amazing Pumpkin Pies
When I created this recipe, I kept beginner bakers in mind. Therefore you won't have to worry about gathering a bunch of spices, nor while you have to make a homemade pie crust. If you're a beginner, this will be the best pumpkin pie recipe that you will come across! Everything will be straight forward, and easy to follow.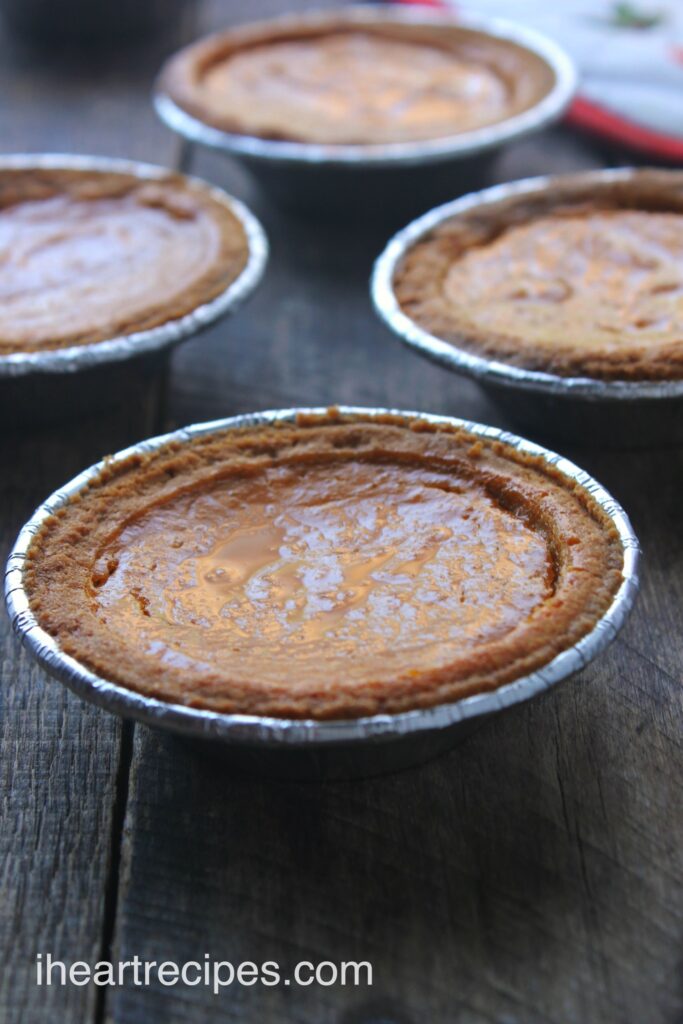 The ingredients needed for my easy perfect personal size pumpkin pies are:
1 (6 count package)Keebler Ready Crust Mini Graham Pie Crust: This part makes the recipe so darn simple. You don't have to own a pie pan, or worry about a pie crust recipe, because we're using these premade individual graham cracker pie crust. If you prefer using pie dough, you can. However you will have to worry about finding a personal pie dish for this recipe.
a mixture of granulated sugar & brown sugar
salt
a few teaspoons of pumpkin pie spice – pumpkin spice is a combination of cinnamon, ginger, ground clove, nutmeg, and more spices.
large eggs
15 ounces pumpkin puree aka canned pumpkin: We won't be using fresh pumpkin puree, because we're keeping this recipe simple folks.
12 ounces evaporated milk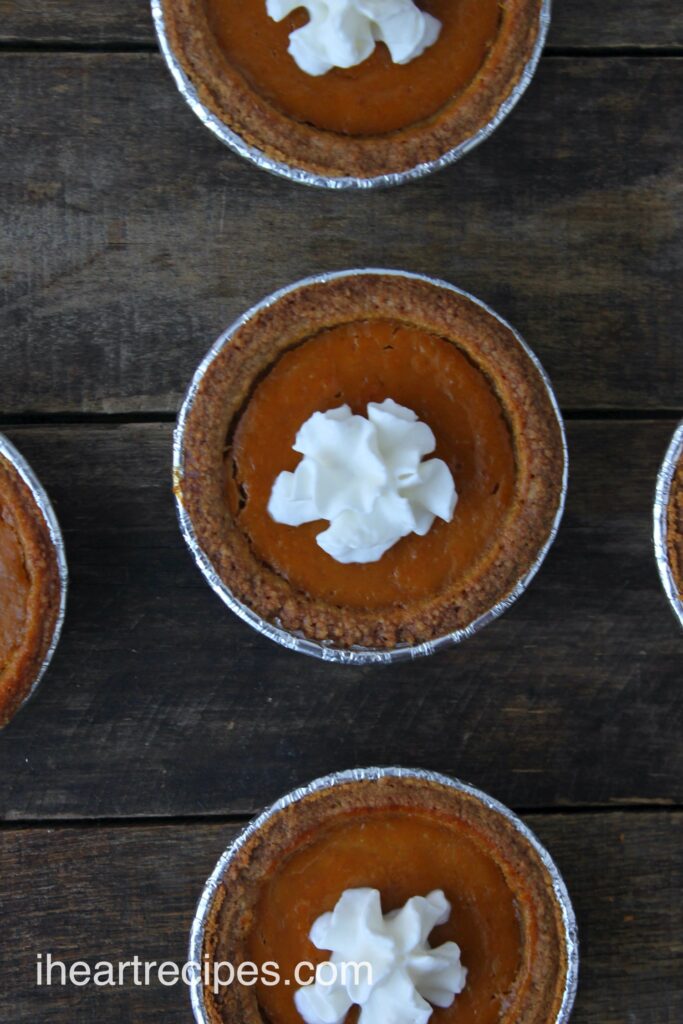 What Most People Get Wrong!
What do most people get wrong when making a pumpkin pie? The most common complaint is " It doesn't taste like sweet potato pie!", and this is correct! Pumpkin Pie, and Sweet Potato Pie, may look alike, but they definitely don't taste a like! If you're not a fan of pumpkin, more than likely you won't like the pie. Therefore you should stick to sweet potato pie.
Another common thing that people get wrong when making a homemade pumpkin pie recipe, is adding too much or too little of spices. To prevent that mistake, I suggest sticking to pumpkin pie spice instead of trying to measure out the allspice, ground cloves, and etc. You can find pumpkin pie spice at almost any local grocery store.
Baking The Pies
We're going to start off by preheating the oven to 425 F. Once the pies are in the oven you will let them bake for about 15 minutes. Then you will reduce the heat to 350 F, and let them bake for about 30 to 35 minutes. For best results please stick to the directions, and don't try to change anything to speed up the time.
Cooling The Pies
When the pies are removed from the oven you can let them cool on a wire rack, or a baking sheet until they reach room temperature. Once the reach room temperature you can serve the pies, or refrigerate them. I personally like to refrigerate them until they are nice, and cold, then I serve them with whipped cream!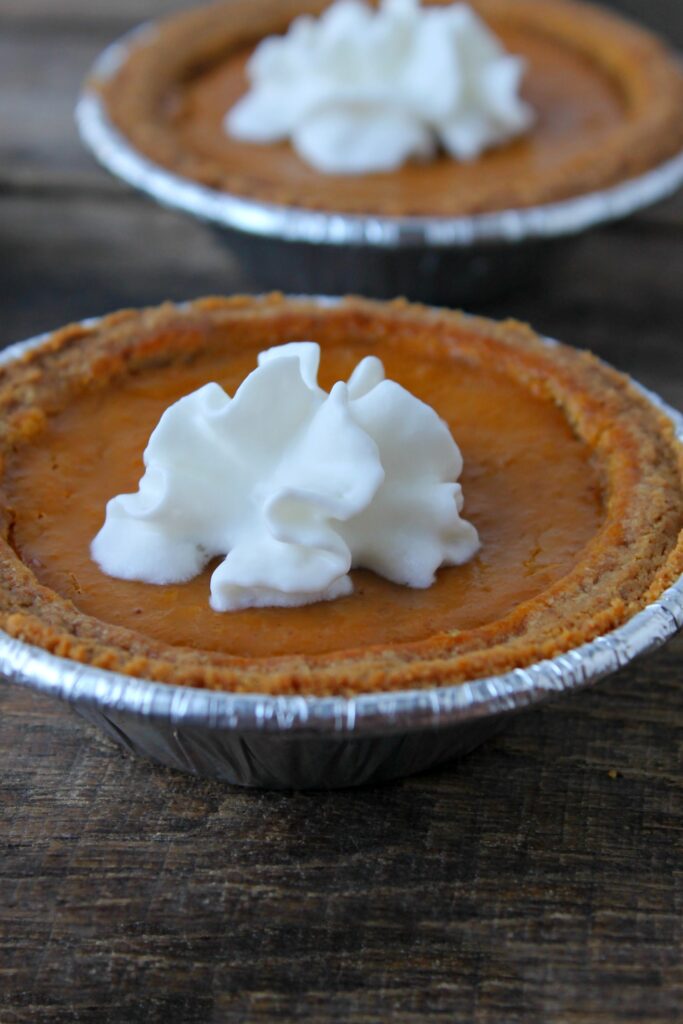 Print the recipe for later use! Share this recipe on Facebook and Pinterest, and follow me too!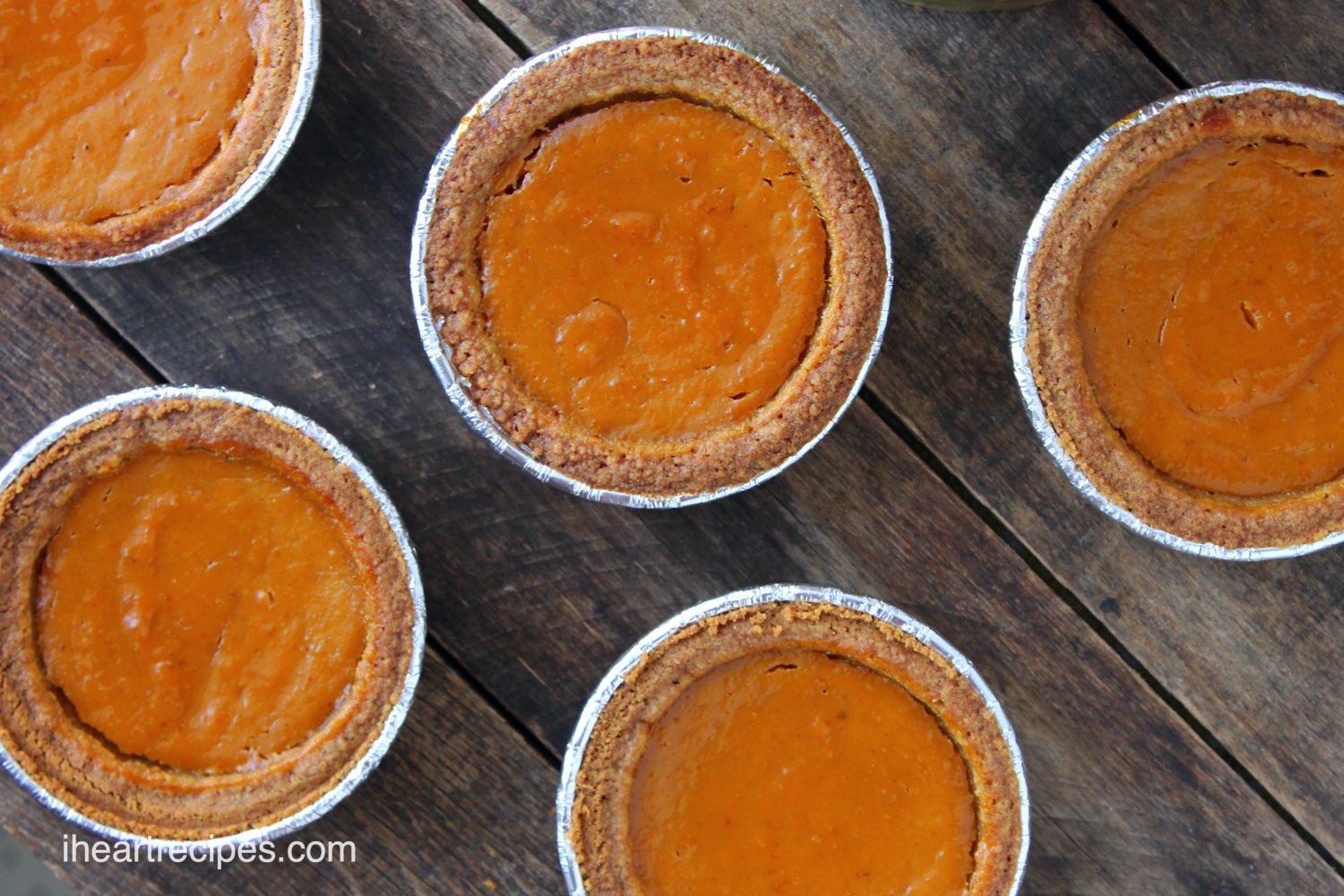 Personal Size Pumpkin Pies
If you LOVE pumpkin pie, but hate sharing, make these perfect personal size pumpkin pie! Each mini pumpkin pie has a graham cracker crust and sweet pumpkin filling. Top with whipped cream and you're all set for a perfect treat.
Print Recipe
Pin Recipe
Instructions
Preheat the oven to 425 F.

Beat eggs lightly in a large bowl.

Next, add in the pumpkin puree, granulated sugar, brown sugar, salt, and pumpkin spice. Mix well until well combined

Gradually pour in the evaporated milk, and whisk until everything is well incorporated.

Pour the pumpkin pie filling into the mini graham cracker crusts.

Bake for 15 minutes then reduce oven temperature to 350 F, and bake for 30 to 35 minutes.

Let cool until the pies reach room temperature.

Cover, and chill until cold.

Enjoy with whipped cream!
If you loved this recipe,
leave me a review below
. This helps future recipe makers and ensures continued high-quality recipes for years to come!
© 2023 I Heart Recipes