This delicious green bean casserole with cream of chicken soup and French's fried onions is seasoned to perfection! This classic side dish is perfect for any holiday.
I have the best green bean casserole recipe to share with you all in this post! Not only is this green bean casserole super delicious, but it's also extremely easy to make!
Green bean casserole is the most classic holiday dish- no holiday dinner table is complete without it! There are so many variations of green bean casserole out there, from entirely homemade to semi-homemade, like this recipe. The credited creators of the classic green bean casserole recipe, Campbell's Soup, say the recipe originated in 1955 in the Campbell's test kitchen. Test Kitchen Manager Dorcas Reilly created a casserole with a creamy sauce, tender green beans, and the classic French's fried onions. It's a super simple 5-ingredient recipe that's been a holiday favorite for more than 60 years!
Now, my green bean casserole recipe doesn't follow the original; it's more inspired by it. I use a few different ingredients, but I swear by this recipe's yummy flavor and ease—it's just as delicious.
This isn't the first green bean casserole recipe that I've shared. I've actually made a green bean casserole with cheese in the past. I also have a recipe for green bean casserole biscuit cups, which transforms this holiday classic into a bite-sized appetizer. Y'all loved these recipes so much, so I decided it was time to share my favorite green bean casserole recipe—one closest to the tried-and-true classic.
We're taking a shortcut by using cream of chicken soup. Yes, y'all heard me right—cream of CHICKEN. I am not using cream of mushroom soup in this green bean casserole recipe. This is also not a from-scratch version. So, no worries—it's simple, fast, and delicious, and you won't receive a single complaint!
Ingredients for Green Bean Casserole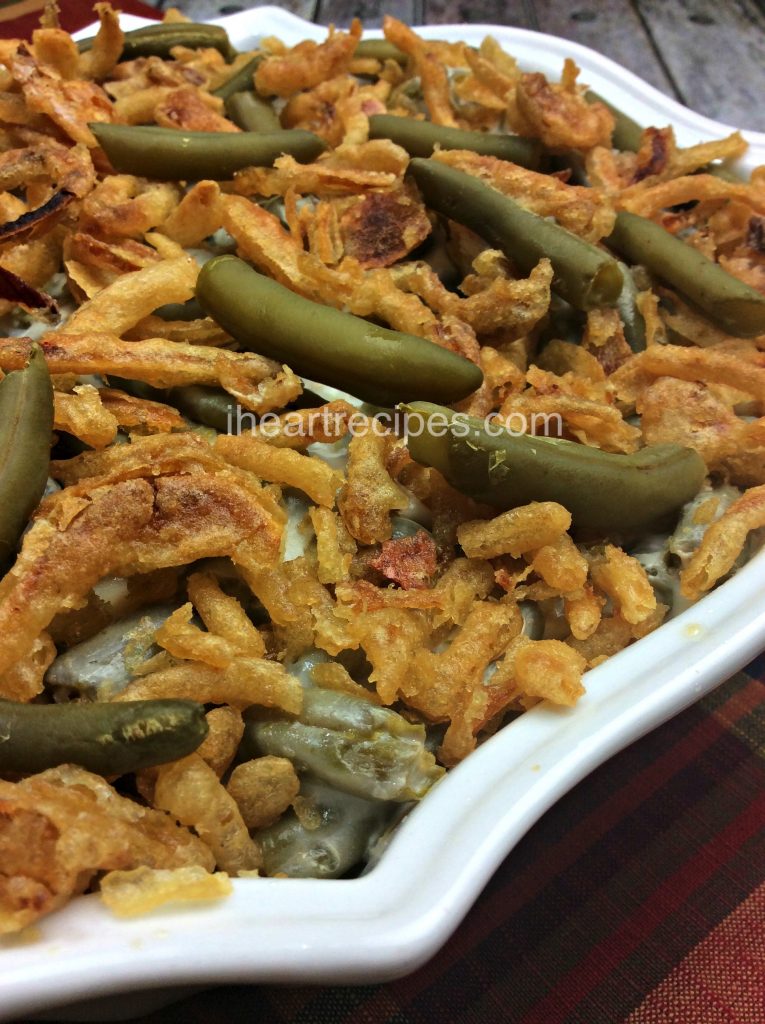 Now, while I love a good from-scratch recipe, this one ain't it, y'all. I've got enough cookin' to do on the holidays, so when I can take a shortcut, I'm going to do just that. My green bean casserole recipe calls for simple ingredients you can find anywhere. Here's what you need:
Canned Green Beans: I prefer to use canned green beans because, again, it's easy. You can certainly use frozen or even fresh green beans if you'd like.
Cream of Chicken Soup: I make my green bean casserole with cream of chicken soup, and I highly recommend you do the same! I prefer cream of chicken to cream of mushroom, but you can use cream of mushroom if you choose. I also use milk to help thin out the canned soup and make it a creamier sauce.
Crispy Fried Onions: Fried onions are a must for any variation of green bean casserole.
Seasonings: Aside from minced garlic—a must for this recipe—I use the basics: salt, black pepper, and garlic powder.
And that is it, Cousins! That is all you need for a delicious green bean casserole. Of course, you could always get fancy with the seasonings—swap out regular salt for a seasoning salt or hit it with some garlic pepper from Rosamae Seasonings.
There are many green bean casserole variations where people add shredded cheese, sautéed mushrooms, onions, and fresh herbs like thyme. However, this recipe tastes classic. Simple and straightforward, fast and easy, is what we like, don't we?!
How to Make Green Bean Casserole with Cream of Chicken Soup
Now, I emphasize using cream of chicken soup in this recipe because it's not the norm. The true classic green bean casserole recipe calls for cream of mushroom soup. Cream of chicken gives this dish a unique flavor while keeping it familiar. Of course, a homemade cream of mushroom soup or a from-scratch cream sauce can add great depth to your casserole. But for my recipe, I'm stickin' with easy (and yummy).
Here's how to make a crowd-pleasing creamy green bean casserole.
Step 1: Make the Cream Sauce
The first step is as easy as combining the cream of chicken soup with a little milk to create a fast and easy cream sauce. Sub in chicken stock for milk if you'd like a bit more flavor (but be aware that the milk does help keep the sauce extra creamy).
Step 2: Add Green Beans, Garlic, and Fried Onions
The next step is even easier. Drain the canned green beans (give them a quick rinse if you wish) and toss them into the cream sauce with some minced garlic and about a half cup of French's fried onions. You'll also want to add your seasoning at this time.
Step 3: Bake the Casserole
Finally, prep your casserole dish with some butter or non-stick cooking spray. I use a 9×13 baking dish or casserole dish. Pour the green bean mixture into your casserole dish and bake at 375 degrees for 25 minutes. Then, take it out, top it with the remaining crispy fried onions, and bake for a final 10 minutes.
Tips and FAQs to Make the BEST Green Bean Casserole Recipe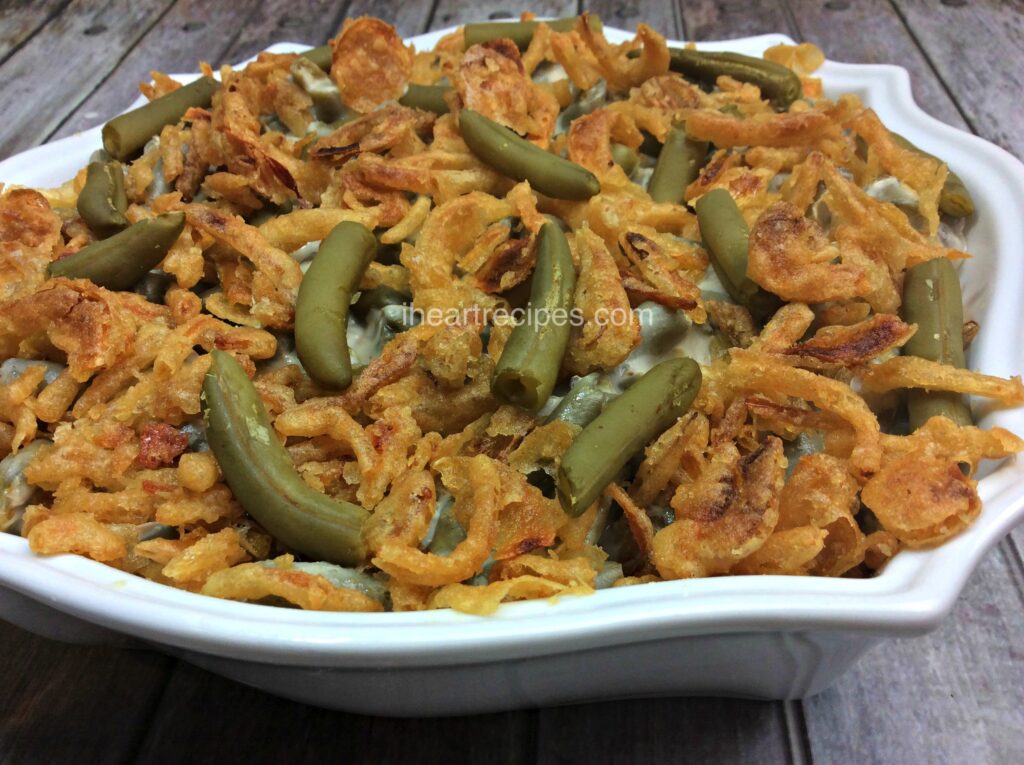 Now, I know three simple steps seems pretty foolproof. I promised an EASY green bean casserole recipe and I delivered. However, there is always room for improvement, am I right? So, here are some pro tips, tricks, and answers to your most-asked questions about how to make the best green bean casserole.
Why is my green bean casserole so soupy?
The casserole should turn out nice and thick if you drain your canned green beans well. But once in a while, your casserole might seem a little soupy. It could be that you added too much milk to the canned soup. It can also get a little runny as the water cooks off frozen green beans. If this happens, don't panic! The casserole will get thicker as it cools a bit (so if it's not too soupy, then I wouldn't worry about it).
If you need to thicken your green bean casserole, it's best to do it before you top it with the final French's onions. Mix up a cornstarch slurry using 2 teaspoons of cornstarch mixed into 2 teaspoons of cold water. Stir together until the starch completely dissolves. Stir the starch mixture into your casserole well. Then top it with the French's onions and finish baking for 10 minutes until it's crisped (and thickened) up!
Can you prepare green bean casserole ahead of time?
Yes, you can mix green bean casserole together ahead of time—just DO NOT include the French onions. Mix the cream sauce and green beans, but wait to incorporate the crispy onions until just before cooking so they don't turn all mushy in the fridge beforehand.
Are fresh, frozen, or canned green beans better to use?
In my opinion, the kind of green beans you use is entirely up to you. Canned green beans are quick and easy. Fresh green beans are delicious but require prep and pre-cooking before assembling the casserole. They are also not in season around the holidays—the most traditional time for green bean casserole—so quality fresh green beans might be hard to find. Frozen green beans still have that pop of fresh green color and can be cooked right from frozen, although they may water down your casserole as they cook.
How should I store leftover green bean casserole? Can it be frozen?
Leftover green bean casserole should be stored in an airtight container in the refrigerator for 3-4 days. I do not recommend freezing leftovers—since it's a cream-based casserole, it will not freeze well. Reheat leftovers in the microwave or the oven (and refresh the topping with more crispy fried onions!).
What other side dishes go best with green bean casserole on a holiday table?
I am so glad you asked! Y'all know I love a good side dish; the holidays just aren't complete without all those extras! Here are some of my other favorite side dish recipes to serve for the holidays:
I partnered with some of my favorite recipe bloggers to curate a list of the best holiday side dishes. Be sure to check out all of these fantastic recipes as well:
Green Bean Casserole with Cream of Chicken Soup Recipe Card
You just can't forget this classic side dish during the holiday season. Whether you love the traditional recipe or like to switch it up with yummy variations, it belongs on every holiday table. If you've tried my recipe for green bean casserole with cream of chicken soup, let me know in the comments below! You can print this recipe using the recipe card below. Don't forget to subscribe to my mailing list, and follow me on Facebook, Instagram, Pinterest, and YouTube for more recipes!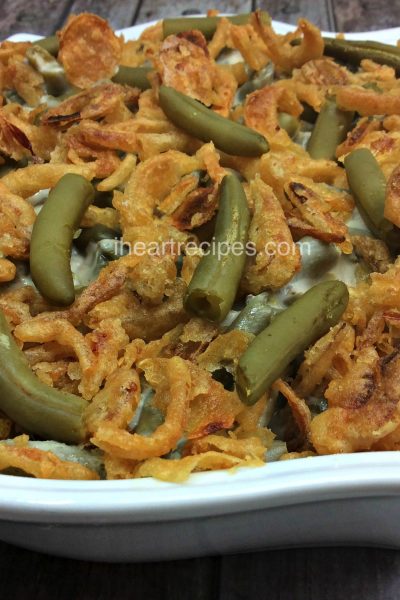 Green Bean Casserole
Green bean casserole is a classic holiday side dish. This recipe is so easy to prepare and is the perfect dinner pairing.
Print Recipe
Pin Recipe
Instructions
Preheat oven to 375 F.

In a large mixing bowl, combine the cream of chicken soup and milk. Whisk together.

Next add in the green beans, garlic, and 1/2 cup of the French fried onions.

Sprinkle in the seasonings.

Fold the ingredients until everything is well combined.

Spray a 9×13-inch baking dish with nonstick cooking spray.

Add in the green bean casserole mixture.

Bake in the oven for about 25 minutes.

Remove the green bean casserole from the oven and top with the remaining fried onions.

Bake in the oven for about 10 minutes.

Remove the casserole from the oven and let sit for 5 minutes.

Serve & enjoy!
If you loved this recipe,
leave me a review below
. This helps future recipe makers and ensures continued high-quality recipes for years to come!
© 2023 I Heart Recipes
More Holiday-Ready Side Dishes to Try…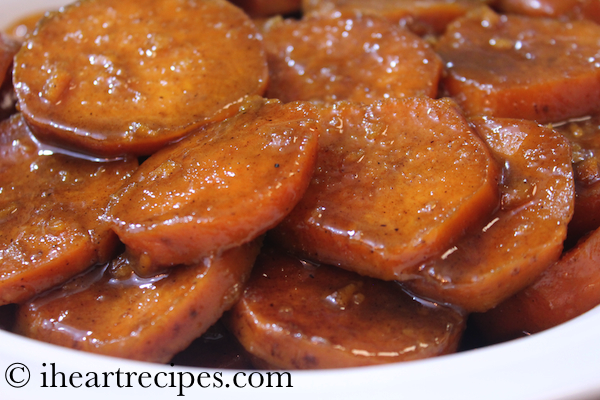 ---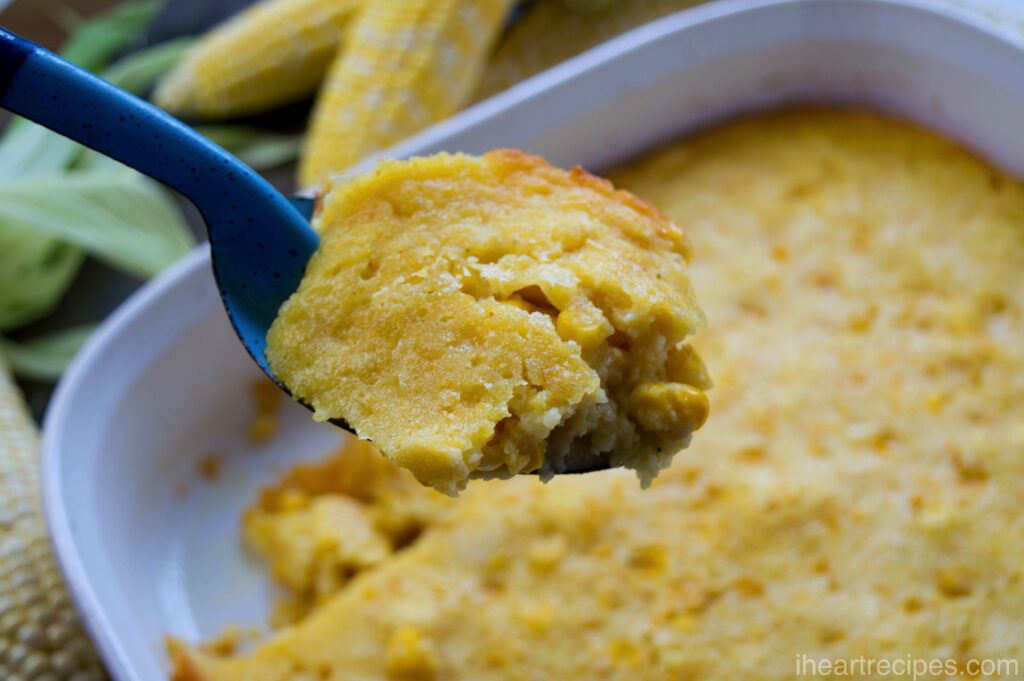 ---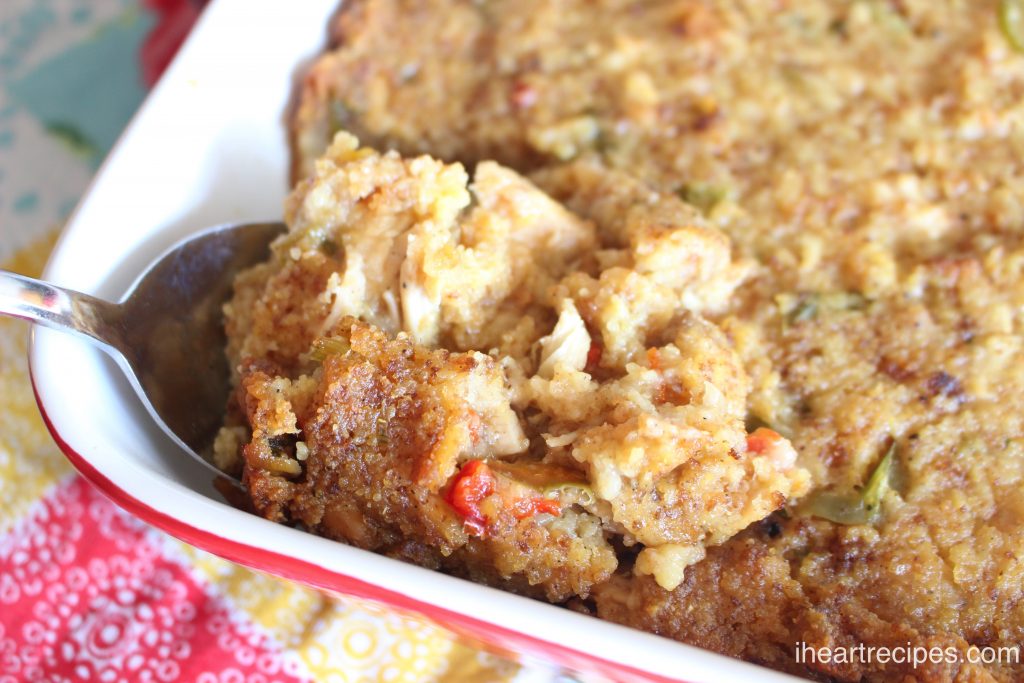 ---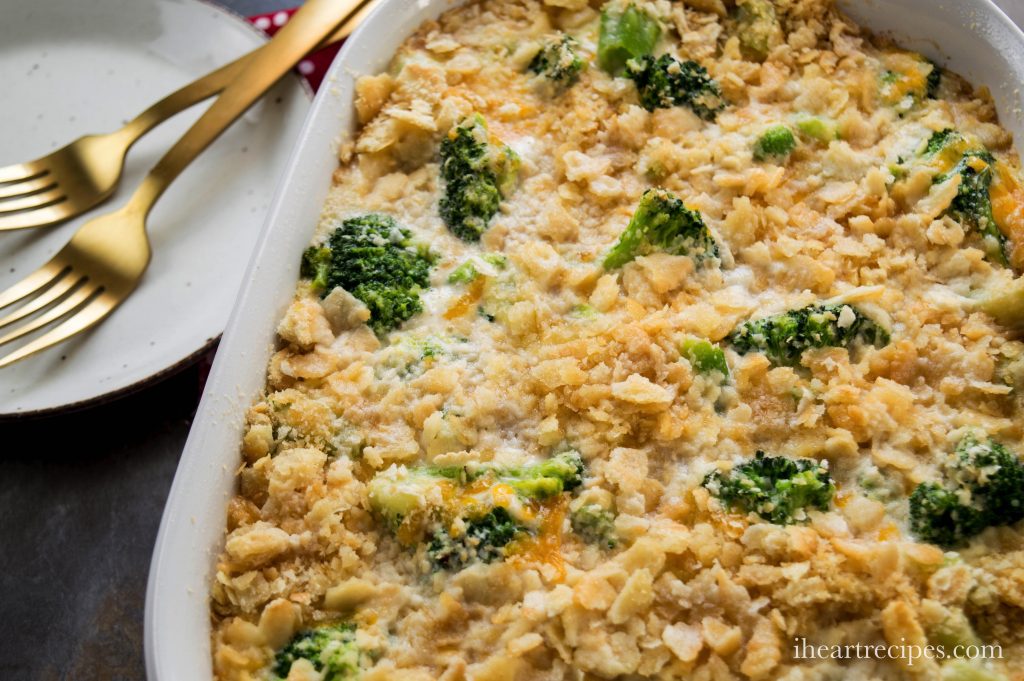 ---