Corn pudding casserole is a sweet and creamy Southern side dish that takes minutes of prep! Learn how to make corn pudding with Jiffy cornbread mix.
As many of you may know, I record recipe video tutorials for my YouTube channel about a month or so in advance. Well, one year, I was finishing up all of my Christmas recipe videos. I kept thinking I was forgetting something, overlooking one recipe… but I wasn't sure which one.
Then, during a conversation with a friend (shout out to Denise from Be My Guest with Denise—go visit her and tell her Rosie sent ya!), she suggested I make a corn pudding recipe video. I didn't know what the heck she was talking about, but the way she described this recipe–it made my freakin' mouth water.
So, naturally, I called my older Cousin TJ and asked if he knew of such a recipe and if I'd ever had it (would it surprise y'all to know I have a habit of making up names for stuff?!). It turns out I HAVE HAD IT but had NO idea it was called corn pudding. My butt had been calling it "that corn stuff" for years!
So, I decided to take Denise's suggestion and make the dang corn pudding recipe, AKA that "corn stuff" for y'all!
What Is Corn Pudding?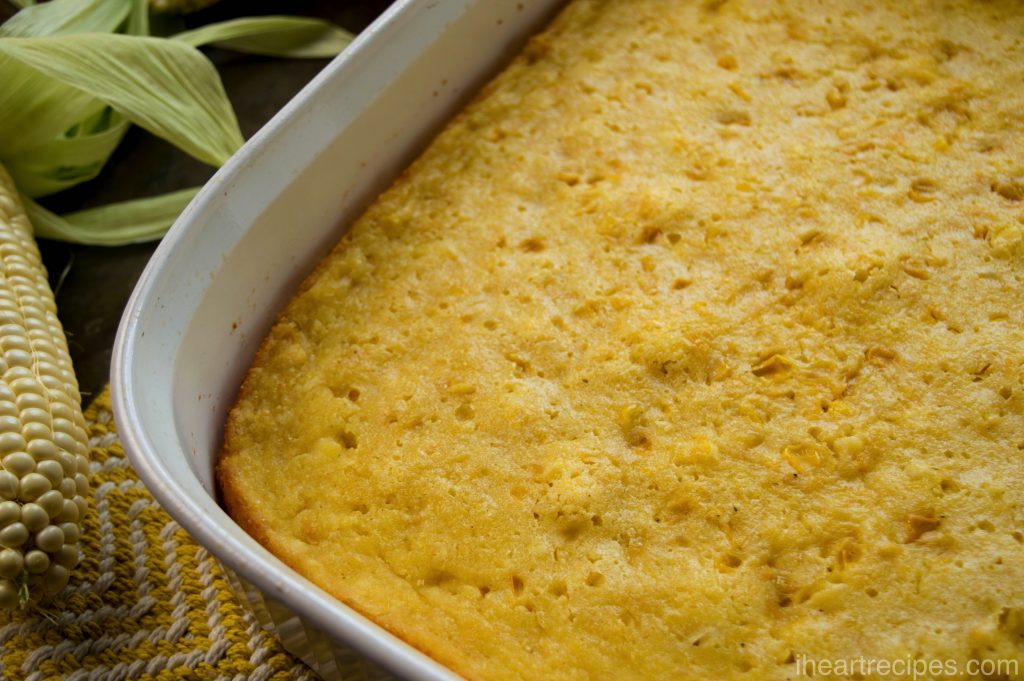 Everyone and their grammies have their own recipe for corn pudding; there are so many different ways to make it. So, I will describe the I Heart Recipes corn pudding casserole recipe!
Corn pudding is a creamy mixture of whole-kernel corn and creamed corn tossed with an even creamier mixture of eggs, butter, and more. It's a warm, golden-brown casserole with a pudding-like texture, and it's usually served as a side dish during holidays like Thanksgiving and Christmas (much like my candied yams or sweet potato casserole).
Not only is it the perfect side dish for holiday dinners, but it's the perfect side dish for just about any dinner! Because of how easy it is to make and how many variations there are (more on that in a bit), you can serve it alongside Southern dishes, slow cooker dishes, and for just about any Holiday meal you can think of.
What's Corn Pudding Made Of? Ingredients for Corn Pudding Casserole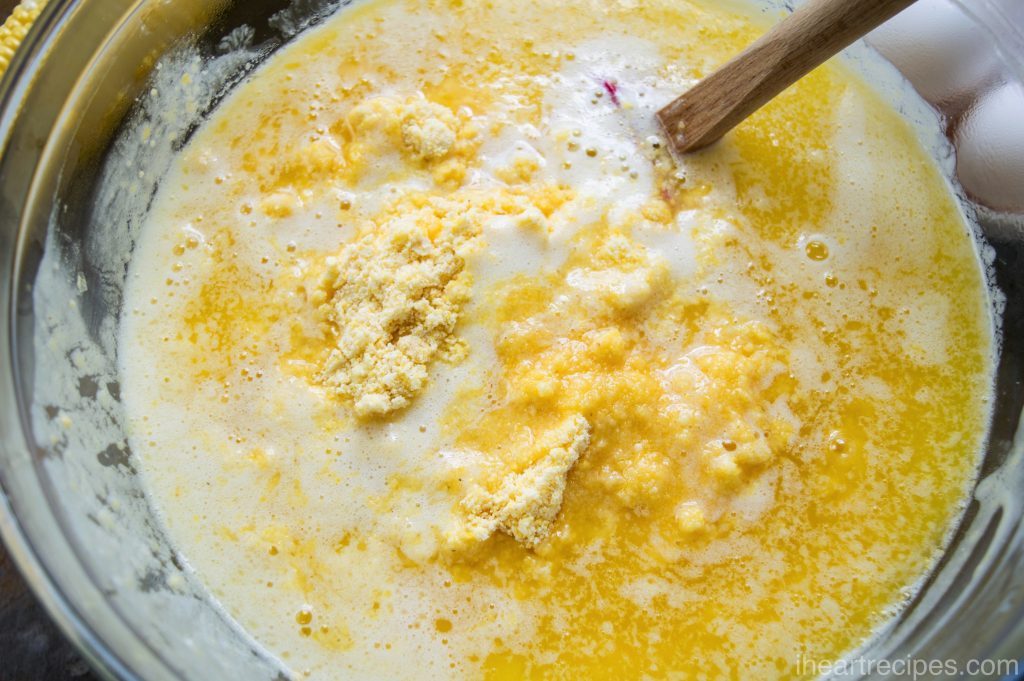 This recipe is so popular because it uses such simple ingredients (and did I mention, it takes 10-15 minutes tops to toss this together?). Let's make a grocery list for this easy corn pudding casserole recipe, Cousins! These are the ingredients you'll need:
Canned cream corn (any brand—I usually buy what's on sale)
Whole-kernel corn (canned, fresh, or even frozen corn would work)
Unsalted butter
Eggs
Sour cream
White granulated sugar
Ground nutmeg
Pure vanilla extract (y'all know how I feel about imitation!)
Sweet cornbread mix (I use Jiffy mix because it's cheap, reliable, and does the job. You can certainly use your favorite brand.)
What do you bake corn pudding casserole in?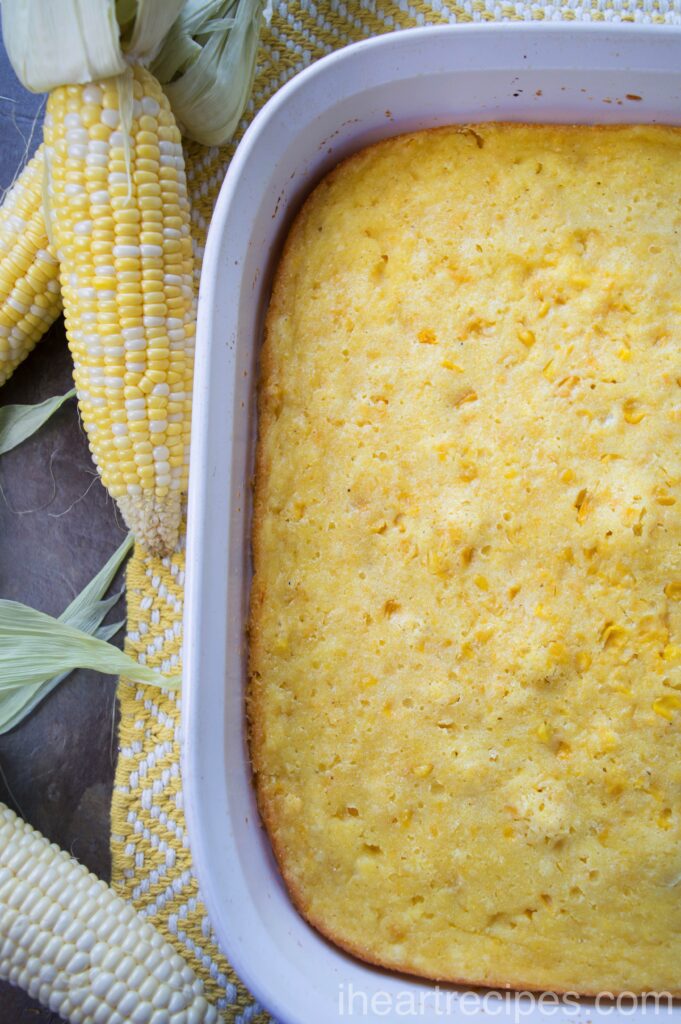 You can bake this casserole in a cast iron pan or a casserole dish. Be sure to spray either dish or pan with cooking spray before you pour in the creamed corn casserole, though!
How to Make Corn Pudding Casserole with Jiffy Mix
Southern corn pudding casserole is almost as simple as mix, bake, done. But, I will say there's a little magic in the order you mix the ingredients. You'll be good as gold if you follow the recipe card instructions below and watch my corn pudding video tutorial on YouTube!
Here's how I make my own I Heart Recipes corn pudding recipe.
Combine the ingredients in a large bowl. I start with the eggs, then cream corn and whole kernel corn. Next, add the sugar, nutmeg, and vanilla. Then comes the sour cream, melted butter, and finally, the Jiffy cornbread mixture. Mix all the ingredients until well combined.
Pour the ingredients into your baking dish. I greased the casserole dish with unsalted butter, but you can use a non-stick spray if you choose. I use a 9×13 casserole dish for this recipe and it's just the right size for my family, with some leftovers.
Bake the creamy corn casserole in a 350-degree oven for 35-40 minutes. When it's done, it'll be slightly jiggly—this is okay! We aren't making cornbread here; it's cornbread pudding! Let it sit for 5-10 minutes until it cools a bit and it's ready to serve!
See, ain't that easy?! I truly love the simplicity of this recipe. When it comes to the holiday season, we love an easy side dish that's hassle-free, delicious, and feeds a crowd.
Pro-Tips, FAQs, and Variations of Corn Pudding Casserole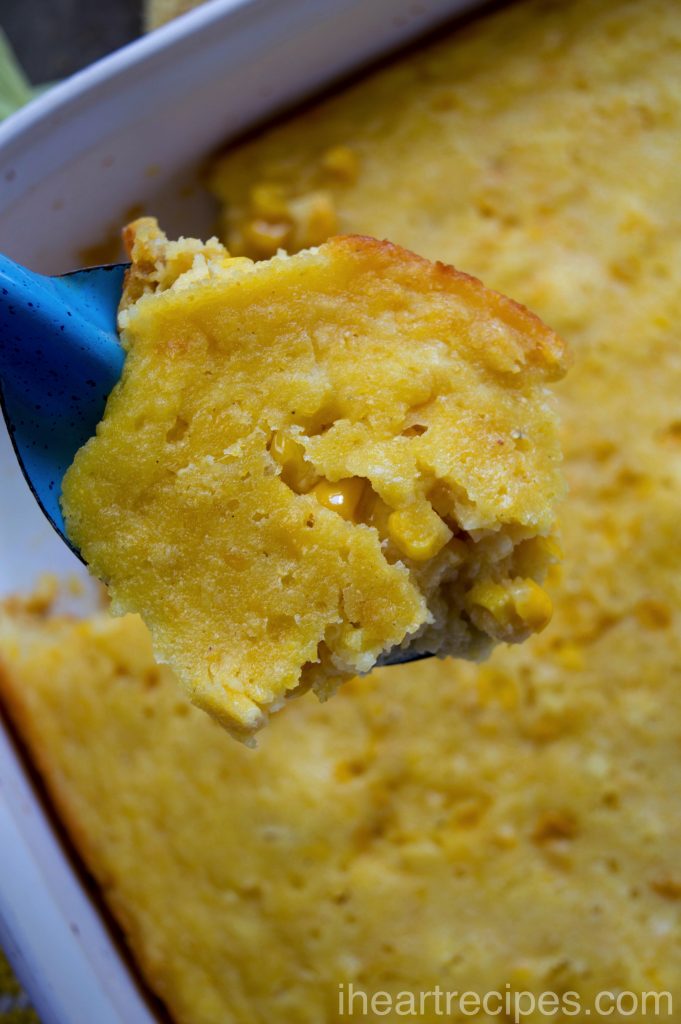 I always want to make sure I'm answering your questions when it comes to making my recipes in your own kitchens! So keep reading for some I Heart Recipes pro tips to make the best corn pudding casserole ever!
This is a sweet corn casserole. How can I make it more savory?
This isn't a savory casserole recipe—with vanilla and sugar, it's gonna be sweet! However, if you'd like a savory corn casserole, check out my Tex-Mex Corn Casserole recipe. It has peppers, cheddar cheese, and more. It also makes a great side dish for Thanksgiving dinner. Both casseroles have amazing flavor!
Can you make corn pudding in the slow cooker?
Yes, you can make corn pudding casserole in the slow cooker! Just spray the slow cooker pot with non-stick cooking spray, pour in the mixture, and cook on high heat for 2.5 to 3 hours, or until a knife inserted into the center comes out clean. You'll need at least a 4-quart slow cooker for this recipe.
Can I make corn pudding casserole ahead of time?
Yes, you can! You can mix the corn pudding batter a day ahead of time and refrigerate it until ready to bake. You can even bake the casserole ahead of time as well and rewarm it when it's ready to serve! You should keep any made-ahead corn pudding in the refrigerator.
How do you warm up leftovers?
This corn casserole can be kept in the refrigerator for several days (up to 3-4 days) after you make it. Store the leftovers in an airtight container until you a ready to reheat. You can reheat this dish in the oven or zap it in the microwave.
My corn pudding casserole is mushy; what did I do wrong?
If the corn pudding is mushy, it's likely because there was too much liquid! Make sure you drain the whole kernel corn before adding it to the mixture. If you're using frozen corn, allow it to thaw before using it to reduce the moisture.
What do you serve with corn pudding casserole?
A sweet corn casserole goes with SO many wonderful dishes! It's truly the perfect side dish. Here are some perfect pairings:
I Heart Recipes Corn Pudding Casserole Recipe Card + Video Tutorial
Okay, Cousins, if you're ready to make this deliciously sweet corn pudding recipe, the time is now! Below, you can print out my recipe card with full ingredient measurements, instructions, and video tutorial. If you love this recipe, let me know! I want to hear all about it in the comments below. Make sure you follow along with all things Rosie and I Heart Recipes by following me on Facebook, Instagram, and Pinterest, subscribe to I Heart Recipes on YouTube, and check out all my cookbooks! I just released a brand new cookbook, Super Soul Food with Cousin Rosie, with many recipes you can't find anywhere else.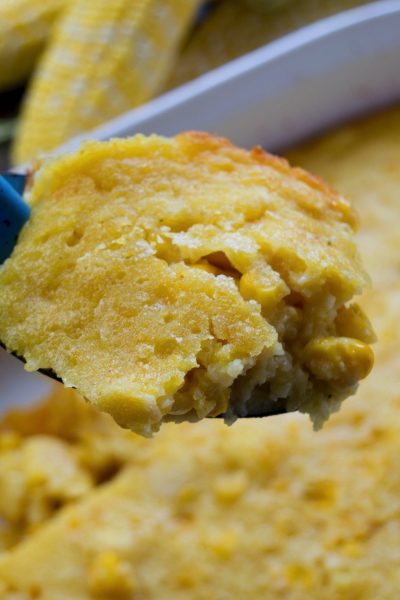 Creamy Corn Pudding Casserole
Southern corn pudding casserole is the perfect side dish for your Holiday table or ANYTIME table! Made with whole kernel corn, cream corn, sour cream, and Jiffy cornbread mix, it's a perfectly creamy, lightly sweet cornbread casserole that just takes minutes to prep.
Watch Video
Print Recipe
Pin Recipe
Instructions
Add the eggs into a large mixing bowl, then beat until everything is 1 color.

Add in the creamed corn and whole-kernel corn. Mix until well combined.

Now add in the sugar, ground nutmeg, and vanilla.

Add sour cream, and mix or fold in.

Pour in the melted butter, then sprinkle in the Jiffy cornbread mix.

Mix everything until it's well incorporated, then pour the mixture into a buttered 9×13 baking dish.

Bake on 350 F, for 35-40 minutes.

Remove from the oven, and let sit for 5-7 minutes.
Video
If you loved this recipe,
leave me a review below
. This helps future recipe makers and ensures continued high-quality recipes for years to come!
© 2023 I Heart Recipes
Loved this Corn Pudding Casserole recipe? Don't miss these other side dishes as well…
---
---
---