How to make homemade Tex Mex corn casserole… You gotta make this ASAP y'all!
A Simple Tex Mex Corn Casserole Recipe!
I'm starting to notice a trend y'all! You all must love corn recipes, because I am constantly getting request for them! Last week I shared my recipe for Homemade Southern Cornbread ( which we will be using to make a super BOMB southern style cornbread dressing), and this time I'm back with another banger.. I'm going to show you how I make my Tex Mex Corn Casserole!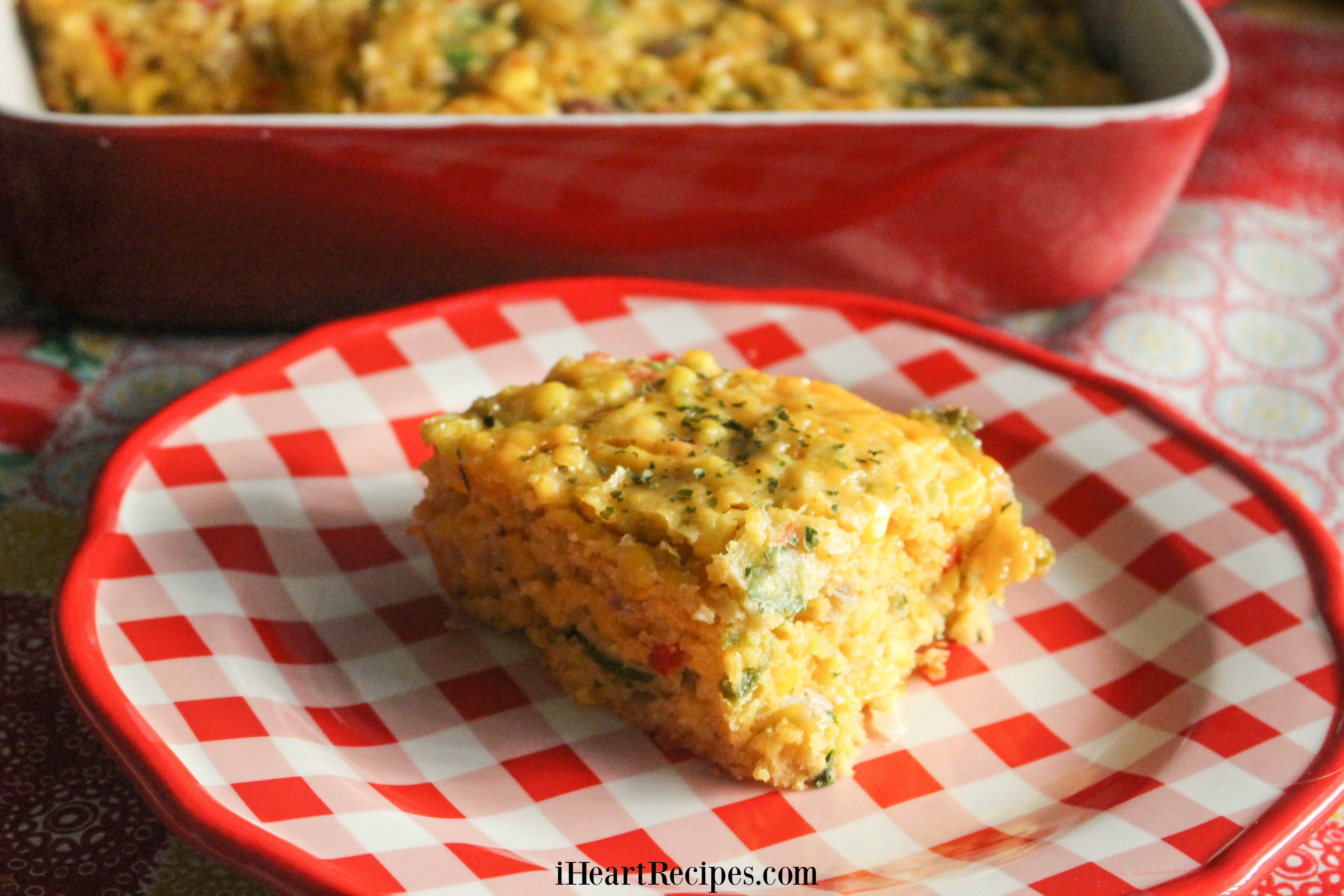 Previously I've shared a recipe for corn pudding on my blog. The corn pudding recipe that I posted was made with cornbread mix, creamed corn, and is on  the sweeter side. THIS Tex Mex corn casserole is completely different. It's kind of like a easy Tex Mex cornbread recipe, but on another level.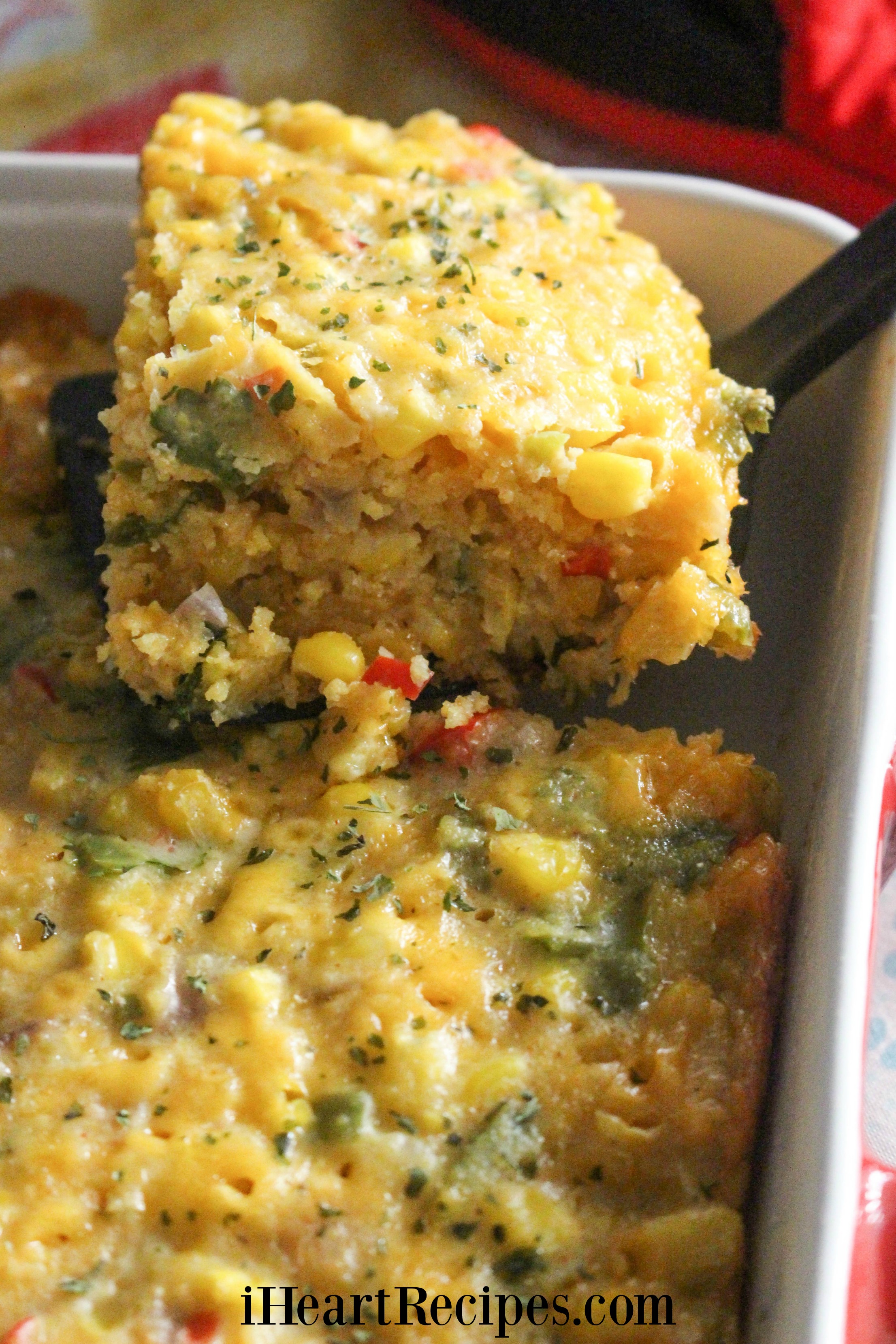 My Tex Mex corn casserole recipe has a nice amount of diced jalapenos, so it's on the spicier side. If you'd like to make this recipe without the heat, make sure that you remove the seeds from the jalapenos & rinse them well… OR, you can just leave them out completely.
I also use a lot of frozen corn, fresh cilantro, diced onions, and sweet bell peppers in this corn casserole. The seasonings include ground cumin, kosher salt, cayenne, garlic, and onion powder.
While you're here, check out some of my other corn recipes!
CHEESY GARLIC & HERB CORNBREAD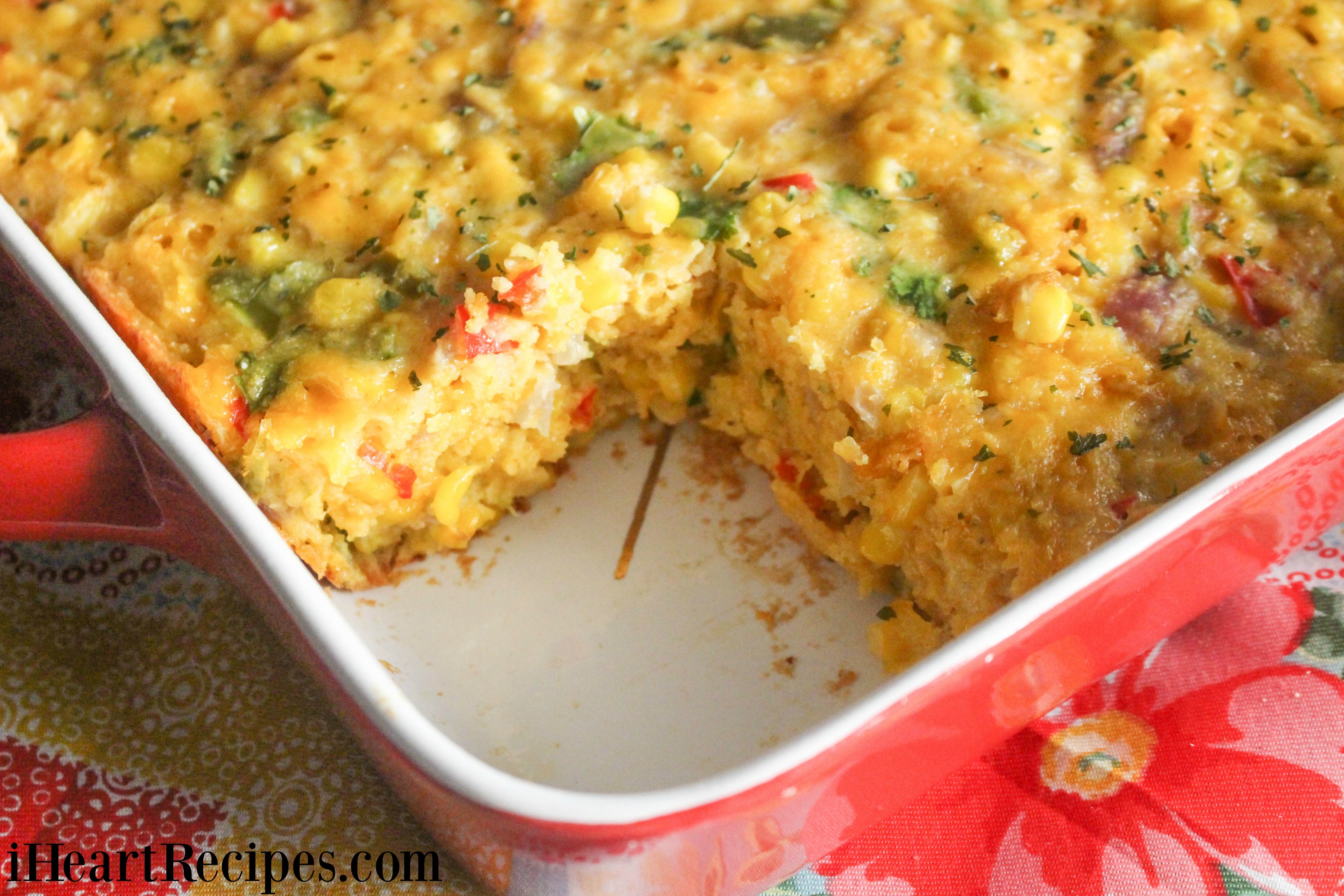 I use half & half ( which is half milk & half cream) in this recipe because it's creamier than regular milk. HOWEVER, if you'd like to use regular milk, I will give you a pass (I understand that everyone doesn't keep half & half on hand).
This recipe is simple, and doesn't take much time to whip together. Everything used in this recipe should be easy to find at your local grocery store.
Watch me make my easy Tex Mex Corn Casserole
Print the recipe below, subscribe to my mailing list, and follow me on Facebook, Instagram, Pinterest and YouTube!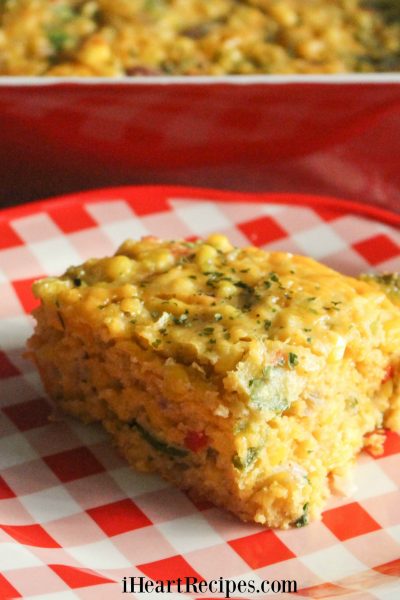 Tex Mex Corn Casserole
Easy Tex Mex Corn Casserole made with frozen corn, cilantro, peppers, and more!
Watch Video
Print Recipe
Pin Recipe
Instructions
Preheat the oven to 350 F.

Add the self rising flour, and yellow cornmeal into a large bowl.

Sprinkle in the cumin, onion powder, garlic powder, kosher salt, and cayenne pepper.

Stir the ingredients.

Pour in the half & half, and melted butter.

Add in the eggs.

Mixed the ingredients until well combined, then set the bowl to the side.

Next drizzle 1/4 cup vegetable oil into a large pan, then place the pan over medium heat.

Once the oil is nice and hot, toss in the diced vegetables.

Cook the vegetables until they are nice and translucent, then turn of the heat.

Next, toss 3 cups of frozen corn into the bowl with the batter, followed by the cilantro.

Now add in the cooked diced vegetables, and shredded cheese.

Mix everything until well combined.

Grease a large bake dish ( 9 x13 will work!)

Add in the corn casserole mixture, and flatten it out.

Bake the casserole, uncovered, in the oven on 350 F for 40 minutes.

Remove from the oven, and let sit for a few minutes.

Serve and enjoy!
Video
If you loved this recipe,
leave me a review below
. This helps future recipe makers and ensures continued high-quality recipes for years to come!
© 2023 I Heart Recipes