Easy baked smothered oxtails that are seasoned with Rosamae Seasonings Oxtail Seasonings, and baked in the oven until fork tender.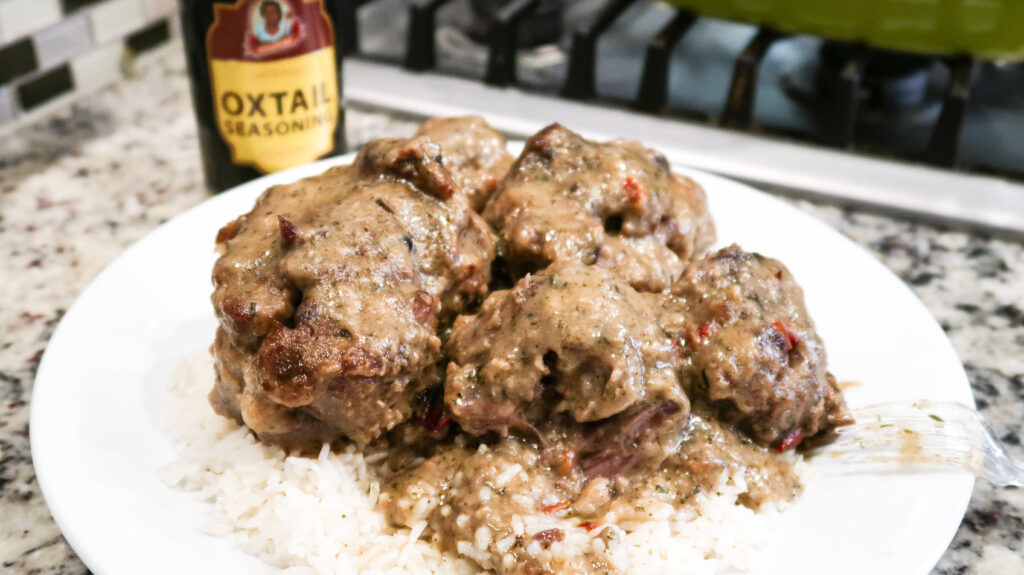 Hey cousins! If you haven't heard, I launched my very own seasoning and cookware company, Rosamae Seasonings, at the beginning of the year. We have several seasonings such as my Seasoning Salt, Greens Seasonings, Yams Spice, and one of my newer seasonings Oxtail Seasoning!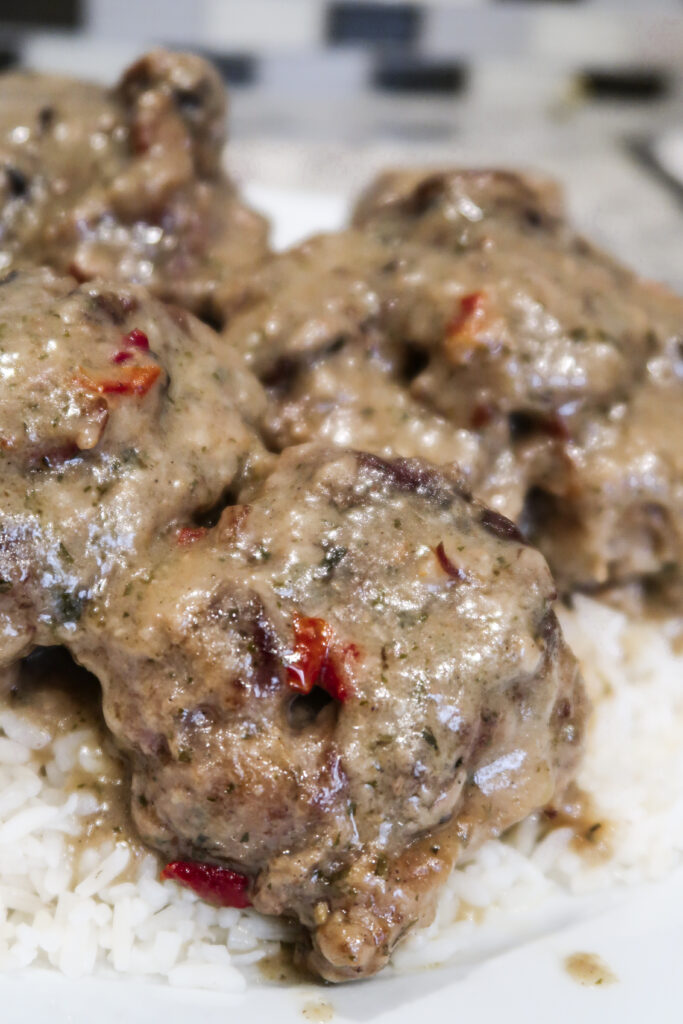 My Oxtail Seasoning consists of a sea salt, spices, dry herbs, and more. My goal was to make cooking soulful oxtails easy, and from all of the feedback I've been getting it's safe to say that I've achieved just that.
In this post I'm going to show you how I make my slow baked smothered oxtails. These oxtails will be baked in the oven so there's no need for anything other than a good baking pan. Oh, and you'll also need a frying pan because we will slightly fry the oxtails to brown them.
Don't miss these other delicious oxtail recipes!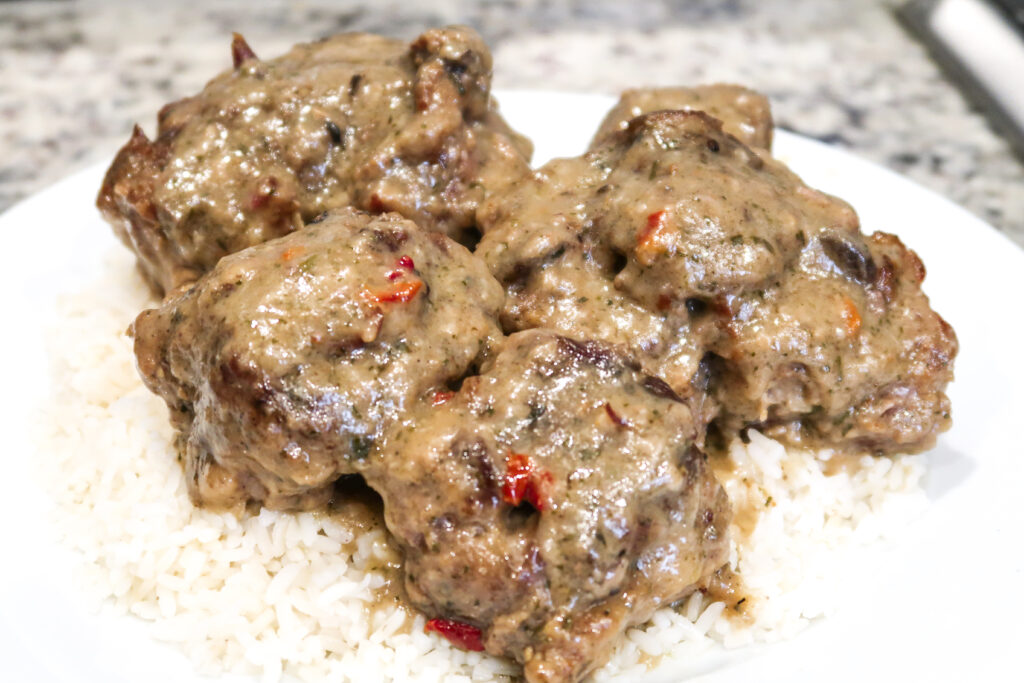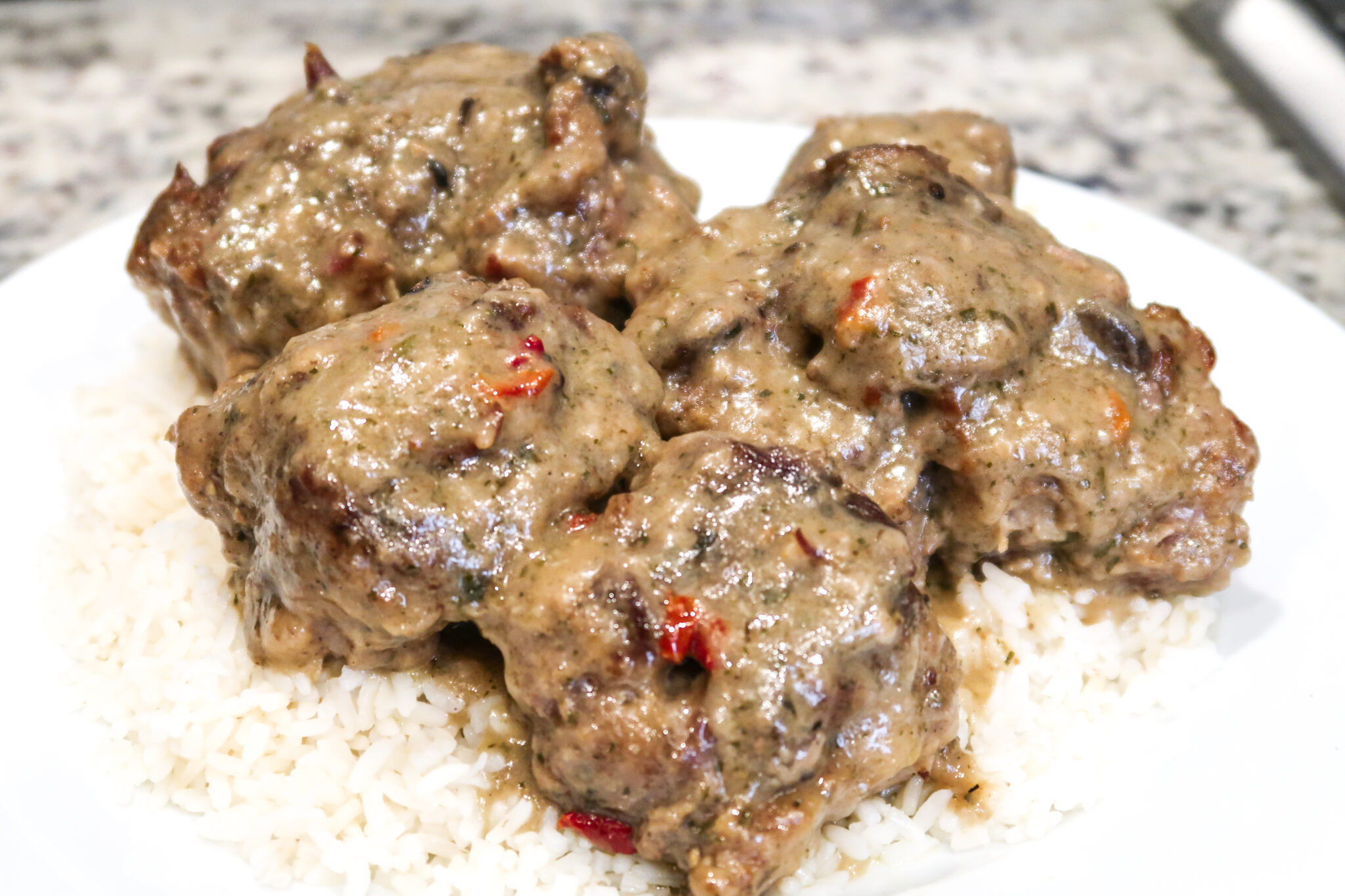 Check out my video tutorial on how to make my baked smothered oxtails using Rosamae Seasonings Oxtail Seasoning!
Print out this baked smothered oxtail recipe using the recipe card below!
Baked Smothered Oxtails
These classic baked smothered oxtails are a soul food staple. Smothered in a rich and creamy gravy, and seasoned to perfection with my special recipe Oxtail Seasoning from Rosamae Seasonings!
Watch Video
Print Recipe
Pin Recipe
Instructions
Start off by removing the fat from the oxtails, then set to the side.

Pour the all purpose flour into a large freezer bag, then add in the oxtails.

Shake the bag, until all of the oxtails are nicely coated with flour, then set to the side.

Drizzle the vegetable oil into la arge pan, then heat up over medium heat.

Once the oil is nice and hot, remove the oxtails from the bag. Be sure to shake off excess flour, then place the oxtails into the pan.

Brown the oxtails until they are golden, then place them into a large baking dish.

Leave the oil in the pan, then sprinkle in the remaining flour, and whisk.

Cook the flour for about 1-2 minutes, then pour in the water. Whisk, then let thicken.

While the gravy is thickening, sprinkle 1 tbsp of the oxtail seasoning all over the oxtails.

Now sprinkle in 1 tbsp of the oxtail seasoning into the gravy, and whisk.

Once the gravy is thickened, pour it all over the oxtails.

Cover the bake dish with covering or foil.

Bake the oxtails on 325 F for 2 hours and 45 minutes.

Remove from the oven, and spoon the gravy all over the oxails.

Serve the baked smothered oxtails over rice or mashed potatoes.
Video
If you loved this recipe,
leave me a review below
. This helps future recipe makers and ensures continued high-quality recipes for years to come!
© 2023 I Heart Recipes