This has got to be the best Southern Broccoli Casserole Recipe EVER! It makes the perfect side dish, and yes this is a broccoli casserole with Ritz crackers!
A Classic Southern Broccoli Casserole Recipe!
Omg, I've been craving a good old fashioned broccoli casserole, you know like a southern one. NOT the broccoli casserole with cream of mushroom soup. I mean if you dig it, that's fine- but that's not what we're making here. In this post we're making a super creamy cheesy broccoli casserole southern style! Although this recipe will be completely homemade, this is a easy broccoli casserole. I will practically be holding your hand throughout this recipe, so don't be scared! We're going to cook this amazing broccoli casserole together.
FYI this is a meatless broccoli casserole. Therefore don't expect it to be a broccoli casserole with chicken. Nor will it be broccoli casserole with rice. I don't want you to think that this is going to be a super healthy broccoli casserole either( because we will be using lots of cheese, and etc) . This is a comfort food recipe, that should be enjoyed occasionally… You know like during the holidays, or for Sunday supper.
So now that I've done all my chit chat – let's get to this southern broccoli casserole recipe!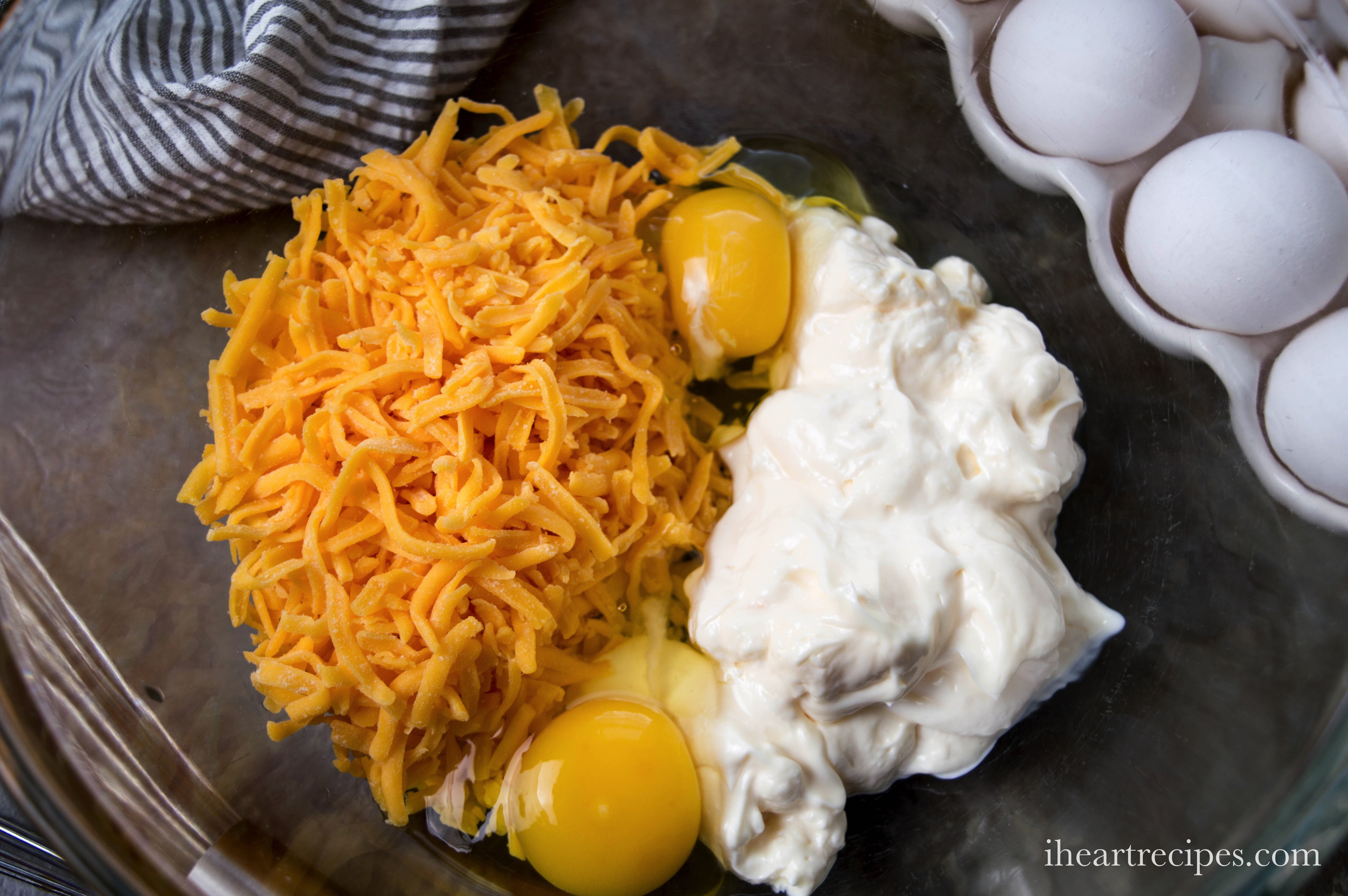 In a large bowl, you're going to combine sharp cheddar cheese, eggs, and mayo. Then mix, until everything is well combined.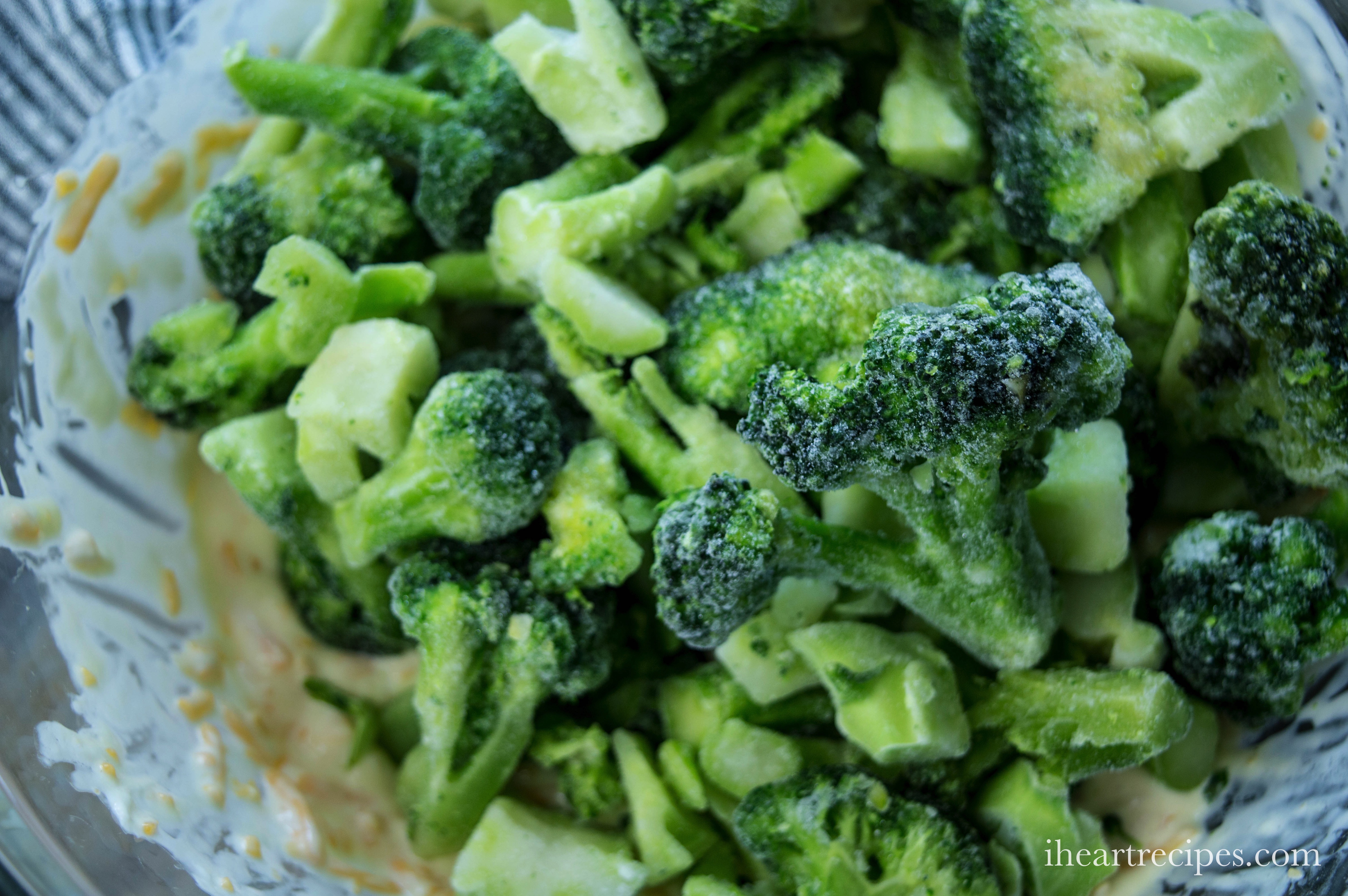 Next we're going to toss in some frozen broccoli florets. If you want to use fresh broccoli you certainly can!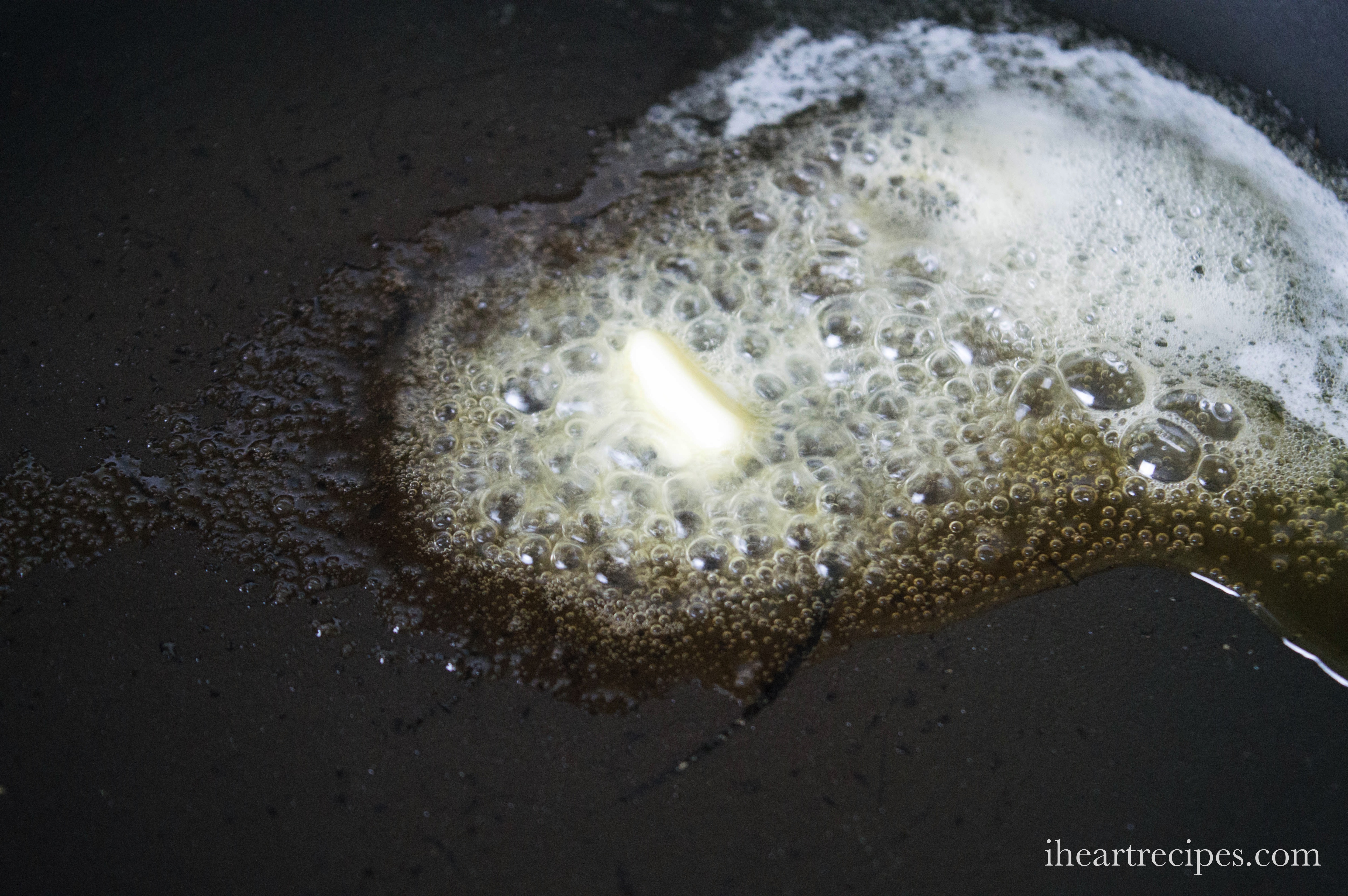 Melt down some salted butter in a saucepan, over medium heat.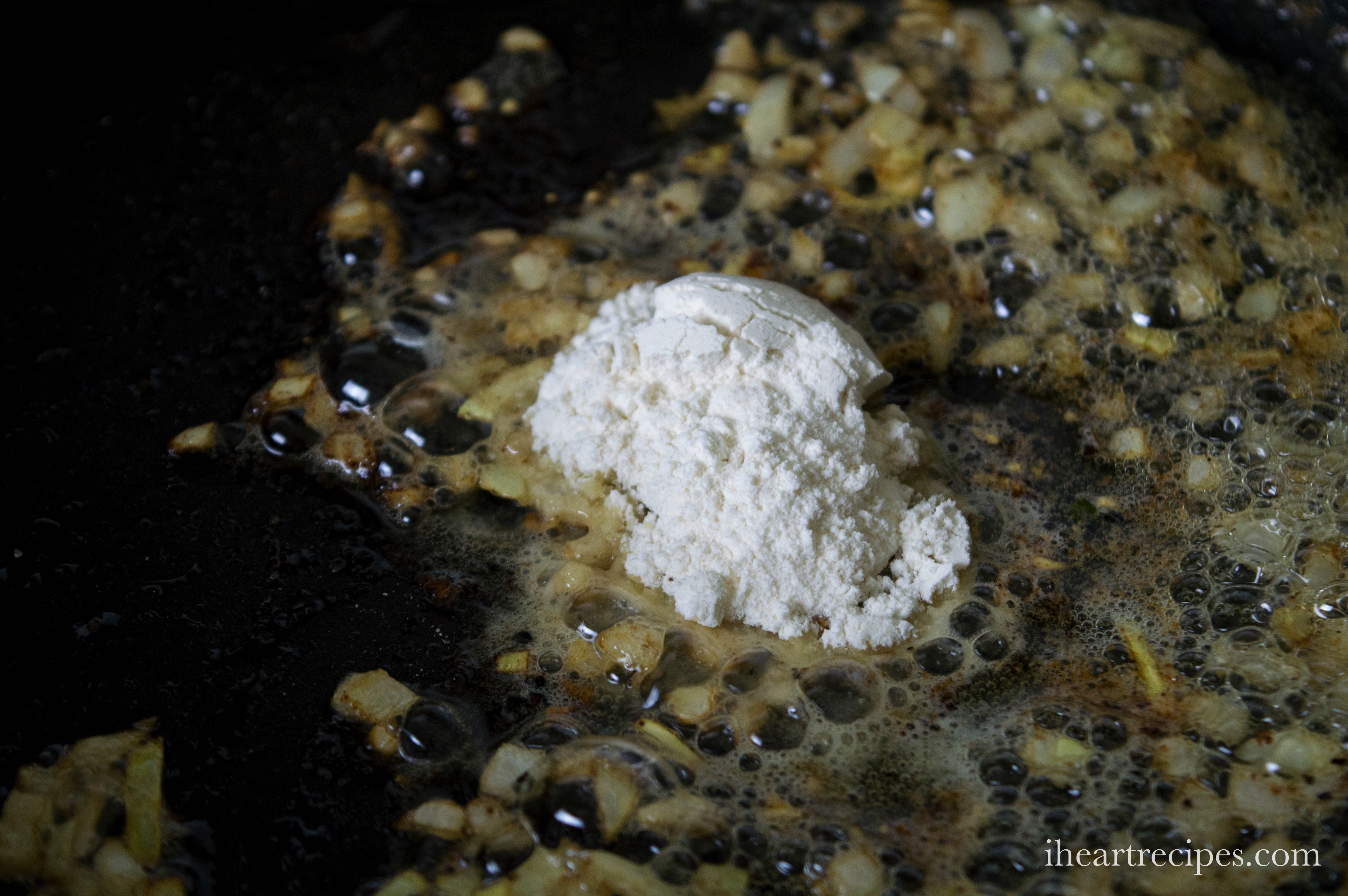 sauté some diced onions, then sprinkle in some all purpose flour.
Seriously, isn't the smell of melted butter & onions intoxicating? Admit it.. It is!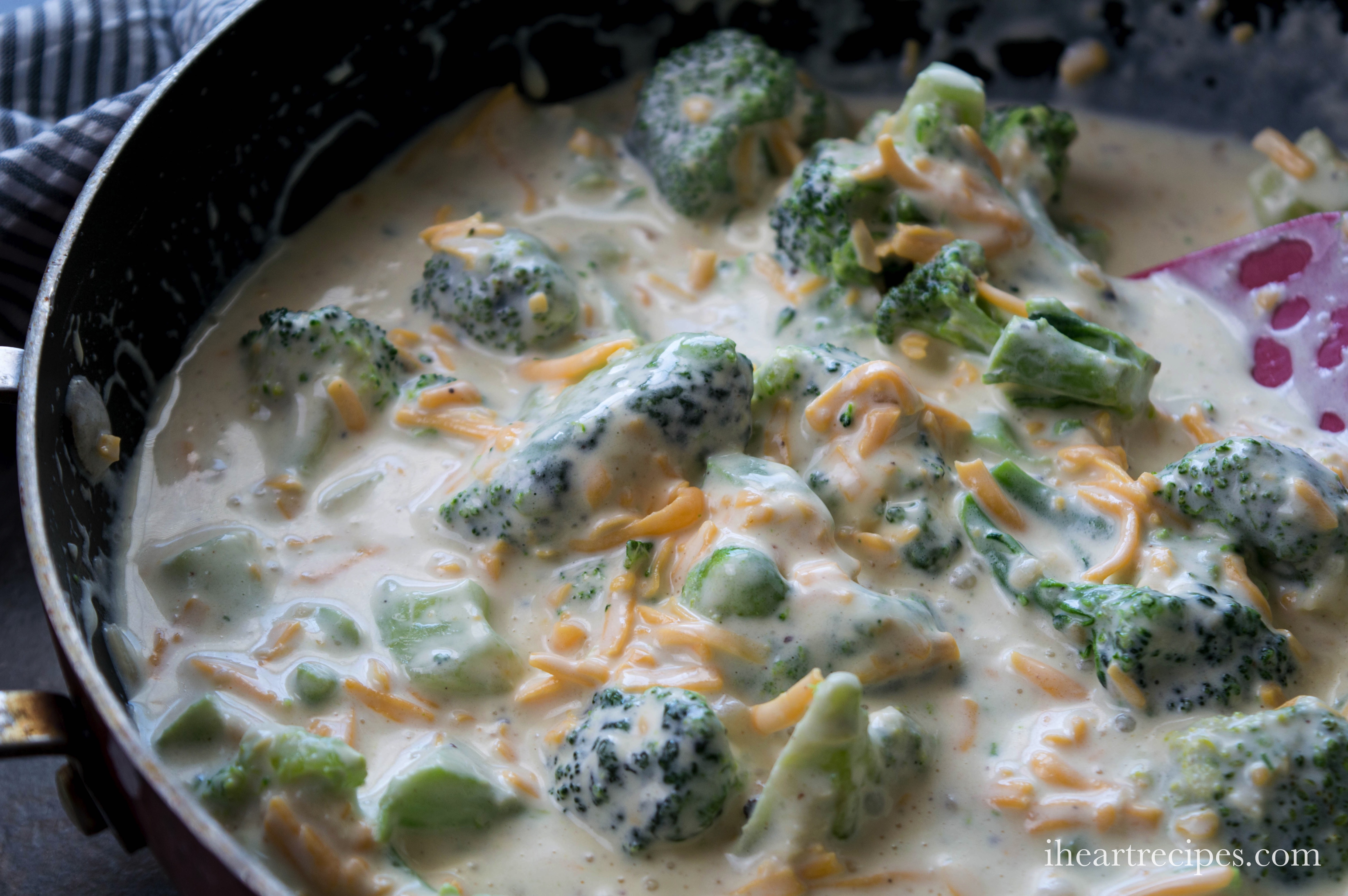 Combine the broccoli mixture, seasonings, onions, and melted butter.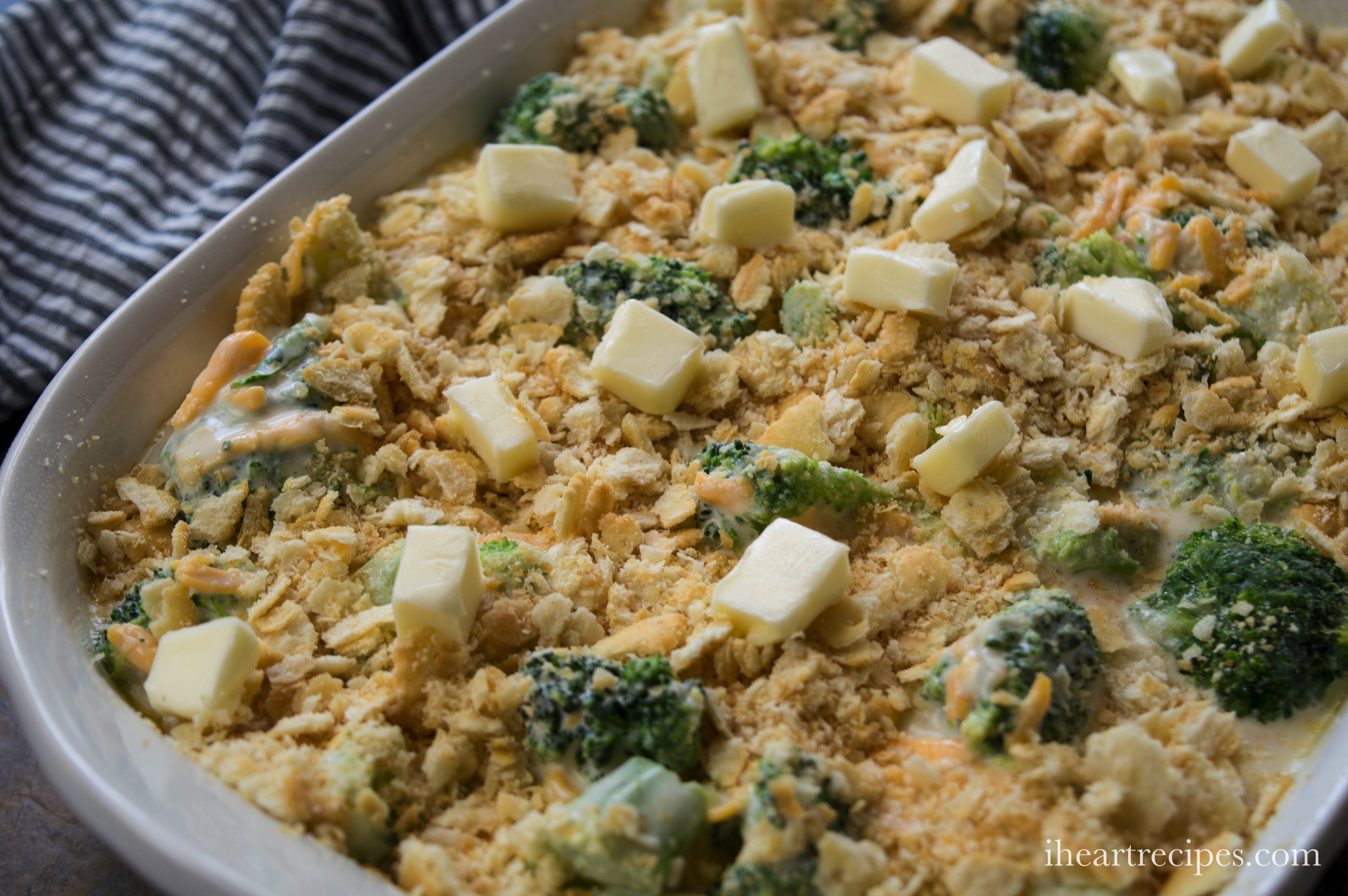 Lightly butter a medium sized casserole dish ( an 8×8 will work), and pour in the broccoli mixture.
Next top the casserole with crushed Ritz crackers, and chopped butter.
Bake the broccoli casserole, and when it comes out….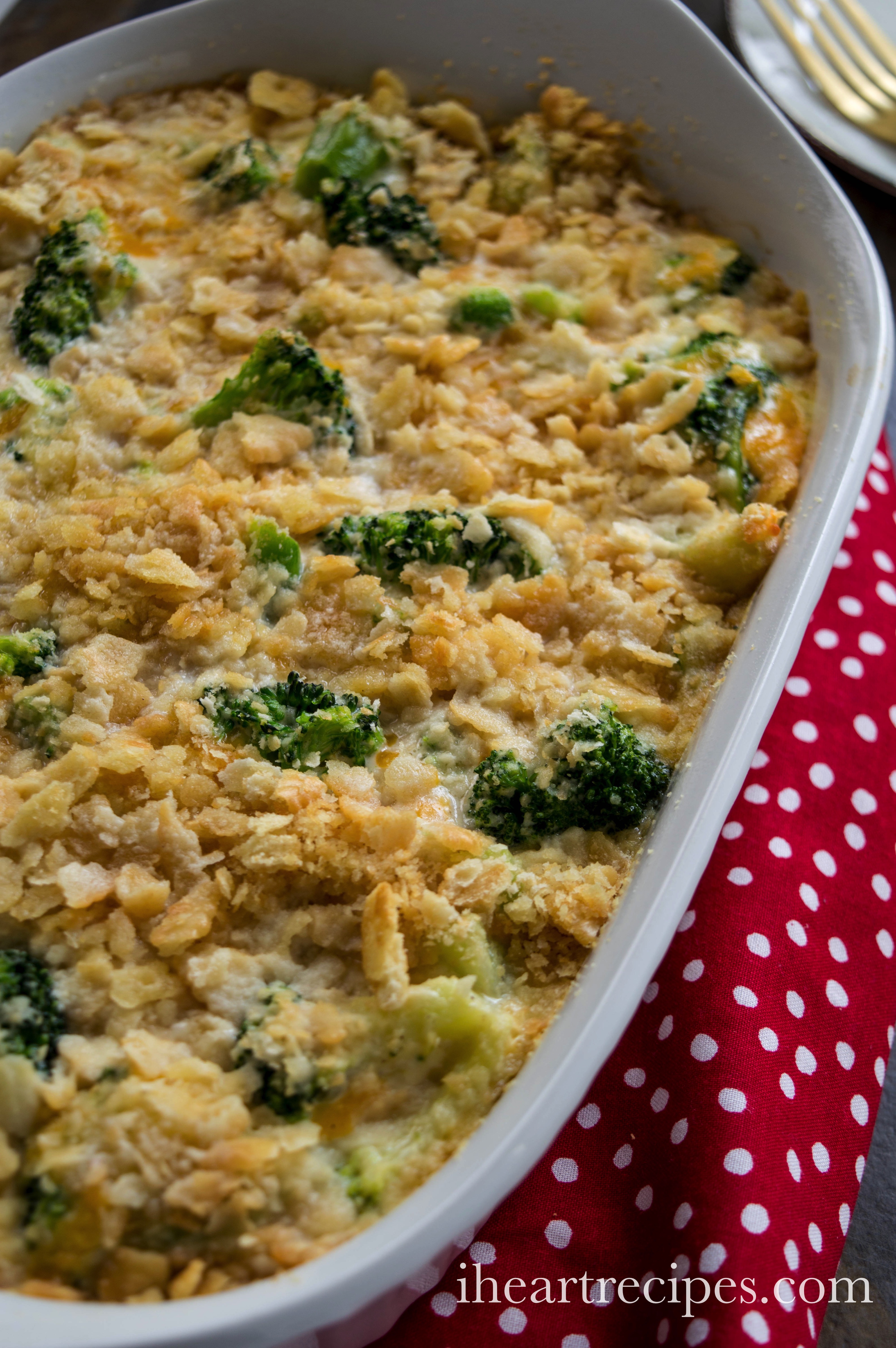 SERIOUSLY, HOW AMAZING DOES THIS LOOK?! ( FYI I'M SCREAMING, SO THAT'S WHY THIS IS IN CAPS!!!)
WAIT…. Take another look!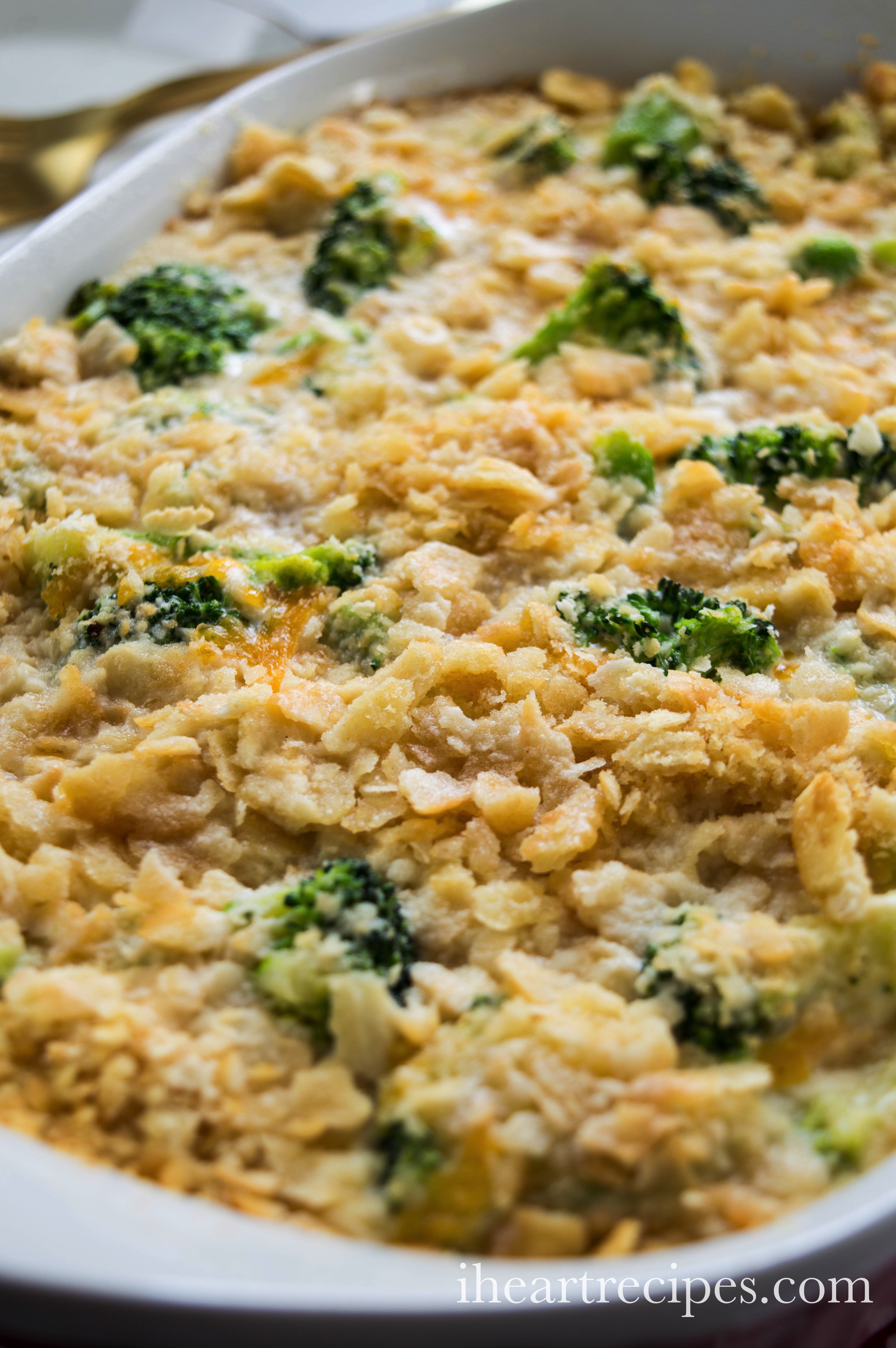 And another one ( In my Biggie Smalls voice)!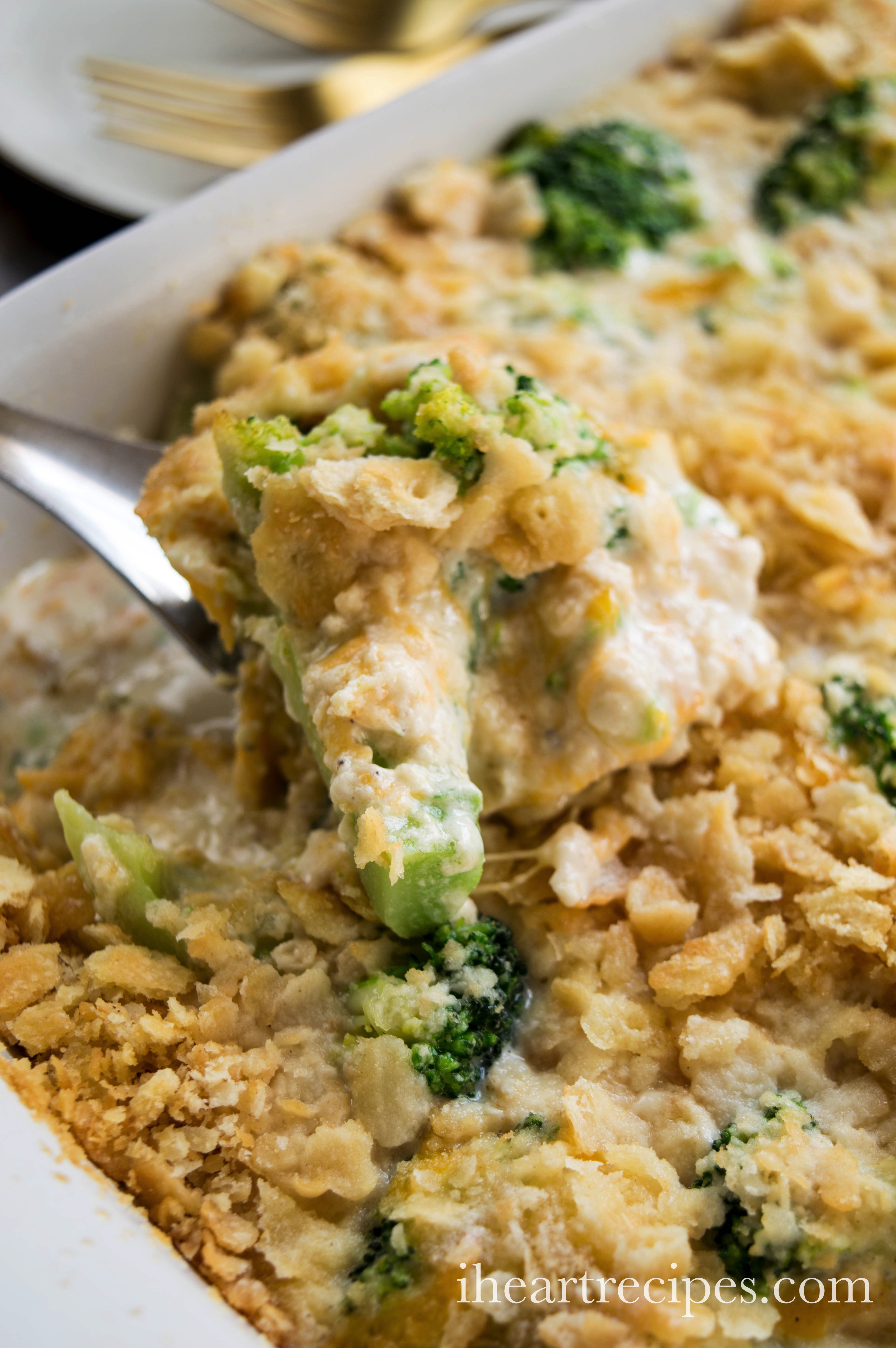 And another one….( still in my Biggie voice)
While you're here, check out some of my other casserole recipes!
SOUTHERN BAKED MACARONI AND CHEESE CASSEROLE
FOUR CHEESE GREEN BEAN CASSEROLE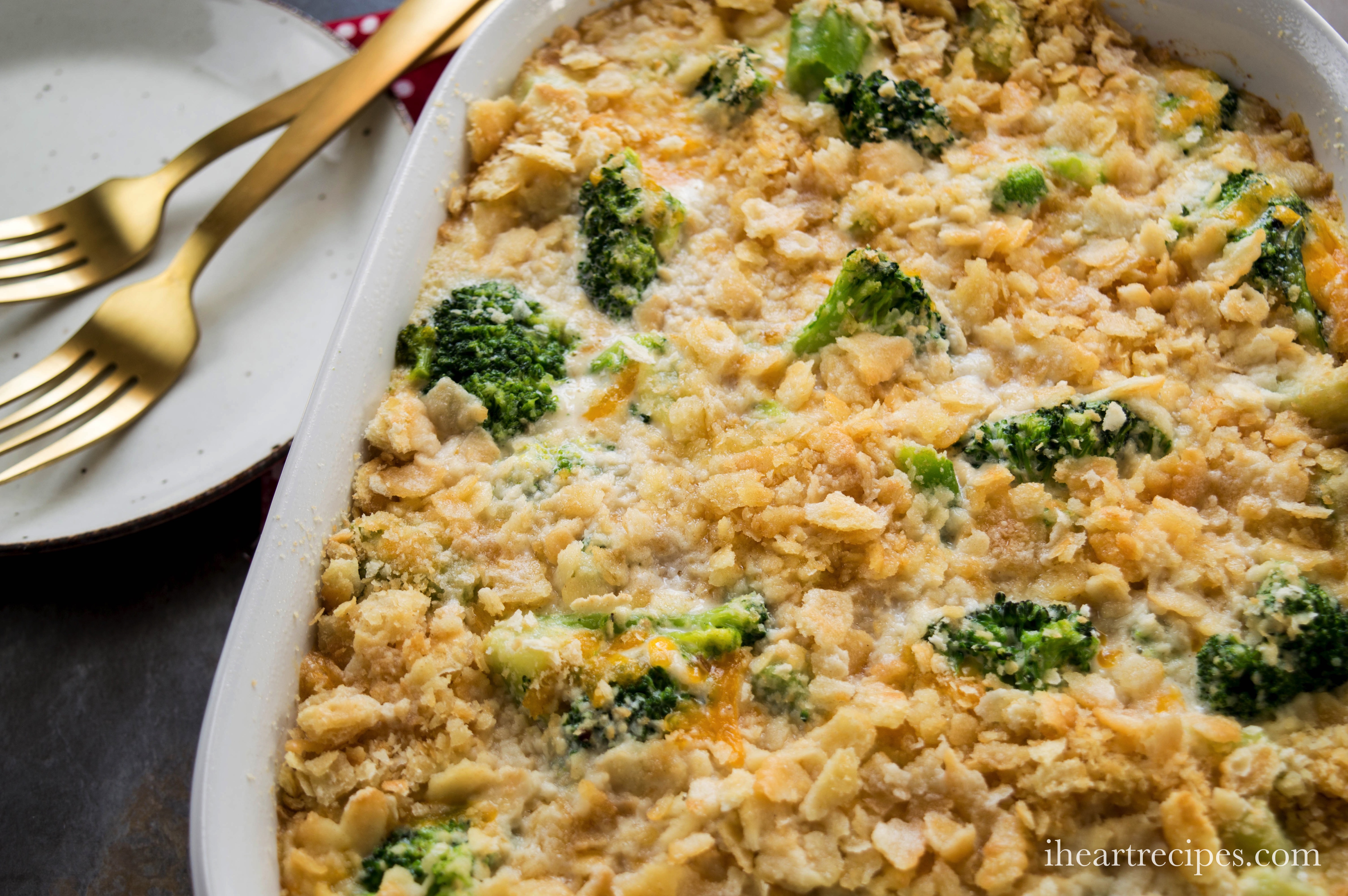 So by this time, if you're human, you're mouth is watering. I will stop teasing you at this point, and I will share my the recipe for this amazing southern broccoli casserole. Before we get into the recipe, make sure you check out these recipes as well:
Print this recipe, and don't forget to follow me on Pinterest, Facebook, Instagram and YouTube as well!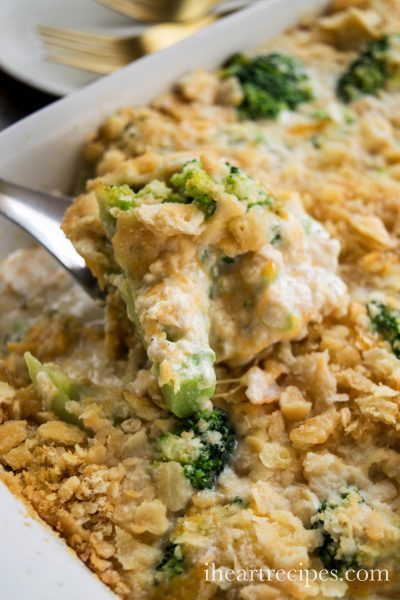 Southern Broccoli Casserole
Crunchy broccoli, velvety cheese, creamy sauce and a crunchy topping create this crowd-pleasing side dish. It's so simple, budget-friendly and full of flavor!
Print Recipe
Pin Recipe
Ingredients
20

oz

bag of frozen broccoli

1 1/2

cup

shredded sharp cheddar cheese

1

small onion

diced

2

tsp

minced garlic

1

cup

mayonnaise

1

tsp

salt

1

tsp

ground black pepper

2

large eggs

3 1/2

tbsp

salted butter

1 1/2

tbsp

all purpose flour

2 1/2

cup

half & half

which is half milk , half cream

1

package of Ritz crackers

crushed
Instructions
Preheat the oven to 350 F.

Combine the eggs, mayo, salt, pepper, and cheese in a large mixing bowl, and mix.

Next add in the broccoli, and garlic, then set the bowl to the side.

In a medium sized saucepan, melt 1 & 1/2 tbsp of butter over medium heat.

Now add in the onions and saute' until the onions are translucent.

Add in the all purpose flour, and stir.

Pour the half & half into the saucepan, and cook for 5 minutes, or until it thickens.

Next, add the thickened sauce into the mixing bowl with the other ingredients.

Fold the ingredients.

Lightly butter a medium sized casserole dish, then pour in the casserole mixture.

Dice the remaining tbsp of butter in small pieces.

Top the casserole off with the crushed crackers, then top with the diced butter.

Bake uncovered for 30 minutes or until golden brown.
If you loved this recipe,
leave me a review below
. This helps future recipe makers and ensures continued high-quality recipes for years to come!
© 2023 I Heart Recipes