This is a classic Southern hot water cornbread recipe made with just 4 simple ingredients and fried in a cast iron skillet on the stovetop!
Hey Cousins! Today, I am sharing a TRUE Southern classic: hot water cornbread! This has got to be one of my most requested recipes. I actually uploaded a hot water cornbread recipe many years ago on my YouTube channel, but a lot of y'all missed that video. Since then, I've revised my recipe, so it's time I share my new-and-improved version of a Southern classic.
Now, y'all know I have many different types of cornbread recipes on my blog. We've got traditional cornbread, Southern sweet cornbread, jalapeno cornbread, cornbread dressing, and even a sweet pumpkin cornbread. Literally, ALL kinds of cornbread (and that ain't even it, y'all)! So, it's only natural that I would also have a simple hot water cornbread. If you're looking for a simple side dish that is done in just a few minutes and uses the most basic ingredients, this recipe is for you.
What is Hot Water Cornbread?
So, what exactly is hot water cornbread?! Well, it's… cornbread! LOL! However, it does call for fewer ingredients than a traditional cornbread recipe. It's as simple as it sounds—cornbread made with hot water.
While cornbread is a Southern staple, its origins date back thousands of years to Native American culture in Mexico. It was a staple because of how readily available the ingredients were—cornmeal and water. Hot water cornbread is as close to traditional as you can get.
Hot water cornbread is fried with oil (though, I have heard that some people actually bake it… and that is a NO from me!). Pan-frying the cornbread patties in the oil gives them a perfectly crisp exterior and fluffy, soft center. It pairs well with Southern pinto beans, Southern greens, cabbage, and more. Feel free to serve some sweet tea with your meal to go extra authentic.
Wondering how to make hot water cornbread? Well, first, let's talk about ingredients.
Ingredients Needed to Make Hot Water Cornbread
So, what ingredients do you need to make hot water cornbread? I bet you've guessed hot water and cornmeal? Y'all would be right! To make a classic hot water cornbread recipe, you need the following:
Yellow cornmeal: I use regular ol' yellow cornmeal. Others use self-rising cornmeal (you can make your own), which helps with that light and fluffy interior.
Self-rising flour: if you can't find self-rising cornmeal (not always the easiest to find), use self-rising flour to give the cornbread patties some extra lift.
Hot water: you have to use boiling water. I don't make the rules; that's just how it is!
Granulated white sugar: sugar gives the cornbread a little bit of sweetness, but not too much. It's the perfect amount to get that yummy, savory-sweet cornbread flavor.
Oil for frying: the best oil to use for frying hot water cornbread is a neutral oil that doesn't have any flavor. A neutral oil will give your cornbread patties a perfectly golden-brown, crisp exterior without an overwhelming fried oil flavor.
Now, a little disclaimer: I use peanut oil for frying in my video tutorial below. However, if you're using a neutral oil like vegetable oil or canola oil, your hot water cornbread will turn out just fine. Additionally, you can add a pinch of salt to your cornbread batter to balance out the sweetness from the sugar. I don't include salt in my recipe.
Hot Water Cornbread FAQs: How to Make the Best, Easiest Cornbread Recipe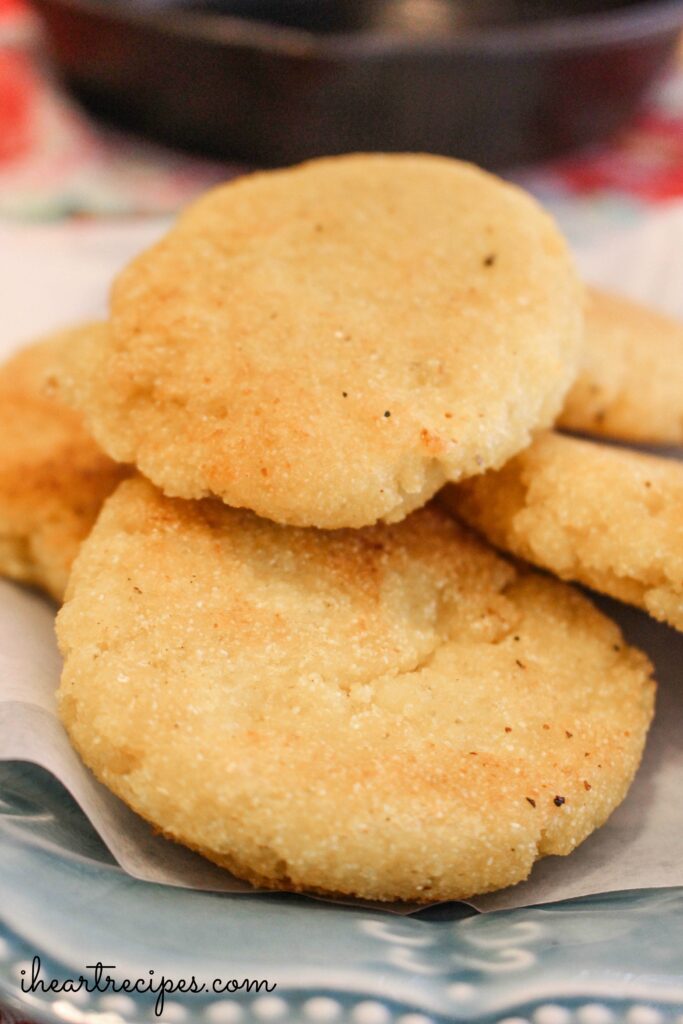 Now, in a minute, I'll tell y'all how to make hot water cornbread (spoiler alert, it really is the EASIEST recipe). But first, I want to take a second to answer some of your questions. Just like many Southern recipes, there are customizations and alterations you can make to a hot water cornbread recipe.
Why is my cornbread batter too sticky?
Since the ingredients in this cornbread are so basic, it might get a little sticky—that's okay! If your cornbread batter is too sticky while forming the patties, butter or grease your hands (with some cooking spray) while working and work quickly!
How much water do you use in hot water cornbread?
I use about one and a half cups of boiling water in my recipe, and that gives me the perfect consistency. Less water will make the batter extra thick, likely resulting in a dense cornbread. Too much water and the batter will be runny and won't fry well. It's a perfect balance and all about the texture!
Can you make hot water cornbread ahead of time? Can you reheat it?
Serving it fresh is absolutely best, but it IS possible to make hot water cornbread ahead of time. You can make the batter no more than a day ahead of time and store it in the fridge (in an airtight container) until you're ready to use. To reheat, you can:
Reheat the cornbread in the oven at 350 degrees for a few minutes.
Reheat on the stovetop in a skillet with a tablespoon of oil (this will ensure a crispy outside).
Pop it in the toaster oven for a fast-and-easy reheat.
How many servings does this hot water cornbread make?
I got six cornbread patties from this recipe, and mine are shaped similarly to a regular-size hamburger. You can make yours larger or smaller, or you could easily double the recipe to make more servings.
What's the difference between hot water cornbread and regular cornbread?
There are definitely a few key differences. First, hot water cornbread has far fewer ingredients—no buttermilk, eggs, or butter. Regular cornbread is baked, and hot water cornbread is fried. Hot water cornbread is a much simpler, straightforward cornbread recipe with few variations. It's also traditionally formed into little patties, whereas regular cornbread is typically baked in a pan or loaf.
What's the difference between cornbread and hoe cakes?
Hoe cakes, also called corn cakes or Johnny cakes, are basically cornmeal pancakes. They are made with essentially the same ingredients as pancakes—milk or buttermilk, flour, and baking powder—but also with cornmeal. Like pancakes, they're cooked with minimal oil in a skillet or pan. They are essentially savory pancakes! Hot water cornbread has, again, fewer ingredients and has more structure, like traditional cornbread.
Can I top hot water cornbread with anything?
Absolutely! Hot water cornbread is delicious topped with a drizzle of honey or maple syrup if you want extra sweetness. A pad of butter will melt and soak into the tender bread, giving it a salty creaminess. Hot water cornbread is also delicious when drizzled with hot sauce if you want some kick. Pro-tip: you can also dip your cornbread into whatever you're serving it with (like chili, collard greens, gravy, you name it).
How to Make Southern Hot Water Cornbread: Video Tutorial & Recipe Card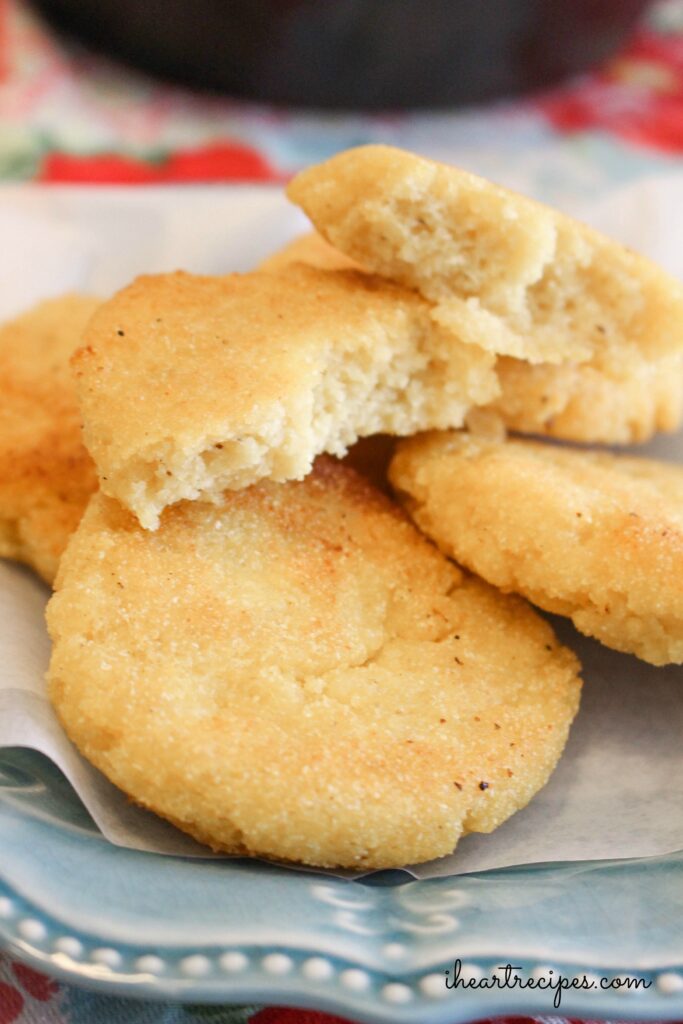 Finally, we've reached the directions! It's as simple as one-two-three, I'm tellin' y'all. As always, the full measurements, directions, and a helpful video tutorial are included in the recipe card below. Here are the main steps:
Mix the cornmeal, self-rising flour, and sugar together in a large mixing bowl.
Carefully pour the boiling water into the dry ingredients and whisk until combined.
Next, form the cornbread patties. A warning, the batter will still be quite warm from the hot water at this point, so use caution! You could also wear food-safe gloves to protect your hands.
In a deep skillet, heat the oil over medium-high heat. I use a cast iron skillet, but you can use any type of skillet that's deep enough for about one inch of oil.
Fry the cornbread patties in the hot oil for no more than two minutes per side until each side is a perfect golden brown color.
Finally, remove the cornbread from the oil and allow it to drain on paper towels.
That's it! Perfect hot water cornbread in about 10-15 minutes from start to finish. Practice makes perfect, so if you don't get it quite right the first time, keep on tryin'! With simple ingredients, you can make this recipe again and again without breaking the bank.
If you loved my hot water cornbread recipe, have questions, or even if you just want to share your memories of your moms and grandmas making this classic for you, comment below! As always, remember to tag and follow me on Facebook, Instagram, and Pinterest, subscribe to I Heart Recipes on YouTube, and check out all my cookbooks! I just released a brand new cookbook, Super Soul Food with Cousin Rosie, with many recipes you can't find anywhere else.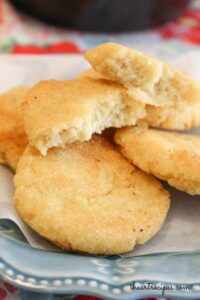 Hot Water Cornbread
This Hot Water Cornbread calls for minimal ingredients and comes together in just a few minutes! Quick, easy and tasty, it's the perfect accompaniment to any southern-style meal!
Watch Video
Print Recipe
Pin Recipe
Instructions
Pour the vegetable oil into a medium sized skillet (I use my cast iron).

Heat the oil over medium heat.

Combine the cornmeal, self rising flour, and sugar in a medium sized bowl.

Sift or whisk until everything is well combined.

Next, pour in the hot water, and mix.

Form the mixture into patties.

Fry the patties for about 1 to 2 minutes on each side.

Remove from the oil, and and place on paper towel lined plate.

Let cool.

Serve & enjoy!
Video
If you loved this recipe,
leave me a review below
. This helps future recipe makers and ensures continued high-quality recipes for years to come!
© 2023 I Heart Recipes