How to make southern style pinto beans and ham hocks in the Crock Pot.
Hey Friends! As a busy wife and mother , I'm usually strapped for time. During the busy week, I try to make meals that aren't time consuming, and I do so by using my Crock Pot on some of those busy days. I absolutely love using my Crock Pot. I love the fact that I can practically just throw everything in the pot, and walk away. Like seriously, It doesn't get much easier than that. I use my Crock Pot at least once a week. I make everything in it from Stews, Soups… Heck I've even made barbecue ribs in my crock pot!
Check it out
There's not a whole lot of foods that I can't make in my Crock Pot! In this post, I'm going to show you how I make Southern Style Pinto Beans with fork tender ham hocks!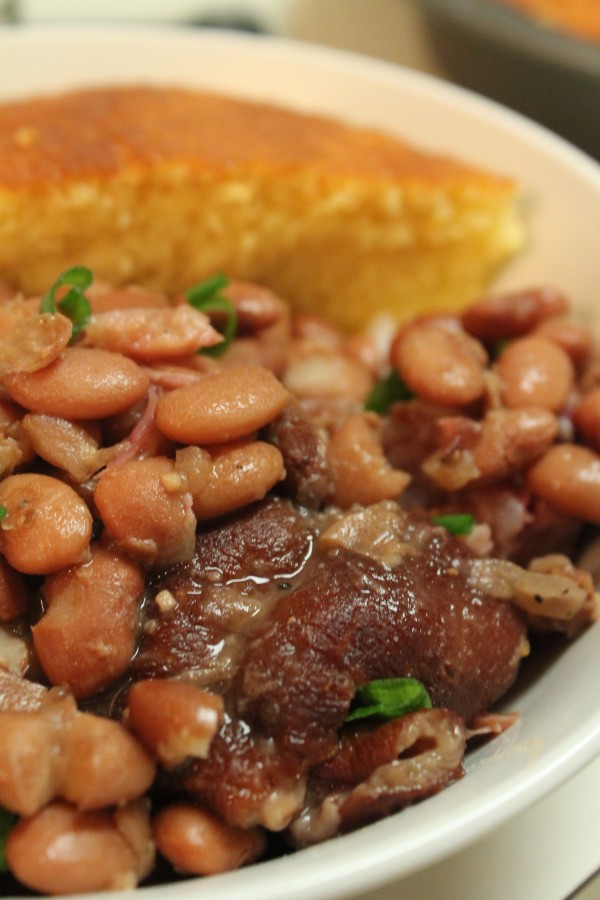 This pinto bean recipe is super easy, and practically fool proof.  You won't need a lot of ingredients, and you don't have to worry about being in the kitchen all day, because again- we're using our crock pot.
I chose to use pinto beans because I always have them on hand. Why? Because In my area pinto beans are cheap! I can buy a 10 lb bag of dry pinto beans for less than $5.  Other than the price, pinto beans are really good ( I personally like most beans).
I used ham hocks to flavor the beans. If you don't have ham hocks, or don't like them. Here are some substitutions
Smoked Neck Bones
Smoked  Turkey : legs, necks wings
Bacon Ends
I know some people are going to ask me if they can used smoked sausage, and you can – but I don't recommend it. Why? Because we will be slow cooking the beans for a long period of time. When you cook smoked sausage for long periods, the sausage looses all of it's flavor, and is extremely bland once the everything is cooked.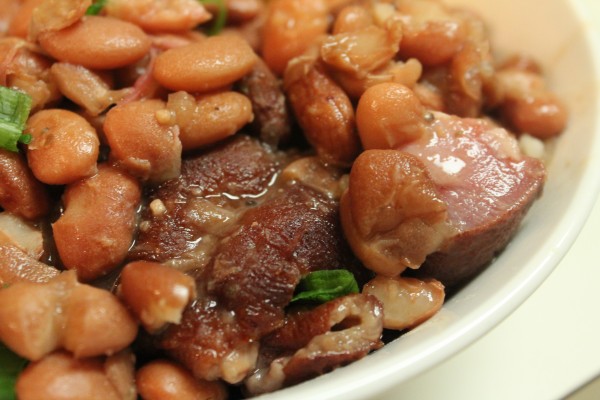 Again , this recipe is super easy. Even if you're a beginner in the kitchen – you can pull this pinto bean recipe off.  Below, I'm going to share step by step pictures on how I made my southern style pinto beans. If you have any questions, make sure to leave them down below.
Let's Get Started!!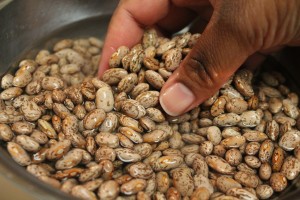 The first thing that I did, was sort & wash the beans. Keep in mind that dry beans need to be sorted, and washed prior to cooking. Why sort them? Because occasionally you will have rotten ugly beans in your bag of beans along with pebbles.. ALWAYS sort your beans!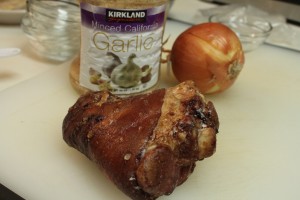 I used 1 large smoked ham hock, 1 large yellow onion, and minced garlic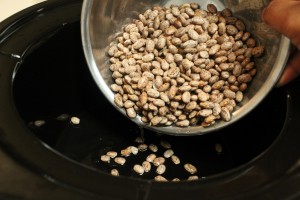 After sorting & washing the beans, I put them in my Crock Pot.  No need to soak the beans overnight, or hours before. Since the beans are being slow cooked, they will have plenty of time to soak in the Crock Pot. LOL…. No additional soaking is needed 🙂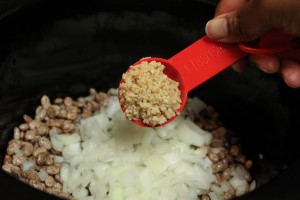 Next, I added in the diced onions and minced garlic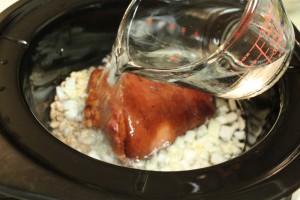 Place the ham hock ( or substitute) in the Crock Pot, then pour in the water.
Tip: instead of using water you can use chicken broth, to add more flavor. I didn't have any broth on hand, so I just used water. However, my beans still came out very flavorful!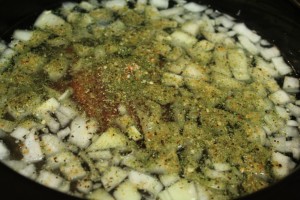 Sprinkle in some Mrs. Dash or seasoning salt and ground black pepper.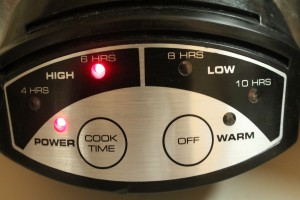 Set the Crock Pot on HIGH and let it cook for 6 hours.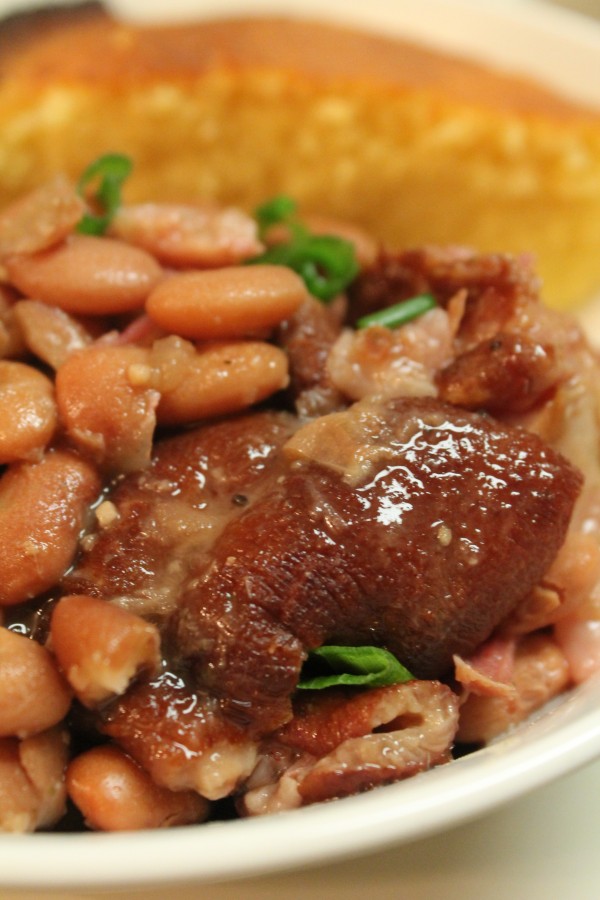 Once the beans were done, I served them over rice and served it along with sweet cornbread and a green beans!
I truly love making Crock Pot meals during my busy week. It helps free up a lot of my time. While dinner cooks, I tend to my other duties!
Let me know if you guys want more Crock Pot Recipes!
Here's the recipe!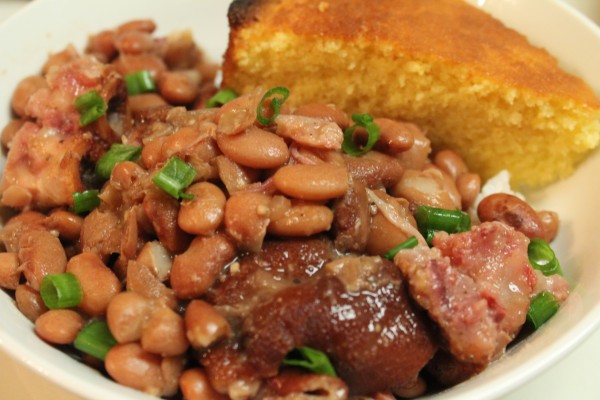 Southern Pinto Beans and Ham Hocks Made in the Crock Pot
This is a foolproof and easy recipe for Southern Pinto Beans. Tender beans and flavorful ham hocks slow-cooked together for a delicious, hearty meal. Serve over rice and enjoy!
Print Recipe
Pin Recipe
Ingredients
3

cups

dry pinto beans

sorted and washed

1

large ham hock or substitute

1

medium sized yellow onion

diced

1

tbsp

minced garlic

1

tbsp

Mrs. Dash OR 2 tsp Seasoning Salt

1/2

tsp

ground black pepper

7

Cups

Water

* Chopped green onions for garnishing

optional
Instructions
After sorting and washing the beans, put them in the crock pot.

Add in the onions, garlic, and ham hock ( or substitution).

Pour in the water, then sprinkle in the seasonings.

Cover the Crock Pot, then set in on high for 6 hours.

Once the beans are done, serve them over rice.

Garnish with green onions ( optional).

Enjoy!
If you loved this recipe,
leave me a review below
. This helps future recipe makers and ensures continued high-quality recipes for years to come!
© 2023 I Heart Recipes