Southern, soul food style cabbage made in the slow cooker with smoked ham hocks, onions, garlic and more!
Cabbage flavored with smoked ham hocks, celery, garlic, onions, and bell peppers. Doesn't that sound good? Just imagine it with a big ol' piece of sweet buttery cornbread. It sounds pretty darn good right? What If I told you that it was easy to make? Guess what? I have a foolproof recipe for true soul food style cabbage that is made in the slow cooker. No more having to watch the ham hocks for hours, then tossing in other ingredients. This recipe is pretty much a throw-it-all-in-the-pot kinda recipe… Well Kinda. I'm going to show you how to make some real deal southern cabbage, just like grandma used to make, with just a few simple steps. Let's get started!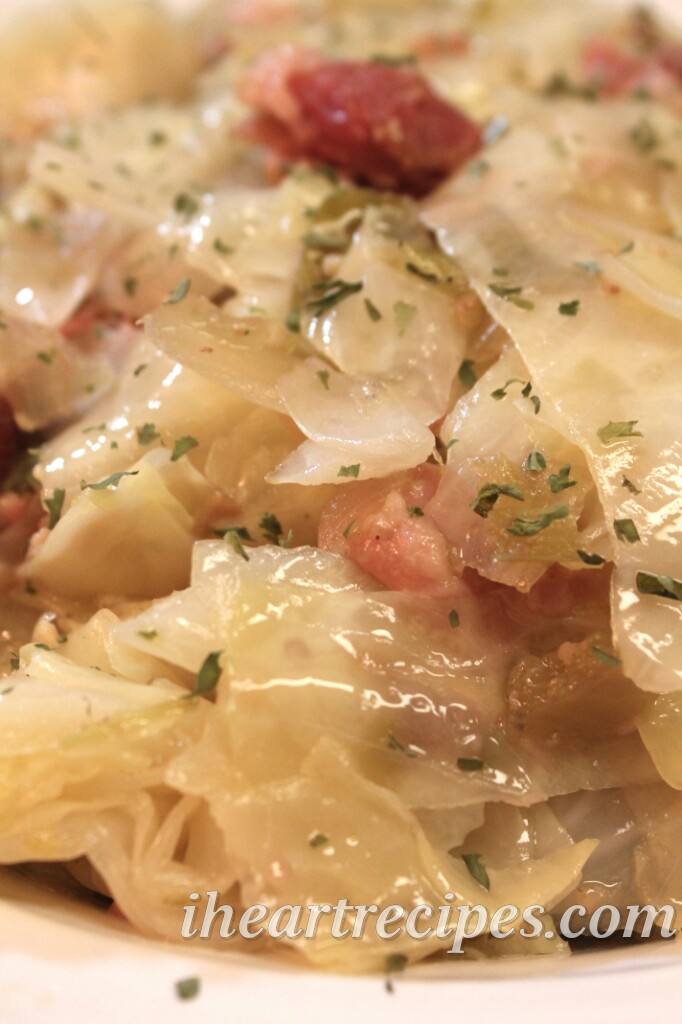 So let's talk about the ingredients that I will be using! First things first, I am using greens cabbage ( obviously right?). Whenever I make cabbage, I peel of the first layer of cabbage. I then cut the cabbage in small sections, and pull it apart. After those steps I rinse the cabbage thoroughly. Be sure to not skip out on the rinsing. You don't want to cook dirty cabbage! Trust me, I did it when I was in my preteens, and it was horrible. My mom still reminds me of terrible event ( I wish she would just forget about it already!!! GEEZ!)
For flavor you're going to need some smoked meat. This time around I used smoked ham hocks. I cooked the ham hocks for 4 hours on high in slow cooker. Down below I will list substitutions  for ham hocks and cooking times. Keep in mind that the setting should still be on HIGH
Smoked pork neck bones – 3 hours
Smoked turkey wings or legs – 3 hours
bacon ends – 1 hour
smoked sausage – 1 hour
Other than the smoked meat I also use celery, garlic, onions, and bell pepper to flavor up my southern cabbage. If you don't like any of the ingredients, feel free to leave it out.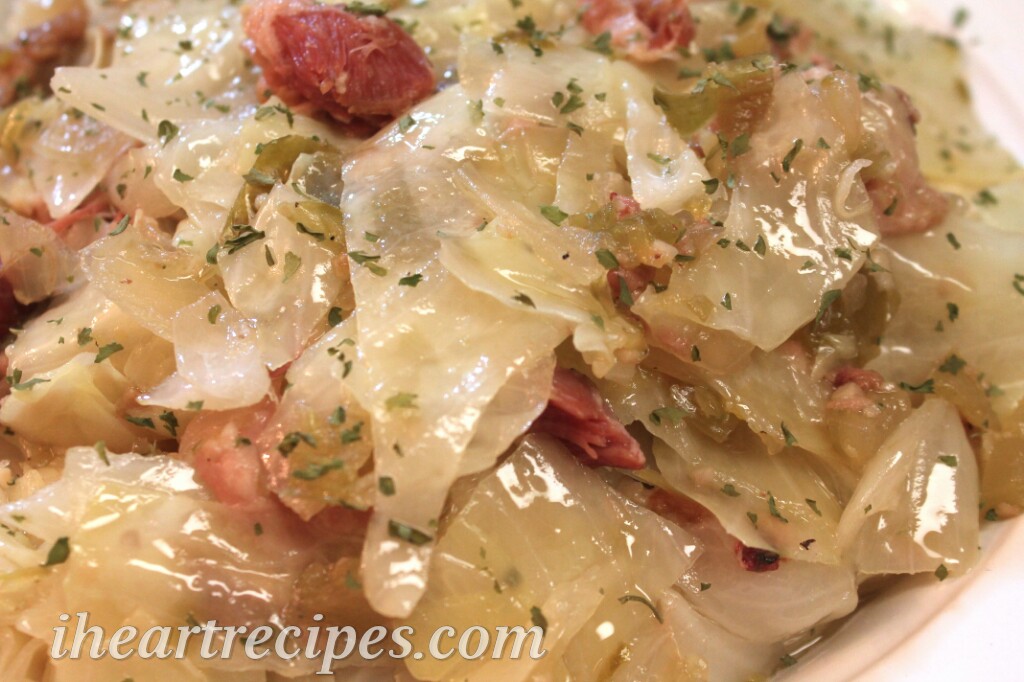 Watch my video tutorial for this quick and easy soul food style cabbage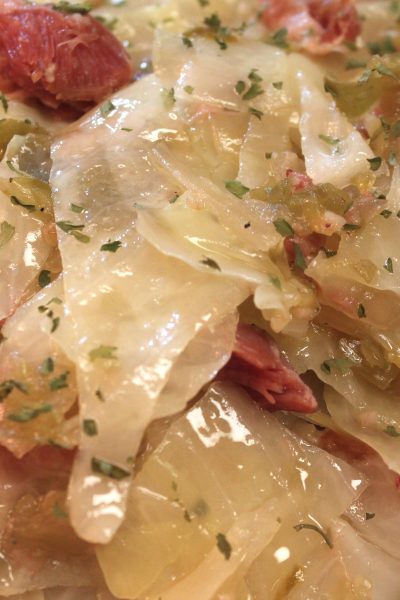 Soul Food Cabbage Recipe
Super savory low carb side dish loaded with tender cabbage flavored with bits of either sausage or ham.
Watch Video
Print Recipe
Pin Recipe
Ingredients
2 1/2 - 3

lbs

head of green cabbage

chopped & rinsed

3

medium sized smoked ham hocks

1

medium sized yellow onion

diced

1

tbsp

minced garlic

3

stalks of celery

diced

1

large bell pepper

diced

1/2

tsp

ground black pepper

you may add more seasonings

6 - 8

cups

water
Instructions
Place the smoked ham hocks into the slow cooker.

Add in the celery, onions, bell pepper, and garlic.

Pour in the water, then put the lid on the slow cooker.

Cook on high for 4 hours.

After the 4 hours, add in the cabbage, then sprinkle in the black pepper ( and any seasonings that you may wish to add).

Let cook for an additional one hour.

Serve and enjoy!
Video
Notes
I used a 4 qt slow cooker. I was able to fit all of the cabbage into the pot all at once. If you are not able to add all of the cabbage, wait until some of it cooks down, then add the remaining cabbage when you are able to. Also, I used water. However, you can replace the water with chicken broth if you choose.
If you loved this recipe,
leave me a review below
. This helps future recipe makers and ensures continued high-quality recipes for years to come!
© 2023 I Heart Recipes
Check out my southern fried cabbage recipe as well!