This homemade honey jalapeno cornbread is the perfect mix of sweet and spicy. Topped with a simple honey butter, it's the perfect side dish for any soul food cookin'!
Hey Cousins! I'm excited to share a delicious homemade cornbread recipe with you today! It's no secret that I'm a lover of cornbread—I have at least a dozen of my own cornbread and cornbread dressing recipes (like my classic sweet southern cornbread, my cheesy garlic cornbread, soul food cornbread dressing, even a collard greens and smoked turkey cornbread dressing). That's why I went bananas when I heard of honey jalapeno cornbread! I mean, let's think about it– honey AND jalapenos?! Sweet and spicy, what's not to love?
I wanted to show y'all how to pull together a sweet and spicy cornbread the homemade way because it's crazy simple! Cornbread is an easy side dish that goes with almost anything, and that's why I love this recipe. It's just so versatile! Instead of plain ol' dinner rolls, serve this delicious honey jalapeno cornbread. Let's get started!
Ingredients for Honey Jalapeno Cornbread
This sweet jalapeno cornbread recipe calls for minimal, simple ingredients. Sure, you could use a store-bought cornbread mix if you're in a hurry, but I think a homemade version is always better. Here are the main ingredients needed to make my homemade honey jalapeno cornbread:
Cornmeal: Cornmeal is the main ingredient in this homemade cornbread. I use medium-ground yellow cornmeal. There are a lot of different kinds of cornmeal out there, so don't get too confused in the baking aisle. The fine or medium ground is the best for cornbread recipes.
Flour: All-purpose flour is best for this cornbread recipe, but you could sub in bread flour instead if that's what you have on hand.
Buttermilk: Using buttermilk keeps the cornbread nice and moist, so I don't recommend swapping this out with milk or water! Can't find buttermilk? It's super easy to make homemade buttermilk in just a few minutes.
Honey: A nice drizzle of honey gives this jalapeno cornbread its slightly sweet taste. I recommend using pure honey—pick some up from a local farmer's market or look for the least-processed honey at the grocery store.
Jalapenos: Another crucial ingredient, you'll need 2-3 large jalapeno peppers. For my recipe, I take the seeds out (which helps reduce the heat level a little) and dice them into fine pieces. Feel free to use a different kind of spicy pepper for the level of heat you prefer.
Butter: You'll need melted butter for the cornbread batter, but even more importantly, you'll need butter for the homemade honey butter topping! You can use salted or unsalted butter or even margarine if that's what you have on hand.
For a complete ingredient list and all the exact measurements, make sure to check out the recipe card below.
What equipment do you need to make honey jalapeno cornbread?
We'll get into the steps to make this delicious sweet and spicy side dish in just a second, but first, what kitchen equipment do you need to make it?
Mixing bowls for the dry ingredients, wet ingredients, and honey butter.
Kitchen utensils like a spatula or whisk to thoroughly mix the ingredients.
Baking dish that's at least 9×11 or 9×13…
…or muffin tins if you want to make honey jalapeno cornbread muffins!
Parchment paper to line the baking dish and prevent sticking. You can also use baking spray.
How to Make Honey Jalapeno Cornbread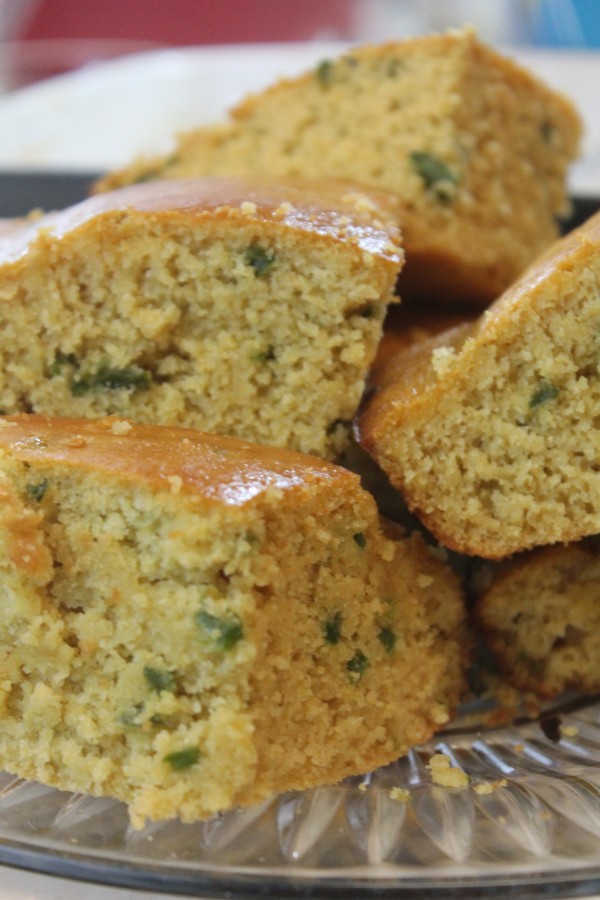 Want to learn how to make this sweet and spicy jalapeno cornbread recipe? I'm tellin' y'all… get ready! It's so simple that you'll want to make it for dinner all the time! Make sure you also check out my step-by-step tutorial on YouTube to watch how I make it.
Step 1: Mix Dry Ingredients
To start, gather all your dry ingredients. Then, combine the cornmeal, flour, baking powder, and salt in a large mixing bowl. Mix those until they're well combined.
Step 2: Mix Wet Ingredients
For the wet ingredients, you need eggs, buttermilk, melted butter, and honey. Mix these four ingredients in a separate mixing bowl or right in with the dry ingredients, then mix until well combined. Set the cornbread batter aside for a minute and move on to the next step.
Step 3: Dice Up and Sauté the Jalapenos
In this next step, dice up the jalapeno peppers. If you want to lower the spice level, remove the seeds. Dice up the peppers into small pieces and sauté them in a bit of vegetable oil until soft. Let them cool before mixing them into the cornbread batter. I prefer to do this, so they're nice and soft in the cornbread—but this is an optional step! If you want a nice spicy bite, toss the fresh diced jalapenos into the cornbread batter.
Step 4: Bake the Cornbread
Pour the cornbread batter into a greased baking dish (use butter, vegetable oil, or baking spray to grease the dish). Then bake the cornbread in a preheated oven at 400 degrees for about 20 minutes. How do you know when cornbread is done? You can do the toothpick trick—stick a toothpick into the center of the cornbread, and if it comes out clean, it's done. The top of the cornbread might crack, and it shouldn't be jiggly at all in the middle.
Step 5: Make the Honey Butter
While the cornbread cools, make the honey butter. This final step could NOT be any easier. Take room temperature butter and mix in some honey. Use a spatula or whisk to combine, or if you want lighter whipped honey butter, use a hand mixer. Spread the honey butter mixture onto the top of the warm jalapeno cornbread and let it soak in. Then cut and serve—heaven! Reserve a bit more of the honey butter for serving, or drizzle with honey for more sweetness (you could even try serving it with hot honey if you're really into spice).
Sweet and Spicy Cornbread FAQs
Can you make honey jalapeno cornbread with jiffy mix?
Yes, you can use store-bought Jiffy cornbread mix to make this honey jalapeno cornbread recipe. While I encourage the from-scratch approach in this recipe, it's okay to cheat a little and use store-bought cornbread mix if it's what you have on hand! Jiffy makes a regular and honey cornbread mix; either would work as a substitute for the dry ingredients in this spicy cornbread recipe.
Is honey jalapeno cornbread Mexican cornbread? What is Mexican cornbread?
If you're looking for a Mexican cornbread recipe, this jalapeno cornbread is like a quarter of the way there! A classic Mexican cornbread recipe includes add-ins like fiesta corn (basically just corn with peppers), onions, and shredded cheese. So, you can easily turn this into a Mexican cornbread recipe if that's what you're into—serve as a side for taco night!
What should I serve honey jalapeno cornbread with?
This sweet and spicy cornbread goes with just about anything, honestly! If you're aiming for a hearty dinner, serve with classic entrees like slow cooker beef chili, beef goulash, or BBQ spare ribs. If you're cooking Southern tonight, serve with neck bones and potatoes, delicious Southern-style mac and cheese, or collard greens. Better yet, cornbread is a perfect summer barbecue side, so whip it up alongside BBQ ribs, a matching sweet and spicy grilled chicken, or BBQ baked beans.
Homemade Honey Jalapeno Cornbread Recipe Card + Video
Okay, Cousins, it's time for y'all to get on in that kitchen and whip up this crazy simple homemade cornbread! I'm telling you, it'll be an instant family favorite. It's made with simple ingredients, has the perfect balance of sweet and spicy, and can be paired with just about any dish. If you try my sweet jalapeno cornbread recipe for dinner tonight, let me know what you think in the comments below! Don't forget to subscribe to I Heart Recipes on YouTube to see all of my recipe videos, cooking tips, and more! You can also follow me on Facebook, Instagram, and Pinterest to keep up with all things Rosie and I Heart Recipes.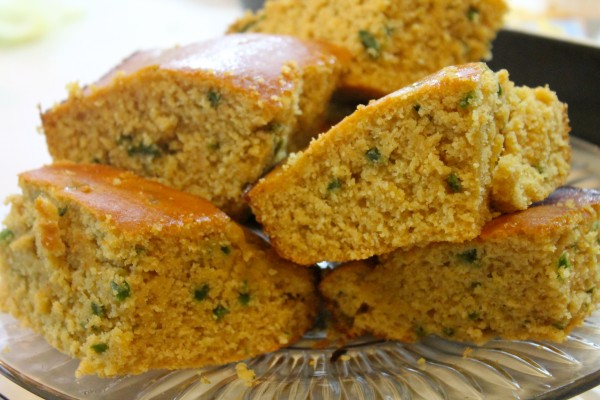 Homemade Honey Jalapeno Cornbread
This sweet and spicy homemade cornbread is a deliciously moist southern style cornbread that pairs perfectly with any southern comfort food dinner.
Watch Video
Print Recipe
Pin Recipe
Instructions
Place the cornmeal, flour, baking powder, and salt into a large mixing bowl. Mix the ingredients well, then add in the eggs, buttermilk, and melted butter. Mix until well combined.

Pour 2 tsp of vegetable oil into a saucepan and turn the heat up to medium. Place the diced jalapenos into the pan, and cook until they soften. Set aside.

Pour the honey into the cornbread batter, then toss in the diced jalapenos. Fold in until well combined.

Spray a 9×11 bake dish with baking spray and pour the cornbread batter into the dish.

Bake on 400 for 20-25 minutes.

In a small bowl, add 1/2 stick of butter and 2 tbsp of honey. Mix until it's nice and creamy.

Remove the cornbread from the oven and brush on the honey and butter mixture.

Let sit for 5 minutes to cool and allow the honey butter to soak into the cornbread, then serve!
Video
If you loved this recipe,
leave me a review below
. This helps future recipe makers and ensures continued high-quality recipes for years to come!
© 2023 I Heart Recipes