Southern, soul food style collard greens seasoned to perfection and made with smoked ham hocks.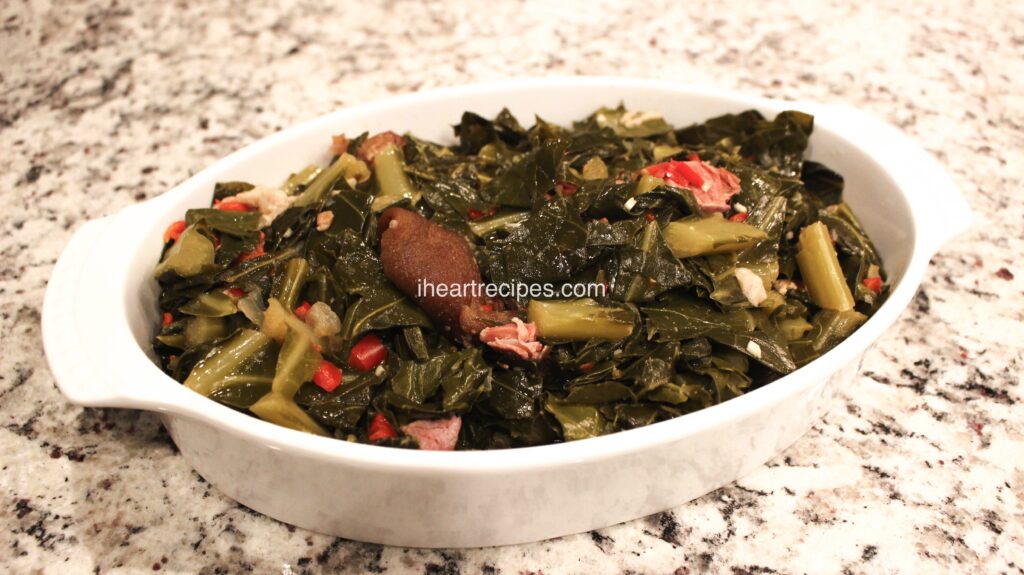 Southern collard greens are a staple in soul food homes. Collard greens, like most southern greens can be made several different ways. Sometimes I make my soul food collard greens with bacon ends. Other times, I use smoked pork neck bones, or even smoked turkey. However, this time around, I'm going to show you how I make my southern collard greens with ham hocks.
What Are Southern Style Collard Greens?
So let's talk about the actual collard greens first. Some people are new to southern cooking, so let's start with what collard greens are!
What are collard greens? It's large leafy vegetable that's similar to kale. It's usually braised when made the southern way. Collard greens are usually a side dish, and served with a main dish such as chicken or fish, along with cornbread.
To cook soul food collard greens, I start off with the meat. As mentioned, for this recipe I will use smoked ham hocks. I like to cook the ham hocks first, in my slow cooker. Although you can definitely cooked them on your stovetop. I just prefer to make them in the slow cooker, because it's less time that I have to stand over the stove and watch something cook. Once the ham hocks are nice and tender, I remove transfer from the slow cooker to a large pot.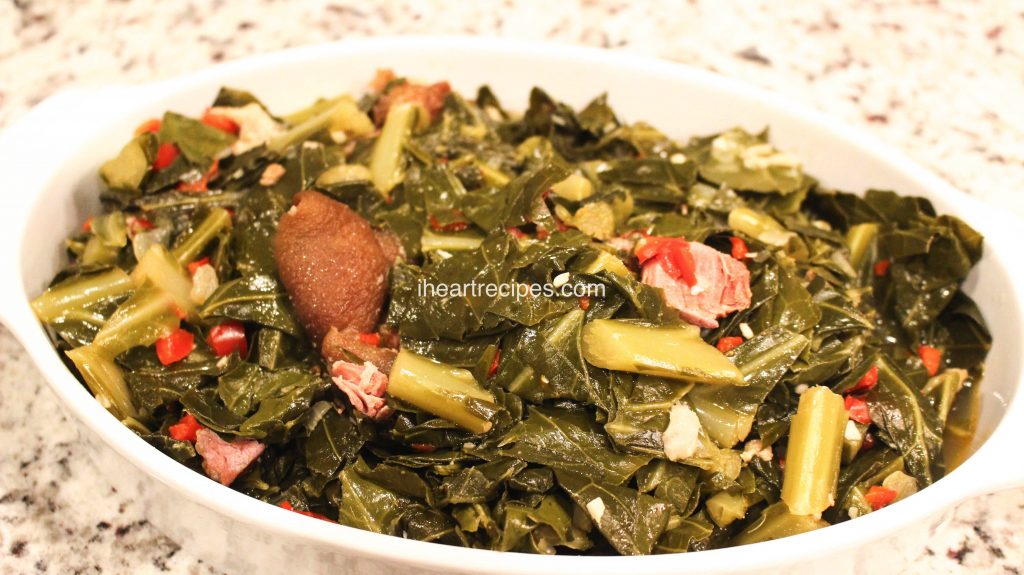 FYI – I prefer to use fresh collard greens. However, frozen greens cook well. Before adding my fresh collard greens into the pot with the ham hocks, I wash them really good! I make sure to remove all the dirt and grit. I also tear or cut the collard greens into small pieces.
This soul food style collard greens recipe is not spicy, because I don't use any hot peppers or anything, but if you'd like to and some heat to your greens, feel free!
Share this recipe for southern collard greens on Pinterest and Facebook! Check out my video tutorial and print the recipe below. (Don't forget, subscribe to I Heart Recipes on YouTube!)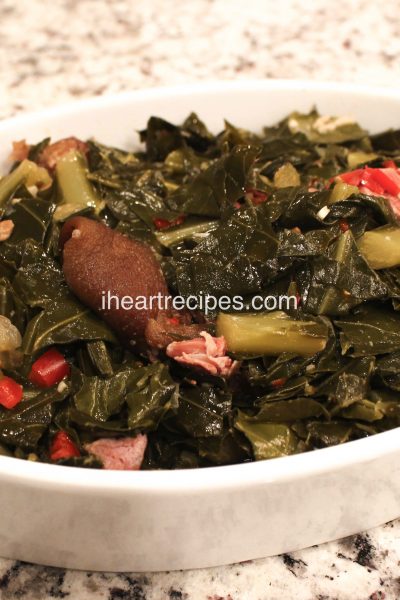 Southern Collard Greens with Ham Hocks
These southern collard greens with ham hocks are made with red peppers, onions, and garlic - slow-cooked to perfection for a classic comfort food dish. 
Watch Video
Print Recipe
Pin Recipe
Instructions
Start off by placing the smoked ham hocks and the 8 cups of water into a slow cooker.

Set the slow cooker on high, and let cook for 3 hours, or until tender.

Next, transfer the ham hocks, and the liquid to a large pot.

Place the pot over medium high heat, and start adding in the collard greens.

Once all of the collard greens are in the pot, add in the onions, peppers, garlic, and seasonings.

Give everything a nice stir, then add in the vinegar.

Reduce the heat to medium, and let the greens cook for about an hour, or until tender.
Video
If you loved this recipe,
leave me a review below
. This helps future recipe makers and ensures continued high-quality recipes for years to come!
© 2023 I Heart Recipes