Tender slow cooked soul food style collard greens and smoked ham hocks recipe.
I just love greens! Seriously I do. It's hard to believe that there was a time that I didn't care much for them. When I was a little girl, we had greens almost every darn day, and I hated it.  I wanted to just eat mac and cheese, and fried chicken – I didn't want no darn greens! That was how it was until I was about 12. I don't know what came over me, but one day my mom made a big ol' pot of tender collard greens and smoked ham hocks and it was over!! The greens were so freaking tender, and flavorful. The smoked ham hocks were cooked until the meat & fat fell right off of the bone. Just thinking about it is making my mouth water! Yasssssss – my moms greens are the bomb, and I modeled my greens after hers.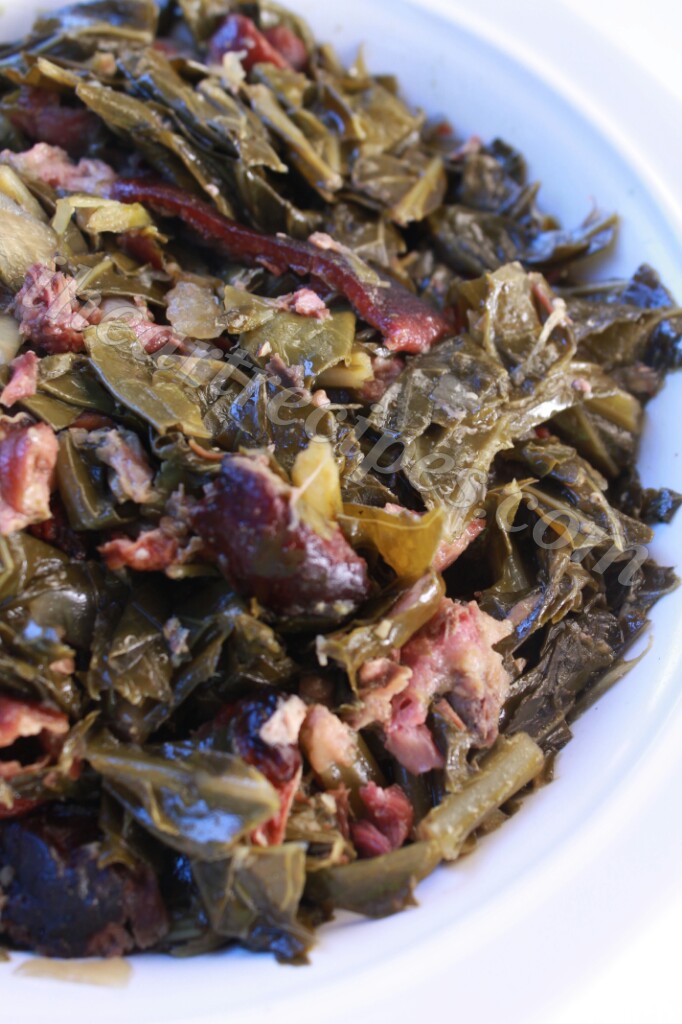 One thing that I never understood was why in the heck did my mom stand over that darn stove cooking those greens all day. To me in was, and still is a waste of time.  I hate standing over a pot all day, stirring, and seasoning, and tossing stuff in. I'd much rather just put everything into a pot, and go to another dish. At least that's how I feel when it comes to making collard greens. Let's be honest, cooking greens is not that interesting. Heck, It's pretty darn boring. You gotta clean the greens, then cut them, then cook them. What's interesting about it? Nada darn thing! LOL. However, they taste so dang good. Therefore I make them!
Whenever I make my soul food collard greens and smoked ham hocks, I make it simple. I cook them in my Crock-Pot. That's right- you heard me!  I make my greens in the slow cooker, and they always come out perfect!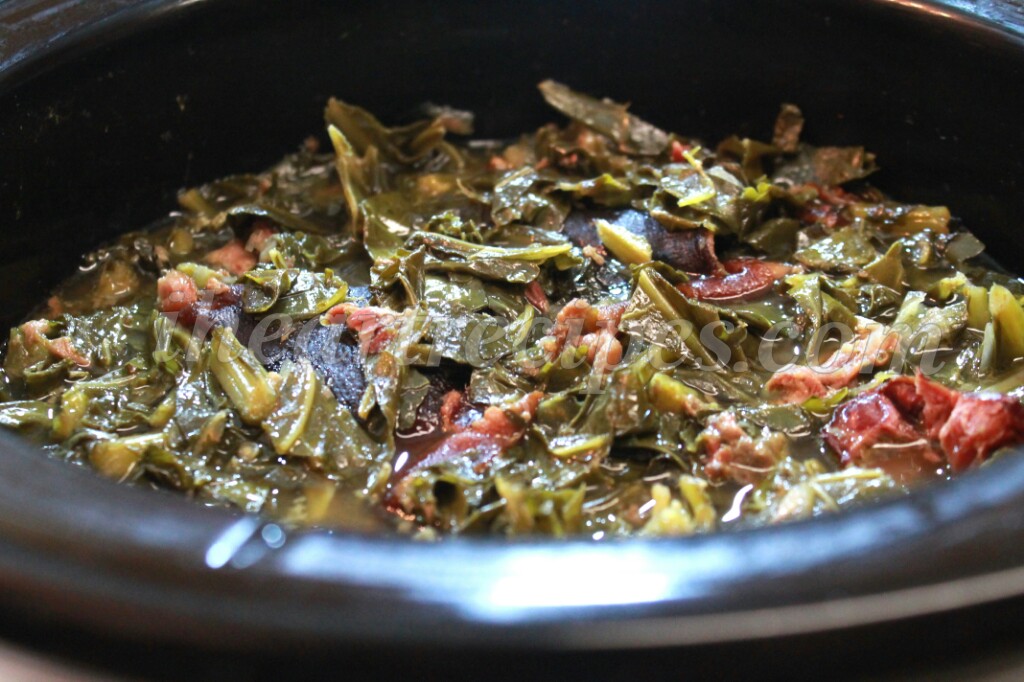 I start off with the smoked ham hocks(which adds most of the flavor to the greens). You see, in order to have a plate of bomb  greens and ham hocks, you MUST cook the ham hocks right. You want to cook the meat until it falls off of the bone, because you want to make sure that there is ham hocks throughout the whole pot. Also, you want the ham hocks nice and tender.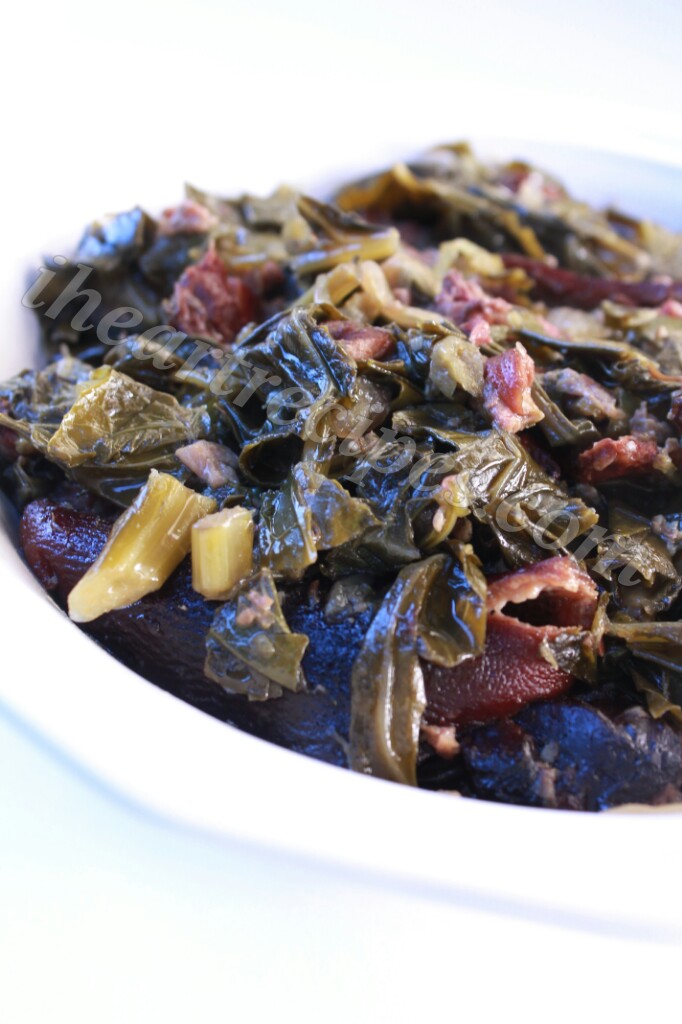 For for flavor, I also use onions, garlic, jalapeno peppers, and apple cider vinegar. If you don't like, or can't have spicy food, omit the spicy peppers. If you want it spicier – add more peppers!
Oh by the way, you can use this recipe for turnips, mustard greens, and more! Also if you don't eat port, substitute the ham hocks with smoked turkey wings.
Watch my video tutorial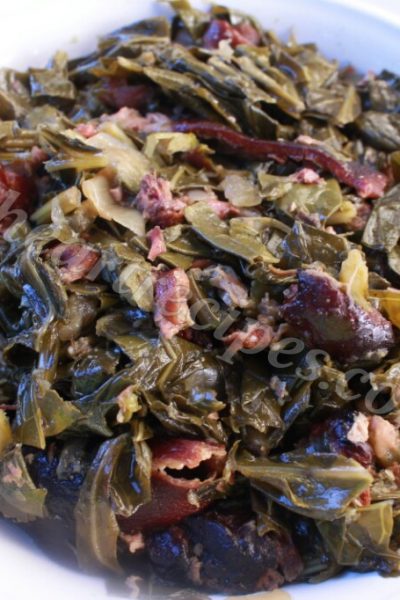 Crock-Pot Collard Greens and Ham Hocks
Tender collard greens and smoked ham hocks cooked in the slow cooker. The smokiness from the ham hocks is infused through the collard greens and it's cooked low and slow for tender, flavorful greens with a fraction of the effort!
Watch Video
Print Recipe
Pin Recipe
Instructions
Place the ham hocks, onions, garlic, and peppers into the slow cooker, then turn pour in 8 cups of water.

Put the lid on the slow cooker, then set on high for 6 hours.

After 4 hours the ham hocks should be tender and falling off of the bone.

Start adding in the collard greens.

Sprinkle in the salt & pepper, then add in the apple cider vinegar.

Give everything a stir, then let cook for two more hours.

Serve and enjoy!
Video
Notes
I used 6 quart Crock-Pot, and was able to fit everything.
If you loved this recipe,
leave me a review below
. This helps future recipe makers and ensures continued high-quality recipes for years to come!
© 2023 I Heart Recipes