Good Ol' Homemade Southern Style Salisbury Steak!
What is better than some southern style salisbury steak? It being served with some creamy & buttery mashed potatoes, and a nice serving of southern style green beans on the side! Well it just so happens that that was what I was craving the other day, so I made it- and of course I recorded it ( video below!)
Now let's talk salisbury steak. What is salisbury steak? ( I know there are some people that don't know what it is, and I am here to inform you sweetie. Salisbury Steak is a meat patty usually made out ground beef, spices, and bread crumbs. Once the meat patty is formed, it is then fried, and smothered with a rich creamy onion gravy. Sounds pretty dang good huh? Well it is! Lemme tell you how I make my homemade salisbury steak!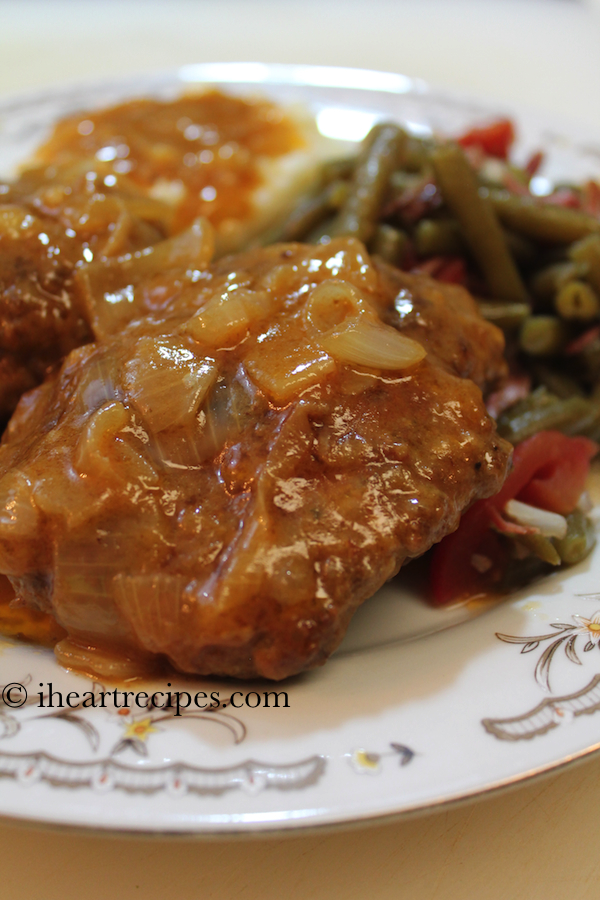 So as mentioned before, salisbury steak is usually made out of ground beef, and that is what I use. I have heard of some people using ground turkey to make their patties, but I'm going to keep it real with you – I wouldn't do it! Nope. I'm not gonna lie. It doesn't even sounds like real salisbury steak to me. If you wanna go the ground turkey route- that's you boo….Let's carry on!
Salisbury steak is known for it's onion gravy. Some people skip out on making their own gravy and they use canned onion soup. I personally don't like the condensed onion soup gravy stuff. Most of the time the onion soup is too salt, and In my mind It's still soup, and doesn't replace homemade gravy!
Honestly making your own onion gravy doesn't take a lot of time, and chances are you have all of the ingredients to make it. So rock with me, live a little, and try making it homemade.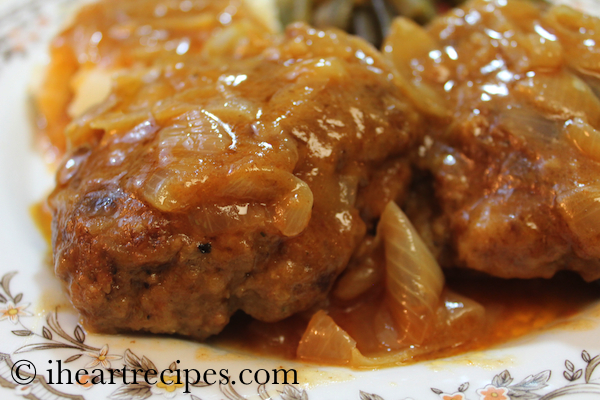 This salisbury steak is seriously the BOMB. It's easy to make, and  it is comfort food at it's best. Skip out on buying the frozen stuff, and try making this southern style salisbury steak. Be sure to watch the video tutorial below, and share this recipe with your friends ( especially the single ones, because this dish right here will get you a ring hunnyyyy yassss!)..
Watch the video tutorial
Salisbury Steak Recipe
This delicious homemade salisbury steak with homemade onion gravy is savory and filling. The gravy is great over rice and mashed potatoes as well, the perfect sides for this recipe!
Ingredients
1

lb

ground beef

1/2

cup

dry bread crumbs

1

large egg

1

tbsp

worcestershire sauce

1

tsp

seasoning salt or salt free seasoning

1

tsp

onion powder

2

tsp

minced garlic

1/2

tsp

ground black pepper

2

tbsp

olive oil

or vegetable oil

2

medium sized yellow onions

chopped

2

tbsp

all purpose flour

2

tbsp

catsup

2

cups

beef broth
Instructions
Place the ground beef into a large bowl.

Next crack open the egg, and it into the bowl.

Sprinkle in the bread crumbs and seasonings, then the worcestershire sauce.

Use your hand ( or kitchen utensil) to mix all of the ingredients, then form 4 patties.

Head over to the stovetop, and place a large skillet on the stovetop.

Drizzle in 2 tbsp of oil, then turn the stove on medium.

Once the oil is nice and hot, start adding in the patties.

Brown each side of the patties, then remove them from the skillet.

Toss in the onions, and fry them until they soften up a bit.

Next, sprinkle in the all purpose flour, and stir.

Add in the catsup, followed by the beef broth, then stir everything until it's well combined.

Add the patties back into the pan, and smother them with the gravy.

turn the heat down to low medium, cover, and let cook for about 15-20 minutes.

Serve with mashed potatoes, rice, or pasta.

Enjoy!
Video