Roasted Brussels sprouts with balsamic vinegar, bacon and garlic. Seriously the best Brussels sprouts recipe ever!
A Delicious Recipe for Roasted Brussels Sprouts with Balsamic Vinegar & Bacon
Who is in need an amazing vegetable side dish? Well, I have many to choose from including my southern soul fool collard greens, corn pudding, and even my green bean, bacon, and potatoes. Now I'm back with another winner! We're going to make roasted Brussels sprouts with balsamic vinegar, bacon and lots of delicious fresh garlic!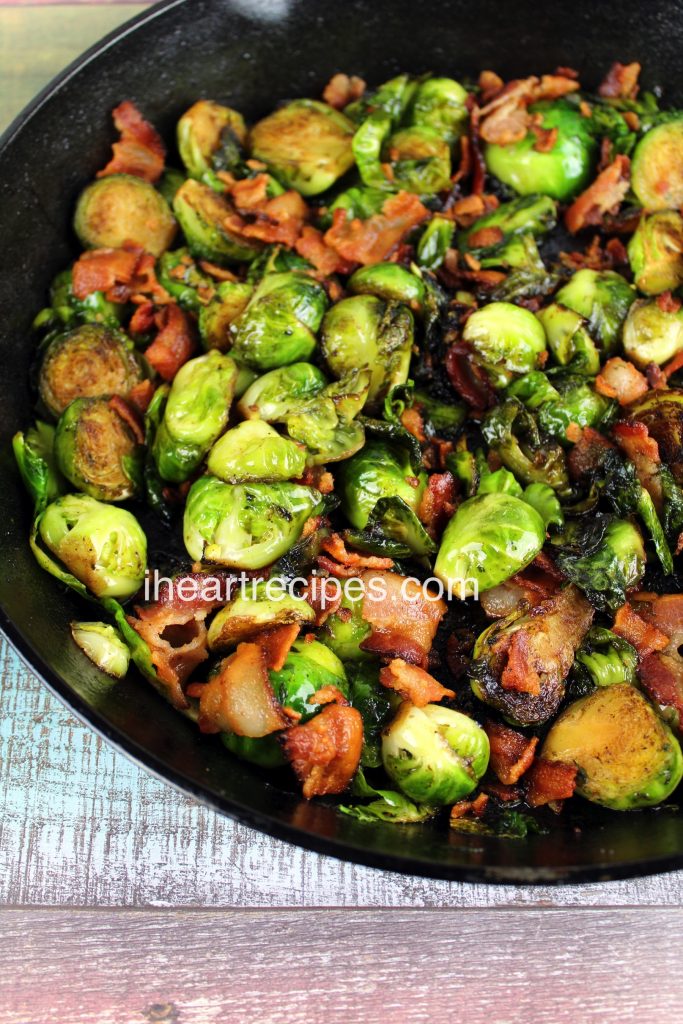 Roasted Brussels sprouts are super simple to make, and they're a true crowd pleaser. I swear, every time that I make these roasted Brussels sprouts, people always ask for seconds and the recipe!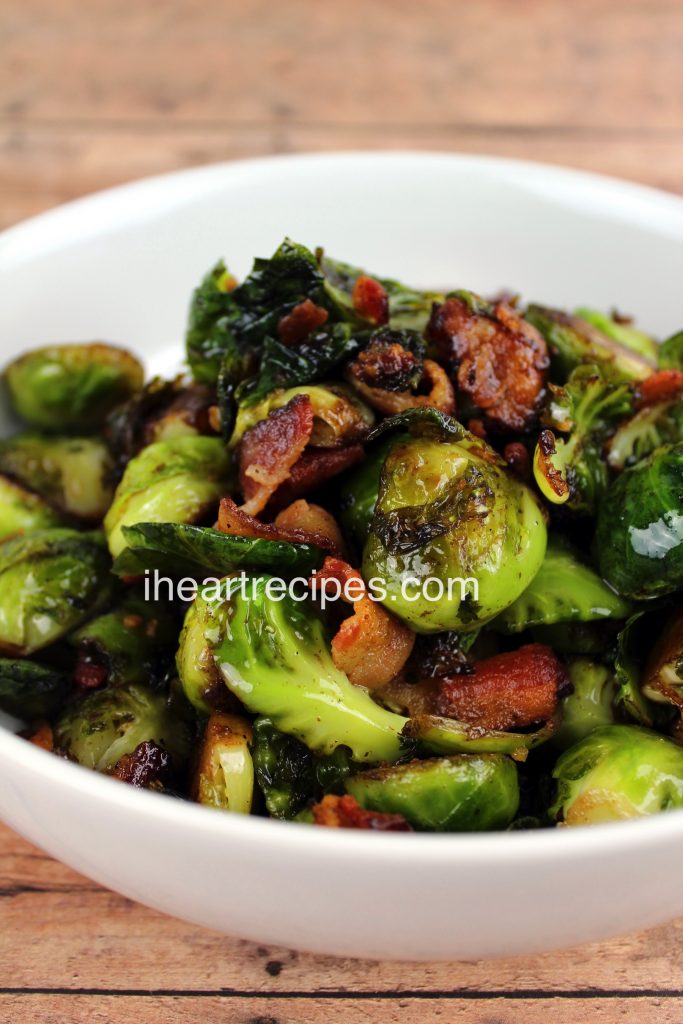 The best things about this recipe (other than the taste) is that I only use a few ingredients. Also, I don't go crazy with the balsamic vinegar, but I load this dish with garlic & bacon. If you're not as crazy as I am about garlic, you can use less!
The ingredients that you need:
Brussels sprouts: If using fresh, remove the outer leaves. Frozen can be used as well

.
olive oil

bacon

balsamic vinegar: needed to make that amazing balsamic glaze.

garlic
pepper
kosher salt
If you're not a huge fan of Brussels sprouts, you can replace them with:
cauliflower
asparagus
broccoli
carrots
OR mix some of these vegetables in along with the Brussels sprouts. The flavors will be amazing!
You can roast this dish in cast iron skillet or line a sheet pan with foil and place the ingredients on top in a single layer. Either way works!
Want to add a little more flavor? Once done, you can finish this dish off by sprinkling some feta or parmesan cheese on top!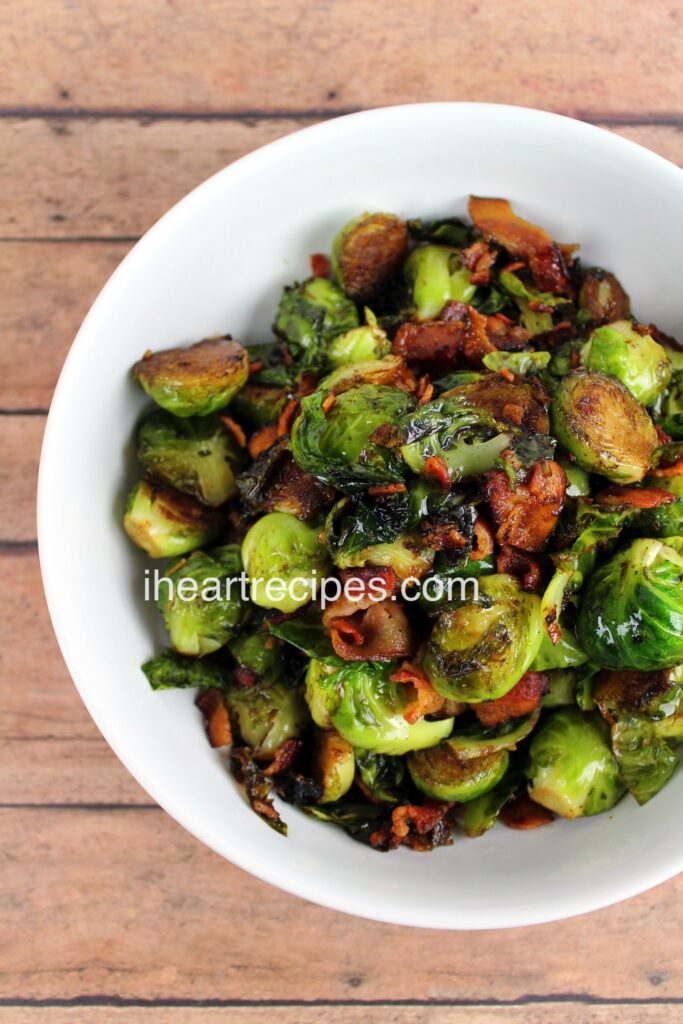 Share & save this recipe on Pinterest! Get the recipe below, and be sure to subscribe to my YouTube Channel! Let me know how you enjoyed this recipe. Tag me on Facebook and Instagram! Check out my brand new cookbook, Super Soul Food with Cousin Rosie, loaded with many recipes you can't find anywhere else.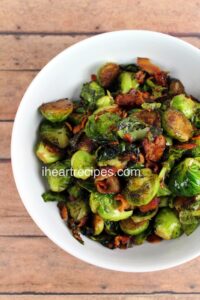 Roasted Brussels Sprouts with Balsamic Vinegar & Bacon
Tender roasted Brussels sprouts with savory bacon, balsamic vinegar, garlic and more play so well together. Delicious as a side dish or as a main course.
Print Recipe
Pin Recipe
Instructions
Drizzle the olive oil into the large pan, and place over medium heat.

Add the bacon in a large pan, and fry until the bacon is fully cooked. Remove from the pan.

Next add in the garlic, and cook for 1 minutes, then remove the garlic from the pan, and set aside.

Now remove the pan from the heat, and drizzle in the balsamic vinegar.

Stir the bacon dripping, and the vinegar.

Next add the brussels sprouts into a cast iron pan or baking sheet, and drizzle the bacon fat/ vinegar mixture all over the sprouts.

Toss in the garlic, sprinkle in the salt & pepper, then combine the ingredients.

Roast in the oven, uncovered for about 20 -25 minutes or until tender, but be sure to stir occasionally!

Remove from the oven, and toss in the cooked bacon.
If you loved this recipe,
leave me a review below
. This helps future recipe makers and ensures continued high-quality recipes for years to come!
© 2023 I Heart Recipes
Loved this roasted Brussel sprouts dish? Try these recipes as well. They're amazing!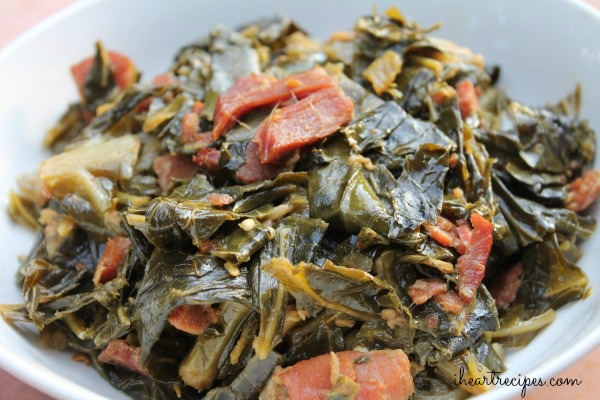 ---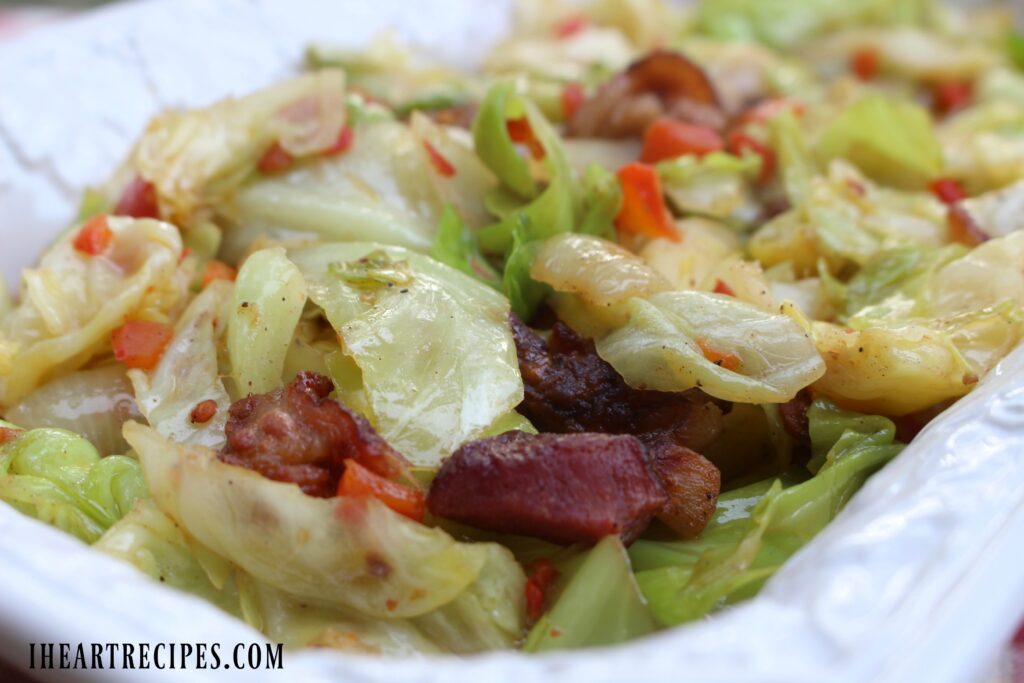 ---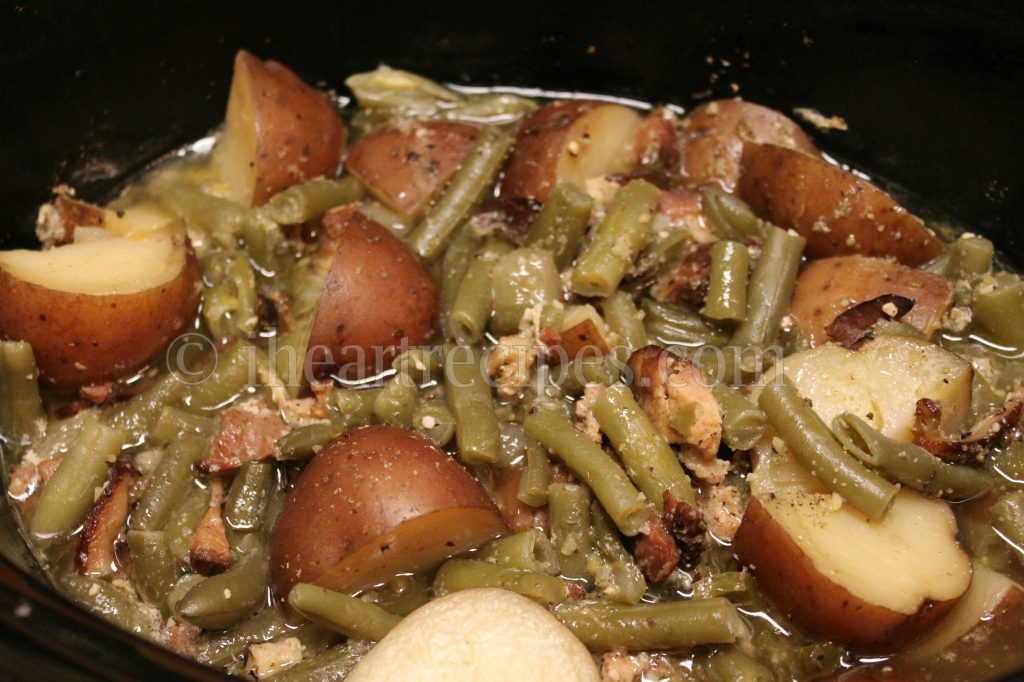 Southern Green Beans, Bacon, and Potatoes (FACEBOOK FAVORITE!!!)
---