Southern green beans with russet potatoes, smoked turkey, onions, and garlic. Cooked until tender!
A few months ago my southern green beans, bacon, and potatoes went viral on Facebook. There's no wonder why- People LOVE easy delicious meals, especially when they are affordable. My southern green bean recipes are always super easy to make, and I always use budget friendly ingredients when it comes to my green bean dishes. Although many people loved my original southern green beans, bacon, and potato video, I had a couple of people ask if the recipe could be made differently.
Some people asked me to make my southern green beans recipe pork free, and others asked me to make the green beans on the stovetop instead of the slow cooker. Another request that some people made was to make the green beans and potatoes with smoked turkey, and NO spicy jalapenos. Last, but not least several people asked me to make the recipe using fresh green beans instead of frozen.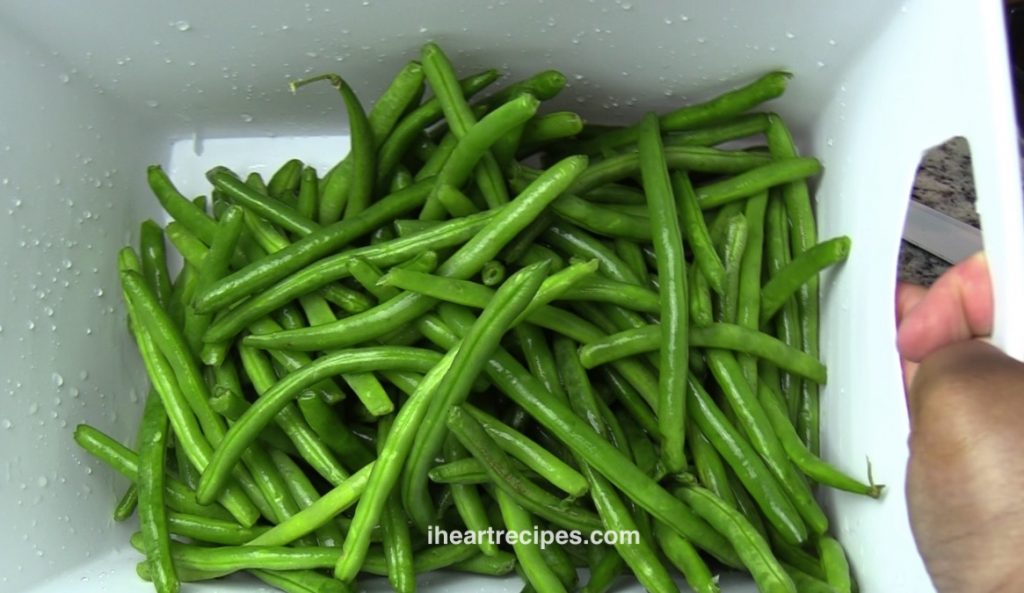 How to Make Southern Style Green Beans with Potatoes and Turkey
I was game to show everyone another way to make my green beans and potatoes. This time I'm using smoked turkey legs! I start of by boiling the smoked turkey legs in water. I cook the turkey until it's nice and tender, then I remove it from the water, and shred or dice up the meat. I DO NOT TOSS OUT THE WATER! I use the water, because there is a ton of flavor from the turkey in there! I actually toss the green beans into the pot of "broth" (the water from the turkey), along with diced potatoes, onions, and garlic, and of course the smoked turkey. I then let everything cook until it's nice and tender!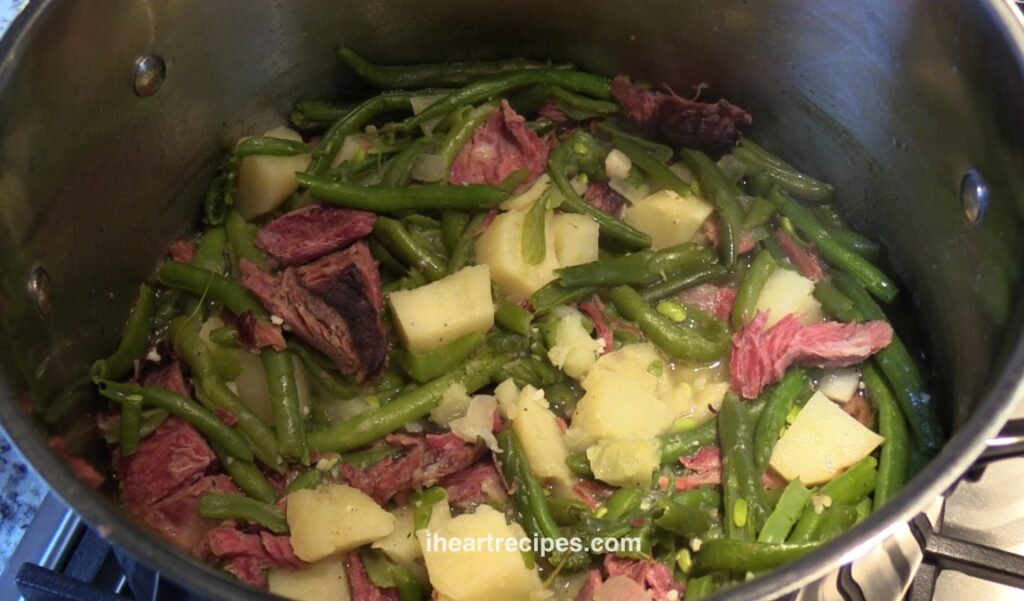 The outcome is amazing! This southern green bean, potatoes, and smoked turkey is actually a complete meal (in my household) if anything, we just serve it with cornbread. Give this recipe a try!
Pin and share this recipe on Pinterest!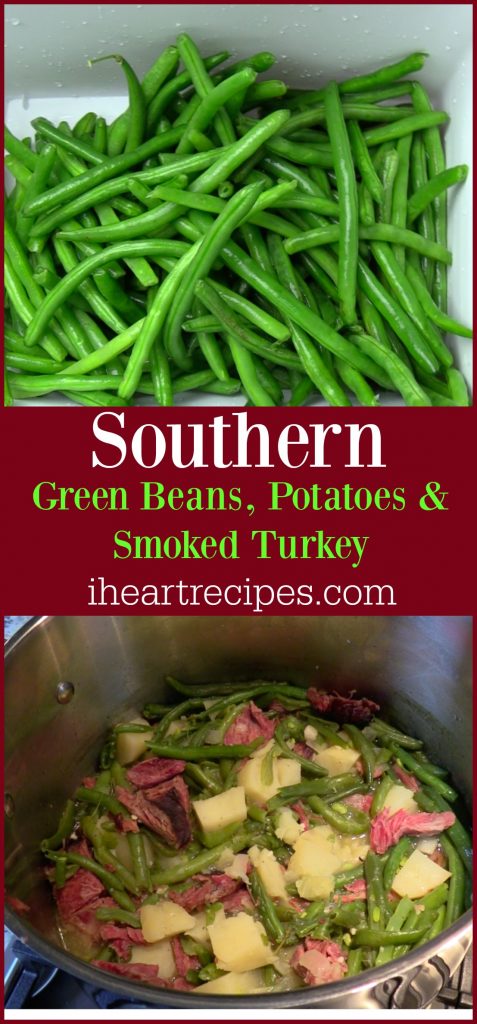 Watch my video tutorial, and don't forget to print the recipe below, and subscribe to my YouTube channel!
Southern Green Beans with Potatoes and Turkey
This southern style side dish is packed with flavor and paired with tender potatoes and ground turkey.
Watch Video
Print Recipe
Pin Recipe
Instructions
Start off by placing the smoked turkey into a large pot.

Pour the broth or water into the pot, then turn the heat to high.

Let the turkey cook until it's nice and tender, then remove it from the pot. Be sure to NOT drain the liquid from the pot. We will use it!

Shred or dice up the turkey meat. Make sure to remove all the bones, and skin.

Now toss the green beans, smoked turkey, onions, and garlic into the pot with the liquid.

Sprinkle in the seasonings, and stir the ingredients.

Cook for about 10 minutes, then add in the potatoes.

Cook until everything is nice and tender, or cook to your preference.

Serve and enjoy with cornbread
Video
If you loved this recipe,
leave me a review below
. This helps future recipe makers and ensures continued high-quality recipes for years to come!
© 2023 I Heart Recipes
Check out these recipes as well!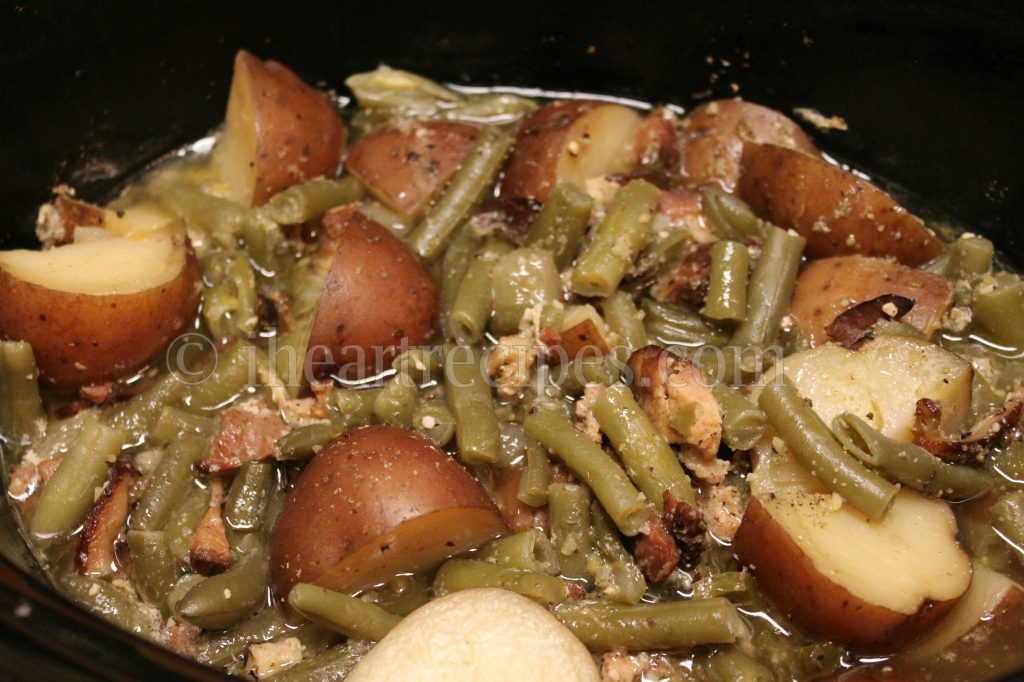 Slow Cooker Green Beans, Potatoes, and Bacon
---

Southern Green Beans & Smoked Turkey with Tomatoes
---

---