Homemade cheddar garlic mashed potatoes are perfectly creamy and crazy simple to make! You can pair these cheesy mashed potatoes with just about any comfort dish.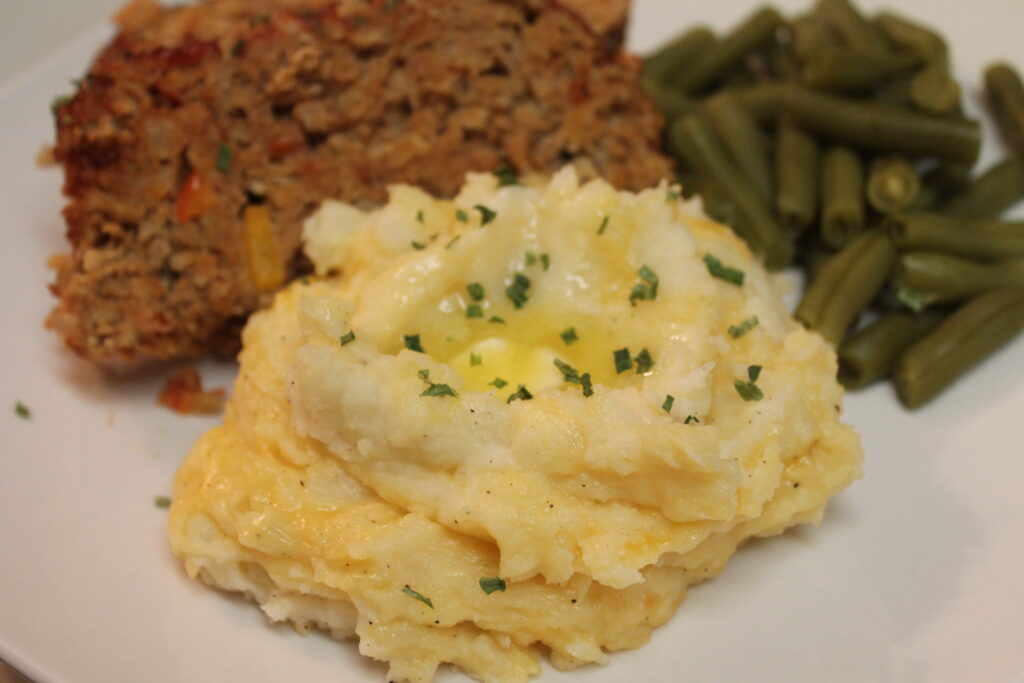 If you love all things creamy and cheesy, you are in for a special treat today! I recently made the best pot of cheddar garlic mashed potatoes. It was simply out of this world! The combination of creamy, perfectly cooked potatoes with sharp cheddar cheese and garlic is enough to make just about anyone's mouth water! These homemade cheesy mashed potatoes are truly delicious.
Typically, mashed potatoes are one of the stars of a holiday dinner spread. Thanksgiving and Christmas dinners are incomplete without mashed taters in my home. But I say, why limit this goodness to just the holidays? So if you're looking for an easy, almost-everyday mashed potato recipe, I encourage you to try these cheesy garlic mashed potatoes! They're SO easy to make, don't require a ton of ingredients, and are ready from start to finish in just about 30 minutes.
Ingredients for Cheesy Garlic Mashed Potatoes
You don't need much to make this crazy simple mashed potatoes recipe. So, pack yo'self up and head on over to the grocery store with this shopping list! To make homemade cheddar garlic mashed potatoes, you will need the following:
Potatoes (I like to use russets, or you could use Yukon gold)
Shredded sharp cheddar cheese
Half-and-half (heavy cream would also suffice)
Garlic (minced garlic or fresh garlic cloves, your call!)
Salted butter
Salt and pepper
Now, in a little bit, I'll talk about some delicious ways to take your cheesy mashed potatoes to the next level. But for the basics, that list is all you need! Pro-tip: I recommend avoiding pre-shredded cheddar cheese, which has preservatives that could change the texture of your mashed potatoes. Buy a block of cheese and shred it yourself—it's easy and just as budget-friendly, if not cheaper!
What are the best potatoes for mashed potatoes?
The best kind of potatoes for mashing are the starchy kind—russets, Yukon gold potatoes, or even red potatoes. I would say red potatoes are the lowest on the "best potato" list since they're the least starchy of the three, but if they're what you have on hand, they will do! I use the classic russet potatoes for my cheddar garlic mashed potatoes recipe.
What kitchen equipment do you need to make mashed potatoes?
As you'll see in my video, I use the bare minimum kitchen tools to make these cheesy mashed potatoes: a large bowl, a whisk, and a spatula for mixing. However, you can also use:
A potato masher or potato ricer for smooth potatoes. A masher will create a thicker consistency, and a potato ricer will produce lighter, fluffier potatoes.
A hand mixer. Using an electric hand mixer might make things easier on your hands but use caution! Over-mashed potatoes can turn gummy. A hand mixer on low speed can help you whip up a smooth batch of whipped potatoes.
A garlic mincer. If you're mincing fresh garlic, this baby is a lifesaver, making it way easier than chopping up a single clove of garlic into tiny lil' pieces!
How to Make Creamy Cheddar Garlic Mashed Potatoes: Pro-Tips + FAQs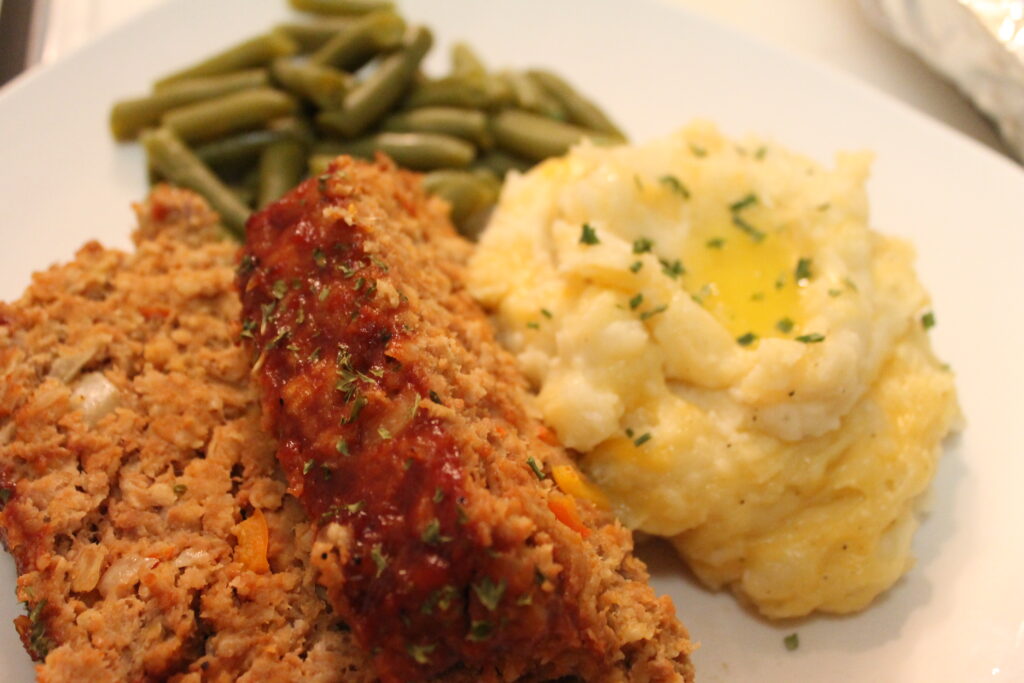 You might think there's not much to making good ol' mashed potatoes, and you'd be right! However, there are many ways to make delicious mashed potatoes, so we'll go over some FAQs, pro tips, and different ways to level up your mashed potato makin' game.
How do you make the best cheesy garlic mashed potatoes?
Here's a quick step-by-step to make cheesy mashed potatoes:
First, peel and boil the potatoes until fork tender. Once the potatoes are done, drain the water.
While the potatoes are boiling, melt two tablespoons of butter and sauté with the minced garlic.
Add the potatoes to the garlic butter, then begin mashing. This is when you'll add the half-and-half, salt and pepper, and shredded cheese. Mix until the mashed potatoes reach your desired consistency!
How long do you boil potatoes?
How long you cook your potatoes depends on how you cut them up when boiling. My russet potatoes are peeled and chopped into about 2-inch cubes. You'll want to boil the potatoes in well-salted water for 15-20 minutes until they are fork-tender. Also, start with cold water—not hot! I don't recommend cutting them into smaller cubes than about 2 inches; otherwise, they can easily overcook and become mushy and water-logged.
Want super flavorful potatoes? Boil them in chicken broth!
I've shared this before in my creamy mashed potatoes recipe—boiling the potatoes in chicken broth is a game-changer! It seriously adds so much flavor. If you use chicken broth, you don't have to salt it—there's plenty of salt in the liquid already, even if you use low sodium.
Amp up the flavor by sauteing the garlic in butter.
I first sauté the minced garlic in two tablespoons of salted butter in my cheesy mashed potatoes recipe. This really brings out the flavors, infusing the butter with that savory, garlicky flavor. Should you use fresh garlic cloves or pre-minced garlic? Totally up to you. I use jarred minced garlic cause it's easier, and I had it on hand. You'll need 1-2 cloves if you're using fresh garlic.
My mashed potatoes aren't creamy enough; how can I fix that?
There are plenty of ways to fix this problem. First, add more fats—like dairy! Add more butter, preferably at room temperature, so it mixes smoothly. You could also add extra ingredients like sour cream or cream cheese to increase the creaminess of your cheddar mashed potatoes. Pro-tip: don't add cold ingredients! Cold butter, sour cream, or cream cheese will only cool the potatoes down, changing the texture and making it harder to mix into a perfectly creamy consistency. Another tip is don't add all the liquid—in this recipe, the half-and-half—all at once. Instead, add about ½ cup at a time, mixing in between.
What else can I add to cheddar garlic mashed potatoes?
What I love about this recipe is that you can go simple with cheddar cheese and garlic, or you can do all out, fully loaded, and maximize the flavor with add-ins. Some extras you can toss in for more flavor:
Additional spices like garlic powder, onion powder, or white pepper. These are all strong seasonings, so start with small amounts (1/2 teaspoon) and taste test before adding more.
Herbs like fresh chives, green onions, or fresh parsley.
Fresh bacon or bacon bits for loaded-style cheesy potatoes.
Additional cheeses like white cheddar or parmesan cheese. I love sharp cheddar, but milk cheddar cheese would also work.
Is it better to use salted or unsalted butter for mashed potatoes?
Whether you use salted butter or unsalted butter is totally up to you. Using unsalted allows you to control the salt level in the mashed potatoes. Salted butter adds a bit of salt, so you'll want to taste the mashed potatoes before adding any additional salt. If you want to omit the butter all together, you could sub in margarine instead.
What do you serve with cheddar garlic mashed potatoes?
Mashed potatoes are the perfect side dish because they pair so well with so many dishes. I served the potatoes with my turkey meatloaf and green beans (you could even try my green bean casserole cups). Dinner was definitely a hit that night! However, here are some other perfect pairings:
Cheddar Garlic Mashed Potatoes Recipe Card + Video Tutorial
If you want to see exactly how I make my creamy, cheesy garlic mashed potatoes, I made a YouTube video tutorial for y'all! You can also find the exact measurements and directions in the recipe card below. I can't wait for my Cousins to try this mashed potatoes recipe and love it just as much as my whole family did. Make sure you follow along with all things Rosie and I Heart Recipes by following me on Facebook, Instagram, and Pinterest, subscribe to I Heart Recipes on YouTube, and check out all my cookbooks! I just released a brand new cookbook, Super Soul Food with Cousin Rosie, with many recipes you can't find anywhere else.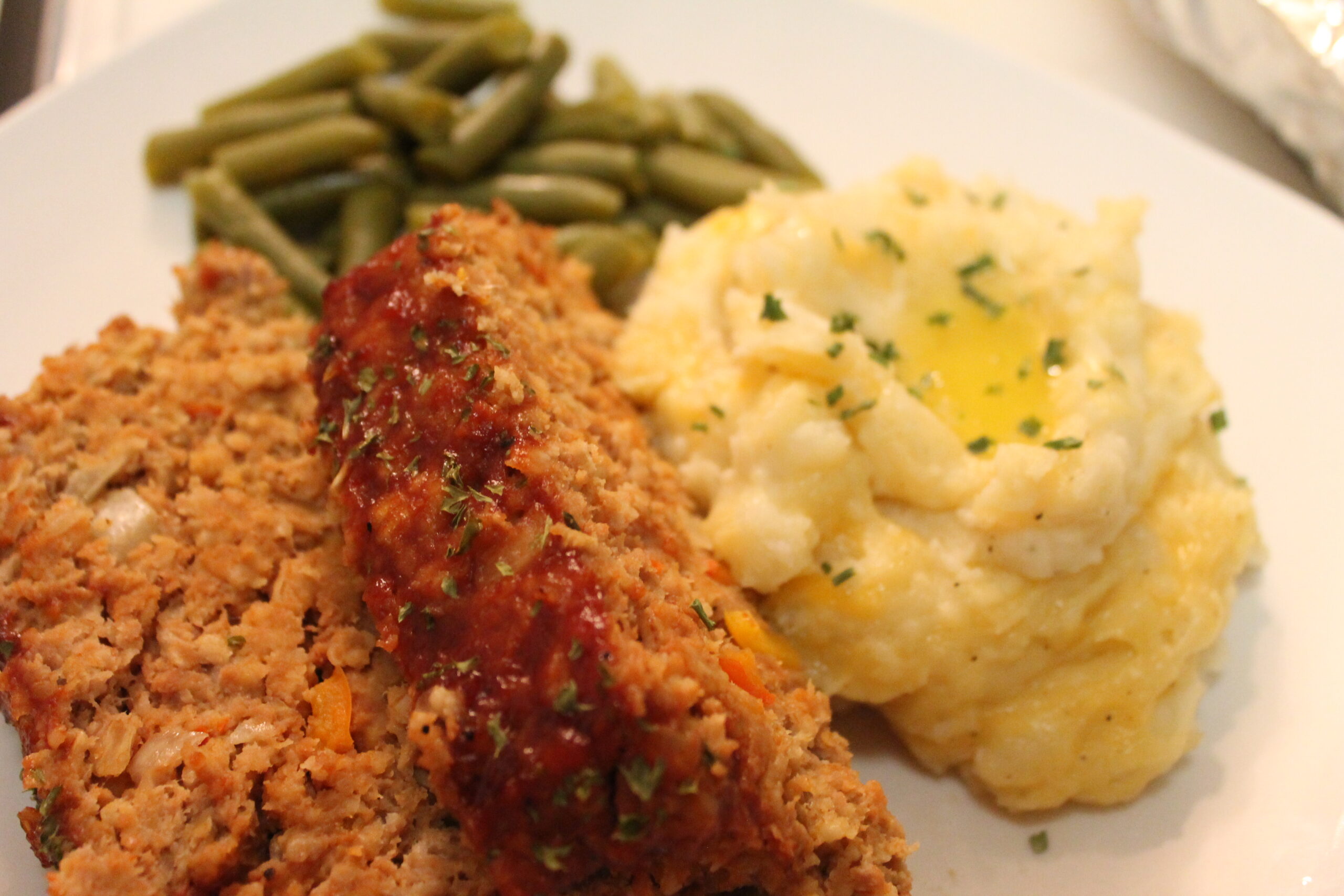 Cheddar Garlic Mashed Potatoes
Who doesn't love all things creamy and cheesy? These cheddar garlic mashed potatoes make for the perfect addition to any comfort food dish.
Watch Video
Print Recipe
Pin Recipe
Instructions
Peel and dice the potatoes into about 2-inch cubes.

Fill a pot with enough water to cover the potatoes by about an inch. Boil the potatoes until tender (about 15-20 minutes), then drain.

Add 2 tbsp of butter to a pan and melt it over medium heat.

Once the butter is melted, add in the garlic and cook for 1-2 minutes.

Add the drained potatoes into the pan and begin to mash them together with the garlic butter.

Pour in 1/2 cup of the half and half, then stir the potatoes. Pour in the remaining half and half, and stir the potatoes until smooth.

Sprinkle in the salt and pepper. Stir.

Sprinkle in the cheese, and fold in.

Serve!
Video
If you loved this recipe,
leave me a review below
. This helps future recipe makers and ensures continued high-quality recipes for years to come!
© 2023 I Heart Recipes