This Southern smothered chicken is packed with flavor. Tender chicken cooked in a creamy homemade onion and garlic gravy. It's the ultimate Soul Food!
Whenever I make this Southern smothered chicken recipe, it reminds me of my childhood. Every Sunday, my mom would make a bigger-than-usual Southern-style Sunday dinner. The table always had sweet cornbread, collard greens with ham hocks, potato salad, and so much more. Sometimes there was catfish or ribs; but most of the time, it was chicken.
My mom made the best Southern smothered chicken when I was younger (I have her beat now!). My mother's mothered chicken recipe had lots of gravy and onions and chicken so tender it would fall off the bone, all served over rice. I couldn't get enough! On those warm weather days when we'd eat dinners outside, the whole block would be beggin' for a bite, but I'd never share! Now that I'm grown and know how to cook, I've perfected my very own recipe for Southern smothered chicken, and in this post, I'm going to show you how to make it!
What Is Smothered Chicken?
Smothered chicken is a true Southern comfort food right outta the heart of the South. It's made up of succulent pan-fried chicken that's cooked in the creamiest brown gravy you can imagine. If y'all have been around for a while, you know that I have no shortage of smothered recipes. I've made smothered pork chops, smothered turkey necks, smothered oxtail, and a smothered beef roast. I even have recipes for smothered potatoes and smothered cabbage. You know you're a true Southern Soul Food cook when you're stocked full of smothered recipes!
Ingredients for Southern Smothered Chicken
So, first things first: what ingredients do you need to make smothered chicken? The good news is, like with many of my recipes, you probably have a lot of the ingredients already in your kitchen. This smothered chicken recipe is super flavorful and easy to make. Here's everything you need.
Chicken: I use chicken thighs and legs and keep the skin on.
Onion & Garlic: aromatics to flavor the creamy onion gravy.
Chicken Broth & Whole Milk: the liquid base of the gravy.
All-Purpose Flour: for browning the chicken and thickening the gravy.
Seasonings: I use a combination of salt, black pepper, poultry seasoning, celery seed, onion powder, garlic powder, and smoked paprika.
Vegetable Oil: just a little bit is needed to help pan-fry the chicken.
Supplies & Equipment Needed:
Large Bowl: for mixing the seasoned flour mixture and breading the chicken.
Measuring Spoons: to measure out the seasonings.
Measuring Cups: to measure the liquid ingredients.
Kitchen Utensils: you'll need a whisk, spatula or spoon, tongs, and a sharp knife for this recipe.
Large Skillet: like a cast iron skillet, for this mostly one-pan meal.
Paper Towel or Wire Rack: to drain the browned chicken after quick frying.
How to Make Southern Smothered Chicken
Making this soul food style smothered chicken could not be easier. We are going to brown the chicken and then cook the chicken in homemade creamy brown gravy that will also go great over mashed potatoes or rice! It's a one-skillet meal that is oh-so-flavorful; it's the definition of classic comfort food.
Smothered Chicken Video Tutorial
If you want the exact ingredient measurements and instructions, scroll on down to the recipe card at the end of this post! If you're a visual learner, watch my step-by-step smothered chicken recipe video tutorial below. Don't forget to subscribe to my YouTube channel to see hundreds more delicious Southern and Soul Food recipes!
Step 1: Bread and Fry the Chicken
The first step is to dredge the chicken pieces in a seasoned flour mixture. To start, add the flour and seasonings into a large bowl and whisk together. If the flour is clumpy, run it through a sifter to get rid of lumps. Pat the (clean) chicken pieces dry with a paper towel, then coat the chicken, making sure it's completely covered with that seasoned flour. Don't toss out that excess flour—we'll be using it to make our creamy gravy!
Next, we're going to brown the chicken. Heat some vegetable oil in a skillet over medium heat, then fry the chicken on all sides until it's nice and golden brown. Don't worry if the chicken isn't completely cooked through—it'll finish cooking in the gravy. We just want that nice, crispy browned chicken to have some flavor before smothering in the onion gravy.
Step 2: Make the Onion Gravy
Once the chicken is done browning, remove it from the pan and set it aside for a few minutes. Leave the oil and all those gloriously flavorful chicken drippings in the bottom of the pan! Toss the sliced onions into the pan and cook until soft and tender, about 2-3 minutes. Then add the minced garlic and cook for another 1-2 minutes. We don't want to burn the garlic, or it will turn bitter and ruin the whole dish. Remove as much of the onion and garlic as possible before moving on to making the gravy.
Add a heaping tablespoon of that seasoned flour into the pan cook it for 1-2 minutes until it's browned a little. Next, add the chicken broth and whole milk, stirring until everything is well combined. Don't worry if the gravy looks a little thin at this point—it will thicken up while it cooks, turning into a creamy, flavorful, seasoned chicken gravy.
Step 3: Cook the Chicken in the Gravy
Finally, toss everything back into the skillet—the sauteed onions and garlic, and that browned chicken. Make sure it's all nice and coated in the gravy, and then you're going to cover the pan and let that smothered chicken cook for 30-35 minutes. At the end, you'll have the creamiest onion gravy and fall-off-the-bone tender smothered chicken. I hope your mouth is watering just thinking about it, Cousins!
FAQs and Recipe Tips for Southern Smothered Chicken
I want y'all to make the most delicious version of this Southern food classic, so if you've got questions on how to perfect this recipe, I've got answers! Feel free to leave a comment down below letting me know how you customized this recipe, made it your own, or if you have any questions about ingredients or directions!
What are the best chicken pieces to use for smothered chicken?
In my Southern smothered chicken recipe, I prefer to use chicken drumsticks and thighs. I am a dark meat girl, and these cuts of chicken are juicy and tender when perfectly cooked. However, you could easily make this with chicken wings or boneless chicken breast. Pro-tip: if you prefer chicken breast, tenderize the surface of the breast with a meat tenderizer. This will help the seasoned flour breading stick, as well as thin out the breasts slightly so they cook more evenly. Keep in mind that the cooking times may change with other pieces of chicken. You always want the chicken cooked to an internal temperature of 165 degrees F.
Can I use heavy cream instead of milk for the gravy?
You sure can! Using heavy cream will result in a thicker, creamier gravy. You'll want to use just a little bit less cream than the required measurement to account for the extra thickness of the cream.
What other seasonings can I use in smothered chicken?
You can use whatever seasonings your heart desires! If I used a seasoning or spice you don't love, leave it out! Some other seasonings that would work great with smothered chicken and gravy are:
Red pepper flakes or cayenne pepper for a bit of heat.
Cajun seasoning or Creole seasoning for more of that Southern flavor.
Italian seasoning for more herbiness.
Chili powder adds a smokiness that pairs well with smoked paprika.
Chicken bouillon powder or cubes amplify that umami chicken flavor in the gravy.
Can I freeze leftover smothered chicken?
If there are any leftovers (not likely with this recipe 😉), you can freeze them for up to three months! Leftovers are best stored in an airtight container and will keep in the fridge for 4-5 days.
Can I use a gravy mix instead of making homemade gravy?
You certainly can, but let me tell you—making homemade gravy is crazy simple and way more delicious than a store-bought gravy mix! However, if you go the semi-homemade route, I'd suggest a brown gravy, peppered gravy, or mushroom gravy.
What to Serve with Southern Smothered Chicken
I typically serve my smothered chicken recipe over white rice and call it a day, but this Southern recipe pairs with plenty of delicious side dishes as well. To make a complete meal, serve smothered chicken with:
Make sure to save & share this recipe on Pinterest! Don't forget to follow along with all things Rosie and I Heart Recipes by following me on Facebook, Instagram, and Pinterest, and check out all my cookbooks!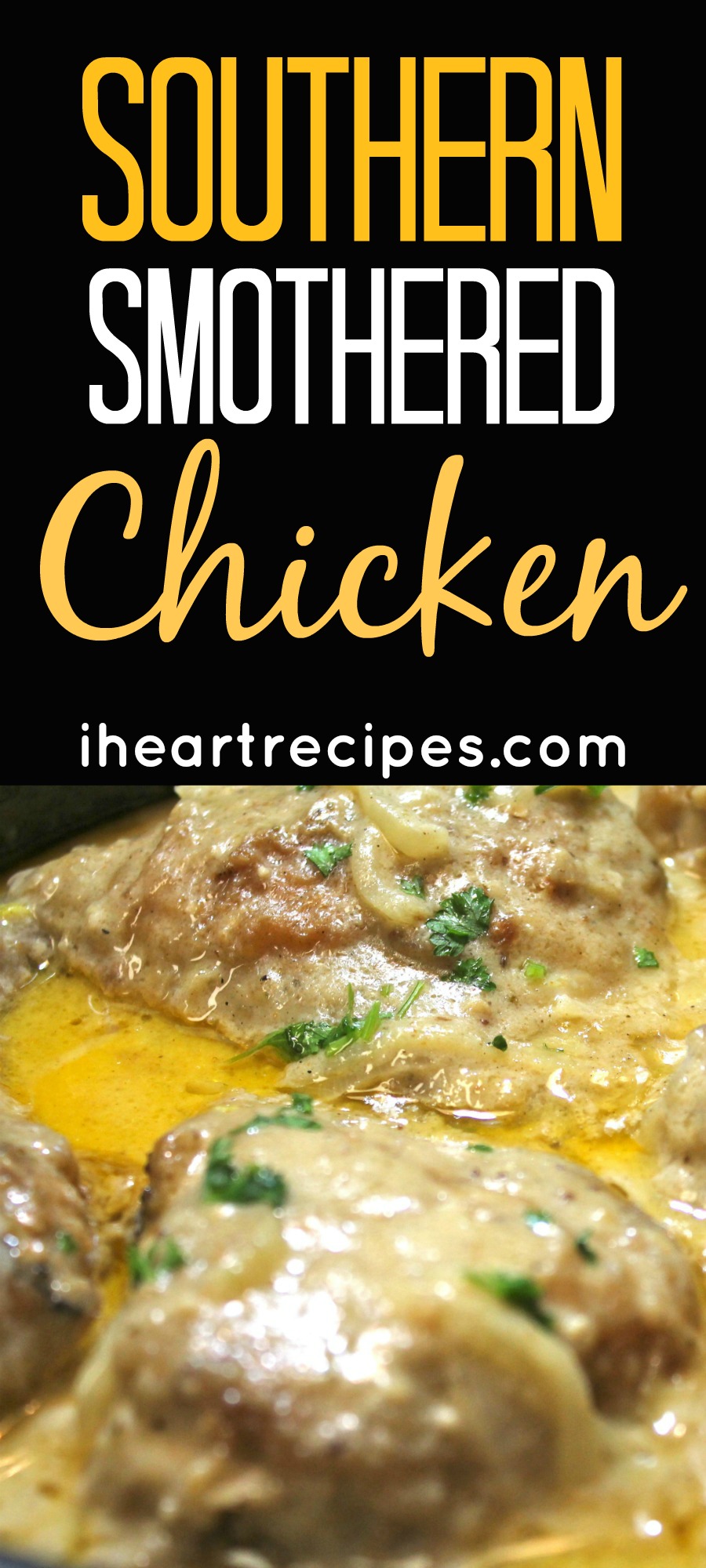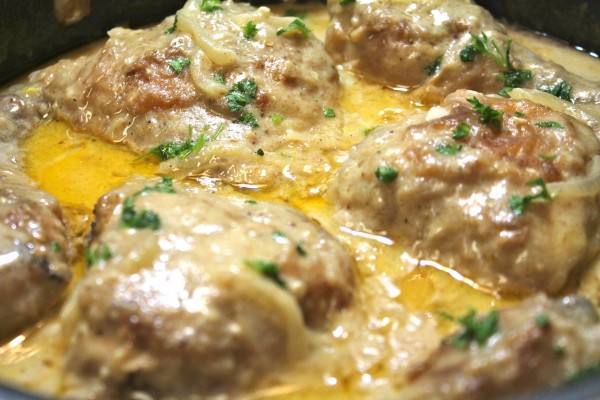 Southern Smothered Chicken Recipe
This Southern Smothered Chicken is made with golden browned chicken with an onion and garlic gravy that's perfect over your starch of choice. This is true Southern comfort.
Watch Video
Print Recipe
Pin Recipe
Instructions
Start off by making sure that all of the chicken is nice and clean.

Pour 1 1/2 cup flour into a large bowl, and add in seasonings: garlic powder, onion powder, salt, pepper, celery seed, poultry seasoning, and smoked paprika. Mix until well incorporated.

Coat the chicken with the seasoned flour; make sure you coat all surfaces. Reserve the seasoned flour for making the gravy.

Pour 1/4 cup of vegetable oil into a large pan, then place the plan over medium heat.

Start adding in the chicken, but be sure to not over-crowd the pan (use a pan big enough to hold all of the chicken).

Cook the chicken until it is golden brown (DO NOT worry about cooking the chicken until done, because we will cook it some more).

Once the chicken is nice and browned, remove it from the pan. Leave the oil in the pan.

Toss in the onions and cook them for about 2 minutes, then add in the garlic. Once the garlic is in the pan, let it cook for an additional minute, then remove the onions and garlic from the pan.

Add three tbsp of the seasoned flour (the same flour that you coat the chicken with) to the pan. Stir in with the oil.

Next, pour in 2 cups of chicken broth. Whisk in while pouring in the broth. Make sure there aren't any lumps.

Let the gravy cook for about 2 minutes (still on medium heat), then pour 1 cup of milk into the pan.

Let the creamy gravy cook for about 3 minutes, then start adding the chicken back into the pan, as well as the onions and garlic. Make sure all of the chicken is coated with the creamy gravy.

Place a lid on the pan, then let the chicken cook for 30-35 minutes. Be sure to occasionally turn the chicken.

Once done, serve the chicken with rice, mashed potatoes, or your favorite Southern side dishes.

Enjoy!
Video
If you loved this recipe,
leave me a review below
. This helps future recipe makers and ensures continued high-quality recipes for years to come!
© 2023 I Heart Recipes