Smothered potatoes and sausage is an easy recipe with simple, budget-friendly ingredients. The perfect Southern-style side dish!
Y'all know how much I love smothered recipes, so I'm back with another one! This time around, I'm sharing my recipe for Southern-style smothered potatoes and sausage. Like my smothered cabbage recipe, this smothered recipe doesn't involve any gravy. I've shared a recipe for regular smothered potatoes in the past, but somehow that recipe has disappeared (I'm still trying to figure out how!). No worries, though, because this smothered potatoes and sausage recipe is even better.
What Are Smothered Potatoes?
Smothered potatoes are pan-fried deliciousness. I love that this is such a versatile dish. You can do so much with it! Smothered potatoes are a classically Southern combination of potatoes, onions, and usually some other vegetables (if you choose). The potatoes are "smothered" in the rich, flavorful onions as they cook, infusing the dish with oh-so-much mouth-watering flavor.
Like most Southern dishes, everyone has their own recipe, so you really can't go wrong even if you don't make smothered potatoes in the "traditional" way. At I Heart Recipes, we're all about making cooking easy—and that's exactly what this recipe is! Smothered potatoes and sausage is a great side dish or main dish that comes together in a flash. So, let's jump into how to make it!
Ingredients for Smothered Potatoes and Sausage
Now as I said earlier, this is a versatile dish—that means you can toss just about anything along the lines of potatoes and onions into a pan and call it smothered potatoes! However, I certainly think my recipe is the best way to make it. So, here's what I use in my smothered potatoes recipe:
Potatoes: I use good ol' Russet potatoes (yes, we peel them!).
Onions: yellow onion tends to be milder, but you can use white onion if that's what you have on hand.
Peppers: I only use green bell pepper, but feel free to add some color with red bell pepper or yellow bell pepper. (Pro-tip: a bag of frozen onions and bell peppers would make this recipe even easier.)
Sausage: I prefer smoked sausage, which infuses the potatoes with even more delicious flavors.
Seasonings: I keep things simple with salt, garlic powder, and black pepper. However, the seasoning possibilities for this dish are endless (more on that in a bit).
Chicken Broth: Adding a touch of chicken broth towards the end of the cooking process adds flavor and moisture that really helps make the potatoes extra tender.
What is the best type of potatoes for smothered potatoes?
With so many different types of potatoes, you'd think the possibilities are endless! However, don't get too overwhelmed trying to pick the best kind of potato for this smothered potatoes recipe. I recommend sticking with the basics: Russet potatoes, Yukon gold potatoes, or red potatoes. These potatoes will fry up nicely, giving you that crispy browned flavor while also cooking up to be nice and melt-in-your-mouth tender.
What kind of sausage goes best with smothered potatoes?
Now here, the possibilities really are endless! Use whatever type of sausage your heart desires. I prefer smoked beef sausage. You can use Polish sausage (Kielbasa), Italian sausage, German sausage like bratwurst (usually a pork sausage), or Cajun-style spicy Southern Andouille sausage. Other spicy sausage options include spicy Italian, Mexican, or Spanish chorizo sausage. You could also use turkey sausage or chicken sausage. I mean it when I say ANY sausage y'all like will go with this recipe!
How to Make Smothered Potatoes and Sausage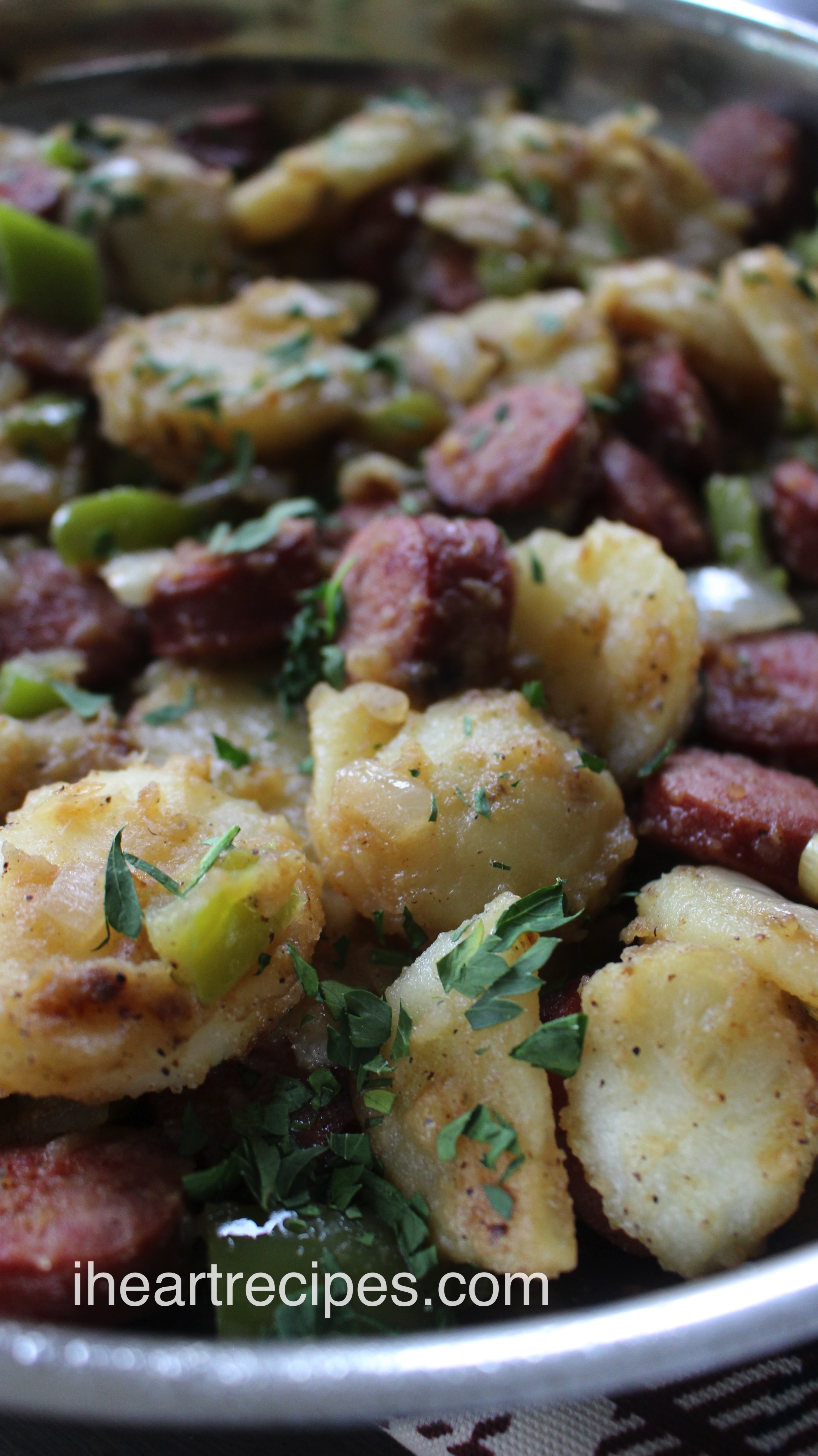 Prep your ingredients. Start by washing and peeling the potatoes, then slicing them into even slices (so they cook more evenly). Next, soak the potatoes in cold water while you cut the onions and peppers. At this time, you'll also chop up your sausage.
Heat oil in a large skillet over medium heat. You can use vegetable oil, as I do, or olive oil. Once the oil is hot, toss in the sliced sausage and allow it to brown on each side. Then, remove the sausage from the pan.
Drain and dry the potatoes, then add them to the skillet. Let the potatoes fry until they're fork-tender. Don't be afraid of the potatoes browning in the pan—we want all that flavor! They'll soak up all that flavor from the cooked sausage and be extra delicious.
Toss in the onions and peppers, and cook until tender, stirring frequently. You also want to add in your seasonings at this time.
Add the chicken broth. The broth will help deglaze the pan, mixing all that flavorful goodness with the potatoes and veggies. Stir, toss the sausage back in, and let the smothered potatoes cook down until everything is perfectly tender.
Pro-Tips to Make Smothered Potatoes Even Better
With the versatility of Southern smothered potatoes, there are so many ways you can customize the recipe to your tastes. So naturally, Cousin Rosie came ready with those pro tips to kick this dish up a few notches.
Adjust the Seasonings to Your Tastes
While I keep my seasonings pretty basic (salt, pepper, and garlic powder), you're free to season to your own tastes! Keep in mind that, of course, different seasonings will alter the flavors, but smothered potatoes are forgiving. Here are some additional seasoning options:
Cajun or Creole seasoning would pair perfectly with this dish, especially if you use smoked or Andouille sausage. I love my very own Rosamae Seasonings Down by the Bayou Cajun seasoning or the classic Tony Chachere's Creole Seasoning.
Kick the heat up with cayenne pepper, chili powder, or red pepper flakes. If you're using a spicy sausage, be wary of adding too much spice (unless that's your thing—then you do you, boo boo!). However, spicy seasonings will pair well with any mild flavor sausage.
Go Italian style with Italian seasonings or fresh herbs like thyme and rosemary. These seasonings will work with Italian sausage.
Put a spin on the originals. Use seasoning salt instead of regular salt, add onion powder, or try lemon pepper or garlic pepper from Rosamae Seasonings. My smoked sea salt would pair perfectly with smoked sausage in this dish.
Change Out or Add Protein
While this recipe is for smothered potatoes and sausage, I wouldn't be totally opposed to you adjusting the protein in this dish. You could add diced chicken, bacon, or smoked turkey—any of which would be a great addition to this recipe and make it even more of a complete meal!
Need to Double (or Triple) the Recipe?
If you're cooking for a crowd—and this recipe is perfect for a group—I'd suggest switching out the skillet for a Dutch oven. You could also make this recipe in a slow cooker, but you wouldn't get that same browned and caramelized flavor stovetop cooking provides.
How to Store Leftovers
Store any leftovers in an airtight container in the fridge for 3-5 days. The best way to reheat smothered potatoes would be on the stovetop, in the oven, or even in the air fryer, which will help crisp them up a bit. (Pro-tip: smothered potatoes are bomb.com as a next-day breakfast paired with eggs and bacon!)
What to Serve with Smothered Potatoes and Sausage
I love to serve smothered potatoes and sausage alongside baked chicken, baked pork chops, or sometimes even catfish. You could pair it with another smothered recipe, like my baked smothered oxtails or smothered roast. Serve it with a side of green beans, cornbread, hush puppies, or Southern biscuits, and you've got yourself a complete meal.
This Southern-style smothered potatoes and sausage recipe is the perfect combination of tender, flavorful potatoes, and smokey sausage. It's an easy, budget-friendly recipe that gets a hearty dinner on the table fast. Readers have raved about the flavors, how easy it is to customize, and all the different ways you can serve this dish! If you love Southern recipes, this one is a must-try!
As always, you can print out the recipe card below, which contains all the exact measurements and directions. I also have an easy-to-follow video tutorial on my YouTube channel. If you make this recipe, let me know in the comments below! Don't forget–you can also follow along with all things Rosie and I Heart Recipes by following me on Facebook, Instagram, and Pinterest, and check out all my cookbooks! I just released a brand new cookbook, Super Soul Food with Cousin Rosie, with many recipes you can't find anywhere else.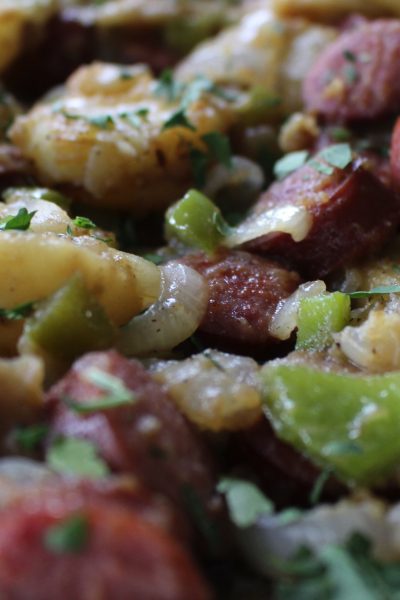 Smothered Potatoes and Sausage
Fried potatoes with onions, smoked sausage smothered in a rich and hearty broth. A comforting, delicious meal any time of the day!
Watch Video
Print Recipe
Pin Recipe
Instructions
Start off by washing, then peeling the potatoes.

Next, slice the potatoes in even slices (so that they can cook evenly!)

Place the peeled & sliced potatoes in a large bowl with water to prevent the potatoes from browning, then dice up the other ingredients.

Pour the vegetable oil into a large skillet and heat the oil over medium heat.

Add in the sliced smoked sausage and cook until browned, then remove from the pan.

Now drain and pat dry the potatoes, then add the potatoes to the hot oil, and fry.

Once the potatoes start to get nice and tender, add in the peppers and onions.

Sprinkle in the salt, pepper, and garlic powders.

Pour in the chicken broth and fold the ingredients.

Toss the smoked sausage back into the pan and combine the ingredients.

Cook until everything is nice and tender, and the broth is absorbed by the potatoes.
Video
If you loved this recipe,
leave me a review below
. This helps future recipe makers and ensures continued high-quality recipes for years to come!
© 2023 I Heart Recipes