Southern smothered cabbage is cooked with onions, garlic, spices, and smoked turkey meat. This is one of my all-time favorite Southern side dishes!
Hey cousins! It's been a minute since I've shared a smothered recipe. Since you all have loved my past smothered recipes, such as my smothered chicken, smothered sausage & potatoes, and my smothered oxtails, I've decided to share another smothered recipe—my Southern smothered cabbage with smoked turkey! Unlike many of my other smothered recipes, this one doesn't include gravy.
This smothered cabbage recipe is easy and uses minimal ingredients. All you need is cabbage, onions, garlic, and the perfect mix of spices, all cooked in a flavorful broth. In this recipe, I use Creole spices. I use smoked turkey, which is packed with flavor, so I don't need to add a whole lot of seasoning to this Southern cabbage dish.
It's one simple cabbage recipe that's not time-consuming. Cooking the turkey takes the longest! And it's foolproof. I hope you all give it a try! Let's jump into how to make Southern smothered cabbage with smoked turkey.
What is Smothered Cabbage?
The first thing we should talk about is what exactly smothered cabbage is. As I said before, I don't make this recipe with any gravy, so what's it smothered with? Besides being smothered with zesty Creole flavor, the "smothered" in this recipe actually refers to how it's cooked.
Smothered cabbage is cooked on the stovetop in a covered pot over medium heat with little liquid. This cooking method is called smothering. It's basically the stovetop equivalent to braising and is a very common cooking method in Louisiana cuisines like Cajun and Creole. You can smother all sorts of meats and vegetables, but it doesn't always require gravy.
Ingredients for Smothered Cabbage with Smoked Turkey
Now, some of the ingredients you need might be obvious–cabbage and smoked turkey, right? It couldn't be easier than that! So here's what y'all need to make this stupid-simple Southern-smothered cabbage recipe.
That's it! That's all you need! Now, of course, we can talk about variations—I'll get into that a little bit later. But as far as simple cabbage recipes go, I think five ingredients is pretty dang simple!
Cooking Smoked Turkey for Smothered Cabbage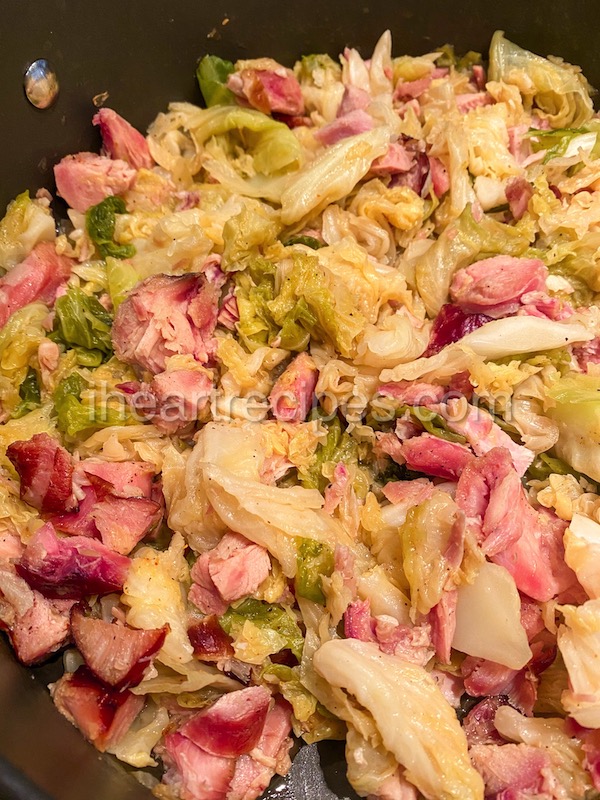 The second most important ingredient for Southern smothered cabbage is the meat. In this case, flavorful smoked turkey! I use one large smoked turkey wing. To cook the smoked turkey perfectly, simply place it in a deep pot and fill it with just enough water to cover the wing (about 4 cups). Bring the pot to a boil and cook until the turkey is nice and tender, which takes me about 30-35 minutes.
Now, here's the important part. When that smoked turkey is done, very little liquid will be left in the pot. This is what we want—and don't you DARE toss it out! We want every last drop of flavor in that itty bitty little liquid! So keep it in the pot and set it aside; we'll come back to it!
Take the turkey out of the pot and chop it up into bite-sized chunks, and then it's ready. You've completed the most challenging step of this recipe!
What's the best part of the turkey to use?
As I said, I'm using a smoked turkey wing, so that's what I would recommend using for smothered cabbage. However, a smoked turkey leg would work just as well. You could even use turkey necks if you wanted!
Can I cook the smoked turkey in broth?
Yes, you could absolutely use broth instead of water. Now, the smoked turkey makes its own kind of broth when it cooks down—that's what we're going to use for all that flavor. However, you can find turkey broth or stock at Walmart (or your local grocery store) or Better than Bouillon on Amazon.
How to Make Smothered Cabbage with Smoked Turkey
Once you've got the smoked turkey cooked, it's smooth sailing! I swear, this smothered cabbage recipe couldn't be easier. It's a delicious one-pot recipe that's perfect as a main or a side. Here are quick steps to making Southern smothered cabbage with smoked turkey:
Cook the turkey wings in a large pot with water for 30-35 minutes until tender. Save that flavorful broth!
Cut up the turkey meat and set it aside. Dice up an onion (you can use a yellow or white onion—a medium-sized one will be enough!) and garlic cloves.
Prep the cabbage. I remove the outer leaves and then chop the rest of the cabbage into large chunks. Separate the cabbage leaves and clean them with water and white vinegar to get rid of all that hidden dirt and grime.
Toss the onions and garlic into that flavorful turkey broth and cook on medium-high heat until translucent. We're infusing all those yummy aromatics with that broth.
Next, toss in the cabbage. If it doesn't all fit on the first try, that's fine! Stir, cover, and let it cook down a bit before adding the rest of the cabbage.
Toss in the smoked turkey meat, Creole seasoning, and black pepper. Stir well, then cover and cook over medium heat until nice and tender.
FAQs, Recipe Variations, and Video Tutorial for Smothered Cabbage with Turkey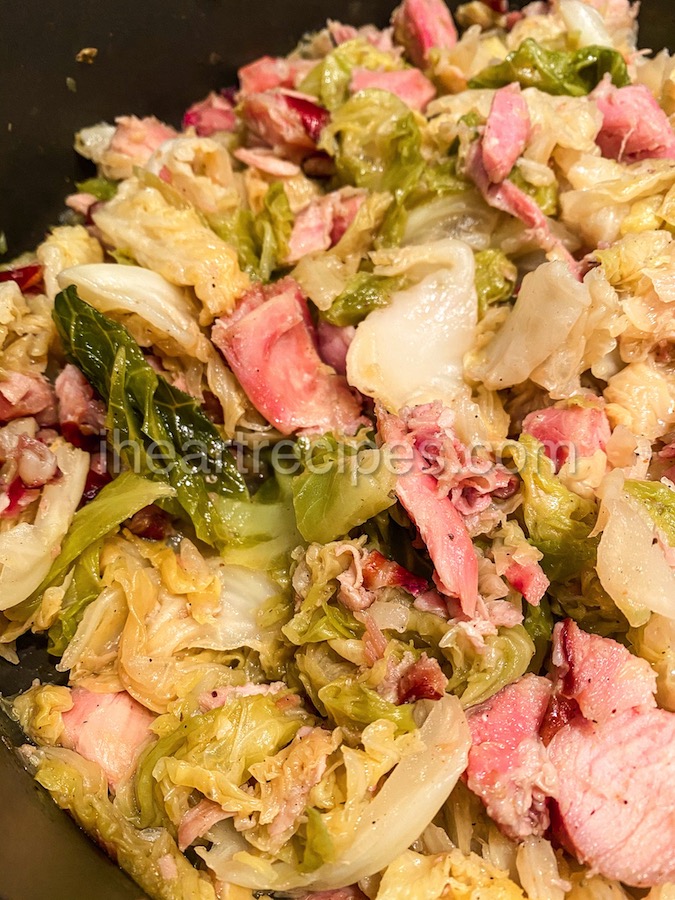 With so many classic Southern cabbage recipes in the world, there are plenty of ways to spice this smothered cabbage recipe up to your liking. Y'all know I will always suggest following the recipe as written for the best results. I even have an easy-to-follow video tutorial on my YouTube channel. So, here are some frequently asked questions and variations for Southern-style smothered cabbage!
What other meats can I use in smothered cabbage?
The possibilities are endless, my friend! Ham hocks are probably the most popular option, as well as cabbage and bacon or sausage. Combine cabbage and collard greens with bacon for a more soulful combination. Corned beef and cabbage are perfect any time of year, especially in the Springtime around St. Patrick's Day!
How long should I cook smothered cabbage?
The cooking time isn't exact because it depends on your tastes. Do you prefer your cabbage to be more tender? You'll cook it for longer. Like a bit of crunch in your cabbage? Cook it for less time. Typically, the perfect smothered cabbage takes 20-30 minutes to cook. The longer the flavors have to meld together, the better! So, check the doneness of your cabbage around 15 minutes, see if it's to your liking, and go from there.
What else can I add to smothered cabbage for flavor?
This smothered cabbage recipe is already pretty dang flavorful, with smoked turkey and a simple Cajun seasoning. But if you want to amp up the flavors, it totally depends on your tastes!
Add more seasonings and spices to your smothered cabbage, like:
Thinking vegetables? You can kick smothered cabbage up a notch with:
Bell peppers (to add a sweet crunch).
Jalapeno peppers (to add a kick of heat).
Potatoes (soak up all that flavor into tender chunks).
Ready to get cookin'? You can make this easy smothered cabbage with smoked turkey anytime. Whether it's for a holiday side dish or just a quick dinner to toss together, Southern smothered cabbage is a hit. It's cheap, delicious, and ready fast!
If you make this recipe, leave a comment below and let me know what you think! Print out the recipe using the recipe card with the exact ingredient measurements and directions. Don't forget to follow along with all things Rosie and I Heart Recipes by following me on Facebook, Instagram, and Pinterest, and check out all my cookbooks! I just released a brand new cookbook, Super Soul Food with Cousin Rosie, with many recipes you can't find anywhere else.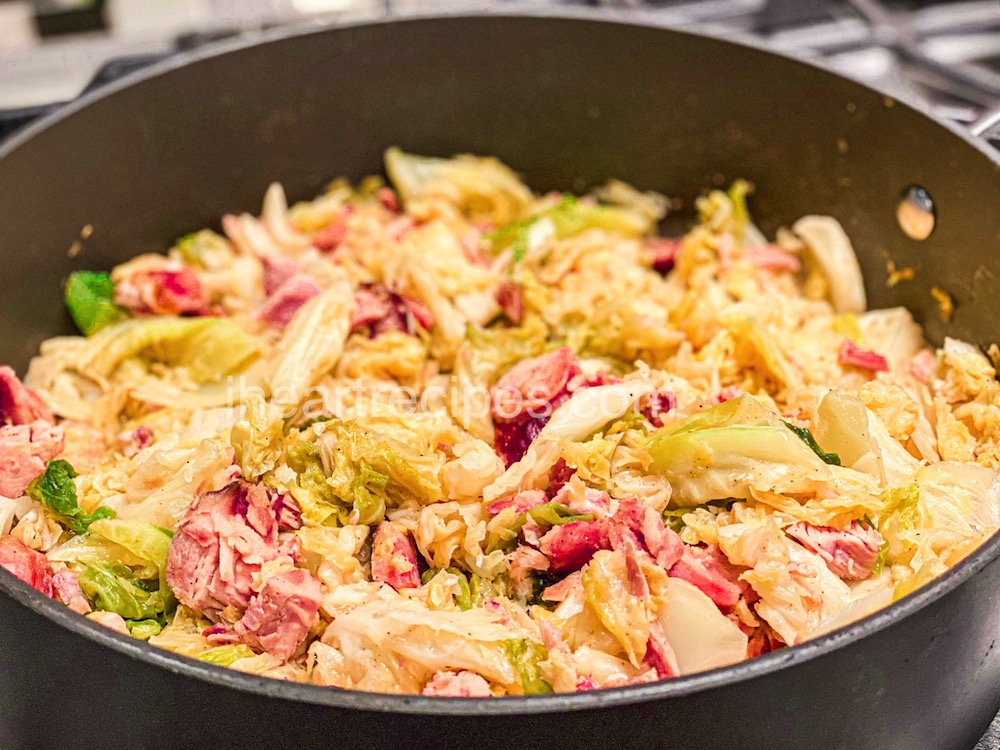 Southern Smothered Cabbage with Smoked Turkey
This flavorful smothered cabbage has onions, garlic, authentic creole spices, and tender smoked turkey. It's a classic southern side dish that's perfect for just about any soul food style meal!
Watch Video
Print Recipe
Pin Recipe
Ingredients
1

large

head of savoy cabbage, or regular green cabbage

chopped

1

large

smoked turkey wing

4

cups

water

1

medium yellow or white onion

chopped

2 1/2

tsp

creole seasoning

1

tsp

ground black pepper

4-6

cloves

garlic
Instructions
To Make the Smoked Turkey Wing:
Place the smoked turkey into a large pot and pour in 4 cups of water.

Bring the water to a boil and cook until the turkey is tender. At this time, there will be very little liquid in the pot, but do not get rid of it (it's flavor, baby!!).

Next, turn the heat off and remove the turkey from the pot.

Chop the turkey meat into bite-sized pieces, then set to the side.
To Make the Smothered Cabbage:
Place the pot back on the stovetop and turn the heat to medium-high.

Add in the onions, and garlic then cook until they are translucent.

Start adding in the cabbage, and stir. Cover the pot and let the cabbage cook down some.

Toss in the smoked turkey meat and sprinkle in the creole seasoning and black pepper.

Stir everything, then place the lid on the pot and let the cabbage cook down. (You can start to check doneness after about 15 minutes, and stir occasionally).

Cook the cabbage until it's nice and tender to your liking.
Video
If you loved this recipe,
leave me a review below
. This helps future recipe makers and ensures continued high-quality recipes for years to come!
© 2023 I Heart Recipes