If you're craving tender chicken smothered in onions and gravy, this homemade baked chicken and gravy recipe is exactly what you need! 
Hey Cousins! Today, we're making good old-fashioned comfort food. This baked chicken and gravy recipe makes for a cozy dinner. This recipe is cooked low and slow, baked in the oven for the most tender, juicy chicken smothered with a rich gravy made completely from scratch. If you've never made your own gravy before… it's time to learn!
It never really occurred to me how many people didn't know how to make homemade chicken gravy from scratch until recently. I've witnessed a lot of people buying canned and jarred gravy. Now, I'm not here to knock your cooking game if you are one of those people (*side eye*), but I do want to show you just how easy it is to make a delicious gravy from scratch! Not only is it easy, but boo boo, it tastes a heck of a lot better than that pre-made stuff!
In this family favorite recipe, we'll be baking our chicken to perfection and making our very own gravy from the chicken drippings. It may sound a little confusing or even hard at first glance. But I assure you, Cousin Rosie is here to walk you through every step! Once you're done, you will have the most incredible baked chicken recipe; even your grandma will be proud! So, let's head to the kitchen and get this thing crackin'!
Ingredients for Homemade Baked Chicken and Gravy
So, this recipe might not be the most hands-off recipe you'll bust out on a busy weeknight, but it is delicious and packed with simple ingredients. Here's everything you need to make this delicious recipe from scratch. Remember to check out the recipe card at the bottom of this post for the ingredient measurements and detailed directions!
Chicken Thighs: I use bone-in skin-on chicken thighs, but boneless skinless chicken thighs are fine too.
Butter: trust me, Cousins—butter is key in this recipe. You keep on readin', and I'll explain why.
Seasonings: I use a flavorful mixture of the following—seasoning salt, black pepper, onion powder, garlic powder, poultry seasoning, and smoked paprika.
Onion: baking the seasoned chicken with sliced onions gives it so much flavor and really helps with the homemade chicken gravy.
Chicken Broth: to make homemade gravy.
All Purpose Flour: used to thicken our yummy gravy.
That's it! That's all you need. You might even have all those ingredients on hand already. I love this recipe because, even though it takes a little time, it turns simple ingredients into a delicious meal.
Why use butter instead of oil for cooking chicken and gravy?
Let me tell y'all why I choose to use butter. Let's be honest: butter makes everything taste better, and that's not an exception here! I have tried using oil in the past, and it's not the worst way to go. I simply prefer butter over oil. Butter gives the chicken a richer taste, brings out the natural juicy flavors of the chicken, and helps brown the chicken skin more. You're more than welcome to use oil instead—try vegetable oil or olive oil. Will it taste good? Sure. But butter takes it to the next level.
Can I use any cut of chicken to make baked chicken and gravy?
Yes, you can use different pieces of chicken, but keep in mind that cooking time will vary depending on the piece you choose. To make things a tad easier for you (because I love my Cousins), here are some cook times for other cuts of chicken:
Chicken Legs/Drumsticks (2 lbs.) – bake for 45 minutes at 375 degrees F.
Chicken Wings (2 lbs.) – bake for 40 minutes at 375 degrees F.
Boneless Skinless Chicken Breasts (2 lbs.) – bake for 30 minutes at 350 degrees F.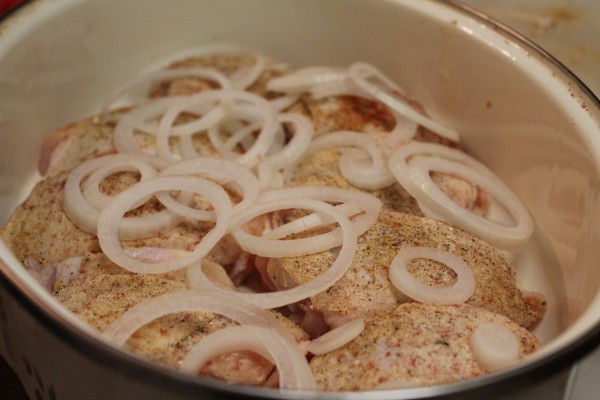 How to Make Baked Chicken with Gravy
Y'all ready to learn how to make this delicious recipe? I'll tell you right now, the hardest part is waiting. Let's talk through the steps so the next time you're craving comfort food, you're good and ready to bust this recipe out and impress your family.
You can watch my easy-to-follow video tutorial to see exactly how I make my baked chicken with gravy recipe from scratch. Don't forget to subscribe to I Heart Recipes on YouTube if you want more recipe videos! 
Prep and Season the Chicken Thighs
The first thing you will do is make sure that chicken is nice and clean by rinsing it under cold water. Next, cover that chicken in melted butter, making sure every inch of the chicken is covered. Sprinkle on the seasonings and rub them in with your hands until the chicken is well coated.
Bake the Chicken
To prep your baking dish, you need some non-stick cooking spray or aluminum foil—this will help with cleanup and sticking–a double-whammy! Line the seasoned chicken thighs up in the baking dish and place the sliced onions on top. Cover the dish with tin foil and bake for 20 minutes.
The next step is making the luscious homemade chicken gravy, but before I entice your taste buds with that step, you should know that you'll have to bake the chicken twice more once the gravy is made. Again, uncovered this time, for 20 minutes, then once more for 10 minutes. Those last 30 minutes will tenderize the chicken and crisp the chicken skin, thicken the gravy, and marry all of those delicious flavors.
How to Make Gravy from Chicken Drippings
Now to the good part—the savory gravy. Take those flavor-rich chicken drippings from the bottom of the pan and pour them into a skillet on the stovetop over medium heat. Once that's cookin', sprinkle in the all-purpose flour and mix it well, a little at a time, so it doesn't clump.
Once the flour mixture turns a deep golden brown, it's time to add your chicken stock, whisking constantly to avoid clumps. I'm tellin' y'all… whisk, whisk, whisk! Ain't no one wants clumpy gravy. Now, it may seem like the homemade gravy is thin at first, but I promise you it will thicken up in the oven.
Pour the gravy over the chicken and finish baking. Now you've got a bomb.com homemade gravy recipe and an even more delicious roasted chicken recipe.
What to Serve with Baked Chicken and Gravy
When I serve my old-fashioned chicken and gravy, I like to serve it over rice (brown or white) or along with creamy homestyle mashed potatoes. I also recommend serving this dish with a vegetable. You can't go wrong with green beans, some down-home collard greens, or a roasted vegetable medley. I've also served chicken and gravy with my Southern fried okra and cornbread for a real comfort food feast.  
Recipe FAQs and Tips for From-Scratch Chicken and Gravy
Got questions? Cousin Rosie's got answers! My readers love to know all the secrets to making the best old-fashioned chicken and gravy recipe. Here are some common questions I've had.
Isn't baked chicken and gravy basically just smothered chicken?
I'll hand it to you: it is a very similar recipe, but there are some key differences. First, my smothered chicken recipe is cooked entirely on the stovetop, simmered low and slow in a rich onion gravy. The gravy recipe is a bit different. And the critical difference between my smothered chicken recipe and baked chicken and gravy? The butter, y'all. It makes all the difference. 
How do you keep baked chicken from getting tough?
There are a few essential tricks here. First, don't use a too-hot oven. 375 degrees is the perfect temperature for baked chicken that won't overcook. Second, use the right cut of chicken. Thighs are forgiving—they're tender dark meat that is still juicy even when slightly overcooked. Chicken breasts, especially thinner ones, are easy to overcook, which causes tough, dry chicken. Finally, smothering the baked chicken in the hearty gravy really helps seal in that moisture.
Can you freeze chicken and gravy?
You sure can! Freeze any leftover chicken and gravy in an airtight container for up to 3 months. It's one of those great recipes to have on hand as a freezer dinner, so you can have a quick meal ready when you're craving it. You'll simply reheat it on the stovetop in a skillet over medium heat until everything is heated through.
My gravy is too thin/thick—how do I fix homemade gravy?
No worries, Cousins! Homemade gravy is easy to fix. If your gravy comes out too thick, mix in a little bit of extra chicken broth or (hot) water to thin it out. If your gravy isn't thick enough, add a sprinkle of more flour, mix, and thicken it up on the stovetop for a few minutes.
Loved this recipe? Be sure to share and save the recipe on Pinterest! Keep up with Rosie and I Heart Recipes on social media—you can find me on Facebook, Instagram, and Pinterest, and check out my cookbooks!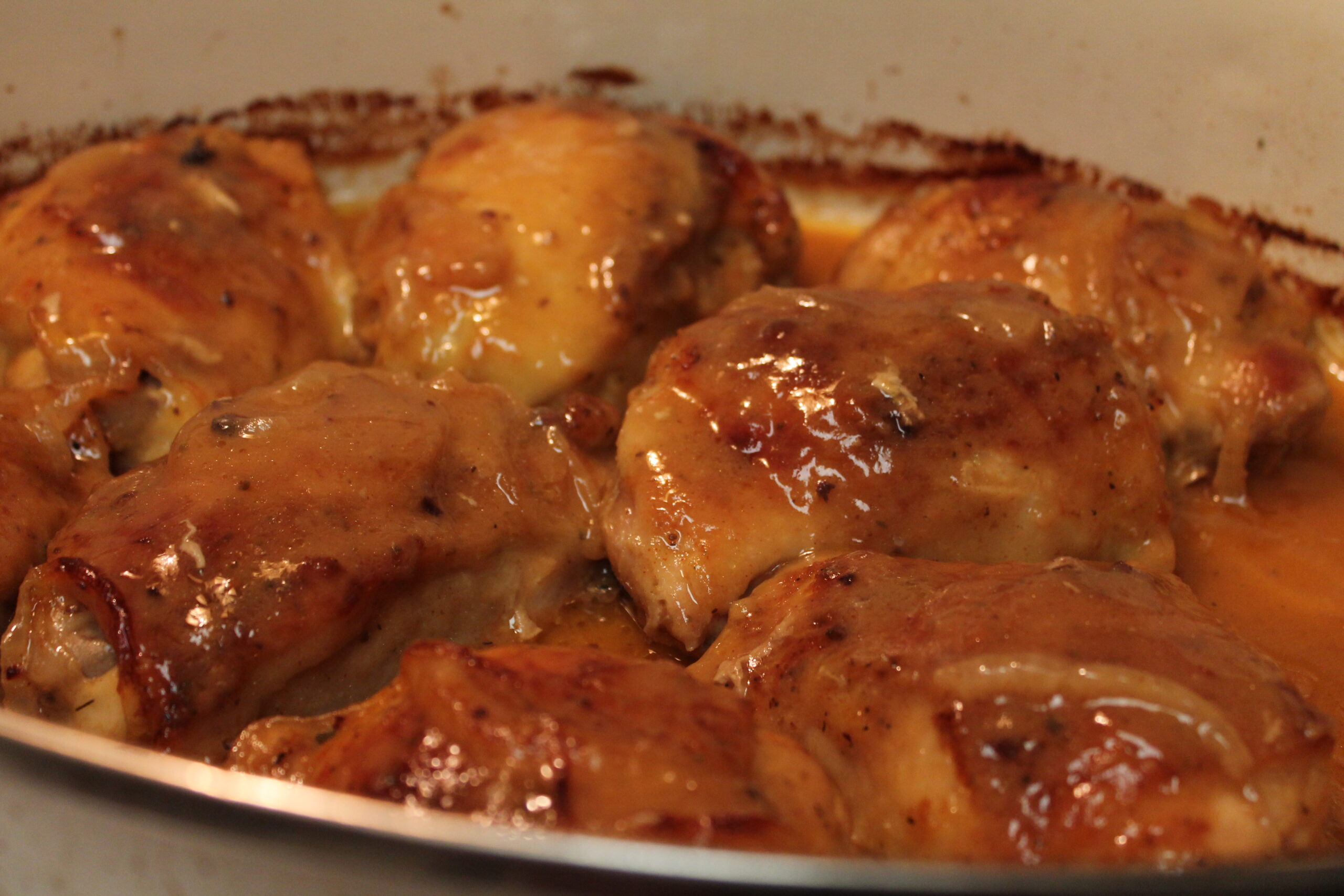 Baked Chicken and Gravy Recipe
Baked chicken and gravy is a classic comfort food. Tender chicken thighs are cooked in a rich homemade chicken gravy. Serve with your favorite sides for a delicious dinner with the fam.
Watch Video
Print Recipe
Pin Recipe
Instructions
Make sure the chicken is nice and clean before cooking.

Brush or spoon the melted butter all over the chicken, then rub it in using your hands.

2 pounds chicken thighs,

3 tbsp butter

Season the chicken with the seasoning salt, onion powder, poultry seasoning, garlic powder, pepper, and paprika.

1 tsp seasoning salt,

1 tsp ground black pepper,

1 tsp onion powder,

1 1/2 tsp poultry seasoning,

1 tsp garlic powder,

1 tsp smoked paprika

Spray your baking dish or Dutch oven with non-stick spray, then place the chicken into the dish.

Place the sliced onions on top of the chicken, then cover the dish with the lid or foil.

Bake in the oven at 375 F for 20 minutes.

Remove the chicken from the oven. Reserve about 4-5 tablespoons of chicken drippings and pour them into a pan on the stovetop.

Heat the pan of chicken drippings over medium-high heat. Once the drippings start to bubble, sprinkle in the all-purpose flour. Be sure to sprinkle just a little bit of flour at a time!

1/4 cup all purpose flour

Stir/whisk the flour mixture until it starts to turn golden brown.

Reduce the heat down to medium, then slowly pour the chicken broth into the pan and whisk continuously to ensure that the gravy is lump-free.

Once the gravy is nice and smooth, pour it over the chicken (in the original baking dish). The gravy may appear to be thin, but don't worry — it will thicken.

Place the chicken back into the oven for an additional 20 minutes, but this time uncovered. Baste the chicken with the pan gravy and return to the oven, uncovered, for a final 10 minutes.

Let stand for 5 minutes, then serve, and enjoy!
Video
If you loved this recipe,
leave me a review below
. This helps future recipe makers and ensures continued high-quality recipes for years to come!
© 2023 I Heart Recipes