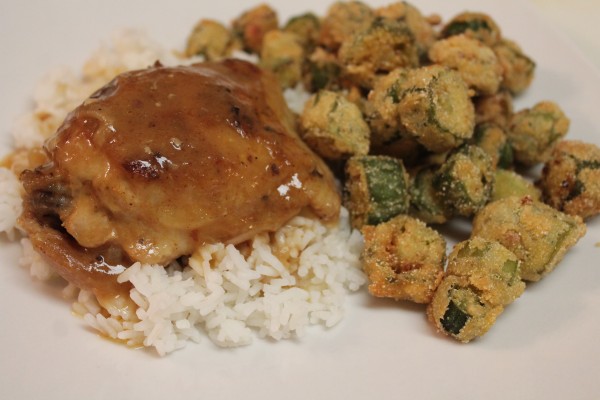 If you're craving some tender chicken, smothered in onions and gravy, you've come to the right place. Tonight we're having some good old fashioned chicken, and gravy!
It never really occurred to me how many people didn't know how to make chicken gravy from scratch until recently. I've been witnessing a lot of people buy canned and jarred gravy. Hey, I'm not here to knock your cooking game if you're one of those people, but I do want to show you just how easy it is to make your own gravy! Not only is it easy, but boo it tastes a heck of a lot better than that lumpy premade stuff. Again- I'm not here to knock your cooking game 😛 In this post we will be baking our chicken to perfection, and making our very own gravy from the drippings from the chicken. It may sound a little confusing, or hard even- but I ensure you that it is quite easy  ( I got you boo!). Once you're done, you're going to have a bake dish full of chicken and gravy that your Grandma would be proud of. So let's head to the kitchen and get this thing crackin'.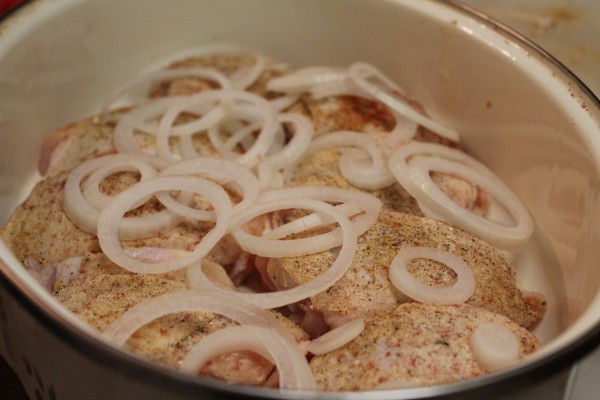 With this recipe I used chicken thighs. You can use different pieces, but keep in mind that the cooking time will vary depending on the piece. To make things a tad bit easier for you ( because I heart you all so much) here are some cooking times.
 2 lbs of Chicken Legs/ Drumsticks – 45 minutes  , on 375 F.
2 lbs of Chicken Wings – 40 minutes , on 375 F.
2 lbs Chicken Breast – 30 minutes, on 350 F.
You will notice that I used butter on my chicken instead of vegetable oil like most recipe. I'm sure I will get a lo of questions about that, so I will tell you why I choose to use butter! Let's be honest, butter make everything ( well almost everything) taste better, and there is not exception here. I have tried using oil in the past, and it wasn't bad- I simply prefer butter over the oil. In my opinion the butter gives the chicken a richer taste. It helps bring out the natural juicy flavors of the chicken, and also helps the skin brown a tad bit more than vegetable oil does. Can you use vegetable oil instead of the butter, absolutely. Will it taste just as good- in my opinion…..NAH When is serve my old fashioned chicken and gravy, I like to serve it over rice ( brown on white), or along with creamy homestyle mashed potatoes.  I also recommend serving this dish with a vegetable. In the picture above, the chicken and gravy was served over rice along with some Southern Fried Okra. Feel free to add a couple pieces of cornbread to the menu, and you, my dear, have yourself the perfect Sunday Dinner( don't try to eat a meal like this every day honey!)   Now that we've chit chatted, and got all the basics out of the way, let's cook up a nice dish of Old Fashioned Chicken and Gravy!
Chicken and Gravy Recipe
This classic recipe is nothing short of great comfort food. Whip it up in no time for a satisfying and hearty meal!
Ingredients
2

pounds

chicken thighs

3

tbsp

butter

melted

1

tsp

seasoning salt

1

tsp

ground black pepper

1

tsp

onion powder

1 1/2

tsp

poultry seasoning

1

tsp

garlic powder

1

tsp

smoked paprika

1

large onion

sliced

1/4

cup

all purpose flour

2 1/2

cup

chicken broth

* non sticking spray
Instructions
Make sure the chicken is nice and clean before cooking

Brush on, or spoon out the melted butter, all over the chicken, then rub in using your hands.

Season the chicken with the seasoning salt, onion powder, poultry seasoning, garlic powder, pepper, and paprika.

Spray your bake dish with non stick spray, then place the chicken into the dish.

Place the sliced onions on top of the chicken, then cover the dish, with the lid or foil.

Bake in the oven on 375 F, for 20 minutes.

Remove the chicken from the oven, and there will be chicken drippings at the bottom of the pan.

Spoon up about 4-5 tbsp of the chicken drippings, and place it into a pan.

Place the pan over medium-high heat, and once the chicken drippings start to bubble, sprinkle in the all-purpose flour.

Be sure to sprinkle just a little bit of flour at a time!

Mix the two ingredients, and let it turn golden brown.

Reduce the heat down to medium, and slowly pour in 2 1/2 cups of chicken broth into the pan, and whisk continuously to ensure that the gravy is lump free.

Once the gravy is nice and smooth, pour it over the chicken.

The gravy may appear to be thin, but don't worry- it will thicken.

Place the chicken back into the oven for an additional 20 minutes, but this time uncovered.

Remove the chicken from the oven, and spoon the gravy over the chicken, to make sure it's nicely smothered.

Place the chicken bake into the oven for another minutes. Still uncovered.

Let stand for 5 minutes, then serve, and enjoy!
Video