Southern fried okra is a truly classic recipe. Perfectly crisp bites of okra coated in a simple, flavorful breading, perfect for a side or appetizer.
Hey folks, it's time to share a LONG overdue recipe! What would that be? Southern fried okra! Fried okra is very popular in the south and is amongst one of my favorite soul foods. You can serve fried okra as an appetizer, snack, or even a side dish.
I love the flavor of fried okra. It has a slightly sweet, earthy taste, kind of like a nice fresh, crisp green bean. It's the perfect vegetable for a side that really does taste even better fried! Breading adds even more crunch to the already crunchy veggie. They're totally poppable and will be a hit no matter how you serve them.
Let's jump into my easy Southern fried okra recipe.
Ingredients Needed for Deep Fried Okra
What ingredients do you need for fried okra? Well, other than the okra, you probably have everything you need on hand! If you're like me, you may already have a frozen bag of okra, too (more on that later!). Here's what you need to make fried okra:
All-purpose flour and cornmeal for the okra breading
Buttermilk
Salt & pepper for seasoning (add cayenne for a kick if you'd like)
Neutral oil for frying, like vegetable oil or peanut oil
What's the best breading for deep-fried okra?
There are many ways to make fried okra. For breading, some people use breadcrumbs, others use flour, and some use cornmeal. I prefer to use a combination of flour and cornmeal. In my opinion, the combination of the two ingredients makes the okra crispier. I've witnessed a few people use egg whites to help the breading stick to the okra, but I personally think it's unnecessary.
Should you soak okra before breading?
The need to soak okra before breading is under debate. Everyone has their own fried okra recipe, and everyone does things differently. Okra is notoriously a pretty sticky vegetable. It's easy to coat okra because of the texture, so soaking the okra isn't always necessary.
I use buttermilk as one of the ingredients for MY southern fried okra recipe, but not to help the breading stick. In my opinion, the buttermilk adds a nice flavor (buttermilk is quite salty), and it helps the okra achieve a beautiful golden-brown color while it fries. This is also why it's common to soak chicken in buttermilk before breading and frying, as I do in my traditional southern fried chicken recipe!
Should you use fresh okra or frozen okra for southern fried okra?
I usually use frozen okra (it's cheaper, I don't have to worry about it going bad, and it's already cut up), but you can use fresh okra. Fresh okra is super easy to find at grocery stores (more often in the south) or farmer's markets, so if you have fresh on hand, use it! Before frying, make sure to rinse the okra. I usually wash my okra and other vegetables in cool water with a couple of tablespoons of apple cider vinegar.
Now that I've given y'all some of my pro tips for the perfect fried okra let's talk about how to make this delicious snack!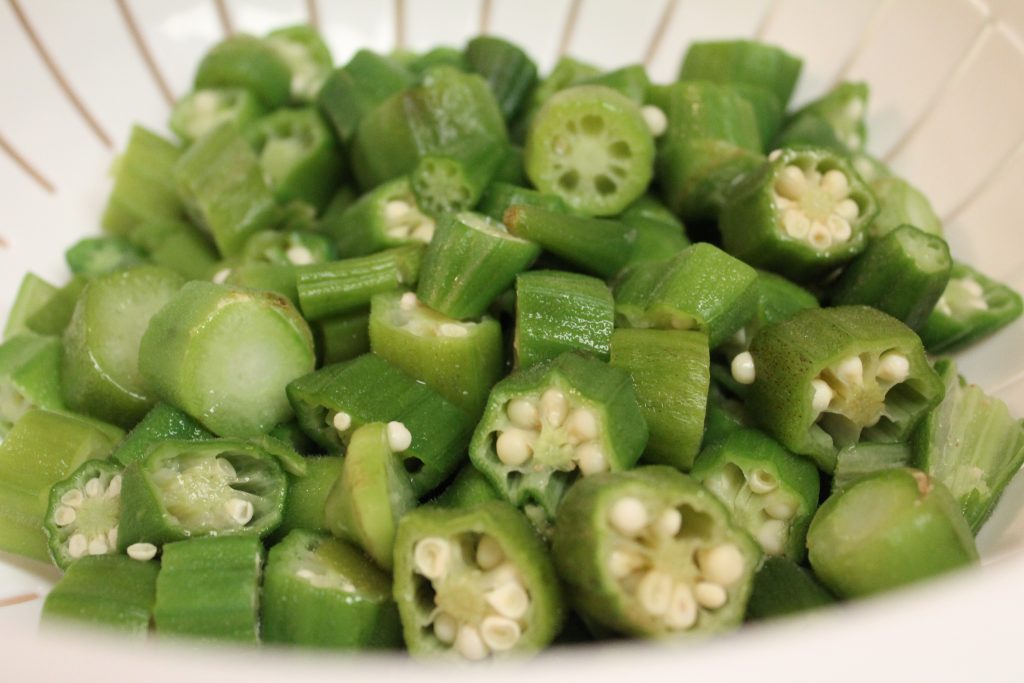 How to Make Southern Fried Okra at Home
Now, making this fried okra recipe could not be easier. I start by letting my frozen okra thaw out a bit before breading. As I said before, I always wash my veggies before cookin' them! So, wash that okra, lay it out on some paper towel to dry, and then you're ready for the buttermilk.
For my next step, I drizzle the buttermilk over my okra. I only use about 1/8th cup of buttermilk, so not much is necessary. I don't feel the need to soak my okra completely, and I think a little of the buttermilk goes a long way. Next, I season the okra with salt and pepper to taste. If you enjoy other seasonings, like onion powder, garlic powder, or cayenne, for a bit of heat, you do you, boo boo! Add your seasonings at this point.
How to Bread Okra
The next step is breading your okra. Can you bread frozen okra? Yes! And here's how I do it: Sprinkle all-purpose flour over the okra and use your hands to toss and coat the pieces. Next, you're going to sprinkle in your cornmeal. You can use either yellow cornmeal or white cornmeal. There's very little difference between the two types of cornmeal, so feel free to use whatever you have on hand—I typically use yellow. (Pro-tip: if you have cornmeal leftover, try making my to-die-for Southern cornbread!)
The key to breading okra is to make sure the pieces don't stick together. If this happens, you get clumps of breading and okra that get all stuck together in the oil, breading falls off, and it's a big ol' mess. Using your hands to toss the okra in the flour and cornmeal might be messy, but the heads-on approach definitely helps the pieces not stick together.
How to Deep Fry Okra
Finally, we've reached the frying stage! You only need about two cups of oil to fry okra, and you could use a skillet rather than a deep pot. Of course, if you have a deep fryer, you could also use that! I use vegetable oil, which I think is one of the best oils to use for deep frying. A neutral oil with a high smoke point is key for deep frying. Peanut oil or canola oil would also work.
Heat your oil between 350 and 375 degrees (if you don't have a thermometer or digital deep fryer, here's a clever hack to test if the oil is hot enough). Then, carefully drop the breaded okra into the oil and fry it for about 2-3 minutes until the okra is a perfect golden brown.
Once you take the okra out of the oil, lay it out to drain on some paper towels. This way, you get a perfectly crispy breading instead of a soggy, oil-clogged bite—absolutely delish! Season the freshly-fried okra with a dash of salt for flavor, and you are ready to enjoy!
What to Serve with Homemade Southern Fried Okra
As I said earlier in this post, fried okra is delicious as a snack, appetizer, or side dish. I love enjoying fried okra as a side dish with my favorite Southern dishes, like smothered pork chops or smothered turkey chops. The crispy bites of fried okra would pair perfectly with creamy mac and cheese or with cabbage and collard greens.
Whatever you choose to serve this yummy fried okra with, it's a winner! PS. Have some dipping sauce and hot sauce on hand, and make sure you make plenty of fried okra for everyone. This okra will go fast!
Southern Fried Okra Recipe and Video Tutorial
Okay, Cousins, I've told y'all everything I know! Have at it! If you make my fried okra recipe, drop a comment below and let me know how you liked it. Don't forget to tag and follow me on Facebook, Instagram, and Pinterest, subscribe to I Heart Recipes on YouTube, and check out all my cookbooks! I just released a brand new cookbook, Super Soul Food with Cousin Rosie, with many recipes you can't find anywhere else.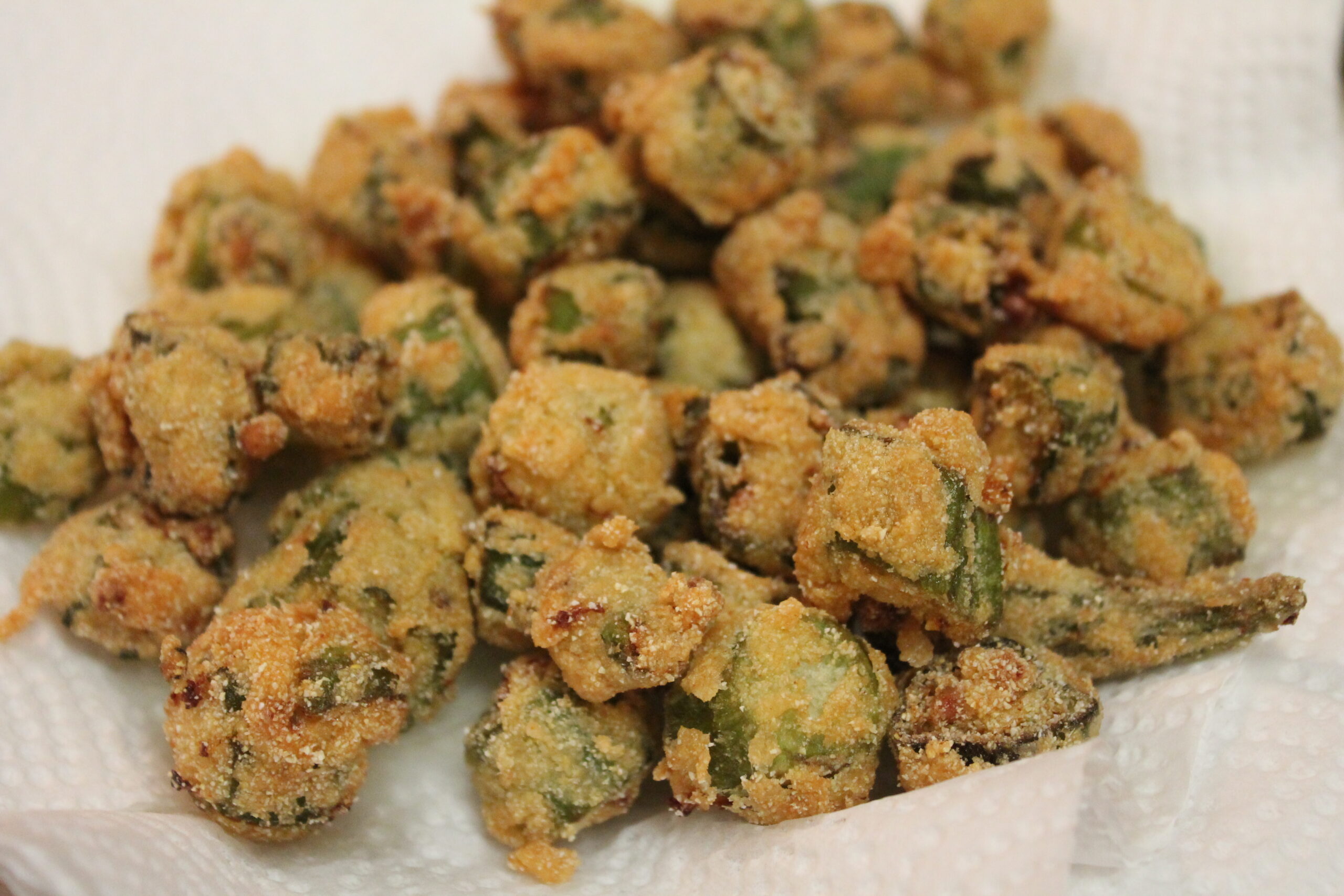 Southern Fried Okra
This traditional southern comfort food makes a great side dish or a simple snack. Try this easy recipe for this delicious southern treat!
Watch Video
Print Recipe
Pin Recipe
Instructions
Drizzle buttermilk over okra.

Season okra with seasoning salt and black pepper.

Mix with hands to thoroughly coat okra.

Sprinkle all-purpose flour over okra, mix with hands to evenly coat.

Mix in yellow (or white) cornmeal.

Make sure the okra aren't sticking together.

Heat oil in a deep fryer.

Carefully drop okra into the deep fryer.

Fry for approximately 2 to 3 minutes, or until okra are golden brown.

Remove okra from the deep fryer with a slotted spoon.

Place okra on a paper towel-lined plate to absorb the excess oil.

Allow to cool.

Add salt to taste.

Enjoy!
Video
If you loved this recipe,
leave me a review below
. This helps future recipe makers and ensures continued high-quality recipes for years to come!
© 2023 I Heart Recipes