A tasty corned beef casserole made with slow cooked corned beef, veggies, and a creamy cheesy sauce made from scratch!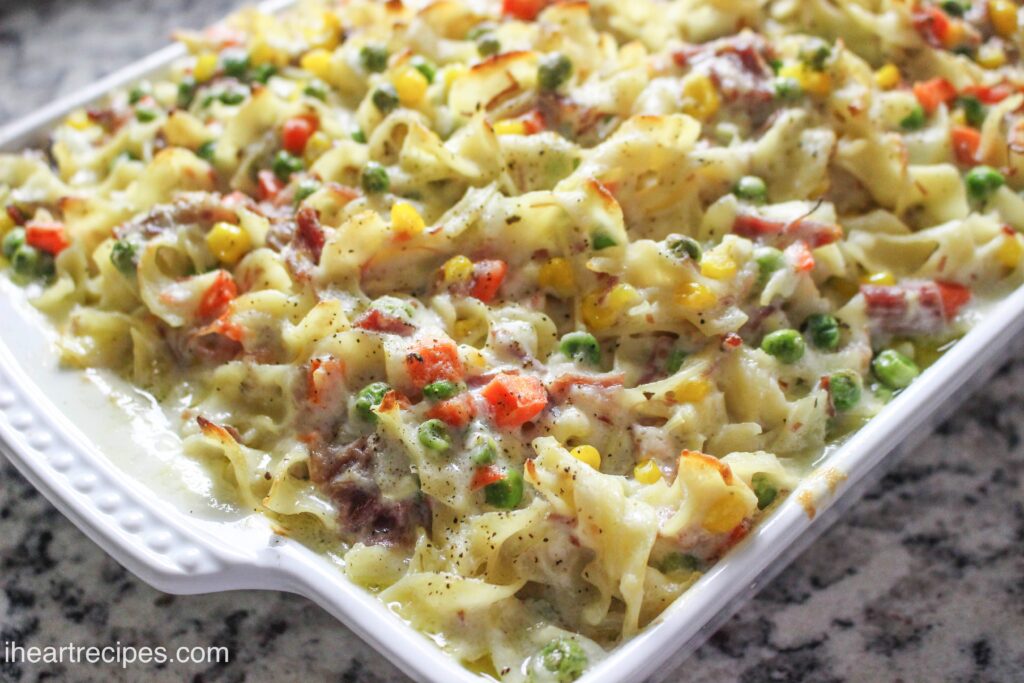 Lately corned beef has been on sale at my local grocery store, and I've been taking advantage! I have corned beef & cabbage, corned beef & potatoes, and even my homemade delicious creamy corned beef casserole recipe. Let me tell you that my family absolutely loves my corned beef casserole! Like seriously, this casserole goes fast because everyone always wants seconds, or even thirds!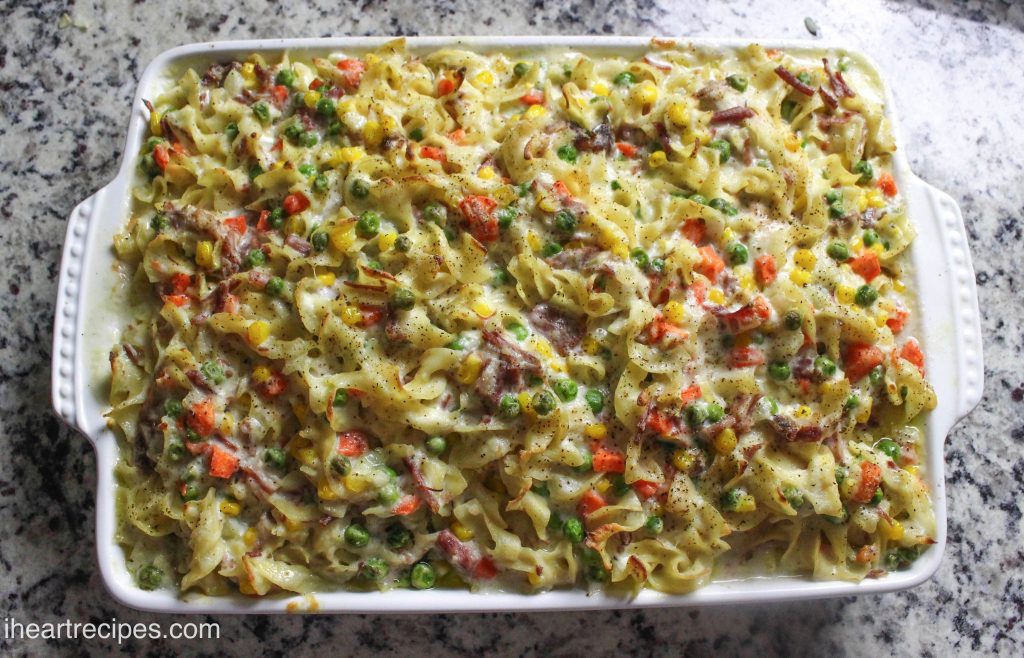 I make my corned beef casserole unlike most people. This isn't a corned beef and potato casserole, or a corned beef casserole with sauerkraut. This is a creamy corned beef casserole recipe made with diced corned beef, mixed vegetables, and a homemade creamy cheesy sauce.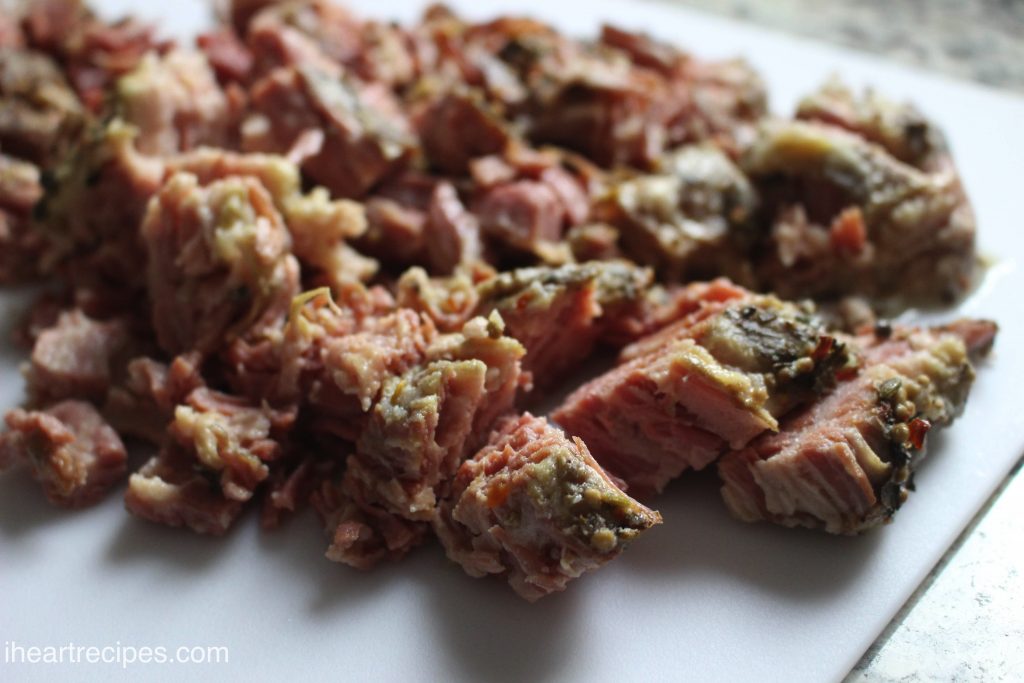 How do I prepare corned beef?
I like to use leftover corned beef.  I never use deli meat for this recipe. If I don't have any leftover corned beef I simply place the corned beef in the slow cooker, and sprinkle in the package of seasoning that comes with it, and cook on high for 6 hours ( for 2-3 lbs of corned beef). Once the corned beef is done, I remove it from the slow cooker, and dice it.
This corned beef casserole recipe is really easy, and can easily be cut in half, doubled, or even tripled..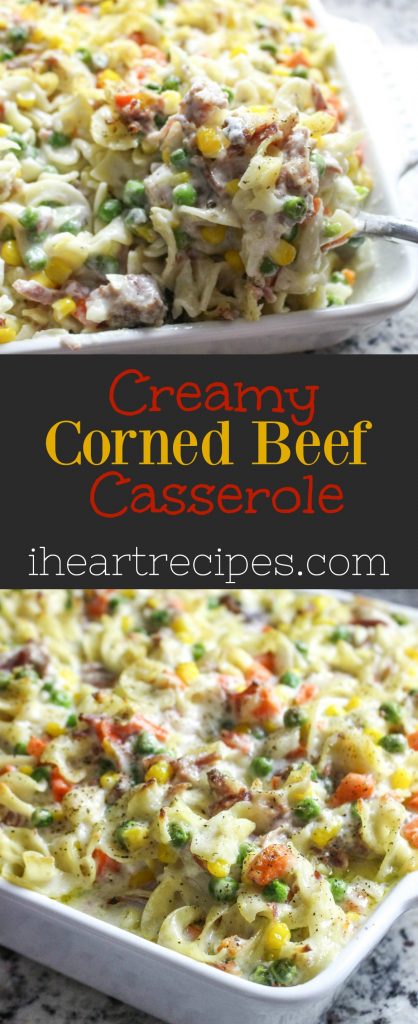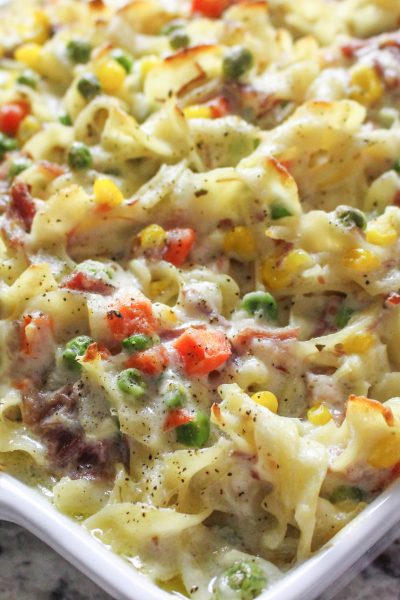 Creamy Corned Beef Casserole
Diced corned beef and mixed vegetables in a creamy homemade cheese sauce. Mixed with egg noodles, then baked to perfection.
Print Recipe
Pin Recipe
Instructions
Start off by cooking the egg noodles according to the package. Be sure to reserve 1 cup of the water from the pasta once done.

Next, place a large pan over low heat.

Toss in 4 tbsp of salted butter, and let it melt down.

Once the butter is melted, turn the heat to medium and sprinkle in the all purpose flour and whisk.

Slowly pour in the half & half, and whisk until lump free.

Reduce the heat to low, then add in the 8 oz of cheese.

Mix the cheese in with the sauce until well combined.

Now add in the mixed vegetables, onions, corned beef, and garlic.

Mix everything until well combined.

Next in a large mixing bowl (or pot ), combine the veggie & corned beef mixture, with the egg noodles.

Pour in 1/2 - 1 cup of the reserved pasta water into the mixing bowl.

Fold all the ingredients until everything is well incorporated.

Grab a 9 x 13 bake dish, and lightly oil or butter it.

Add the casserole mixture.

Bake the casserole for 25 minutes on 350 F.

Once done, let the casserole rest for 5-10 minutes.
If you loved this recipe,
leave me a review below
. This helps future recipe makers and ensures continued high-quality recipes for years to come!
© 2023 I Heart Recipes
Loved my easy corned beef casserole recipe? Try these other casserole recipes for an easy dinner solution!