Learn how to make easy old-fashioned crispy Southern fried chicken wings! These wings are brined, then fried, for the most tender, juicy, crunchy chicken wings you'll ever taste!
When I think of good old-fashioned comfort food, fried chicken is one of the first things that comes to mind. Seriously, nothing is better than fried chicken for dinner. Y'all know that I have plenty of fried chicken recipes on this blog. From keto fried chicken to oven-baked "fried" chicken, waffle fried chicken, and the most traditional Southern fried chicken, my favorite part of the chicken has to be the wings.
I love a plate of crispy golden chicken wings with a side of red beans and rice, collard greens, and buttery cornbread. Does it get more down home than that?! I swear, it's the best meal! In this post, I will show you how I make the easiest crispy fried chicken wings. This recipe is quite simple—the hardest part is waiting on the brining, which takes 4 hours. DO NOT skip out on the brining–otherwise, you're cheating yourself out of some seriously moist and flavorful chicken!
Let's jump into how to make the best crispy Southern fried chicken wings recipe!
Ingredients for Crispy Fried Chicken Wings
Below are all the ingredients you need for homemade crispy skillet-fried chicken wings. Be sure to check out the recipe card at the end of this post for the exact ingredient measurements!
Chicken Wings: I use regular ol' bone-in skin-on whole chicken wings.
All-Purpose Flour: the base of the breading mixture.
Cornstarch: my secret ingredient for crispy wings!
Seasonings: essential for flavor. I use poultry seasoning, onion powder, garlic powder, smoked paprika, and salt for these fried chicken wings.
Oil: for frying. Since we're pan-frying these chicken wings, you won't need as much as deep frying. I use corn oil, but any other neutral, high-smoke-point vegetable oil will work just as well.
Chicken Wing Brine: highly essential and simple—a mixture of salt, sugar, and water. 
Can I make this recipe with other pieces of chicken?
You certainly can! Whether you want to use legs, thighs, drumsticks, or whole wings is up to you. I prefer to use whole chicken wings. You can buy wings and flats separately or separate them yourself. 
What's the secret ingredient for crispy fried chicken wings?
In this recipe? Cornstarch! Adding cornstarch to the flour mixture makes the breading on the chicken wings extra crispy. Why? Cornstarch absorbs some of the moisture from the chicken skin, which then gets extra crispy when frying. Don't have cornstarch on hand? Use baking powder!
How to Brine Chicken Wings Before Frying
Brining is an essential part of this recipe. Why? Because brining the chicken wings is what keeps them incredibly juicy and flavorful. Brining chicken wings is a great way to add moisture and flavor to your chicken, and no matter how you end up cooking them, they will certainly not be dry!
Brining is the first step in this recipe—and for the best results, you need to do it ahead of time.
Simple Chicken Wing Brine Recipe
When you brine chicken wings, you can play around with the flavors—you can go with sweet and savory, spicy, herbaceous… it's totally up to you! But I have a tried-and-true chicken wing brine recipe that I stick to:
4 cups of cold water
1 tablespoon of table salt
2 tablespoons of granulated white sugar
That's it! That's all you need for super flavorful, tender, juicy chicken wings. If you want to add more seasonings and spices, I'd recommend keeping it to the basics, like white pepper, black pepper, red pepper flakes, or a dash of cayenne pepper. You could add white vinegar to further tenderize the meat, but it's not necessary for a brine.
How long should you brine chicken wings?
The chicken wings should sit in the brine in the fridge for at least 4 hours or overnight for even more flavor! The longer, the better—the brine will seep into the chicken wing skin and meat, tenderizing every inch. Don't let the chicken wings brine for longer than 48 hours, or you risk having soggy, overly salty wings on your hands.
How to Fry Chicken Wings
Once you've let your wings brine for at least 4 hours (I'm tellin' y'all Cousins, DO NOT SKIP the brining!), they're just about ready to fry. Do NOT rinse the chicken wings after you remove them from the brine. The flour mixture and spices will stick to the moist, brined skin, giving you the perfect breading without using an egg or buttermilk mixture.
Now that your brined wings are ready to go, here's what you'll do next:
Season the chicken wings with your preferred seasonings. I use poultry seasoning, onion powder, garlic powder, and paprika. Pro-Tip: use salt-free poultry seasoning if you want to control the amount of salt in this recipe.
Coat the wings with the flour mixture. I use all-purpose flour, cornstarch, and a little salt. Toss the wings in the flour mixture until they're completely coated.
Heat your oil in a skillet over medium-high heat. Vegetable oil is best for frying chicken, but you can use canola oil or peanut oil—whatever you prefer.
Add the chicken wings to the hot oil and fry until golden brown—about 8-10 minutes.
Place the cooked chicken wings on paper towels to drain the excess oil while you finish cooking the rest of your wings.
When you're done, you have the juiciest crispy chicken wings ever! These babies are perfect for game day, an appetizer, or just when you're craving some down-home Southern fried chicken. Even though the recipe requires patience with the brine, it is SO worth it, Cousins!
Crispy Southern Fried Chicken Wings Recipe Video Tutorial
If you're a visual learner, watch me make this recipe! At the end of the video, I show you how tender and juicy these crispy chicken wings are, thanks to the simple salt and sugar brine!
FAQs & Pro-Tips for the Best Crispy Fried Chicken Wings
What's the best oil temperature for fried chicken wings?
You want the temperature of the oil to be about 350 degrees throughout the frying process. Because we're skillet-frying instead of deep frying, it will take less time to heat the oil to that temperature. Use an instant-read thermometer to check the oil temperature (as well as the internal temperature of the chicken to make sure it's cooked). Pro-Tip: you certainly can use a deep fryer if you have one. Just note that it might take longer for the oil to heat up (bonus points if you have a digital deep fryer!)
Can I bake chicken wings in the oven?
You sure can, but baking doesn't get you the same kind of crispy wings, in my opinion. I have an "oven-fried" crispy chicken recipe that promises extra crispy oven-baked chicken if you'd rather skip out on the oil.
Don't Overcrowd the Pan!
Another secret to perfectly deep-fried chicken wings is to fry the wings in small batches. Because we're using a skillet for frying, I'd recommend only frying 3-4 whole chicken wings at a time. This way, you'll get crispy, golden-brown wings that aren't soggy or unevenly cooked.
To keep the wings nice and warm while you cook in batches, you can warm them in your oven. Switch your oven on to the lowest setting—some ovens have a "warm" setting—and place the wings on a wire rack on a baking sheet in the oven until you've finished cooking the wings.
What other seasonings can I use in this fried chicken wing recipe?
You can use any seasonings you want! The sky is the limit. In this recipe, I like to keep it simple because we're going for basic, flavorful fried chicken wings. I have an old-fashioned fried chicken seasoning that would be bomb.com in this recipe! Check out Rosamae Seasonings for more delicious seasoning and spice options for crispy fried chicken wings: 
How to Store Leftover Fried Chicken Wings
Now, I'm not saying you'll have any leftovers… but on the off-chance that you do, these fried chicken wings taste just as good the next day.
Store in the Fridge: store the wings in an airtight container in the fridge for up to three days.
In the Freezer: you can freeze fried chicken wings for up to three months if kept in a freezer-safe, airtight container. You should thaw the wings before reheating.
How to Reheat: fried chicken wings are best when reheated in the oven—that way, they'll crisp up again without becoming grease-logged from too much frying. Reheat at 350 degrees for about 15 minutes. Use a wire rack on a baking sheet to circulate the hot air around the whole wing for maximum crispy action.
Flavor Variations: The Perfect Sauce for Crispy Fried Chicken Wings
Y'all know I can't let you leave without offering up some saucy suggestions! While these crispy fried chicken wings are perfect on their own, you certainly can spice it up with your favorite sauce. Serve with your favorite buffalo sauce, hot sauce, or BBQ sauce. Like ranch dressing or blue cheese dip? Go ahead! Want even MORE flavor? Check out these party wings:
If you try this crispy Southern fried chicken wings recipe, let me know in the comments below! Be sure to follow along with everything Rosie and I Heart Recipes on social media—you can find me on Facebook, Instagram, and YouTube, and you can pre-order my next upcoming cookbook, A Cousin Rosie Holiday, now!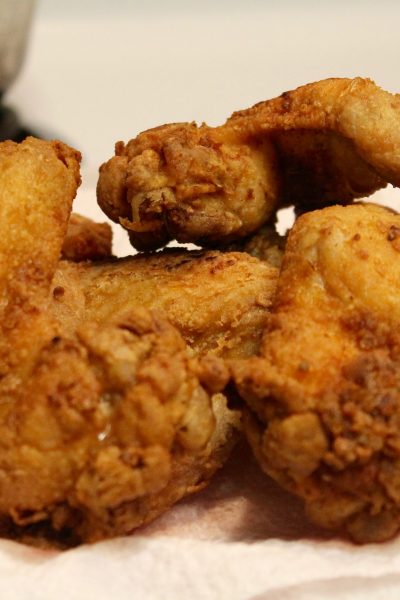 Crispy Southern Fried Chicken Wings
Here's a simple recipe for the crispiest, juiciest Southern fried chicken wings! First they're brined with a simple salt and sugar solution, then fried to golden-brown perfection.
Watch Video
Print Recipe
Pin Recipe
Instructions
Wash the chicken under cool water, then place it in a large bowl or container.

Combine 4 cups cold water, 1 tbsp salt, and 2 tbsp sugar. Stir until the salt and sugar dissolve.

4 cups cold water,

1 tbsp salt,

2 tbsp sugar

Pour the chicken wing brine into the bowl or container with the chicken. Make sure that the chicken is completely covered with the brine.

Cover the bowl/container, then place in the refrigerator for about 4 hours.

Drain the brine from the bowl, but do not rinse the chicken.

Season the chicken with poultry seasoning, garlic powder, onion powder, and smoked paprika.

1 1/2 tsp poultry seasoning,

1 tsp onion powder,

1 tsp garlic powder,

1/2 tsp smoked paprika

Combine the all purpose flour, cornstarch, and 1/2 tsp salt.

3/4 cup all purpose flour,

1/4 cup cornstarch,

1/2 tsp salt

Pour the flour mixture into a large freezer bag, then toss in the chicken wings. Shake the bag until the chicken is well coated with flour.

Remove the chicken from the bag, and shake off any excess flour.

Pour the oil into a large skillet, and let it heat up over medium heat for about 10 minutes.

2 1/2 cups of corn oil for frying

Carefully add in the chicken, and fry until golden brown, about 8-10 minutes.

Place the chicken on a paper towel-lined plate.
Video
If you loved this recipe,
leave me a review below
. This helps future recipe makers and ensures continued high-quality recipes for years to come!
© 2023 I Heart Recipes