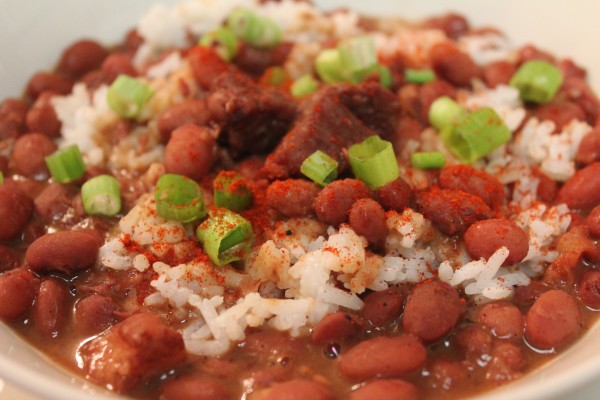 A couple months ago I shared a recipe for my true southern fried chicken. I even told you all that I personally think it's better than Popeye's Chicken. Well I could leave you guys hanging. I had to share my recipe for my southern red beans and rice. My fried chicken and red beans and rice go together like peanut butter and jelly. They are just the perfect match!
Like my fried chicken, my southern red beans and rice ( in my opinion) blows Popeye's recipe out of the water. I honestly don't think there is any competition.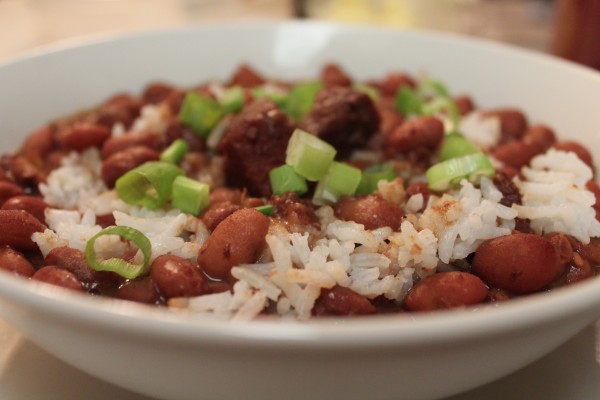 Before I actually cook the beans I do a quick soak method. I never soak my beans over night, because AIN'T NO BODY GOT TIME FOR THAT! Usually the directions for the quick soak method are on the package of the beans but if not, follow these directions
Sort the beans, and remove any little rotten beans
Rinse the beans under cool water, and gently scrub, using your finger tips.
Drain the beans.
Bring about six cups of water to a boil.
Add the bean to the water.
Turn the burner off, and remove the pot from the heat.
Cover the pot, and let the beans soak for 2 hours
After two hours, drain the beans.
Now it's time to cook the beans!!
When I recorded the video for this recipe, I used smoked ham chunks. If you don't have that on hand- no need to worry! Here are other meats that will work just as good!
Ham Hocks – Take much longer to cook. About 6 hours on high, along with 8 cups of water, in a slow cooker. Reserve the broth, and transfer to a pot.
Smoked Turkey Legs, Wing, or Necks – Boil for 45 minutes over high heat in 8 cups water. Reserve broth.
Pork Neck Bones – Boil for 45 minutes over high heat in 8 cups water. Reserve broth.
Bacon ( Turkey or Pork) – Prepare the same way as the ham in the directions below
Smoked Turkey Tails – Boil for 45 minutes over high heat in 8 cups water. Reserve broth.
Watch my video tutorial, and don't forget to leave me a comment below! If you haven't tried my True Southern Fried Chicken, be sure to do so! XOXO
Southern Red Beans and Rice
Southern beans and rice is a classic southern dish. Pair with some fried chicken for a satisfying homemade meal.
Cook Time
1
hour
15
minutes
Total Time
1
hour
25
minutes
Ingredients
16

oz

bag of dry dark red kidney beans

1

medium sized white onion

diced

1

lb

smoked ham

ham hock, smoked turkey wing

1

tsp

vegetable oil

2

tsp

cajun seasoning

1

tsp

crushed cayenne pepper

1/2

tsp

crushed black pepper

2

tsp

smoked paprika

8 -10

cups

water

4

cups

cooked rice.

* optional

green onions and paprika for garnishing
Instructions
Start of by sorting and rinsing the beans, then do a quick soak (directions for the quick soak method are on the package of the beans).

Add one tsp of vegetable oil in a large pot, then begin to brown the smoked meat over medium high heat. Add in the onions, and cook until they start to sweat.

Pour in 8 cups water.

Drain the beans, then add them to the pot. Stir the ingredients, reduce the heat to medium, and cover the pot.

Cook for 30 minutes. Add in 2 more cups of water. Sprinkle in the cajun seasoning, smoked paprika, ground cayenne, and ground black pepper.

Stir the beans, and cover. Cook for another 45 minutes over medium heat.

Place the beans in a bowl. Add some rice on top of the beans in the center of the bowl, and add more beans.

Garnish with smoked paprika, and green onions