This spicy keto fried chicken recipe is made with a delicious low-carb breading. You'll want to make this low-carb oven-fried chicken even if you're not dieting!
I've been reading comments y'all. You want keto recipes, and you want them NOW!! Okay sweeties, I got you! In this post, I'm going to show you how to make the most amazing keto spicy fried chicken that you will ever make and taste! This keto fried chicken is simply so delicious, you'll want it even if you're not on the keto diet!
So, what is the keto diet? Keto is super trendy right now. A keto diet is a low carb, high-fat diet where you drastically reduce the amount of carbs you eat and replace them with (healthy) fat. The diet puts your body in ketosis, which makes it incredibly efficient at burning fat, meaning you typically lose weight! While it's not the best diet choice for everyone, it does have plenty of health benefits, so it's no wonder people want to find ways to make all their favorite recipes keto-friendly!
Now, y'all know I don't typically concern myself with low-carb recipes. I'm a southern and soul food blogger—we're all about those hearty recipes, baby! That's not to say I don't enjoy a nice healthy recipe now and again, so I am happy to meet the demands of my lovely readers and give y'all some keto spicy chicken to write home about!
Is Fried Chicken Keto-Friendly?
As much as we all love fried chicken, I'm sure we question how many carbs are in fried chicken, right? Well, the answer is A LOT, y'all. Most fried chicken recipes are made with flour, which is packed with carbs. Of course, we all will indulge every once in a while—but be warned: some carb-heavy foods will knock your body right out of ketosis, which will make you feel pretty crappy and off-rail your keto diet progress.
If you want to enjoy fried chicken on keto, you gotta find ways to make it keto-friendly. That's where this spicy keto fried chicken recipe will have you right!
What's the Secret to Keto Spicy Fried Chicken?
Wondering how I make my spicy fried chicken recipe keto-friendly? I don't use a low-carb flour breading. Instead, I use ground pork rinds! Pork rinds are pork skins, also called Chicharrones. They're low carb, packed with protein, and a really popular snack! You can find them online, at your local grocery store, or even the corner gas station! Nowadays, they come in many different flavors. In this recipe, since I'm making keto spicy chicken, I use spicy pork skins. If you're sensitive to spice, feel free to use regular pork skins (or another flavor that suits your tastes).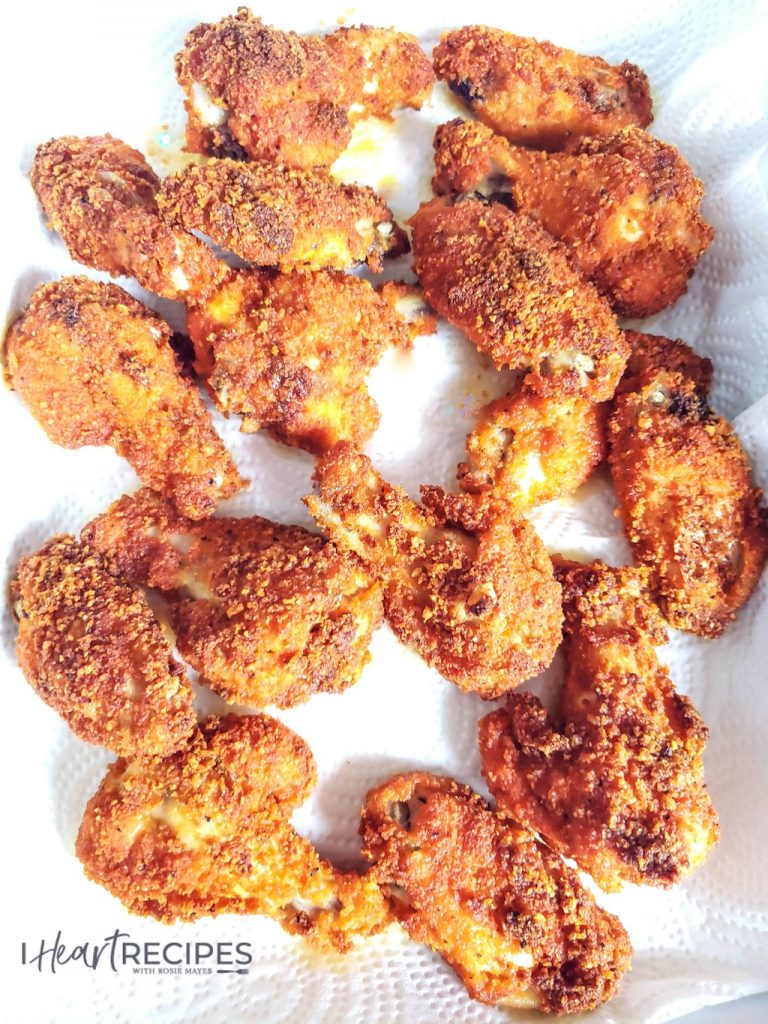 Ingredients for Spicy Keto Fried Chicken
Alrighty Cousins, now that you know my "secret" ingredient for keto spicy fried chicken, let me tell you what else you need to make this delicious healthy fried chicken recipe!
Skin-on chicken: I personally prefer chicken wings, but you can use a variety of wings, drumsticks, and thighs if you'd like.
Pork rind mixture: As I said above, I use spicy pork skins ground up and mixed with some garlic powder, onion powder, and Mrs. Dash Original seasoning. (Pro-tip: you could also use my Rosamae poultry seasoning, pork seasoning, or garlic pepper seasoning in this recipe for extra deliciousness!)
Hot sauce: To give my spicy fried chicken an extra kick, I drizzle the raw chicken with hot sauce before coating with the low-carb breading. This is completely optional, but I love the extra spice. Use your favorite brand of hot sauce.
Eggs: Use a few eggs to help adhere the low-carb breading to your chicken.
Cooking oil spray: This is the key ingredient to making this oven-fried keto chicken recipe taste deep fried. Make sure you DON'T use baking spray, as that has flour in it, which has carbs—that will ruin the keto-friendliness of this recipe!
How to Make Spicy Keto Fried Chicken
Ready to learn how I make my keto-friendly oven-fried chicken recipe? It could not be easier! I'm gonna break it down step by step for y'all, but make sure to watch my video tutorial for this keto chicken recipe and check out the recipe card below for exact measurements. Let's get on into it!
Step 1: Make the Low-Carb Breading Mixture
First, take your spicy pork skins and dump them into a food processor. If you don't have a food processor or blender, you can mash them up in the bag using a rolling pin, pan, your fists—get creative! Make sure they're ground finely enough to stick to the chicken and still give some crunch. To the pork rind mixture, you'll add your garlic powder, onion powder, and any other seasonings of your choice. Add cayenne pepper, white or black pepper for more spice. Parmesan cheese is another popular addition to low-carb breading.
Once your pork skin mixture is well combined, dump it all into a 1-gallon freezer bag and set it to the side while you prepare your chicken.
Step 2: Wet-Dredge Your Chicken
For this step, I like to add my skin-on chicken pieces into a baking dish. You could use a large bowl or baking sheet as well. Next, drizzle some hot sauce onto your chicken pieces. Now this step is optional, but I think it's necessary for the perfect spicy fried chicken. I am not married to a hot sauce brand, so I recommend you use your favorite hot sauce for this step.
After coating the chicken in some hot sauce, beat 2 medium eggs in a separate bowl (use more eggs if you have more than 2 pounds of chicken—about 1 egg per pound of chicken). Drizzle the egg over the chicken and mix those chicken pieces in the hot sauce and egg mixture until they are well-coated.
Step 3: Bread the Chicken
Now it's time to coat the chicken in that deliciously spicy low-carb breading! For a no-mess solution, I simply take my chicken pieces—about 5-6 pieces at a time—and toss them in the bag with the pork skin breading, then toss until the chicken is completely coated. Continue until all your chicken pieces are nice and coated with your keto pork rind breading.
Next, you're going to prepare your baking sheet, since we will NOT be deep frying this keto spicy chicken! You'll need a baking sheet lined with aluminum foil or parchment paper, and a wire rack. Generously spray the wire rack with cooking spray, then place your breaded chicken on the wire rack in a single layer.
Step 4: Baking the Oven-Fried Spicy Keto Chicken
The next step is to generously spray the breaded chicken with cooking spray—NOT baking spray—which will help give this oven-fried chicken that "deep fried" crispy texture. What's the difference? Flour! You might see both cooking spray and baking spray referred to as "nonstick," and that is true, they are both nonstick sprays. However, baking spray has flour in it, which will add carbs to this keto chicken dish, making it not keto-friendly. So, make sure you're using a cooking oil spray—popular brands/kinds include Pam, avocado oil spray, vegetable oil spray, or coconut oil spray.
Finally, we're ready to bake! You're going to oven-fry this keto spicy chicken in a 400-degree oven for 30 minutes, then flip the chicken and bake for another 30 minutes. We want this spicy "fried" chicken to be nice and crispy, just like we'd get from deep frying. Make sure you check the internal temperature of the chicken part way through cooking. Chicken should be cooked to an internal temperature of 165 degrees Fahrenheit for safety.
That's it, Cousins! You've successfully made delicious, easy, spicy keto fried chicken! If you want a quicker way to "fry" this keto chicken recipe, skip the oven and go for the air fryer. You would air fry this keto chicken at 400 degrees for about 20 minutes, flipping the chicken halfway. Easy peasy!
Spicy Keto Fried Chicken Recipe Card and Video Tutorial
Ready to make this keto-friendly fried chicken recipe? Get on it, y'all! Check out my YouTube video and recipe card below to find the exact measurements for this recipe. While you're at it, don't forget to subscribe to I Heart Recipes on YouTube to see all of my recipe videos, cooking tips, and more! You can also follow me on Facebook, Instagram, and Pinterest to keep up with all things Rosie and I Heart Recipes!
Don't miss out on my other fried chicken recipes—as the Queen of fried chicken, I have plenty of fan favorites for you to try out next: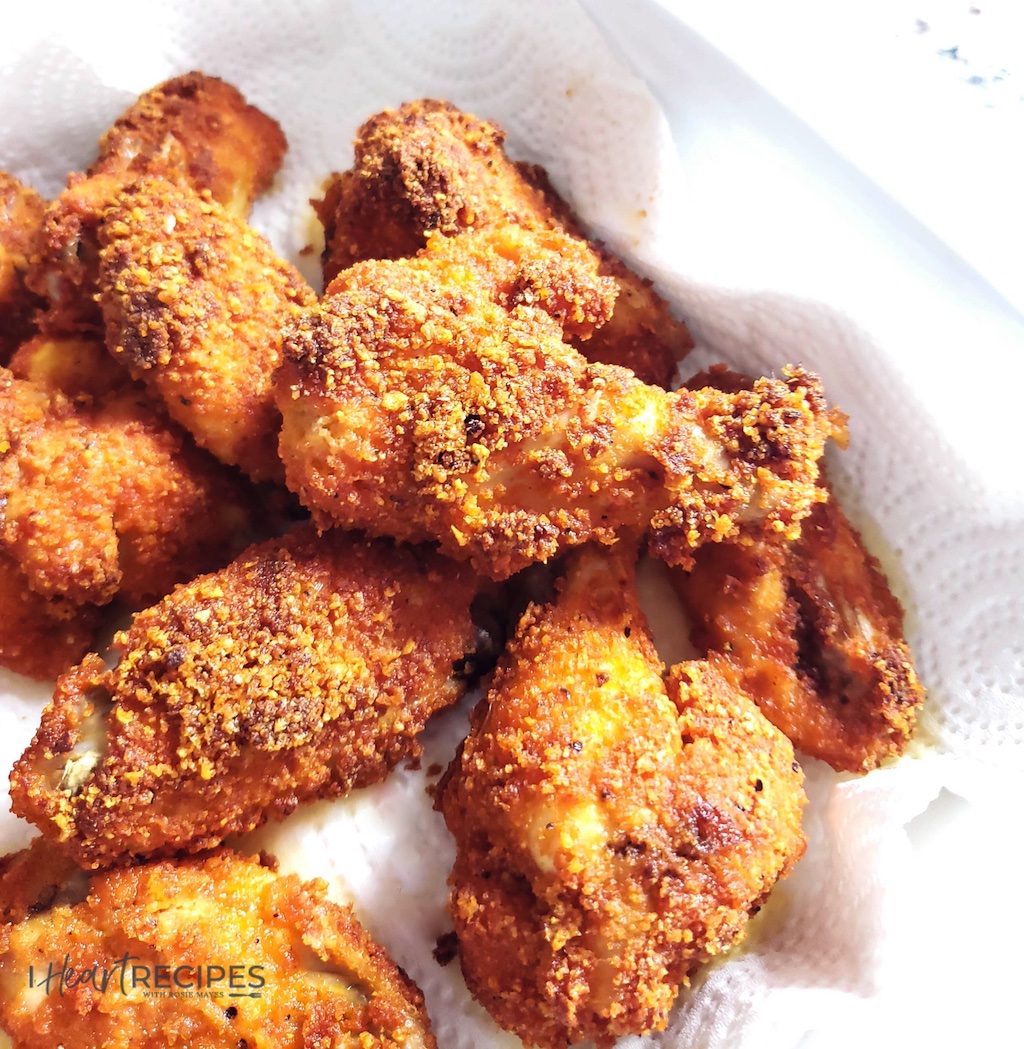 Spicy Keto Fried Chicken
Dieting doesn't mean you have to give up your fried chicken! This low-carb fried chicken is for all my keto friends. You'll want to make this recipe even if you're NOT dieting!
Watch Video
Print Recipe
Pin Recipe
Instructions
Preheat the oven to 400 F.

Prep your breading by grinding the pork skins up in a food processor.

In a large freezer bag, add the finely ground pork skins, Mrs. Dash, garlic powder, and onion powder. Make sure it's well combined. Set aside.

In a separate bowl, beat two medium eggs.

Prep your chicken in a shallow bake dish. Drizzle the chicken with the beaten eggs and hot sauce. Make sure that the chicken is nicely coated.

Shake the excess egg mixture from the chicken, then toss the chicken into the freezer bag of dressing, working in two groups.

Shake the bag of breading to coat the chicken until all the chicken is nicely coated. Set the bag to the side.

Place a wire rack on top of a baking sheet, then spray the rack with cooking spray.

Add the chicken on top of the rack, then spray the chicken with the cooking spray.

Cook the chicken for 30 minutes in the oven, UNCOVERED.

Remove from the oven, turn the chicken to the other side, and cook for another 30 minutes. Cook the chicken to an internal temperature of 165 degrees.

Serve & enjoy your spicy keto fried chicken!
Video
If you loved this recipe,
leave me a review below
. This helps future recipe makers and ensures continued high-quality recipes for years to come!
© 2023 I Heart Recipes