This delicious cold rice salad recipe is the perfect summer salad! Perfectly cooked white rice is served with a delicious mix of fresh vegetables. Simple, refreshing, and perfect for Summer!
I love rice salad recipes. Whether it be a cold rice salad with cranberries or a warm rice salad with peas, I'm good either way. One of my favorite rice salad recipes would have to be a cold summer rice salad. A combination of colorful vegetables, a dash of Italian seasoning, and tender, fluffy long-grain rice… there's nothing better!
What Is Cold Rice Salad?
A cold rice salad is exactly what you think it is. A combination of simple ingredients—rice, vegetables, seasonings, and usually a dressing—tossed together and served chilled. Rice salads are crazy simple. It's a great way to use any random fridge ingredients you have lying around (like those vegetables you swore you'd meal prep with but have conveniently forgotten about! 😉). And it's a great recipe to make as a side dish for parties or as a main dish if you want something lighter and healthier for lunch or dinner.
Whether you're searching for a summer rice salad recipe for a BBQ, picnic, potluck, or other summertime get-together, you can almost certainly toss together an easy rice salad with what you have on hand. You can stick to vegetables and rice, toss in your favorite protein, and experiment with many different flavors.
I think a cold summer rice salad is right up there with a cold pasta salad, a Southern macaroni salad, or a light and healthy quinoa salad.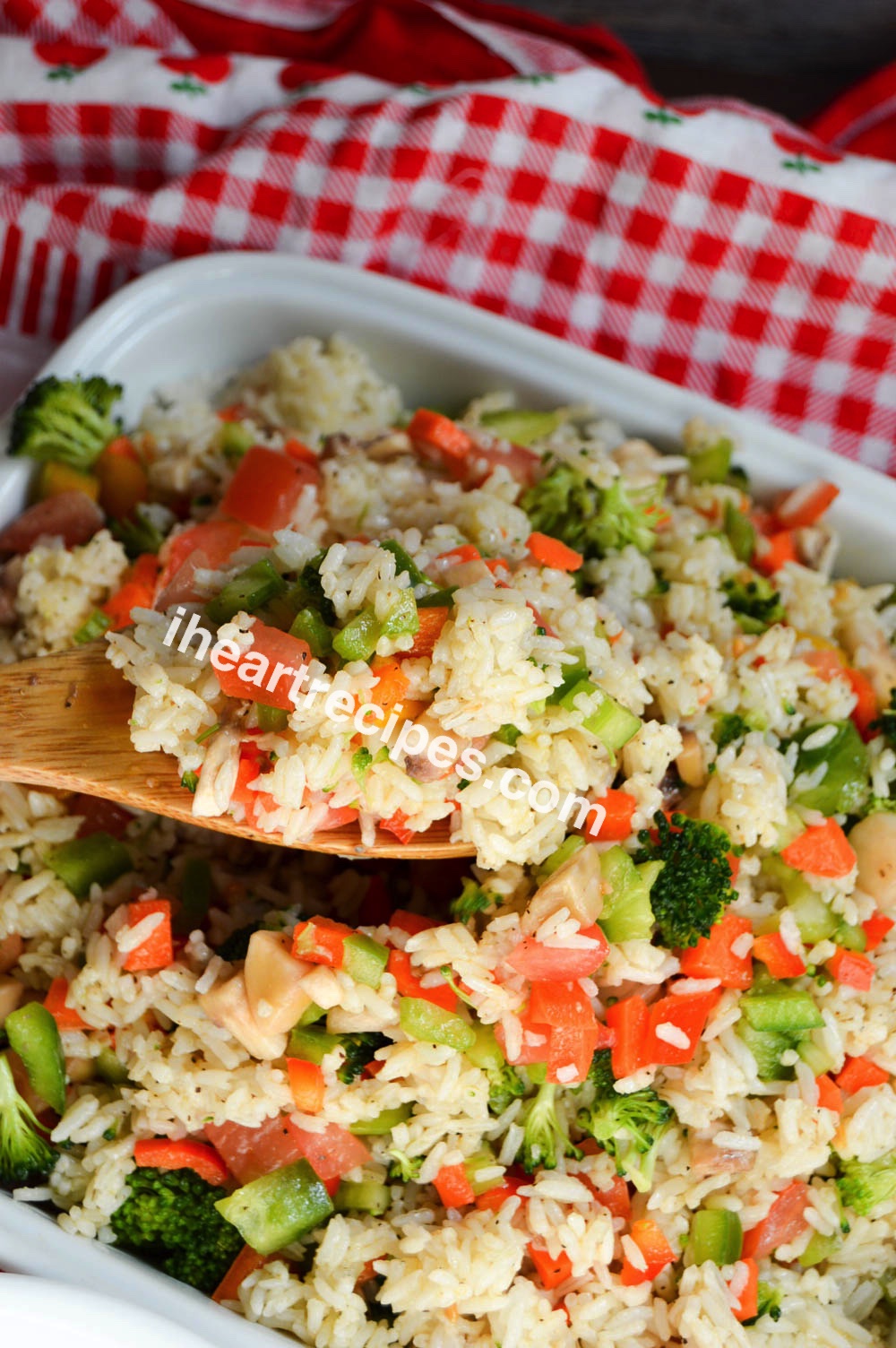 Ingredients for an Easy Rice Salad Recipe
So, let's dive into the simple ingredients you need to make a quick and easy cold rice salad recipe! Keep in mind that rice salad ingredients can vary based on your preferences, what you have on hand, and the flavors you're going for. The following ingredients are what I use when I make a simple summer rice salad. You can find the ingredient measurements in the recipe card at the end of this post!
White Rice: I prefer to use long-grain rice.
Fresh Vegetables: I use carrots, celery, green pepper and sweet pepper (bell peppers), tomato, broccoli, and mushrooms. If you have anything against any of these veggies, leave 'em out, y'all!
Seasonings: I use salt, black pepper, garlic powder, onion powder, and Italian seasoning to flavor my rice salad.
Lemon Juice & Olive Oil: two simple dressing ingredients. The lemon juice adds a burst of freshness (that also helps keep the vegetables a vibrant color).
As you can see from the list of ingredients, I do not add any meat to my summer rice salad, but you could include a meat option! Chicken or salami would be delicious. If you want more ingredient variation ideas, keep on reading, Cousin!
What's the best rice for a cold rice salad recipe?
I personally love making my summer rice salad recipe with plain ol' white rice. If you're in a pinch and need to use Minute Rice, go ahead! You can also make a cold rice salad recipe with brown rice or wild rice.
Does it matter if you use short, medium, or long-grain rice in a cold rice salad recipe? Actually, yes, it does! Long grain rice is the best type of rice to use for a rice salad. This is because long grain rice (like basmati rice or Jasmine rice) cooks up perfectly fluffy, and the grains don't stick together. Medium and short grain rice is used to make risotto, used for sushi, and rice puddings—rice recipes that are usually creamy because the grains cook up chewy and sticky. You will get the best results with long grain rice.
How to Cook Rice for Cold Rice Salad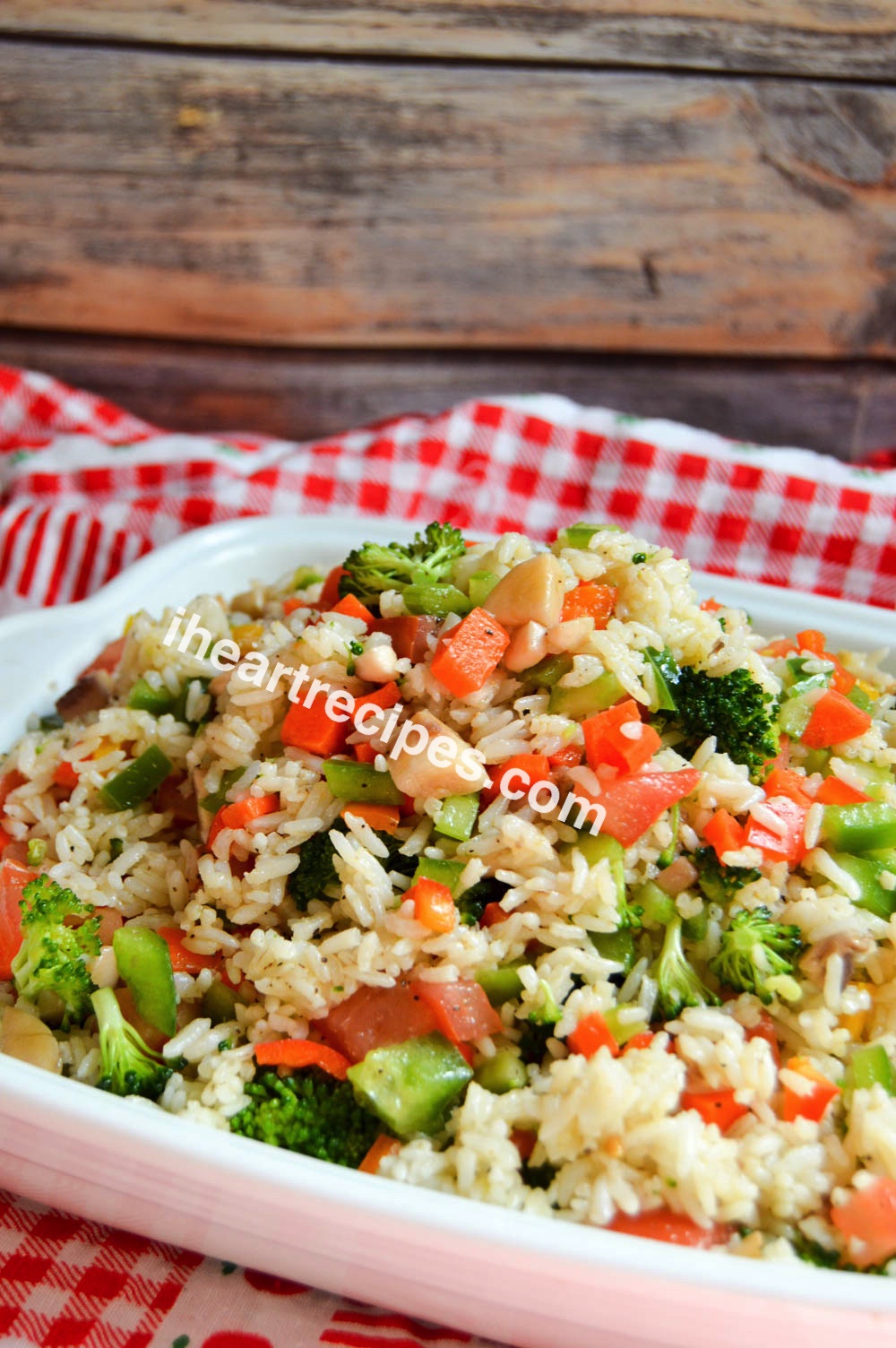 Now, I'll be honest. I don't have a lot of cold rice recipes. I've got plenty of other rice recipes: fried rice, rice and beans, and Southern dirty rice. But cold rice? This is one of the few! Luckily there's no difference in how to make rice for a cold rice salad recipe. So, here are some tips on how to cook rice perfectly for your summer rice salad recipe.
Use the correct rice-to-water ratio. No one wants soggy rice… or worse, hard rice! Al dente is for pasta, not rice, y'all. The proper ratio for most long-grain rice is typically 2 cups of water to 1 cup of rice.
Rinse the rice until the water runs clear. This will help rinse off excess starch that could make the rice become clumpy while it cooks.
Season the water. As you would with pasta, a pinch of salt in the water will help add flavor to the rice.
Don't peek at the rice while it's cooking. I know it's tempting, but once you turn the heat off, do not lift that lid, y'all!
How much dry rice do I need for 4 cups of cooked rice?
We want 4 cups of cooked rice for this cold rice salad recipe. How much dried rice do you need? One cup of uncooked long grain white rice equals 3 cups cooked. So, for this recipe, you will need about 1 and 1/4th cups of uncooked rice. One cup of instant rice (Minute Rice) makes about 2 cups cooked, and 1 cup of brown rice makes about 4 cups, so adjust accordingly if you use a different type of rice.
If you have a rice cooker, go ahead and use it! Rice cookers make measuring and cooking perfect rice easy and fool-proof!
If you don't want to cook fresh rice and happen to have leftover rice on hand, you can use that. I'd recommend reheating the rice in the microwave with a sprinkle of water to soften it up before mixing it with the other rice salad ingredients.
How to Make a Quick and Easy Summer Rice Salad
Making this cold rice salad could not be any easier and takes less than 30 minutes from start to finish. Here's what you do:
Make the rice. Rinse the rice in a large bowl or mesh strainer (seriously, I don't recommend skipping this step), then get it cookin' on the stovetop or in a rice cooker.
While the rice is cooking, chop your veggies. I recommend using a vegetable chopper to get them all the same size. Set them aside in a small bowl until you're ready to mix the rice salad.
Assemble the salad. Combine the cooked rice with the chopped veggies, seasonings, olive oil, and lemon juice in a large bowl. Stir to combine.
You do not have to let the rice cool before mixing the salad ingredients. In fact, I like mixing my summer rice salad while the rice is still hot because it soaks up the lemon juice dressing and all the flavors of the seasonings.
Once the ingredients are well combined, cool the rice salad in the fridge until it's ready to serve! It can also be served warm or at room temperature, but I prefer to serve it cold.
Summer Rice Salad Recipe Variations & Pro Tips
Now that you know my favorite rice salad ingredients and how to cook the perfect rice, let's talk recipe variations! I make my cold rice salad how I like it, but as with most of my recipes, you do you, boo boo!
Try these flavorful rice salad variations:
A Mediterranean rice salad with sun-dried tomatoes, black olives, feta cheese, cucumbers, and canned chickpeas for protein.
A Mexican rice salad with green onions, diced cherry tomatoes, black beans, and Mexican chicken seasoned with taco seasoning.
An Italian rice salad with a tangy Italian dressing. Follow a simple Italian pasta salad recipe but swap out the pasta for rice!
Cold Rice Salad Dressing Options
I dress my rice salad with a simple mix of extra virgin olive oil and lemon juice. It's a light, citrusy dressing that really brightens up the flavors! But there are plenty of other dressing options you can use. You could make an easy vinaigrette using red wine vinegar, white wine vinegar, or balsamic vinegar. You want to ensure the dressing you choose complements the other flavors and ingredients in the rice salad, so choose wisely!
How long does cold rice salad last?
When properly stored in an airtight container in the fridge, cold rice salad will last 3-4 days. If you make a large batch, you could freeze leftovers and reheat them in the microwave. That way, you'll have a dinner-ready side dish in just a few minutes!
Leftover cold rice salad is also even better the next day when all the flavors have soaked into the rice. This rice salad is perfect for meal prepping as well.
What to Serve with Cold Rice Salad
This easy rice salad recipe is truly perfect for any time of year. It can be served as a side salad or with your favorite entrees. It would pair perfectly with chicken dishes like traditional fried chicken or roasted chicken, sheet pan Greek chicken, or yummy BBQ chicken. For a little variety, serve this cold rice salad with:
Did you make this recipe and love it? Leave me a comment below! Save and pin this recipe on Pinterest for later, and don't forget to follow along with everything Rosie and I Heart Recipes on social media—you can find me on Facebook, Instagram, and Pinterest, and you can pre-order my next upcoming cookbook, A Cousin Rosie Holiday now!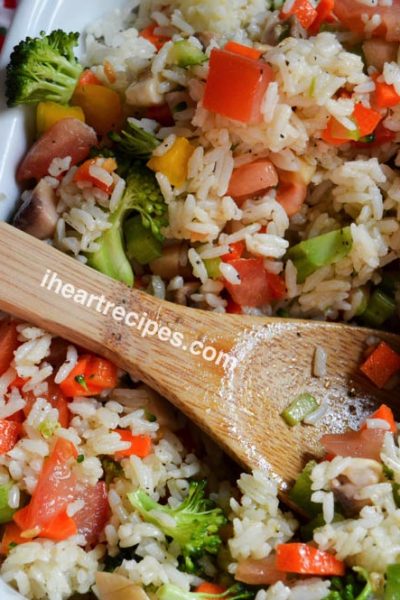 Cold Summer Rice Salad
This quick and easy cold rice salad recipe is perfect for summer get-togethers! Made with tender white rice, healthy fresh veggies, and a tangy lime dressing, it's everything you need for a light, flavorful side dish.
Print Recipe
Pin Recipe
Instructions
Cook rice according to directions to get 4 cups cooked.

4 cups cooked long grain rice

Chop all of the fresh vegetables to approximately the same size.

1 medium carrot,

1 medium celery stalk,

½ medium green pepper,

¼ cup mini sweet peppers,

1 medium tomato,

1 cup chopped broccoli,

5 large mushrooms

In a small bowl, make the lemon vinaigrette dressing by combining the seasonings, lemon juice, and olive oil. Whisk until combined.

1 tsp salt,

1 tsp Italian seasoning,

1 tsp ground black pepper,

1 tsp garlic powder,

½ tsp onion powder,

¼ cup olive oil,

1 tbsp lemon juice

Combine the warm rice and chopped vegetables in a large bowl, dress with the lemon vinaigrette, and stir until everything is mixed and well combined.

Serve the rice salad warm, or chill in the fridge for an hour before serving.
If you loved this recipe,
leave me a review below
. This helps future recipe makers and ensures continued high-quality recipes for years to come!
© 2023 I Heart Recipes
---