This sheet pan Greek-style chicken dinner is delicious, healthy, and easy to make. It's packed full of Mediterranean flavors, and everything bakes to perfection in the oven on a sheet pan.
Hi, Cousins—here's another one of my sheet pan dinners! This Greek-inspired one-dish meal is one the entire family is sure to enjoy. You don't have to prepare any side dishes (unless you want to) as it has both protein and veggies. Maybe just some garlic bread, rice, or a grain. This recipe is also easy to double!
What Is a Sheet Pan Greek Chicken Dinner?
Sheet pan dinners are an easy way to cook a delicious and healthy meal with minimal effort. The chicken is marinated in an olive oil-based Greek marinade, which is also used to coat the vegetables. The vegetables are roasted alongside the chicken to bring out their natural flavors while the chicken cooks evenly and perfectly. The end result is a flavorful, nutritious meal that is sure to please everyone at the dinner table.
What Makes This Recipe Greek?
One of the many fun things about exploring international cuisine is that you will learn to combine ingredients you know in new ways! If you are a foodie or home chef, you will likely recognize all of the ingredients on the ingredient list below. Not to worry if you haven't cooked with kalamata olives or feta cheese before, as they are super easy to use.
Sheet Pan Greek Chicken Ingredients and Shopping List
Greek Marinade Ingredients
Olive oil—you will need 3/4 cup, preferably extra virgin if you have it.
Lemons—the juice of one full lemon, and one sliced lemon with the peel on.
Garlic—a tablespoon of minced garlic, more if you and your family love garlic.
Thyme—2 teaspoons dried thyme. If you have an herb garden use 6 teaspoons of fresh thyme.
Greek-inspired spices
Dijon mustard—for Dijon creaminess and a spicy kick.
Salt and pepper—to balance out and enhance all the ingredients.
Sheet Pan Chicken Ingredients
Chicken thighs—a pack of 4 or 6 bone-in and skin-on for maximum flavor.
Zucchini—3 medium-sized zucchini, green or yellow, or a mix of both.
Red and orange bell pepper—2 of each (4 total) chopped into 1-inch slices.
Cherry tomatoes—1 pint of cherry tomatoes.
Kalamata olives—make sure they are pitted.
Feta Cheese—1/2 cup of crumbled feta cheese to garnish once baked.
Fresh parsley—fresh chopped parsley sprinkled on top once baked.
Sheet Pan Dinner Supplies
Medium bowl for the marinade
Large bowl to marinate the chicken in
Spoon for mixing
Cutting board and knives to chop the veggies
Sheet pan
Non-stick baking spray
Oven mitts
Optional: kitchen tongs for the chicken
FAQs and Pro-Tips for a Sheet Pan Greek Chicken Dinner Recipe
Can I Substitute Boneless Chicken Thighs?
There are a couple of reasons to use bone-in thighs in this sheet-pan Greek-style chicken dinner.
Flavor—the bone releases delicious flavor while your chicken bakes.
Moisture—keeping the bone in ensures that your chicken stays moist.
Cooking time—boneless thighs cook faster, and this recipe is timed for bone-in.
Can I Remove the Chicken Skin?
Keeping the skin on while baking is also essential for flavor, moisture, and texture. If you must remove it, wait until after it's baked through. Just be mindful that much of the marinade will end up on the skin, not the chicken.
Can You Marinate the Chicken Longer?
Yes! If it fits better in your schedule, you can marinate the chicken the night before, in the morning, or several hours beforehand. Just make sure you let it marinate for at least 30 minutes.
If you opt for a longer marinade time, be sure to cover the bowl with a lid, plastic wrap, or silicone bowl cover.
What Are Kalamata Olives?
Excellent question! Did you know that there are over 139 varieties of olives? Kalamata olives are native to the Kalamata region in southern Greece. While this variety of olives can grow in different regions of the world, they require a precise climate.
Kalamata olives are a type of black olive, but their taste, texture, and size vary from the standard black olive. You may find them to be a bit tangier. This tang provides the perfect contrast with the feta and other ingredients in this dish.
Just make sure you buy pitted Kalamata olives!
How Do I Crumble the Feta Cheese?
It's super easy! Just use your fingers to gently break it apart, then sprinkle it on top once baked.
Is This Sheet Pan Greek Chicken Mediterranean Diet-Friendly?
Yes, it is—but it's also a meal the entire family will enjoy!
The Mediterranean diet is one of the healthiest and most delicious diets out there. It is based on the traditional diet of countries surrounding the Mediterranean Sea, including Greece, Italy, and Spain. It emphasizes eating whole foods—including fresh fruits and vegetables, whole grains, legumes, nuts, and olive oil, while limiting red meat, processed foods, and refined sugars.
One of the reasons this diet is effective is that its whole-food approach is filling, nutritious, and delicious.
What to Serve With Your Sheet Pan Greek-Style Chicken Dinner?
Rice—any rice, white, brown, jasmine, wild rice, pilaf, and more.
Lentils—brown, green, yellow, pink, or whatever you prefer.
Grains—quinoa, bulgar wheat, barley, buckwheat, and more.
Mixed grains—you can mix rice and any of the grains above.
Potatoes—feel free to roast, mash, or bake potatoes.
Bread—dinner rolls, crusty French bread, or garlic bread.
More Easy Chicken Dinner Recipes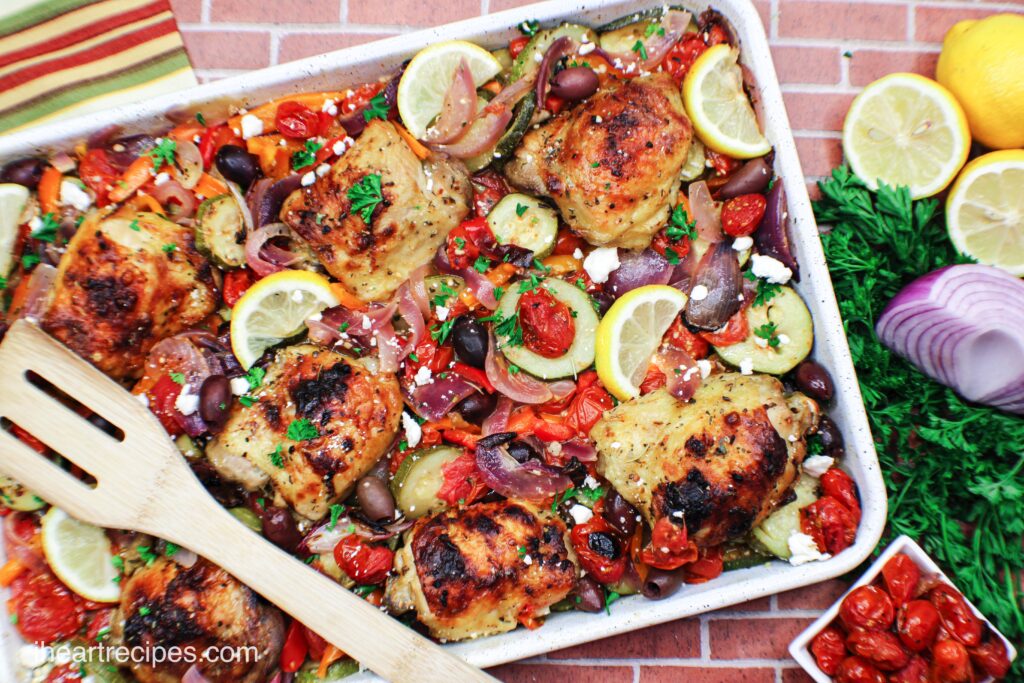 How to Store Greek Chicken & Veggies Leftovers
Your Greek-style chicken leftovers are perfect to enjoy for lunch the next day or to eat again for dinner a few days after you bake it.
Refrigerator—let cool while you eat, and store the leftovers in an airtight container in the fridge for 3 to 4 days.
Freezer—once cool, store in a freezer-safe baggie or container for up to 3 months. Defrost in the fridge overnight.
Reheating—the fastest and easiest way to heat this up is on a microwave-safe dish for 2 to 3 minutes in the microwave.
Don't forget to follow along with all things Rosie and I Heart Recipes by following me on Facebook, Instagram, and Pinterest, and check out all my cookbooks!