An easy chicken parmesan recipe your family will love! This delicious chicken breast recipe is a fast one-pot dinner that's on the table in about 40 minutes.
Hey Cousins! Y'all are always asking for chicken breast recipes, so I will start uploading them. And today, we're starting with one of my favorites, which will be a super easy one-pot chicken parmesan recipe! (Stay tuned… maybe next time, I will share a chicken cacciatore recipe!)
Now, how many of y'all love Olive Garden's chicken parmesan?! It's a classic! You can't beat tender breaded chicken, cheese, and hearty sauce served over spaghetti… Except, this semi-homemade chicken parm is, dare I say, even BETTER! That's right, y'all. Better. Not only is it delicious, but it's FAST. You can make my easy chicken parmesan recipe in under 45 minutes, and it's also a one-pot recipe (which I know many of you LOVE)!
This is one of my favorite dinner recipes, as well as one of my favorite chicken recipes! The ingredients are easy to find because I don't use anything out of the ordinary! These are all basic, budget-friendly ingredients for an easy weeknight dinner you can have on the table in less than an hour.
Making the Best Chicken Parmesan: The Ingredients
Are y'all ready to dive into the ingredients for chicken parm? It's pretty simple! Making chicken parmesan has a few key steps: breading, frying, adding the sauce and cheese and then baking. Let's break down how to make a delicious, quick, and easy one-pot chicken parmesan.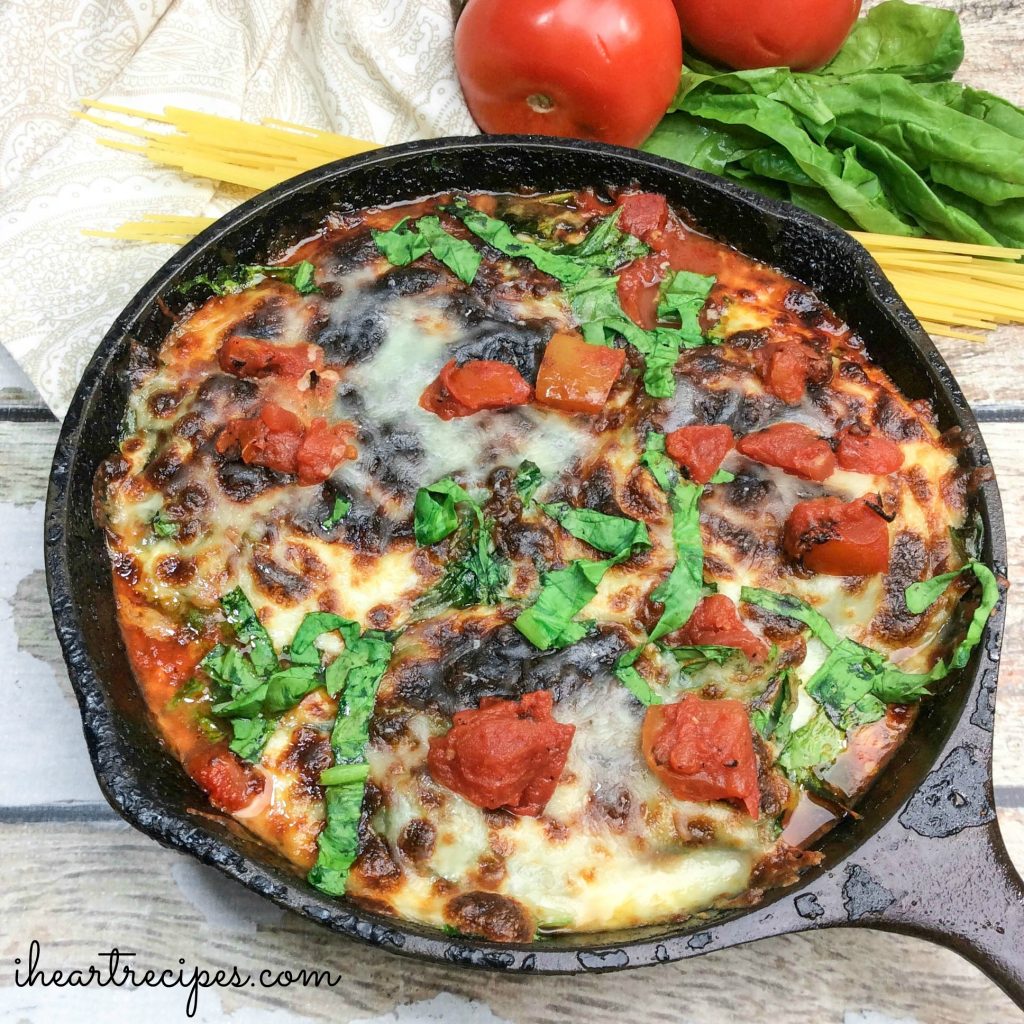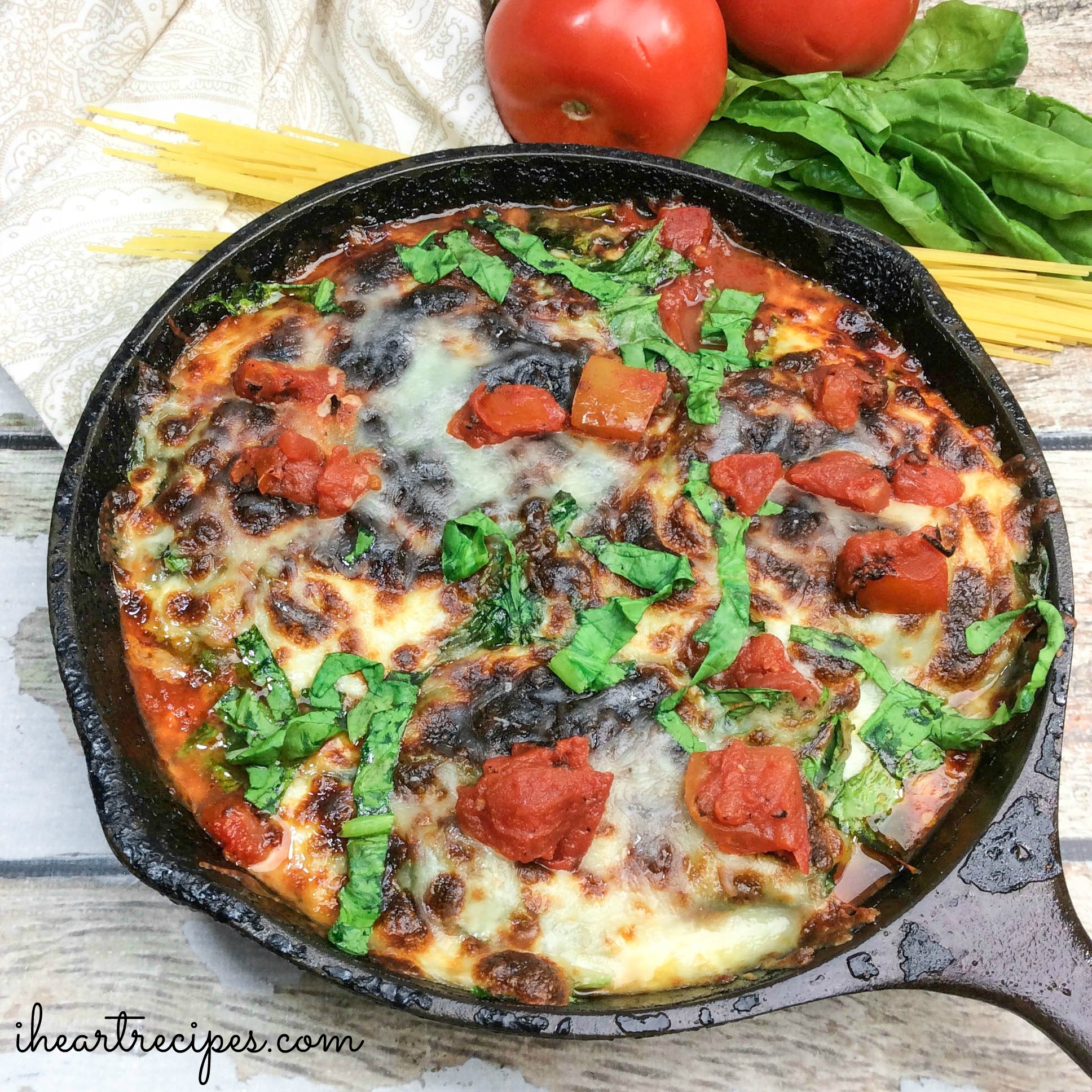 Breading and Frying Chicken Parm
A successful chicken parmesan starts with a crispy golden-brown breading. Start with about two chicken breasts and slice them into thin chicken cutlets (cut each chicken breast half the long way). Then you want to prepare your breading mix.
For your chicken parm breading, you will need:
First, take your chicken cutlets and coat them in the egg mixture. Then coat them generously in the breadcrumb mixture. Make sure the chicken is fully covered! Repeat the breading process if necessary—egg mixture, then breadcrumbs. Twice should be more than enough.
Now for this recipe, I use my trusty cast iron skillet. This baby can handle ANYTHING. Don't be afraid of cast iron! It's a versatile, necessary kitchen tool if you love cooking and one-pot dinners! You can fry and bake in this baby, which is precisely what we're gonna do. (I have a whole list of freezer-friendly one-skillet meals for y'all to check out too.)
You're going to fry the chicken cutlets in about ½ cup of vegetable oil, heated in a cast iron skillet over medium heat for about 5-8 minutes per side. When done, your crispy chicken cutlets should be a gorgeous golden brown and ready for the next step: the sauce!
The Best Sauce for Chicken Parmesan
So, what's the best pasta sauce for chicken parmesan? The answer, my friends, is entirely up to you and your tastes! To keep this recipe extra simple, I use a store-bought marinara sauce and doctor it up with sauteed onions, garlic, diced tomatoes, and spinach. Jazzing it up with add-ins gives a budget-friendly pasta sauce a more homemade taste. If you want to get fancy and have more time on your hands, feel free to make a homemade sauce! (I have the perfect homemade marinara sauce recipe for y'all.)
If you're using store-bought sauce, it's super easy to get it doctored up and delicious. To prepare your sauce, start by sautéing the onions and garlic in about a tablespoon of vegetable oil. Next, add the diced tomatoes, spinach, and pasta sauce into the skillet and let simmer for about 7-10 minutes until fully heated through.
Place the breaded chicken back in the skillet, and top with a mixture of shredded parmesan cheese and mozzarella cheese (you could also use slices of fresh mozzarella cheese—keepin' with a classic chicken parmesan recipe). Finally, pop that skillet in your oven on broil until the cheese is perfectly melty and just starting to get golden-brown on top. Top with fresh basil, and voila—delicious, easy one-pot chicken parmesan ready in about 40 minutes!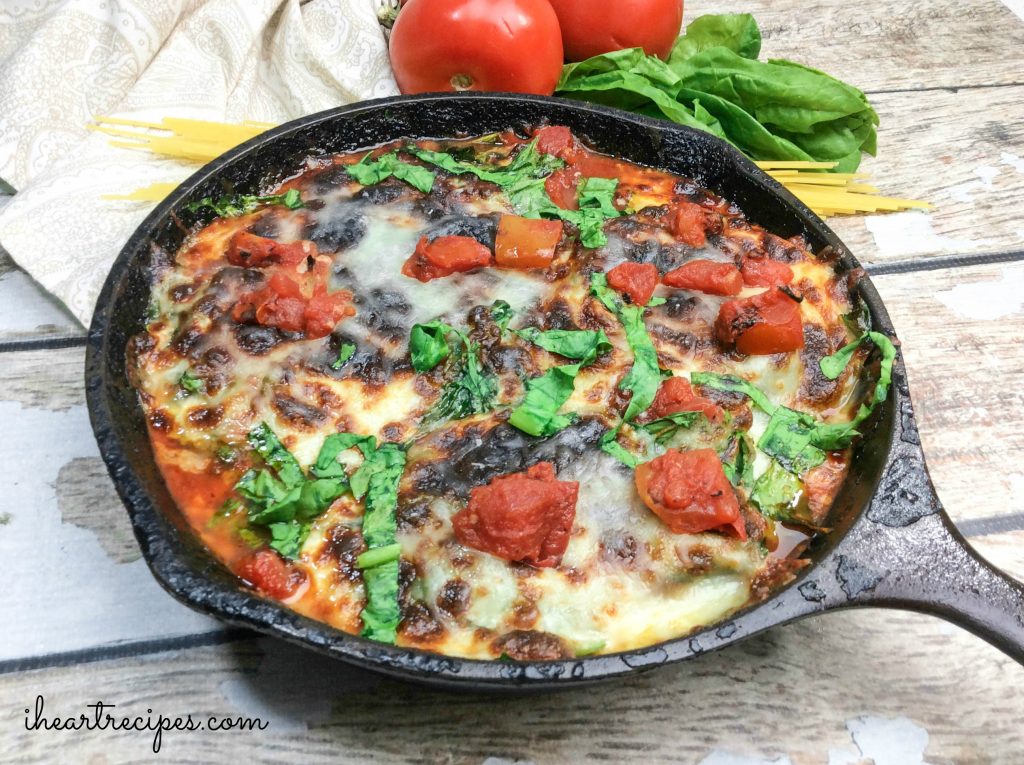 Delicious Variations of Chicken Parmesan
Believe it or not, chicken was NOT in the original Italian recipe! The main ingredient was originally eggplant! Yep, that's right. Eggplant parmesan, or eggplant parmigiana, is the original! Eggplant parmigiana is just that: breaded eggplant slices fried, covered in cheese and hearty sauce—a vegetarian delight! So, if you feel like going OG, eggplant parmesan is most definitely an acceptable variation.
Here are some other equally delicious chicken parmesan variations:
There are truly so many ways to enjoy a delicious chicken parmesan! I love this easy chicken parm recipe because it's delicious, semi-homemade, budget-friendly, and FAST. Who doesn't love a one-skillet dinner?!
Chicken Parmesan FAQs
What do you serve with chicken parmesan?
You can serve this easy chicken parmesan with so many delicious sides. Here are some popular options:
What's the difference between chicken parmesan and chicken parmigiana?
Are y'all ready for this answer? Cousins, NOTHING! There is no difference—chicken parmigiana and chicken parmesan are the same dish. "Parmigiana" is an Italian word that means "in the style of Parma," referring to the city of Parma, Italy. The name doesn't have anything to do with Parmesan cheese, which isn't traditionally used in the original eggplant parmesan—melanzane alla Parmigiana.
What pasta goes with chicken parmesan?
You can serve chicken parmesan with just about any pasta you'd like—spaghetti or angel hair with extra sauce, penne or mostaccioli, even tortellini. Of course, serving chicken parm with pasta makes this dish even more of a complete meal, so you really can't go wrong with the type of pasta you choose to serve with your homemade chicken parmesan!
Quick and Easy Chicken Parmesan Recipe Card
Okay, y'all have patiently waited long enough. It's time to quit chattin' and start cooking! Below, I've included a recipe card with exact measurements and step-by-step instructions for my easy one-pot chicken parmesan recipe. Try this recipe for dinner tonight, and tell me what you think! Don't forget to subscribe to I Heart Recipes on YouTube to see all of my recipe videos, cooking tips, and more! You can also follow me on Facebook, Instagram, and Pinterest to keep up with all things Rosie and I Heart Recipes!
Want more chicken breast recipes? Check these out: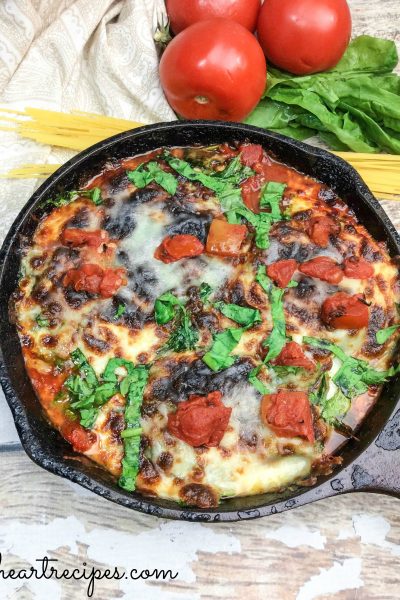 Easy One-Pot Chicken Parmesan
Nothing better than a homemade version of a popular restaurant dish! This one-pot chicken parmesan recipe will be your new favorite.
Print Recipe
Pin Recipe
Instructions
Pour the vegetable oil into a large cast iron pan.

Heat the oil up over medium heat.

In a large mixing bowl, combine the breadcrumbs, Italian seasoning, seasoning salt, and pepper. Mix until combined, then set aside.

In another large bowl, crack the two eggs into the bowl and whisk.

Coat the chicken with the eggs and then coat with the breadcrumb mixture. Make sure the chicken is fully coated.

Carefully place the chicken into the skillet and let cook for 5-8 minutes on each side or until the chicken is done

Remove the chicken and discard all except 1 tbsp of the oil in the pan.

Toss in the onions, cook for 2 minutes.

Add in the garlic, diced tomatoes, spaghetti sauce and spinach into the skillet.

Let sauce heat up for about 7 minutes before placing the chicken back in.

Preheat oven to low broil.

Combine the parmesan cheese and mozzarella cheese in a small bowl.

Top the chicken off with the cheese.

Place in the oven, and let broil until cheese melts.

Serve and enjoy!
If you loved this recipe,
leave me a review below
. This helps future recipe makers and ensures continued high-quality recipes for years to come!
© 2023 I Heart Recipes