Chicken wonton tacos made with tender shredded chicken, crispy wonton shells, and delicious toppings.
My husband and I love wonton tacos.  At one time we were hooked to Applebees wonton tacos, but I started making my own at home – and that was the end off that! These wonton tacos are simply amazing, and they are easy to make! You can serve them as an appetizer or for dinner. Feel free to use as many or as little topping that you'd like.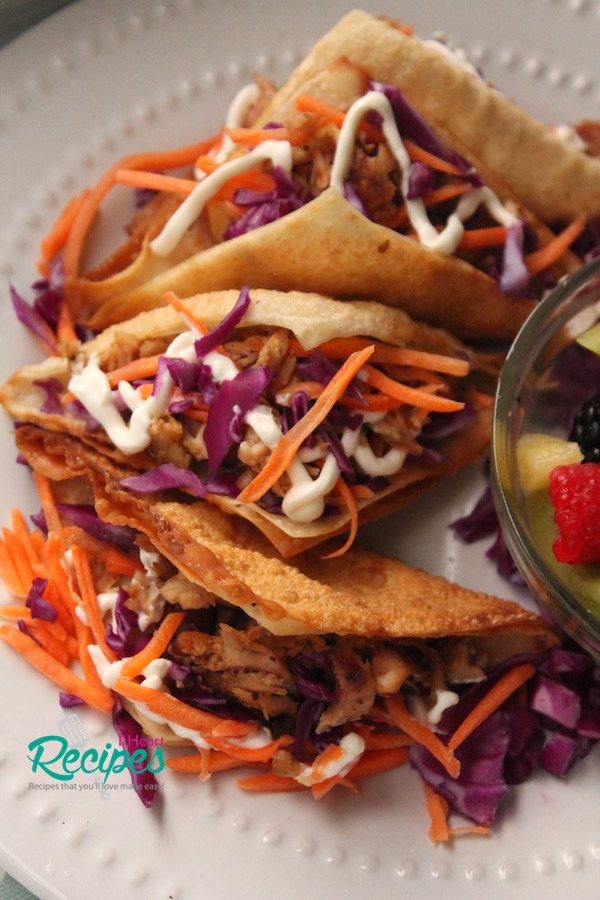 Check out how I made these chicken wonton tacos.
Better than Applebees Chicken Wonton Tacos
These wonton tacos are simply amazing and easy to make! Serve as an appetizer or entree for a delicious meal!
Ingredients
1

lb

boneless skinless chicken thighs

or breast

1

tbsp

taco seasoning

1

tbsp

salt free seasoning

1

tbsp

olive oil

1/4

cup

shredded carrots

1/4

cup

shredded purple cabbage

2/3

cup

sour cream

Package of Wonton wrappers

1/2

cup

vegetable oil
Instructions
Place the chicken in a bowl or on a plate.

Drizzle the oil over the chicken, then season with taco seasoning, and salt free seasoning.

Grill the chicken until it's cooked throughout.

Shred the chicken, then set it to the side.

Pour the vegetable oil into a frying pan, and heat the oil over medium heat.

Once the oil is nice and hot, fry the wonton wrappers until nice and golden( watch the video tutorial).

Stuff the wrappers with the chicken, and top with the carrots, cabbage, and sour cream.

Serve and enjoy!
Video