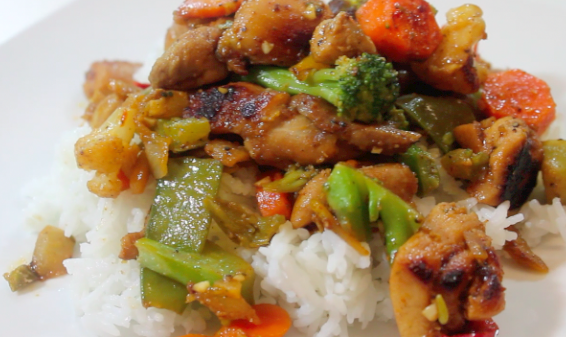 Quick & Easy Honey Chicken and Vegetable Stir Fry
Hey friends! I've been getting a lot of request for more dinner for twos, healthier recipes, and quick and easy recipes. I decided to just take care of those request with one simple recipe – My Honey Chicken and Vegetable Stir Fry! This recipe is perfect for those that are trying to get 'Summer Time Fine", and it also makes the perfect dinner for two ( or three… maybe four). This dish can easily be made in under 30 minutes, and it requires very little ingredients.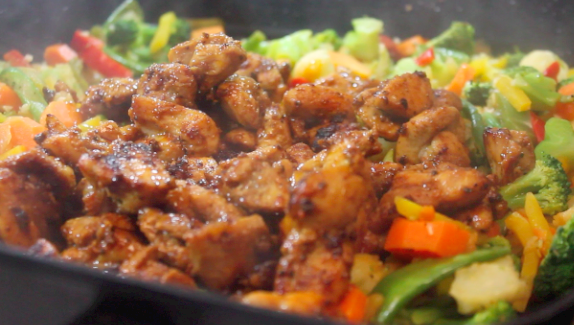 For this stir fry I used boneless skinless chicken thighs. I use thighs instead of chicken breast for several reasons.
Chicken thighs are cheaper
Chicken thighs don't dry out as fast as chicken breast do
I'm more of a chicken thigh fan…
If you want to use chicken breast you totally can. Just keep in mind that the cooking time will change.
I used a lot of frozen vegetables for this stir fry. It made everything so easy. All I had to do is open up a bag, and put the veggies in my skillet! I used frozen vegetables from two different bags.
The stir fry blend included
Yellow Carrots
Broccoli
Cauliflower
Green beans
Snap Peas
& Chestnuts
The frozen pepper blend included
Red Bell Peppers
Green Bell Peppers
Orange Bell Peppers
Onions
BOTH bags can be found at the Dollar Tree!
I also added a some chopped carrots that I had on hand, but only because I want to put use to them ( you know I try to put use to everything!) If you want to add more veggies you certainly can!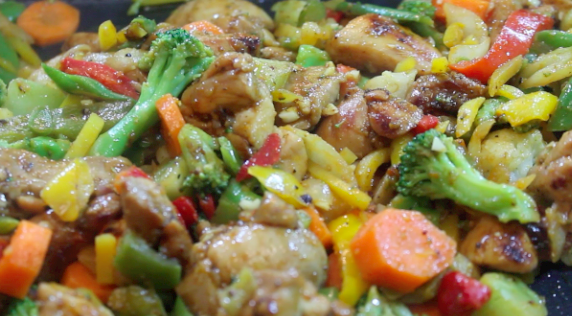 Once everything is done you can serve it as is, or you can serve it over rice like I did. Definitely give this recipe a try, and tell me what you think!
Watch me make it here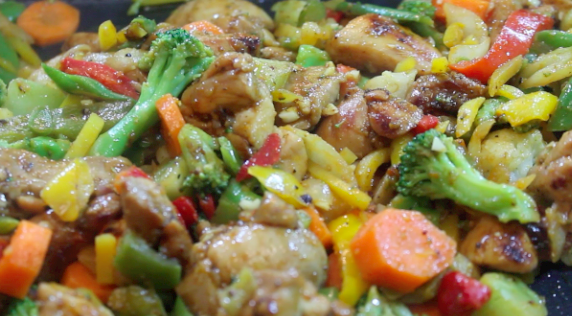 Honey Chicken & Vegetable Stir Fry
This sweet and savory stir fry is the perfect dinner for two. Using frozen vegetables adds to the simplicity of this tasty meal!
Watch Video
Print Recipe
Pin Recipe
Instructions
Pour the vegetable oil into a skillet and place the skillet over medium heat. Once the oil is nice and hot, add in the chicken.

Sprinkle in all of the seasons, and stir. Cook the chicken thoroughly, the drizzle the honey all over the chicken.

Once the chicken is nicely coated with the honey, remove it from the skillet and set it to the side.

Place the vegetables into the skillet, and cook them for about 5 to 7 minutes.

Add in the minced garlic, and stir it in with the rest of the ingredients

Add the chicken back into the skillet.

Let cook for another 5 minutes, then remove from the skillet from the heat ( or turn of your electric skillet).

Serve, and enjoy!
Video
If you loved this recipe,
leave me a review below
. This helps future recipe makers and ensures continued high-quality recipes for years to come!
© 2023 I Heart Recipes